By Heidemarie Kriz
EuroShop, "the world's No. 1 Retail Trade Fair," takes place every three years. This time, the traditionally high proportion of international participants/guests was particularly large at 68%, with visitors from Southeast Asia, Africa, and North America standing out. The trade fair serves as a catalyst for the entire industry and lived up to this role once again. In addition to Connected Retail, Smart Store, Third Places, and Customer Centricity, the most important topics this year were Energy Management and Sustainability in various approaches. It was also clear that in recent years, customers' buying behavior and habits have changed, and businesses must respond to these changes. Quick check-out solutions and seamless shopping are now essential, and anything that makes life easier and more convenient is highly appreciated. Numerous 24/7 shopping opportunities generated a lot of interest among visitors.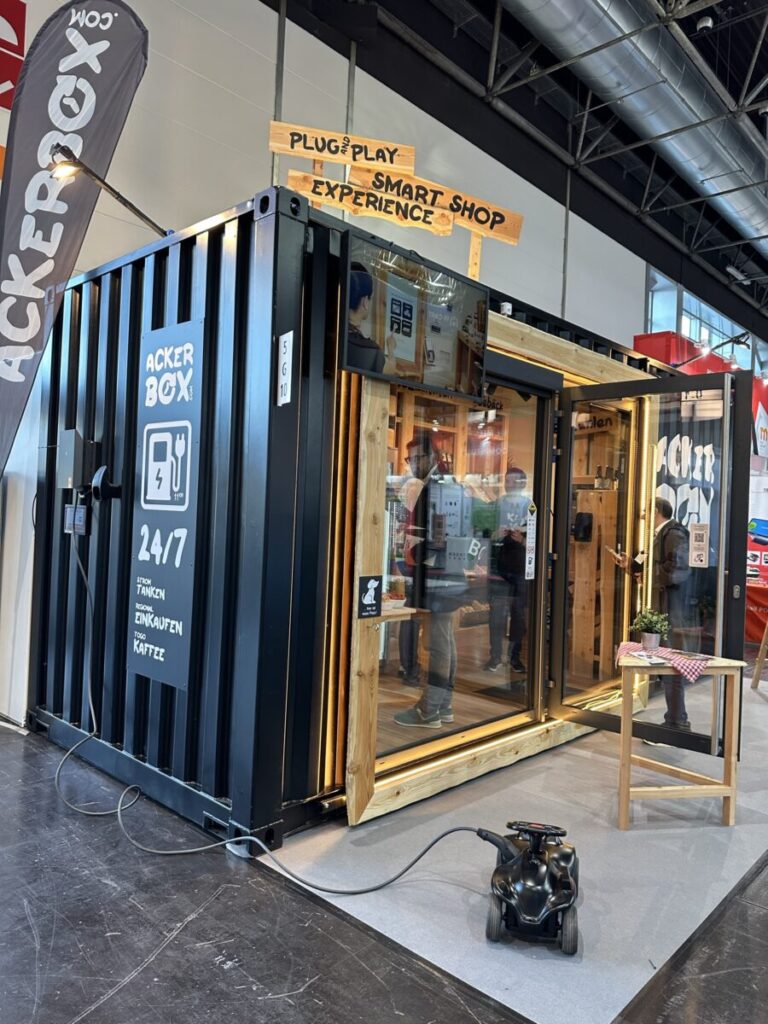 Some developments are due to the current situation of labor shortage, for which solutions in the field of automation are being sought. Sustainability as a key theme was palpable in various forms at many stands: some in the form of mannequins made from fabric scraps or marine debris, all of which were recyclable (Bonami, Hans Boodt, Window France, Scanblue, among others). This was also noticeable in shopping carts and bags; the use of marine debris was a major theme in varying degrees. Stands were also designed to be easily dismantled and returned to their original purpose: the completely mauve-colored XL stand from Hans Boodt stood out, a conglomerate of construction site fences, metal barriers, and reusable panels worked in between. Product information was obtained through a QR code.
Technical innovations such as digital shop windows (Outform) could be admired, as well as innovations in new materials and finishes. The use of screens of all sizes was particularly striking, but currently, the trend is: the bigger, the better. This allows information to be conveyed through emotions. One point that received too little attention was sensory solutions, selling with the senses. For example, the Stuttgart School of Advertising Design was responsible for "Room4Senses," a journey of discovery through several stations using the senses. As in previous years, the University of Düsseldorf created a stand where visitors could select four favorite words from a variety of huge white balls on which words were written, and an AI then created an image from the four terms.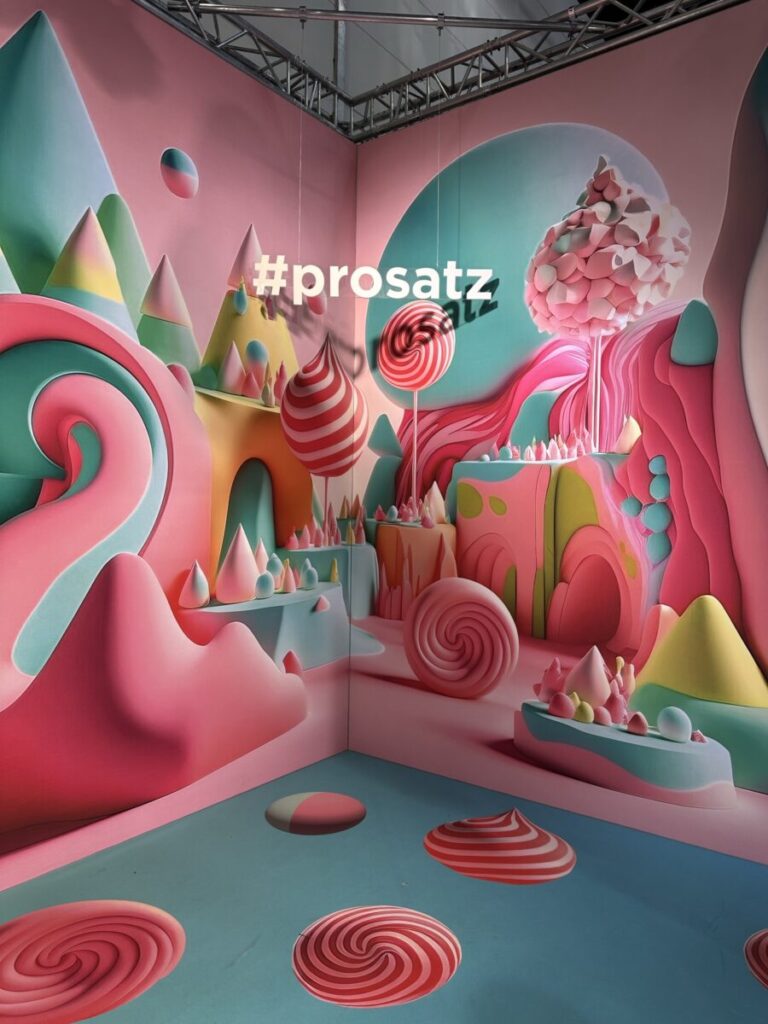 As with previous fairs, there was a start-up area with various solutions. Valuable information was provided to the international trade audience through numerous lectures and discussion sessions on a total of seven stages.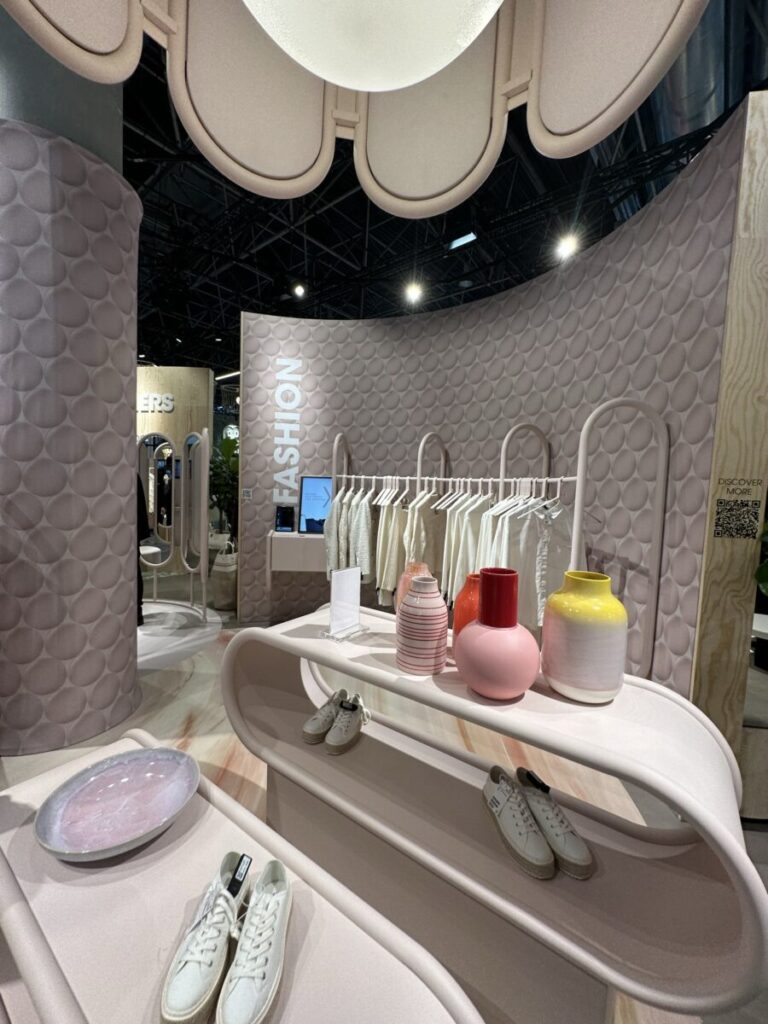 The Prizes
The program was rounded off with the awarding of various prizes. The winners of the "Architecture and Presentation 2023" innovation award are:
Bloom Technology by Arpa Industriale for their special contribution to sustainability in the production of HPL surfaces. Here, synthetic resin/phenols are replaced with lignin, a natural by-product in the production of pulp and wood-based materials.
The Move it 10 power rail system by XAL, based in Graz, Austria, stands out particularly for its slimness. Thanks to various adaptive elements, this rail can be used in different situations.
The minimalist table-top hot display case "Hot Vario" by Ideal Ake, which convinces with its innovative circulating heat technology, as well as a modular system that allows the case to be used as a single element or as a tower solution consisting of 4 modules.
The "Tech Thickness" linear light by Luce5, which impressed with its innovative design as well as its special installation method and minimal installation depth.
"Caroline" by Concept-s Ladenbau & Objektdesign, which works as a pure plug-in system with invisible connections.
The EXHIBITOR-Magazine, the renowned US print and online magazine that presents best practices in trade show marketing, announced the winners of the EuroShop Exhibitor-Magazine Award. The award is presented in cooperation with EuroShop for outstanding booth design at the trade show.
XS (20 m2 or less)
• Gold: Design4Retail Ltd
• Silver: Atelier Damböck Messebau GmbH
• Bronze: IDEA Expo
Small (21-39 m2)
• Gold Winner: Mindtrooper
• Silver Winner: Smart Design Expo
• Bronze Winner: Kriskadecor
Medium (40 – 79 m2)
• Gold Winner: von Hagen GmbH
• Silver Winner: Zenit-Messebau GmbH
• Bronze Winner: The Brace Group
Large (80 – 200 m2)
• Gold Winner: Studio 9 Denmark A/S
• Silver Winner: Outform Group
• Bronze Winner: M. Kaindl GmbH
XL (more than 200 m2)
• Gold Winner: Hans Boodt Mannequins B.V.
• Silver Winner: Window France
• Bronze Winner: Imoon SRL
People's Choice Award
• Gold Winner: Itab Shop Concept AB
• Silver Winner: Dede Reklamcılık Co. Ltd.
• Bronze Winner: umdasch Store Makers Management
Furthermore, the Science Awards 2023 was also presented (The EHI Foundation and GS1 Germany recognize academic talents, university chairs, and start-ups for outstanding achievements).
The IFES Development + Innovation Award was presented for the second time for exceptional innovations in the trade fair and events industry.
(https://www.euroshop.de/en/Program/Awards/IFES_Development_Innovation_Award_(IDIA))
The Euroshop Design Award was presented to projects such as:
• Interspar Schottentor in Vienna (A)
• Adidas Terrex Flagship Store Munich (G)
• Coolblue Düsseldorf (G)
For more information: www.euroshop-award.com
The Retail Technology Award (reta) was presented to retail companies that were recognized for their outstanding technology projects. (For more information, follow this link: www.reta-europe.com)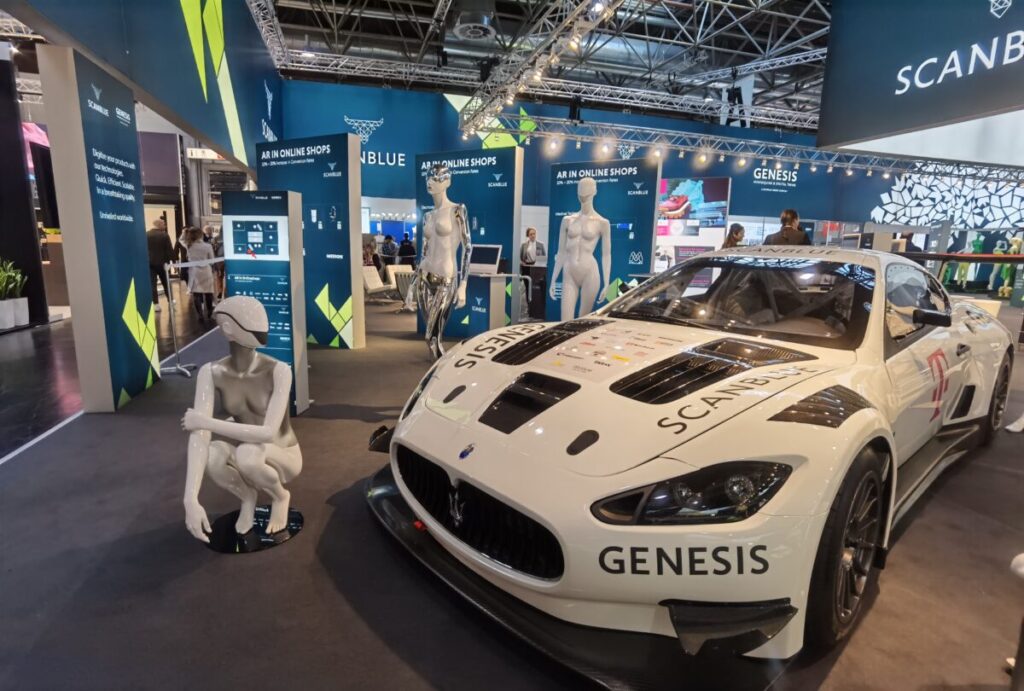 Conclusion
Once again, in 2023, EuroShop was a trade fair worth attending. For me personally, there is still too much emphasis on analytics. In the future, people will shop in physical stores in many places because of emotions and the experience of all senses at the POS. Digitization is important, but the future is hybrid: both analog AND digital. The mix will make it in the future.
More Euroshop reports: also read our part 1 EUROSHOP 2023 HIGHLIGHTS – THE FUTURE OF RETAIL, part 2 EUROSHOP HIGHLIGHTS 2023 PART 2: HOW TO SHOP FOR THE FUTURE!, part 3 EUROSHOP HIGHLIGHTS 2023 PART 3: THE TECHNOLOGY OF TOMORROW