ABOUT US ACROSS Magazine
ACROSS is the international and independent trade medium for retail real estate in Europe. The magazine covers topics through the entire value chain of modern retail properties. Interviews and experts' opinions are in the focus of the editorial coverage. The latest retail or development trends and news about the different markets, round out the magazine's content.
ACROSS Mobile
In addition ACROSS provides a multimedia online platform for all popular mobile devices. ACROSS Mobile offers high-quality content with numerous extra features such as the ACROSS News Ticker, and the ACROSS Events.
Map of Distribution Readership & Circulation
The magazine's target audience are the opinion leaders in Europe's retail real estate industry, such as project developers and operators, retail and expansion managers, institutional investors, international real estate agencies, facility and center managers, law firms and tax accountants, all service providers in the retail industry, political and governmental branch related authorities.
ACROSS is published five times a year entirely in English with an exclusive circulation of 18,000 copies. The magazine is distributed in 42 countries all over Europe.
Networking Partners
ACROSS is media partner of the most important trade fairs, events or associations of the industry. Amongst others, ICSC, MIPIM, MAPIC, EXPO REAL, Magdus, GRI, IREF, GCSC, SCSC, PRCH, Management Forum der Verlagsgruppe Handelsblatt, Heuer Dialog, EUREB Institute, Filipovic Business Advisory, etc.
ACROSS Advisory Board
The ACROSS Advisory Board was created in mid-2016. The body's declared aim is to offer its expertise in topic formulation. It identifies the challenges the industry faces as well as the opportunities, emerging trends, etc. it sees. ACROSS Advisory Board
Find out more:
(PDF download)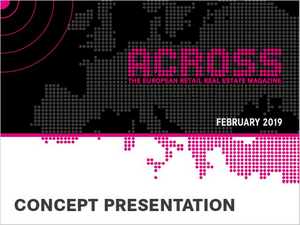 ---
Follow @across_magazine on Twitter and @across.magazine.europe on Facebook, sign up for our ACROSS newsletter and subscribe to ACROSS Magazine.
---