The luxury goods industry is booming – despite war and inflation. The global market for personal luxury goods, including high-end clothing, shoes, leather goods, perfume, and jewelry, is growing. The total high-end business, which also includes yachts, jets, and sports cars, as well as furniture, art, fine food and beverages, and extraordinary vacations, is expected to grow by 21 percent to 1.4 trillion euros.
Those are the findings of the 21st edition of the "Luxury Goods Worldwide Market Study"
prepared by international management consultants Bain & Company and the Italian luxury goods association Fondazione Altagamma. According to Deloitte's Global Power of Luxury Goods 2022 study, the Top 100 luxury brands generated 305 billion U.S. dollars in fiscal year 2021. That's 21.5 percent more than in the pandemic year of 2020 and significantly more than before the outbreak of COVID-19.
THE ORIGINS OF THE LUXURY MARKET
The foundation of the luxury market was laid in the 19th century by craftsmen who had a passion for high-quality materials and skills. In the luxury bag sector, such examples include Charles Delvaux in Brussels in 1829, Thierry Hermès in 1837, and Louis Vuitton in Paris in 1854. There is one thing that they all have in common: They all went on to become symbols of luxury and high quality as a result of their
skills and their production of timeless and exclusive goods.
Unlike today's mass-produced goods, they were purely niche segments; therefore, wealthy individuals and members of noble houses were among their customers. At the beginning of the second half of the 20th century, the luxury segment increasingly changed due to mass consumption and globalization. Luxury brands also began increasing their market presence by expanding their product categories, such as jewelry, watches, perfume, and fashion. Brand ambassadors from the film and entertainment
industries increased their glamour factor. However, the focus has always been on exclusivity regarding the products and the number of luxury brands. By the mid-19th century, only a handful of luxury brands existed in Europe.
A NEW TARGET GROUP HAS EMERGED
Just a few years ago, names like Hermès, Chanel, and Louis Vuitton were what people thought of when they talked about luxury brands. The target groups were clearly defined and could all be found within a clear income bracket. Today, the customer is no longer so clearly defined. There is still the classic luxury
customer, but market research now centers around hybrid consumers. They tend to be average consumers who want to make their lives more enjoyable with luxury goods. This consumer group is willing to pay significantly more for luxury items than everyday goods. However, they tend to combine such items with clothing from discount stores. In addition, the buyer profile of luxury brands
has become significantly younger, as the Deloitte study shows. That is also due to the fact
that younger generations have greater purchasing power today. While Gen Y discovered luxury goods at the age of 18-20, the same experience started for Gen Z – those born from 1995 onwards – at age 15. According to the Bain report, Millennials and Gen Z are primarily responsible for the strong growth momentum seen in the luxury sector in 2022. By 2030, Gen Z and Gen Alpha purchases will account for
one-third of luxury brand sales. In addition, attributes such as sustainability have been added to the previous definition of luxury for the latter generations. They pay much more attention to corporate philosophy. As a result, the term "luxury brand" has changed, and brands must adapt to the new target group. However, today's luxury cosmos also has to differentiate itself from the "entry-level" to "supreme" segments (see luxury pyramid).
---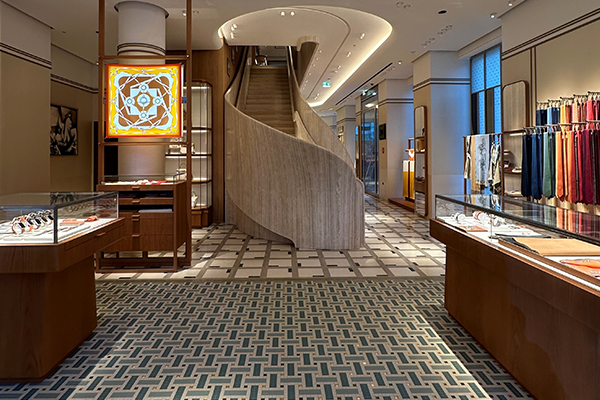 ---
NEW CUSTOMERS, OLD PRINCIPLES
Although the customer groups and the luxury market have changed, the principles have remained the same. Those who want luxury want exclusivity, quality, and the highest standards possible. Satisfying these luxury customers requires more than high-quality products and exclusively designed stores. It also means that brands must specialize in their "essential clients" and offer them shopping experiences away from the point of sale in specially designed private spaces. Hidden luxury suites in stores and separate areas in luxury hotels, complete with their own entrances and excellent service, are ideally suited for these occasions. This exclusive shopping experience includes a selection of specially chosen products at very high prices. That resulted in around 40% of the luxury brands' price level in 2022. That strategy was
responsible for about 60% of growth from 2019 to 2022. However, it will take more than excellent products and a unique, exclusive shopping experience to meet global economic challenges. To achieve further growth, investment in sustainability and innovative technologies is necessary – specifically to keep pace with the expectations of the new generations of shoppers. Exclusive experiences and the best service will continue to be expected; however, that will sometimes be defined differently than before
and will occur in other places.
Regarding sustainability, some brands have already become aware of the circular economy of products and actively support it through peer-to-peer sales (Vestiare Collective), third-party marketplaces (Farfetch), or return policies for a brand's products. Other business models, such as renting out luxury goods, have also been successful after repairs to or refreshing of the products have taken place where necessary. These options are an attempt to counteract overproduction and overconsumption. For example, Dolce & Gabbana, Prada, and Moncler have teamed up to research recycling solutions. This approach can also be found in today's collections: Louis Vuitton, for example, offers jackets made from recycled marine plastic. Customers expect that while prices are high, the highest standards for the environment and society are also maintained. This also means that the luxury industry is always a benchmark for sustainability and ESG for the retail market. Luxury brands have also worked on their corporate identities in an effort to reach subsequent generations with a newfound freshness, while
maintaining the same values: Over the years, logo designs have changed; their placement and sizes have as well. Some have also grappled with their brand authenticity and have subsequently changed their brand identity via simplification and modernization. While Burberry and Gucci have significantly changed their logos, luxury brand Chanel has only made marginal changes to its logo over the years to appear more contemporary – it continues to aim for recognition through tradition. Louis Vuitton also
wants to appeal to new customer groups through regular changes. For decades, the brand has been trying to anchor itself through collaborations with renowned artists and to erase the boundaries between fashion and art – more than any other luxury brand. The latest example can be found in 13-time Grammy
Award winner, musician, and producer Pharrell Williams, who has been designated creative director of LV's men's line and successor to the late super-genius Virgil Abloh, who recently made his media-effective debut in Paris. Celebrities and campaigns of this kind naturally reach new, younger target groups.
ENTERING THE ONLINE WORLD
In addition to the green transformation, the luxury industry has become a technological trendsetter –due to the new target groups and as a result of the pandemic. This industry has been more reluctant to embrace e-commerce than any other retail segment. The concern was that their exclusivity would be lost through online sales. During the pandemic, however, there was no other option, and the brands discovered that venturing into e-commerce did not lead to any dilution. The reason behind that, however, was the fact that they digitally sold their goods exclusively via their online stores or built separate platforms. That led to them entering entirely new types of sales and sales venues. During the pandemic, the luxury market realized that the metaverse was not a flash in the pan, but that it had the potential to reach new customers. According to estimates, the metaverse could reach around five billion regular users and be worth 13 trillion US dollars by 2030. This new digital reality could reshape the competitive landscape in many industries.
As the metaverse is seen as a new area of brand activation, more and more luxury brands are looking to offer immersive brand experiences on various virtual metaverse platforms such as Fortnite, Roblox, The Sandbox, and Decentraland. Luxury is being made available to a broader audience here that would not have been reached offline. It is an unprecedented opportunity to define and personalize your experience. This digital market is excellent testing ground for luxury brands to gauge which pieces are appealing before physically producing them. Limited "twin products", i.e., those that can be purchased online and offline, seem particularly popular.
THE CONSEQUENCES FOR THE RETAIL SECTOR
The luxury market is the only retail segment that is currently undergoing significant changes, that has to adapt to the new needs of consumers, and that is a driver of innovation and success. In the entire retail sector, the boundaries between the online and offline worlds are becoming increasingly blurred due to ever newer and more advanced technologies. In the luxury brand sector, everything revolves around the uniqueness of the product, the purchasing experience, and personalization and exclusivity in consulting,
which can also take place online.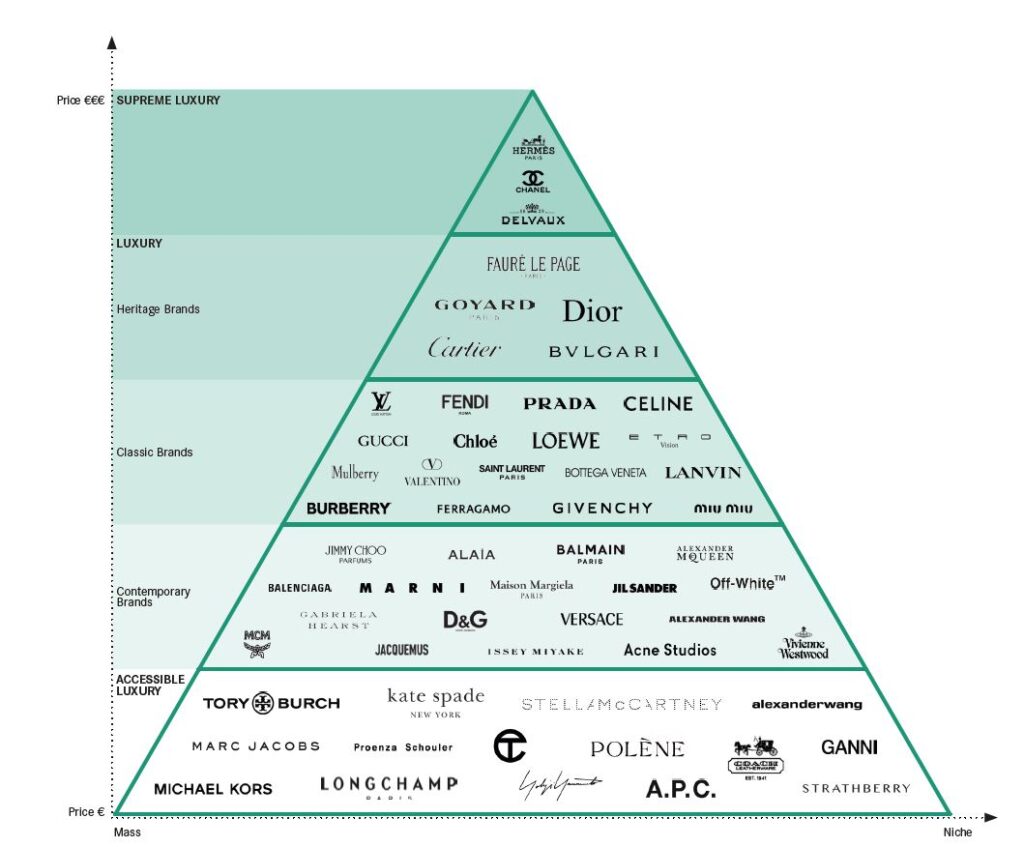 Luxury brands are facing a new group of buyers: This group is younger, sometimes with greater purchasing power, but more selective and value-oriented, and lives more internationally. As a result, not only are new brands ascending to the luxury Olympus, but the luxury market is also becoming more segmented and more clearly structured. Thus, there are still classic, established luxury brands as well as entry-level brands. In addition to the price/ value distinction, products can be differentiated according to their mass appeal. Brands like Ganni or Yojhi Yamamoto are not for the masses; those products attract avant-gardists, artistically inclined creatives, or those who want to embody such attributes to the outside world. In the Contemporary Brands category, you will find brands such as Jacquemus, Acne Studios, Balenciaga, and Vivienne Westwood trying new ways in the here and now and marketing this approach to the outside world. Classics like Valentino, Lanvin, Saint Laurent, Fendi and Louis Vuitton are affordable and timeless classics. The closer you get to the top of the pyramid, the more you find luxury brands with long histories of craftsmanship and tradition that have conveyed values and top quality for generations. This league has made the leap from high-end accessory to value investment. Prices for Hermès bags are well into the 5-digit range. Scarcity and registering for waiting lists increase desirability. In the past year, prices for classic Chanel bags increased on average by 12-18%, placing the Classic Medium Flag Bag at around 10,000 US dollars. This rapid price increase took place within a matter of months.
Find more information on the topic of luxury brands here.