ACROSS: A wave of inflation and the conflict in Ukraine – current events are causing a stir among people and in the political arena. What impact has all of this had on the retail sector?
DIETMAR REINDL: What the issues have in common is that they prove that complete predictability is an illusion in the business world. During the boom years, a certain degree of predictability still existed, but that period has been over for some time now. As a result, there is tremendous need for flexibility and change with respect to how companies are run or how reporting is organized. I think that the coronavirus crisis has proven that focusing on customers and their needs, and balancing those needs with business needs, has been successful. Throughout the pandemic, we have significantly strengthened our relationships with our customers. For example, my conversations with the owners and board members of DM, Deichmann, Müller, Takko, Kik, etc. have revealed that we have earned a good deal of trust. That is not only thanks to our size, but also due to the fact that we are always approachable and have maintained a sensible approach to this particular crisis.

ACROSS: Is it safe to say that your relationships with your retail partners have deepened and become more trusting?
REINDL: Yes, with both the big players as well as our many mid-sized partners. We set clear parameters and actively approached our partners in order to work out structured solutions when it came to the lockdowns and reopenings. During the first lockdown, a number of people even complained that our "approach" to the retailers was too active and too brash. Therefore, my stance is as follows: In the end, I pay back twice as much of whatever I fail to give in the beginning. Should future lockdowns ever occur, we can make use of the automatic mechanism that we have developed, which will save everyone an enormous amount of time.
ACROSS: Has the pandemic also resulted in a change in the segment mix?
REINDL: Ultimately, we are the ones who determine the mix, not the retailers. Therefore, things will not change that quickly, because we have contracts for at least five years. The fact that we have seen hardly any bankruptcies in the entire portfolio is also very encouraging. Our retailers, both at the shopping centers and at the Stop Shop retail parks, tend to be in the mid-price segment. Such retailers have profited more across the board throughout the coronavirus pandemic, because people have become more price-conscious with respect to their purchases as a result of the crisis. However, we certainly intend to develop the services included in our segment mix, step by step, in the future.
ACROSS: What exactly do you mean by services?
REINDL: Banks, insurance companies, doctors' offices, and orthopedic supplies – all the things you need in your daily life – will be included, among other things. The aim is to develop traditional neighborhood centers that offer a high degree of services. One thing that we have always distanced ourselves from is "entertainment activism". By that, I am referring to the idea that at least 15% of a center's floor space should be devoted to entertainment and/or gastronomy to avoid being perceived as not "in". We allocate roughly 3 – 5% of such space at our properties. It was evident before the onset of the coronavirus that such high proportions of floor space did not work. The pandemic has only accelerated this development. Generally speaking: Our retail parks and shopping centers feature a low proportion of offers that are highly contact-intensive. We believe that to be the right approach, both now and in the future.
ACROSS: The issues of inflation and rising energy prices are, regrettably, red-hot. Just how great is the concern that is looming on the horizon?
REINDL: There are two hearts beating in my chest with regard to this issue. On the one hand, retailers are, understandably, not thrilled when rents go up due to inflation and adjustments have to be made as agreed in the contracts. However, there have also been years in which there was no inflation and rents were not increased, although construction prices rose dramatically for us. In other words, there were times in which we were confronted with construction prices that had risen by 20 – 30% and, in some cases, with longer construction periods as a result of prolonged delivery times for materials. During those phases, rents did not rise, and we bore the additional costs. Now, the pendulum is swinging in the opposite direction. On the other hand, we are all feeling the effects of higher energy prices.
If we look at rent levels overall, they range between 9 and 12 euros at retail parks and have remained stable for at least six years. Thus, for a number of years, the development of rents has not reflected the increased business development of retailers. We are able to accurately assess the situation based on our analysis of visitor numbers using our footfall counting systems, which also provides us with solid earnings estimates. In summary, to a certain extent, I see the current development as compensation for the additional costs that we have borne in recent years. It is somewhat akin to a scale that is just leveling out.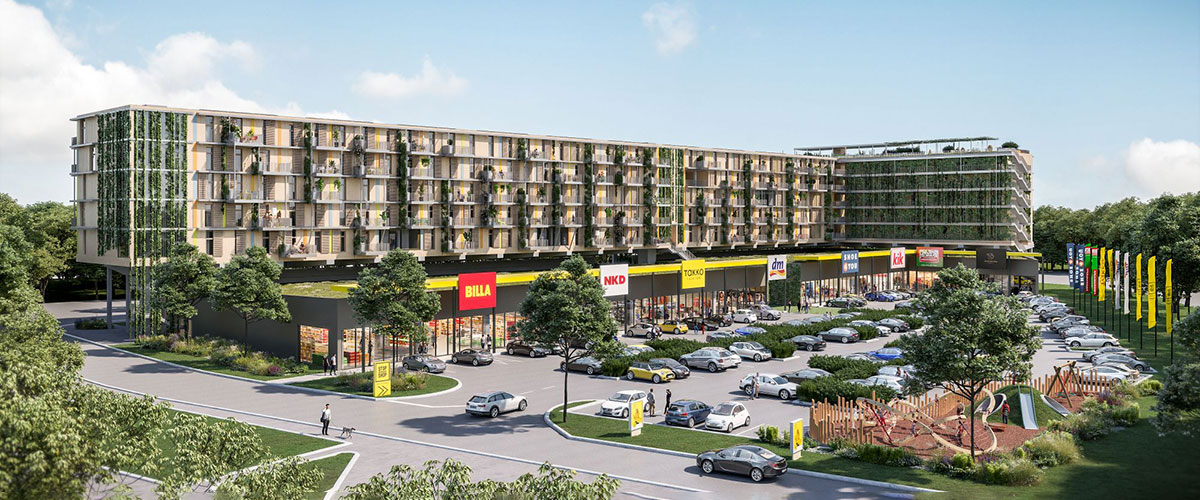 ACROSS: Immofinanz has put sustainability at the top of its agenda. What specific measures have been taken, and what role do rising energy costs play in that context?
REINDL: Our net zero emissions strategy includes targets of 60% greenhouse gas emissions by 2030 and carbon neutrality by 2040. That is very ambitious for the portfolio as a whole. Interestingly, and contrary to some expectations, we are very well positioned thanks to our retail parks. That is primarily due to the fact that retail parks are comparatively simple buildings for which energy consumption in the form of non-fossil energy sources can be well coordinated. As a result of the more stringent requirements imposed on retailers by the EU Taxonomy, there is now a much greater willingness to do such things. We roll out photovoltaic systems at our STOP SHOPs across our entire portfolio. Pilot projects at our locations in Stockerau (Austria) and Bratislava have yielded very good results. In the future, our plan is to produce our own electricity, to the extent possible, and feed it directly into the grid. In addition, we decided to phase out gas as an energy source prior to the crisis in Ukraine. At all of our new retail parks, we will only be installing air-source heat pumps. Photovoltaics and air-source heat pumps create a very efficient cycle. In general, however, the best kind of electricity is the kind you do not use. In order to continue to pursue that goal, we also select the materials used at our Stop Shops accordingly. Our new concept "On Top Living", which consists of sustainable and affordable apartments located above our retail parks, is another example of how we are acquiring positive experience with wood construction. That makes us confident that the future will also see us building retail parks out of wood.
ACROSS: What is the current status of the Stop Shop markets? Will there be further expansions into other countries?
REINDL: Our most recently opened Stop Shop is located in Udine, Italy. The former Terminal Nord, which we acquired, is a very large retail park that covers around 33,000 square meters. That brings our total number of locations to 100. In addition, up to six retail parks will be completed and opened in Croatia this year. The special challenge in project development lies in the supply of materials. We have already started bundling contracts awarded to construction companies for several retail parks in order to generate large volumes, which will enable us to obtain materials on a preferential basis. Insulation materials, for example, are currently causing major problems in terms of delivery times.

ACROSS: What are Immofinanz's plans for Stop Shop?
REINDL: Our next goal is 140 locations, and I think that is quite achievable. Thanks to acquisitions as well as our projects in Croatia, we are making rapid progress. Thus, the question is rather: In which countries should we continue our expansion efforts? We have 16 locations in Slovakia, which is the most densely served country in our portfolio. The market in Austria is also saturated. We have 15 Stop Shops in Hungary, so there may still be potential for one or two more locations. Romania still has potential, but the market is hotly contested. In Serbia, we are pursuing a strategy of expanding existing locations. At present, Germany is simply too expensive for the quality of the locations on offer.

ACROSS: The "On Top Living" project was presented at MIPIM this year. What was the motivation behind the concept?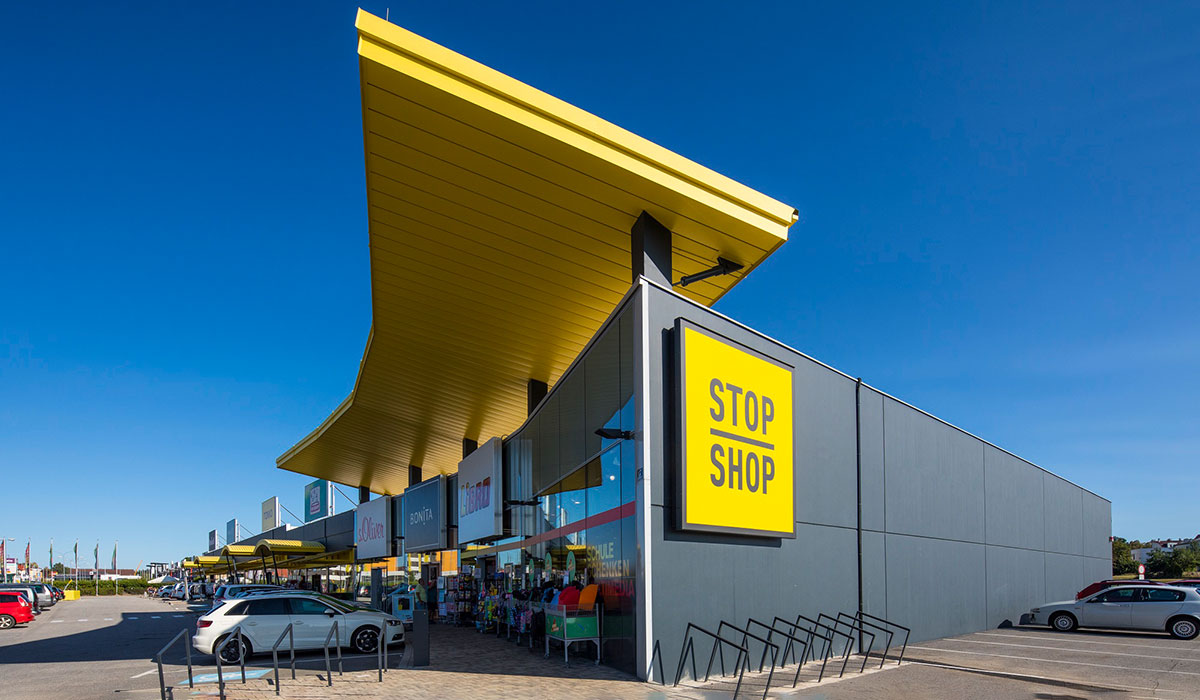 REINDL: The idea was born during the first weeks of the coronavirus crisis. The densification of our portfolio has been an important issue for me for the past two years. Our objective was to create "affordable and sustainable living space" that was directly linked to our Stop Shop retail parks. That was followed by intensive analyses of social trends. We also worked on the subject of ESG at a very early stage and with great intensity. That led to the creation of several development approaches, such as densification in existing buildings as well as the reduction of soil sealing, the creation of higher proportions of green space, and sustainable timber construction. All of those considerations then culminated in the implementation of the "On Top Living" project. We are planning to build approximately 12,000 apartments, measuring a total of 600,000 square meters, at our Stop Shop retail parks. In the process, a floating residential building, so to speak, will be connected to the back of each Stop Shop. The prefabricated apartment types will be placed on bridge-like steel/concrete structures by means of modular timber construction. There are four such types, which can be used and combined as required. In addition, play areas and terraces will be provided on the upper floors.
ACROSS: You have just mentioned affordable housing. What exactly does that mean in this context?
REINDL: Rental prices vary between countries. On average, we are talking about a maximum of 10 euros per square meter. Apartment sizes range from one to three rooms, from 25 to 70 square meters in total. Thanks to the modular nature of our construction, we can be very flexible and make location-specific adjustments. As a result, in coordination with the respective municipalities, we can also take infrastructural requirements, such as kindergartens and medical practices, into account.
ACROSS: Will every existing Stop Shop be given a residential expansion?
REINDL: No, that is not technically possible at every location. We intend to implement the residential concept at around 50% of our retail parks. That would amount to an area of approximately 600,000 square meters. With regard to new locations, we will, depending on location and demand, plan to include "On Top Living" right from the start.
ACROSS: Let us move on to another issue. The pandemic has caused many companies to rethink their attitudes toward trade shows. How do you deal with large international trade shows?
REINDL: MAPIC is an obvious choice for us, because it provides an extremely efficient means for us to get in touch with many of our customers and to discuss major issues. At MIPIM, our presence is also important from a European perspective. At Expo Real, however, we will be downsizing our presence.
ACROSS: There have been major changes in the ownership structure of Immofinanz. Will the Immofinanz brand remain the same? What changes can be expected in the future?
REINDL: CPI Property Group holds well over 50% of Immofinanz shares, and, as a result, IMMOFINANZ will be fully consolidated by CPI in the future. From CPI's perspective, that will result in real estate assets of around 19 billion euros. In terms of its business model, CPI, like Immofinanz, is a long-term portfolio holder, and we are present in the same countries, with CPI strongly focused on Berlin, the Czech Republic, and Poland. We have a stronger presence in countries further south and southeast. Thanks to our brands, we are highly present in those markets, which was definitely a motivating factor for CPI when it came to investment. In addition, we are two publicly traded companies that have other shareholders. Therefore, there is no issue of Immofinanz suddenly disappearing now.