Offering a shopping experience at smart prices, the outlet village offers minimum 30% discounts all year round, with its visitors having access to an eclectic range of goods at highly competitive prices. With an average of 5 shop openings per year, the offer has grown considerably. Today the Village boasts 72 boutiques and 2 restaurants.

Easy access
Located a 20-minute drive from Toulouse and 40 minutes from Carcassone, the Village stands nearby the A61 motorway. Easy and direct access encourages high visitor frequency. This frequency is ensured by its location close to Toulouse and its position at the intersection between the A61 and A66 motorways, major routes of the Greater South of France. The village attracts 60% of visitors from the immediate catchment area with the remaining 40% from the nearby flow of tourists.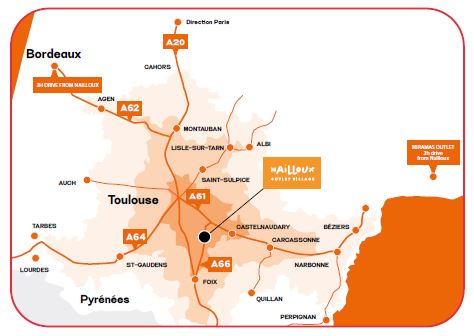 An architectural revamp to enchance visitor experience
To celebrate its 11-year anniversary, Advantail management has re-designed both the customer foot route and the layout of the site. Whilst keeping at heart its commitment to a strong brand village personality, the center has adorned a new attire with a revamped pop-art coloured corporate identity charter. This has provided a new palette of colours, a dynamic brightness, echoing the spirit of the French south west.
The Village's spaces have been reconfigured, revealing the site's full potential. The aim has been to create a warm, welcoming experience. But above and beyond these changes, the existing Village has been reinvigorated, materials reused and improved, bringing new life to the brand village architecture.
Painted areas and wall and window frescos were chosen to add touches of color to the space. The entire signage of the center, from the parking lot to the signposting in the alleys has been redesigned to be more visible and facilitate the visit. While preserving its charm and character, the Nailloux Outlet Village has been modernised and now offers a more practical visit.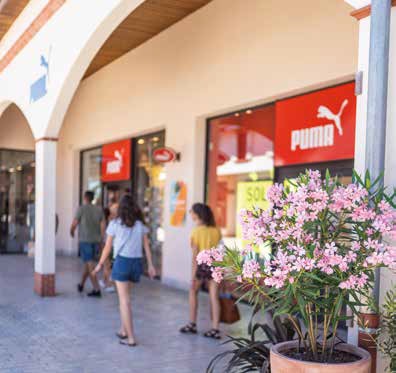 Advantail's management of commercial zones
Advantail Group manages several brand outlet centers including the Nailloux Outlet Village. The company endeavours to promote responsible consumption and management of its centers but also to make these sites vibrant and lively places.
"In order to contribute to a more sustainable consumer and leisure society, we, at Advantail, are convinced that tomorrow's high-performance commercial and leisure sites will also promote values and have meaning. Consequently, we make sure that our 7 brand centers are in line with a vision geared towards the circular economy, taking into consideration our territorial footprint. As a committed operator, our stake is to continue building for the future, helping in the transition towards a model of sustainable commerce. This sustainability strives to achieve a balance between stakeholders, with the end customer at heart. The reorganisation carried out at the Nailloux Outlet Village will allow us to implement these dynamics within a modern and pleasant setting" was the statement of Franck Verschelle, the CEO of Advantail.