ACROSS: COULD YOU BRIEFLY DESCRIBE THE BUSINESS FIELD IN WHICH YOU ARE ACTIVE?

KLAUS MENNICKHEIM: We are a boutique advisory firm for owners and asset managers of retail real estate. We operate across the European markets, with Germany being our core market. Approximately two thirds of our turnover is generated there. Among the investors we work with, the international share prevails. A typical scenario involves us assisting international investors in Germany, but we likewise advise German investors abroad.

ACROSS: YOU FOUNDED THE COMPANY IN 2014. WHAT HAS CHANGED IN THE RETAIL REAL ESTATE MARKET SINCE THEN?
STEFFEN HOFMANN: A lot has changed. The permanent shift in customer shopping behavior is one of the most significant changes. We have seen a considerable transfer of sales from brick-and-mortar retailing to online retailing. A decline in the overall space demand for physical retail spaces in our cities is inevitable. That triggers a need for defensive asset management projects, whereby owners and their operators are taking complex asset management measures to defend asset values. The activity spectrum ranges from re-anchoring, to refurbishment and repositioning, to full asset restructuring or repurposing projects even. Those who hesitate for too long risk losing out.
ACROSS: TO WHAT EXTENT HAS THAT INFLUENCED INVESTORS?
HOFMANN: As a side-effect of COVID-19, structural change in the brick-and-mortar retail sector has accelerated. In terms of transactions, there has been a market-wide standstill in investor demand for traditional shopping centers. A strong convenience-retail boom and a sustainable investment trend towards urban integrated mixed-use assets and vivid district centres with direct access to public transport hubs can be seen. These evolutions have already caused price corrections for less relevant retail schemes.
As we speak, a pronounced polarization of the investment market, particularly in the large-scale shopping center segment, can be observed. For the best assets, the market will now come back in a strong way. A group of sophisticated investors, who have already formed their own understanding of the future of retail real estate, is emerging. A bit like snipers they keep screening the market for trophy assets that have proven robust in the worst of times. These players will take advantage of the current market uncertainty and aim to get access to European prime assets at risk-adjusted price levels.
ACROSS: THE TERM "RETAIL BASHING" CAN OFTEN BE HEARD ON THE INVESTOR SIDE. WHAT IS YOUR STANCE ON THE ISSUE?

MENNICKHEIM: The effects that have been mentioned have gradually rendered retail properties incapable of functioning as plainly as they did in the past. Of course, the pandemic has served as a catalyst for a further shopping shift to the internet. We all have noted retailer bankruptcies, and a temporary collapse of occupier demand for rental space. Such realities have only served to fueling this "retail bashing" onslaught. We, however, see this in a very differentiated way. The challenges and the degree of complexity facing the asset class have increased, but with the right asset management strategy, it is absolutely legitimate to look toward the future with a positive mindset.

HOFMANN: All too often, there was an exaggeratedly negative sentiment in the market regarding retail real estate, with the exception of convenience-oriented neighborhood centers, where in fact not everything that glitters is gold. There is an enormous bandwidth of retail properties, however. In all sub-segments of our asset class, it is always key to identify the most interesting investment cases among the available options.

ACROSS: WHAT CLIENTS HAVE YOU CONSULTED TO DATE?

MENNICKHEIM: One-by-one we built up a considerable client base comprising more than 50 different investors with whom we have worked repeatedly and in a spirit of trust. Global institutional investors account for 80% of our clients. A few noteworthy examples in alphabetical order include: Allianz Real Estate, Blackstone, CBRE IM, Credit Suisse, and Nuveen Real Estate. We also advise various international joint venture partnerships in our capacity as an independent sounding board.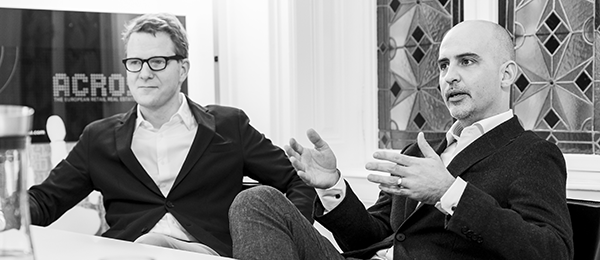 ACROSS: HAS THE RETAIL REAL ESTATE SECTOR BECOME MORE CONSULTANCY-RELIANT? 

HOFMANN: Yes, it definitely has. For good reasons. The disruption of brick-and-mortar retail has massively increased the need for consulting services for property owners. In previous decades, financial institutions purchased as-new and long-term let properties directly from the hands of the developers as bond-like investments. The institutional owners were then able to manage the properties in a relatively quiet manner for 5-10 years. Nowadays, a much greater degree of hands-on asset management is involved. Many standing properties have become complex real estate projects due to expiring leases or the loss of tenants. At present, there are only a few core properties – and even among these, the KPIs do not speak a clear language. This circumstance requires a great deal of explanation in the interaction with investors or banks. As a result, large fund or asset managers are embracing advice from sector specialists to navigate them in that regard.

ACROSS: TO WHAT EXTENT IS MIXED-USE AN ISSUE, AND IS IT SOMETHING THAT CALLS FOR AN INCREASE IN COMPETENCE ON YOUR PART?

HOFMANN: We have been working on various mixed-use projects since 2017. The conversion of department stores in city centers, the integration of new types of use in shopping centers, and even the repurposing of entire trading floors are all examples of projects in which we have gained experience. A recent prime transaction example of a remarkable mixed-use project that is currently being shaped is Boulevard Berlin. The new owners have just shared their plans to convert the upper floors into office space. Understanding the retail components remains essential when it comes to creating a successful mixed-use property. We often facilitate negotiations between the parties in these types of projects. Urban mixed-use projects will prove to be a sustainable trend.

ACROSS: 2021 WAS THE MOST SUCCESSFUL YEAR IN THE COMPANY'S HISTORY TO DATE. WHAT MADE THE YEAR SO SUCCESSFUL?

MENNICKHEIM: With the outbreak of the pandemic in 2020, we immediately recognized that there was a problem in the market and that good solutions will be needed. We embraced that as an entrepreneurial challenge, and we even recruited additional people. On the deal brokerage side, we were able to bring some large transactions totaling 135,000 sq m of lettable space during 2021 to a successful close. On the asset management side, we secured 24 new engagements, which demonstrated the enormous demand for consulting services.

ACROSS: WHY HAVE YOU DECIDED TO REBRAND AT THIS PARTICULAR MOMENT IN TIME?

MENNICKHEIM: When it comes to our engagements, we always act as discreet ambassadors and authorized negotiators on behalf of our clients. We serve as intermediaries between principals, which requires a great deal of diplomacy and negotiating skills on top of a high level of professional competence. Be it between buyer and seller, investor and bank, or tenant and landlord, planning office and developer: our task is always to keep both parties engaged at the negotiating table until a deal is sealed.

Our new company name arises from that activity: ambas Real Estate. The term "ambas" stems from the Romance language and expresses the core concept of being an ambassador or diplomat. As such, the ideal company name – one that inherently reflects the messenger role that we have always performed for our clients – is found.

HOFMANN: The new branding as ambas enables us to use a catchy term that concisely captures who we are. Our company slogan sums it up: "ambas Real Estate: Your Retail Real Estate Ambassador".

ACROSS: WHEN IS THE OFFICIAL RELAUNCH SCHEDULED TO TAKE PLACE?

HOFMANN: The legal and operational change of the company name has been initiated and is expected to take place as early as March of this year.

ACROSS: WILL THAT IMPACT ANYTHING IN YOUR SERVICE PORTFOLIO? ARE THERE ANY NEW CONSULTING AREAS ON THE HORIZON?

MENNICKHEIM: With respect to our established service portfolio, nothing will change. In response to past client demand, we have already successively expanded our portfolio. The expansion of the consulting fields has led us, among other things, to new services in the areas of mixed-use, PropTech, digitization, and sustainability matters. Simply put, the new fields we have moved into already do not correspond with the old company name any longer.

ACROSS: WHAT DO YOUR CLIENTS GET OUT OF IT?

HOFMANN: Over the years, we have gradually conquered new territory. iMallinvest's original focus on the term "mall" no longer does justice to the breadth of the business model and the range of service mandates that we perform today. Given the highly dynamic market environment, I believe it is essential that our clients continue to receive sound advisory services as part of our established business relationships, which are based on trust. Our future positioning as "ambas – Your Retail Real Estate Ambassador" reflects our clear commitment to retail real estate in all its diverse facets. By intentionally breaking away from the term "mall" in the company's branding, communication will be simplified not only for us, but for our clients as well.
---
ambas Real Estate GmbH
ambas Real Estate is an independent and dedicated retail investment and asset management advisory firm. The company advises owners and developers of retail assets and modern mixed-use properties. Its service portfolio comprises tailormade transaction-related advisory and strategic asset management services. ambas is active in the European real estate markets with Germany being its core market.
Steffen Hofmann
Managing Partner
ambas Real Estate GmbH
Kapuzinerstraße 38
55116 Mainz
Germany
+49 151 2409 1862