By Nemanja Bućinac
BEO Shopping Center recently won the prestigious European Council of Shopping Places (ECSP) Award 2023 in the "New Development" category. The award was further recognition of BEO's innovative architectural concept, which follows the latest global retail trends of the Belgrade-based center.
With close to seven million inhabitants, Serbia is the largest and most prosperous economy in the Balkans. It is also considered to be a regional hub and a springboard for companies seeking access to a wider regional market. As Serbia's capital and largest city, which has a population of around two million people, Belgrade plays an important role in the national economy. Belgrade is also the regional business center and is a very dynamic and diverse city with great potential for further growth and prosperity.
BEO Shopping Center is a brand-new shopping mall in Belgrade, with over 44,000 sq m of GLA and a total built area of 130,000 sq m. MPC bought the land of a ruined mechanical factory in May 2017 and immediately proceeded to transform it from industrial to retail use. The location in the east of Belgrade and its proximity to the freeway and major intersections was clearly in need of a new shopping center. As an investment of more than 110 million euros, the project serves a catchment population of around 786,000 people within a 20-minute drive radius. It is located on Vojislava Ilića Street, one of the longest and busiest streets in Belgrade. The area is well-connected by public transport in different directions, and is only 800 m away from Belgrade's most important artery – the E75 highway. BEO Shopping Center has also received the "WELL Health-Safety" certificate awarded by the International WELL Building Institute (IWBI).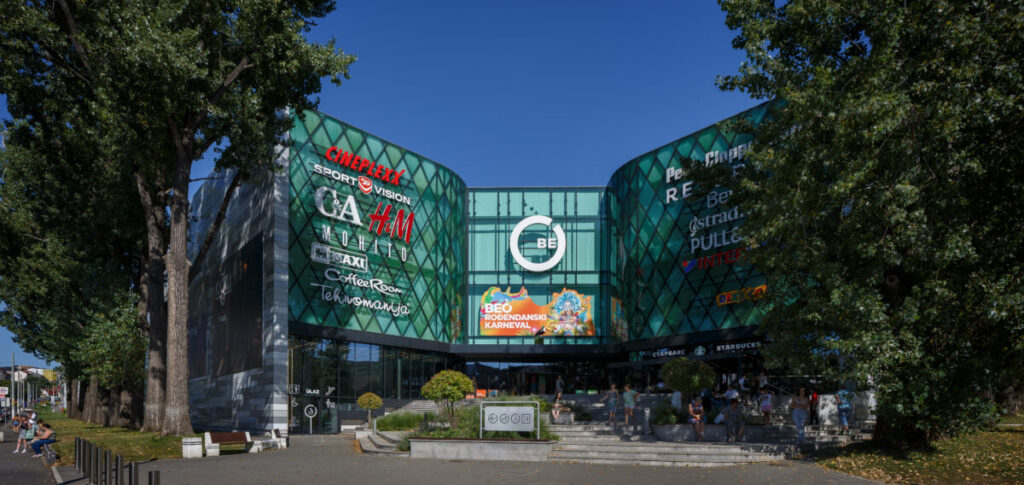 Experimental Retail Design
BEO is home to over 130 leading global and regional brands in different categories – from clothing, shoes, sports, accessories, health and beauty, and kids, to leisure, food and beverage, cinema, and entertainment. The center has three commercial floors and two underground levels with over 1,200 parking spaces. The ground floor features strategically positioned key anchor tenants, such as the biggest supermarket, which occupies over 2,400 sq m. The first floor features the spacious Central Square, which is designed to be the center's main gathering point and is also visible from the food court area (located on the third floor). The center's unique food court has two terraces, more than 13 modern restaurants, including both fast food and fine dining, as well as a multiplex cinema with eight high-tech screens, all equipped with Digital 2D, RealD 3D, and 4K resolutions.
In addition to its excellent location and its unique offer of brands, BEO Shopping Center is also recognizable for its innovative design and architectural concept, which is in line with the latest retail trends: more open areas, lots of natural light and greenery, wide common areas, and a main square that gives visitors the feeling of outdoor space – all designed to create a smooth and relaxing shopping experience. In this natural-looking environment, visitors are inspired to stay and shop as well as to feel and experience BEO's ambiance and atmosphere. BEO Shopping Center is a place where people can express and enjoy themselves – a place where everybody is welcome.
The name BEO Shopping Center required MPC Properties to create a clear link between the interior design and the "Belgrade-themed" atmosphere (in Serbian – Beograd). The company decided that every corner of BEO should be given its own identity. That was how the "New Belgrade Square", located at the main entrance and featuring a futuristic design and materials, came about, as well as the "Old Belgrade Square" on the opposite side of the facility, featuring a unique ceiling depicting monumental buildings and everyday life in Belgrade – both of which were the winning designs submitted by students participating in a competition. However, the highlight of the design is the Central Square, which lies below a stunning glass roof that floods the food court and the event area with an abundance of natural light. The custom designed mosaic at BEO, symbolizing the aerial view of Belgrade and its confluence of the Sava and the Danube rivers, allows visitors sitting on the veranda of the food court to enjoy the space below as well as the events taking place there.
Responsibility for the community
Since the opening of BEO Shopping Center, MPC has been committed to building a strong community, by supporting diversity and inclusion through numerous marketing activities, social initiatives, and CSR projects, and by providing various benefits that bring prosperity and success to everyone involved.
Ever since we opened BEO Shopping Center in 2020, we have used our marketing activities to create a fun and interactive community hub, where people share and enjoy great experiences together. One of our most popular activities is certainly "BEOrunners", the free-running club coached by the most-awarded athlete in Serbia, Mihail Dudas, where the participants can enjoy the sport, the warm atmosphere, and the wide range of discounts on sports equipment and supplements. Leveraging the trend of the selfie culture, artists, organizations, and brands have turned to selfie-friendly exhibitions to increase their digital footprint, engagement, and social media sharing. Therefore, during the first couple of months, we organized several themed exhibits at a number of different locations in the center that provided a perfect backdrop for photos, and our visitors really enjoyed it. During the holiday season, we set up a large ice rink at BEO's Central Square, which was greatly appreciated by our youngest visitors. Throughout the year, we celebrate all the important dates – Valentine's Day, International Women's Day, Easter, the beginning of the sales season, Back2School, Black Friday, Halloween, Christmas, etc. Last year, we celebrated BEO Shopping Center's second anniversary in a carnival-like atmosphere, with special prize promotions. Visitor response was great – they enjoyed the concerts, music, dance shows, and football matches, as well as the various discounts and prizes. This June, for its third anniversary, BEO Shopping Center intends to provide an even greater experience for its visitors.
Our CSR activities, which focus on cooperation with children's shelters, represent an important part of our work. Such activities include collecting Christmas gifts, with generous support from our tenants and business partners, organizing visits to art exhibitions, various workshops, film screenings, etc. We also received special support from Buddy, a robot, who was particularly popular with children. He taught them how to dance and how to read properly, he played memory games with them, and sometimes even rewarded them with cookies. Buddy was BEO Shopping Center's favorite employee and was a great example of our use of the latest industry trends.
Good experiences lead to better sales
One of MPC Properties' goals is to provide the best possible experience for visitors to our shopping centers while increasing customer loyalty, visits, and sales. In an effort to embrace the dynamics of social change and technological development, we created the Tvoj Centar (Your Center) loyalty platform to show our appreciation for the loyal visitors to our four shopping centers: BEO Shopping Center, UŠĆE Shopping Center, Mercator Centar Beograd, and Delta City. Users earn loyalty points simply by visiting these shopping centers, which they can use for various discounts and gifts. The Tvoj Centar mobile app keeps shoppers informed about the latest news and events at the centers and lifestyle trends, and also gives them the opportunity to win prizes in numerous competitions. The Tvoj Centar app was developed as an umbrella brand and has helped us position MPC Properties shopping centers as the most popular shopping destinations in Belgrade.
According to the research that was carried out in cooperation with UrbiStat, BEO Shopping Center has an extremely high satisfaction index – 9.55 (out of 10). A large majority of visitors use positive terms to describe the shopping center – super, cool, spacious, and comfortable. As many as 92% of visitors consider BEO Shopping Center to be a perfect place to spend time with their families and friends, while 74% consider BEO Shopping Center to be a fashionable and trendy place. BEO Shopping Center's average dwell time is 70 minutes, and the average amount spent is €35, mostly on clothing and groceries. Digital reviews of the comments and ratings posted by users on Google Places and Trip Advisor about BEO Shopping Center show a very high average score, 4.65 (out of 5). BEO Shopping Center has the highest user satisfaction score of 93% on those platforms as well.
The research also indicates that BEO Shopping Center currently attracts mostly Generation Z and Alpha Millennials. Our business opportunity lies in attracting older Millennials and Generation X (those with higher purchasing power), while maintaining engagement with the former ones, as we would like them to remain loyal as they grow older.
The future direction of BEO Shopping Center will center around expanding the existing layout on the second floor to include a Kid's Playground, which will increase customer satisfaction and leisure time at the center, especially for families, since the research indicates that they are the most loyal segment of the center's visitors. Total GLA will be upgraded from 44,357 sq m to 49,700 sq m.
BEO Shopping Center's impact on people and the environment essential to us, so we are committed to implementing our ESG strategy across all of our businesses. Our ESG perspective includes working to achieve a number of environmental goals. They are an integral part of BEO Shopping Center's construction and management efforts. Our social initiatives will continue to grow and support the communities surrounding the center. The third set of goals, related to governance, focuses on promoting diversity, equality, and inclusion. We have a strong green agenda to improve our environmental footprint through the implementation of a set of rules, with the ultimate goal of becoming carbonnegative and water-positive, reducing our waste to zero, and building ecosystems.