Should I or should it not? Should retailers and placemakers be investing in the metaverse? Whenever a technological innovation comes up, there is skepticism. Even smartphones and social media were no exception. What is new now is that the metaverse is not one single innovation. It is the culmination of many. And this combination is the main driver. Through a wide range of multiple technologies, including 5G, 3D, AR, VR, blockchain, cryptocurrency, cloud computing, and even social commerce, the possibility of creating a network of 3D virtual worlds is now very real. Furthermore, there already is a serious amount of investment behind it. The involvement of every big tech company, from Amazon to Microsoft, is a strong indicator that radical change is on the horizon. Therefore, the question is very real, if one should invest or not. And while most companies and brands are still thinking about it, companies like Nike, Balenciaga, and Samsung are diving straight in, earning dividends in customer loyalty.
ACROSS spoke to Ihsan Elgin, Executive Board Member of Finberg, about the investor's perspective on the metaverse. Founded in April 2018, Finberg is a corporate venture capital that has invested over 34 million US-Dollar in 19 start-ups to date.
ACROSS: Several virtual worlds like Second Life and Roblox already exist. As an investor, what makes you sure that the metaverse will not remain a relative niche like those previous virtual worlds but instead become mainstream?
Ihsan Elgin: We are totally interested in the metaverse. More than that, from an investor's perspective, I believe there is a significant opportunity in the metaverse for areas where people strongly desire a close-to-physical experience. Technology has advanced significantly, enabling richer and more immersive experiences that are more accessible to different users. But we should also not forget that the pandemic has accelerated the adoption of digital technologies and remote experiences, making the metaverse more relevant and appealing to a broader audience. However, on the investment side, we are seeing a decrease in interest due to the current situation of crypto markets. However, the metaverse is far different from the crypto industry. I hope there will soon be significant momentum and interest in investing in the metaverse ecosystem.
ACROSS: Many companies initially needed to catch up to the transition to the internet and then to mobile apps. What advice do you give companies that don't want to miss this next transition?
Elgin: Without experimenting, you cannot learn anything. Therefore, I advise companies to start experimenting and learning about the metaverse. There are many ways to do this, including partnering with start-ups or other companies in this sector, attending conferences and events, and investing in internal R&D initiatives. It's also important to consider how the metaverse could impact your core business and value proposition and how you can leverage it to create new opportunities and revenue streams. Not every company will need to or should invest in the metaverse tech; however, staying informed & updated can be helpful anyway. For example, small experiments can be done for basic use cases like dealer meetings. When companies think about the metaverse, they often limit it to the e-commerce ecosystem. However, it is crucial to focus on more than just selling something to people; the metaverse also provides an excellent space for product experiences and connecting people worldwide.
Moreover, it is possible to transfer internal processes such as job tasks, product presentations, company events, and so on to the metaverse world. Startups offer practical benefits and easy-to-use test-and-learn environments for companies, as implementing such technologies independently can be challenging.
There are alternative ways for companies that are afraid to embrace new technologies. Instead of starting from scratch in the metaverse world, companies can experience the transition by using tools like NFTs. For example, NFT solutions offer a great alternative to loyalty programs. One example is the NFT marketplace Elyt, which transforms companies' physical world activities into digital experiences for end users through its offered collections.
---
---
ACROSS: What are some of the biggest roadblocks for the metaverse you see?
Elgin: For broader usage, there are many technical challenges, such as scalability and user experience, as well as social challenges, such as privacy, identity, and governance. Metaverse is a brand-new concept for everyone, even for entrepreneurs. While I believe people are ready to embrace the metaverse, overcoming these challenges is crucial for a smooth and secure experience. Refining the metaverse into a viable and sustainable ecosystem will require time and experimentation.
There is a need for more use cases to enable people to establish a more realistic connection with the metaverse and position it commercially. In recent years, we have witnessed the entry of many startups into the metaverse space due to its increasing popularity. Currently, these start-ups are also attempting to venture into the field of artificial intelligence, which naturally raises questions in the minds of both companies and individuals. However, this is also part of the process. We have been through these stages at the beginning of the internet & mobile age.
Revolution & diversification of retail industry – click to enlarge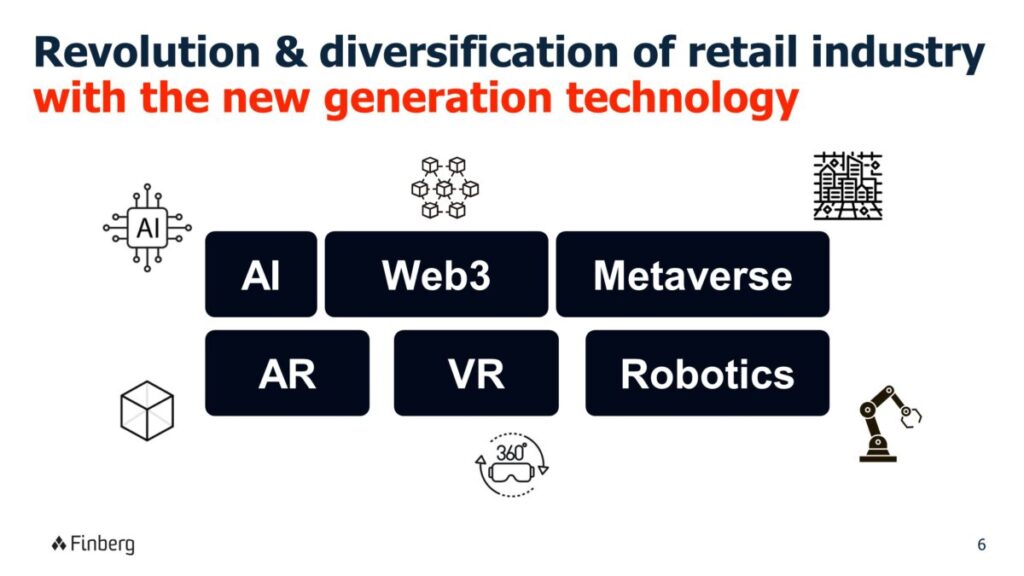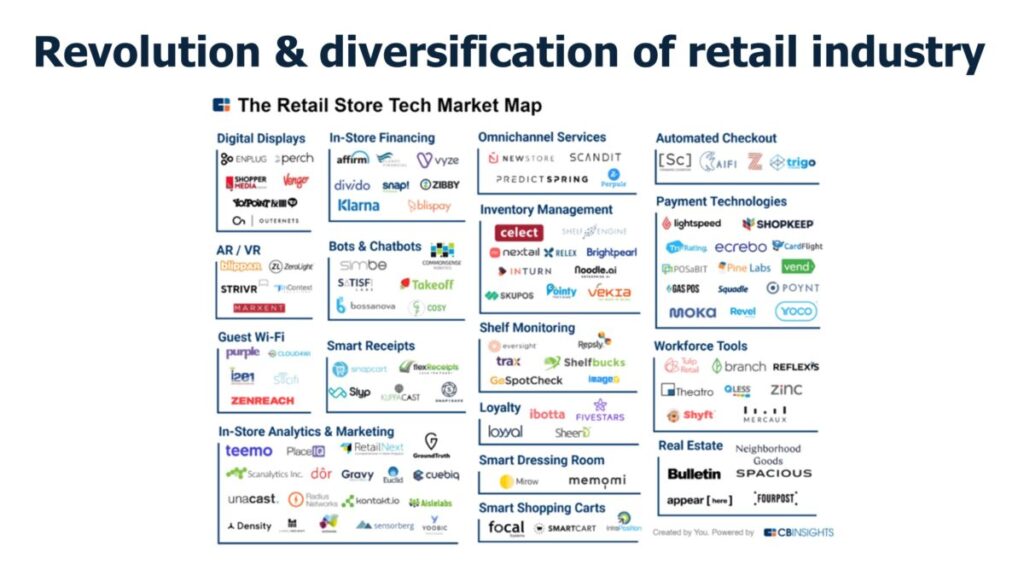 ACROSS: Name one use case for the metaverse you are excited about.
Elgin: Removing the barriers between the online & physical world makes me excited about it. Imagine attending a virtual concert, conference, or trade show where you can interact with other attendees, explore virtual spaces, and participate in activities in a way that feels almost as immersive as being there in person. I believe that the metaverse can unlock significant value in this area and create new opportunities for content creators, designers, event organizers, and businesses from many industries.
Many people believe that the metaverse is mainly a space for individuals to enjoy. However, it has numerous opportunities for companies, such as facilitating the gathering of distributors or providing the ability to connect with their employees regardless of physical distance, effectively breaking the barriers between the online and physical world. This convergence of virtual and real realms within the metaverse allows companies to fasten collaboration and enhance communication. By transcending geographical limitations, the metaverse empowers businesses to overcome the challenges of distance and time zones.
Atlas Space, an innovative start-up that embraces the concept of Metaverse-as-a-Service (MaaS), has already built successful partnerships with well-known brands like Vodafone, Turkcell, and Pepsi. With their cutting-edge metaverse ecosystem, Atlas Space seamlessly integrates physical and virtual elements, revolutionizing office spaces and empowering companies to create immersive office-like experiences for their employees and organize exceptional corporate events.
By redefining the boundaries of the metaverse realm, Atlas Space's approach enables people to have an incredibly realistic and immersive 'metaverse' experience as they navigate through a mixture of real and surreal spaces, accompanied by an unparalleled level of engagement and interactivity.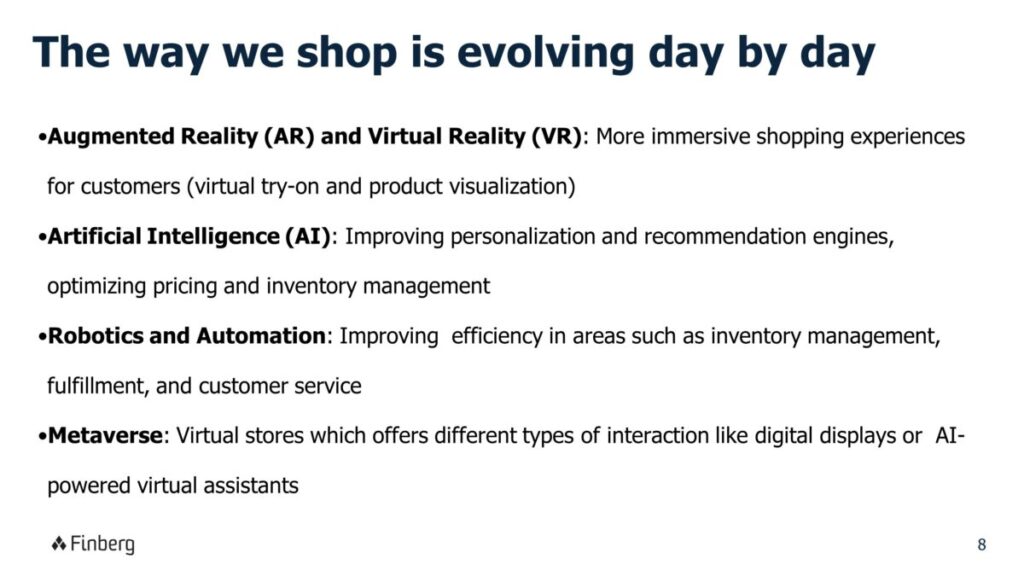 ACROSS: Metaverse and eCommerce – how do you see them work together? What are your favorite use cases, examples, and benchmarks?
Elgin: Metaverse and e-commerce look like a natural fit because metaverse enables new and more immersive online shopping and commerce forms. For example, companies can create virtual shops and showrooms where users can explore and experience products. This enables users to try everything before they make a purchase, potentially expanding the e-commerce world significantly.
For example, Cerebrum Tech, which is committed to building a powerful ecosystem through AI and metaverse, will introduce its innovative product called Cereverse soon. Currently, they are in the beta phase, experimenting with various functions in collaboration with multiple brands. Cereverse is not just another metaverse platform; it is the ultimate metaverse ecosystem that seamlessly blends the realms of virtual reality and the real world. Cereverse Ecosystem aims to preserve this positive link between technology and environment by taking advantage of emerging concepts like Blockchain, Web 3.0, Metaverse, NFTs, and DAOs. I believe that they will create a perfect mix of metaverse & e-commerce experiences while being aligned with Sustainable Development Goals (SDGs).
Learnings Part 3
1. There are many ways for companies to learn about the Metaverse , including partnering with startups or other companies in the space, attending conferences and events, and investing in internal R&D initiatives.
2. For a broader usage there are many technical challenges, such as scalability, and user experience, as well as social challenges. Refining the metaverse into a viable and sustainable ecosystem will require time and experimentation
3. The metaverse can unlock significant value in virtual meetings, conference, or trade show and create new opportunities for content creators, designers, event organizers, and businesses from many industries.
More about the Metaverse:
ACROSS has teamed up with Elyt.net, Finberg, and FİBA Commercial Properties to provide first-hand content on how shopping places can benefit from the Metaverse. Stay tuned for articles on:
+ Business cases within the placemaking industry
+ The solution: Live session on a concrete product presentation in cooperation with Elyt.net and Fiba