By Dan Mason
Outlet has shown a remarkable evolution over three decades, once an outpost for last season's stock and today a key requirement of the successful omnichannel strategy for leading brands. A clear indication of the trend towards premiumization is the growing aspiration among brands to craft a more upscale and refined shopping experience. This requires more store space to seamlessly integrate digital screens, enhance merchandising, and cultivate a more sophisticated ambiance. Additionally, brands are extending their offer to include in-house services such as alterations, bridging the tangible gap between outlet and full-price stores, especially for first-time shoppers.
Although the shift towards premiumisation appears to be a significant driver behind the proliferation of flagship stores, there is more at play. Retailers are increasingly looking to integrate outlets into their broader omnichannel strategies, necessitating careful attention to back-of-house requirements. Some brands are also giving their newest flagship concept stores a distinct brand identity. Nike Unite stores are a common sight in outlets, like LDO, as well as retail parks, meaning the format is versatile and cross-category in its appeal.
Simultaneously, brands are expanding their product offerings, which requires more space and strategic zoning. For instance, Lindt has ventured into serving gelato in-store and Mountain Warehouse now boasts leisure wear, pet owner essentials, and a host of new brands in a notable diversification for the brand.
Brands who are seeking flagship space are global, boasting well-established popularity and a track record of success. Notably, this category is largely dominated by athleisure and sportswear giants like Nike, Adidas, and Puma who, according to a combination of our own research and pan-European data from Magdus, have an average unit upsize size of 10,250 sq ft for this year. A significant catalyst behind this trend is the robust growth of the UK gym market, with 15.1% of the population now members of a gym. Outlets have unique appeal as they offer a wide range of choices, eliminating the need to limit oneself to a single multi-brand retailer. The impact of the growth of the leisure market also feeds into the growing popularity of health food operators. Brands like Holland & Barrett and Grape Tree, for instance, are expanding their footprint to cater to this burgeoning demand, diversifying their product range to include items such as protein and CBD products.
Meanwhile, fashion and footwear brands, such as Guess, Boss, Skechers, Jack and Jones, The North Face, and Carvella, are also expanding their footprint in outlets. At our outlet portfolio this year, Tommy, Levi's, and Calvin Klein have upsized with an average unit size of 1640 sq m—a scale that, while not on par with athleisure and sportswear giants, remains significant given the average outlet unit size of 915 sq m.
These brands are strategically diversifying their product offerings and leveraging flagship opportunities to bolster their market share and attract new customers. One such example is the new 4,499 sq. ft. Skechers now open at Lakeside Village, which offers back-to-school gear, walking, athleisure, running gear, and comfort shoes, creating a multi-generational appeal in a highly visible unit at the scheme. Tenant ambition is also important and brands that have shed the old view that outlets are a place for stock clearance will naturally want a space that more closely mirrors the high street in terms of promotions, stock deliveries and stock replenishment. We've also started to see bigger groups with brand portfolios wanting outlet stores with dual fascias to allow them to seasonally flex stock and save on back of house costs.
In all discussions with tenants regarding space allocation, critical factors come into play, including turnover data, feedback from retail managers, and benchmarking against category averages, ensuring a well-informed approach to decision-making. There are, of course, also more human considerations. Even if you have around 80 stores, like at LDO, the average number being visited by individual guests per trip will rarely exceed five or six. One amazing women's wear brand is unlikely to draw customers on its own, and without complementary stores or offerings, people are less inclined to visit. There is a balance to be achieved here as brands want to flex their store and make the biggest impression possible, but there is a risk of upsizing, causing some dilution – doubling in size does not equal double the turnover. This, too, requires careful consideration and balancing to maintain a sufficient range of fascias to support a wider tenant strategy; if too many brands upsize across multiple units, an asset manager has less flexibility to offer smaller, potentially higher-density units. This is where knowledge of the scheme is used in tandem with data, modeling, and conversations with occupiers to arrive at the best solution.
Newly finished schemes, or those still under construction, often serve as a reflection of these broader trends. Consider Cotswolds Designer Outlet, where there is a strong focus on guest experience and the design provides the ability to easily amalgamate and split units, as well as incorporating a variety of unit depths and mezzanine storage opportunities within units, and remote storage facilities within the central block, that combines to enable optimisation of the tenant mix and enable trading space to remain uncluttered with a premium feel. The demand for bigger units from athleisure brands has become clear in conversations with retailers, whilst others have been requesting smaller units as they look to integrate order-in-store capabilities, so flexibility is the key.
While the average unit size at outlet centers has remained relatively consistent over the past decade, hovering around 600 sq m, a noticeable shift has occurred, particularly since 2020 when unit size jumped up to nearer 915 sq m. The average store count for schemes has also risen from 88 to 95 in the last five years. A shift towards more extensive units and outlets accommodates the overarching trends of premiumization and the expansion of product offerings and market reach. As brands develop their outlet presence, flagship stores will no doubt prove a defining hallmark of 'Outlet 3.0'.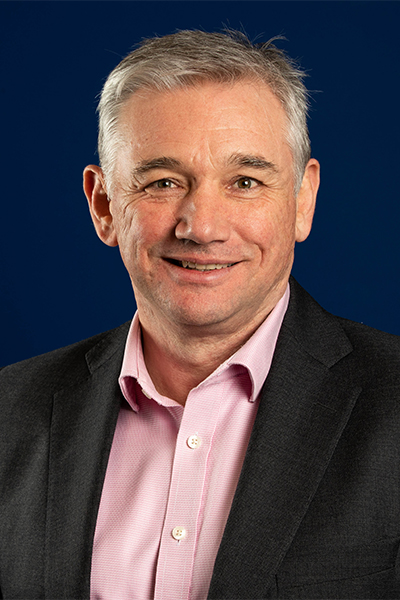 Dan Mason
Dan Mason is Managing Director Realm Ltd