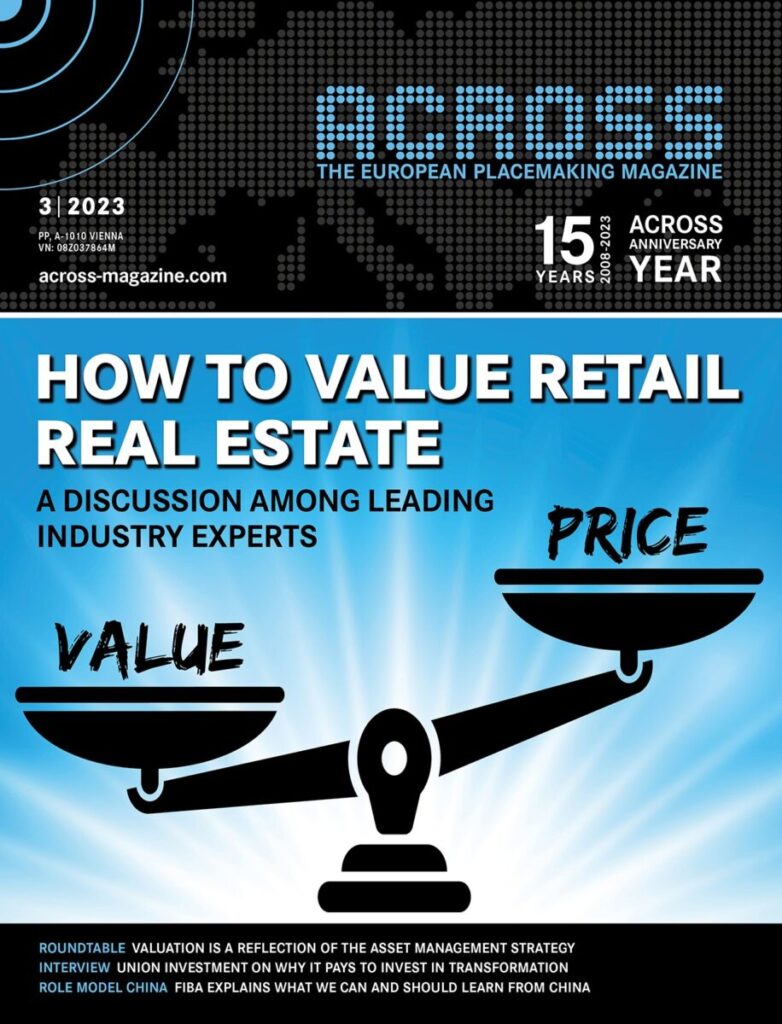 Dear Reader,
Valuation is an instrument, but it is way more than pure statistics: This is one conclusion of our ACROSS roundtable discussion on valuation between Klaus Striebich (RaRE Advise), Steffen Hofmann (Ambas), Jean-Christophe Bretxa (METRO PROPERTIES), Tijana Elez (MPC) and Henri Eisenkopf (Union Investment). It became clear: Market developments also change the mechanisms of valuation. The way market players look at valuation and how it takes place varies throughout the industry. But they all agree that to find the "right" price for retail real estate, a clear vision, realistic business model, professional data, and expertise are essential. And then, valuation will follow a clear and straightforward asset management.
The roundtable on valuation is the latest result of the regular exchange between our advisory board members. Klaus Striebich, Head of the ACROSS Advisory Board, regularly discusses important industry topics with board members, thus promoting dialogue and collaboration within the placemaking industry. We are proud to gather so many industry leaders on one board.
Repurposing existing properties is a value-adding approach, benefiting both the capital market and users. This is why Union Investment is changing direction for the better by considering the value chain holistically. In a detailed focus topic, Managing Director Henrike Waldburg explains the corporate positioning, how Union Investment understands transformation, and why it is worth investing in transformation from a financial and social perspective.
Furthermore, we show with five case studies how this works and what it looks like in practice. Also, SES, HBB, and Kaufland show how existing centers can be converted into state-of-the-art shopping destinations by sharing their case studies. "The further development of locations is one of the fundamental tools of our industry," states Christoph Andexlinger, CEO of SES. "However," argues Angelus Bernreuther, Head of Investor Relations Management at Kaufland, "revitalization presupposes that the market players – investors, tenants, and local authorities understand the mechanisms of success.
Enjoy reading this and our other articles and interviews.
Yours sincerely,
Reinhard Winiwarter
Publisher of ACROSS Magazine
Click here for more information about our subscription models.
---
High-quality industry information is very important, especially in challenging times. Therefore, ACROSS will further expand its reporting, particularly in the online sector. You will find our publication dates for 2023 here. Benefit from our strong presence to further improve the positioning of your company.