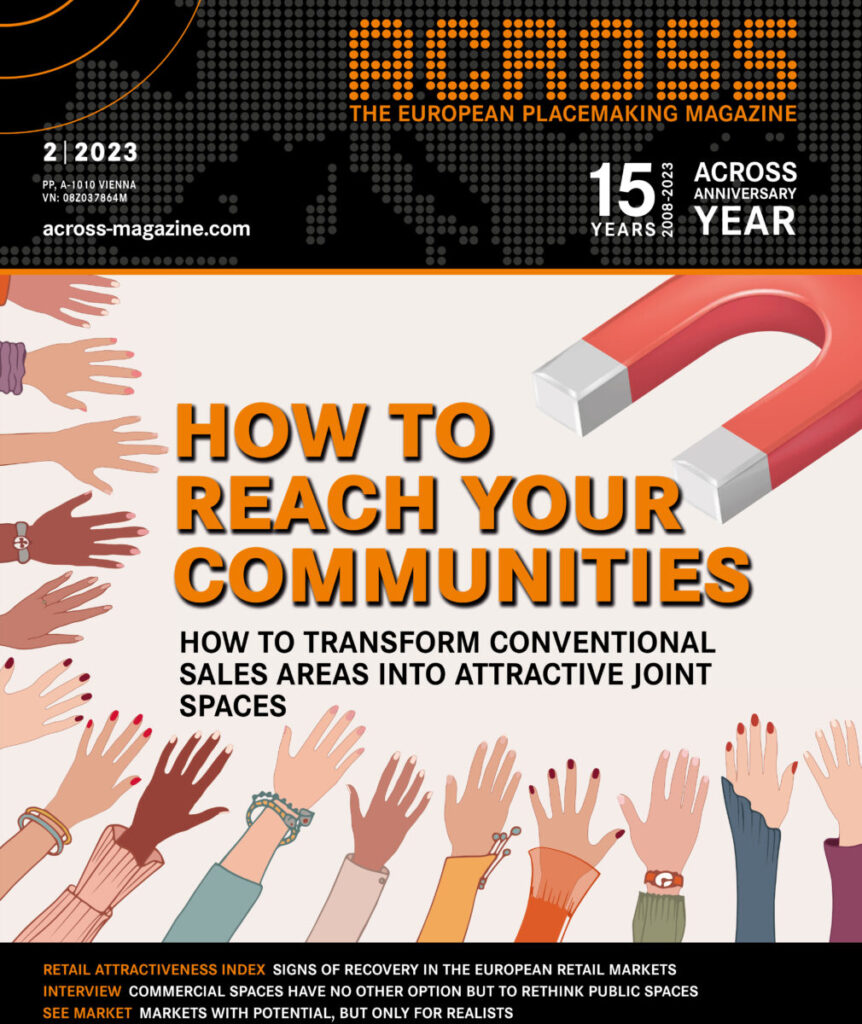 Sorry, the free-reading period is over. However, feel free to subscribe to ACROSS instead. Click here for more information about our subscription models.
Dear Reader,
"It is important to have an opinion about the future of retail" – Ibrahim Ibrahim, Managing Director of Portland Design, summed it up perfectly in his discussion with ACROSS. Without a vision, we cannot proceed. And there certainly is a need to proceed. Our society talks a lot about a "culture of failure" that we need to create. But in reality, businesses do not fail because of failures; they fail because they continue to do what used to be the right things for far too long. This is especially true for the shopping center industry. Our discussion with Ibrahim Ibrahim was beyond inspiring and is not only a great lead article for the community focus of this edition of ACROSS; it is a great starting point for all industry stakeholders to define their own and future-proof idea of retail.
We truly believe that with a clear vision, a dose of creativity, a new mindset, fast and agile innovation, and an honest focus on the customer, shopping places can be transformed into consumer social spaces to meet the needs of new and future generations of shoppers. And there are great examples out there. Redevco revolutionizes the idea of retail parks by turning them into real community centers. Also, MEC has been developing the role of retail parks for quite some years and has made them essential parts of modern urban development. Pragma and Benoy show how mixed-use offerings help to meet the needs of the contemporary customer and citizen. These are only some examples of our worth-reading community focus. And why new approaches are needed becomes even more evident when we look at the latest Global Retail Attractiveness Index (GRAI) by Union Investment and GfK, even if it shows slight signs of recovery.
Our second focus in this ACROSS edition sheds light on the SEE-Market. Nowadays, the Balkan region is one of the most dynamic of the European shopping center industry. This was best proven by the opening of Sonae Sierra's Prishtina Mall. Also, MPC's Beo Center is a perfect example of how modern concepts meet the needs of the catchment area. There is hardly any other region in Europe where so many centers are opened, new projects are developed and promoted while more international brands enter the markets. Our interviews with industry experts like Julian Mane, BALFIN Group's Vice President of Retail, and Mauro Abruzzese, CEO and Managing Director at OCM International, show: There is much potential in these markets, but you have to be very realistic about their chances and weaknesses. And as always in our industry: You must know your customer.
We hope you enjoy the latest issue of ACROSS.
Yours sincerely,
Reinhard Winiwarter
Publisher of ACROSS Magazine
Click here for more information about our subscription models.
---
High-quality industry information is very important, especially in challenging times. Therefore, ACROSS will further expand its reporting, particularly in the online sector. You will find our publication dates for 2023 here. Benefit from our strong presence to further improve the positioning of your company.