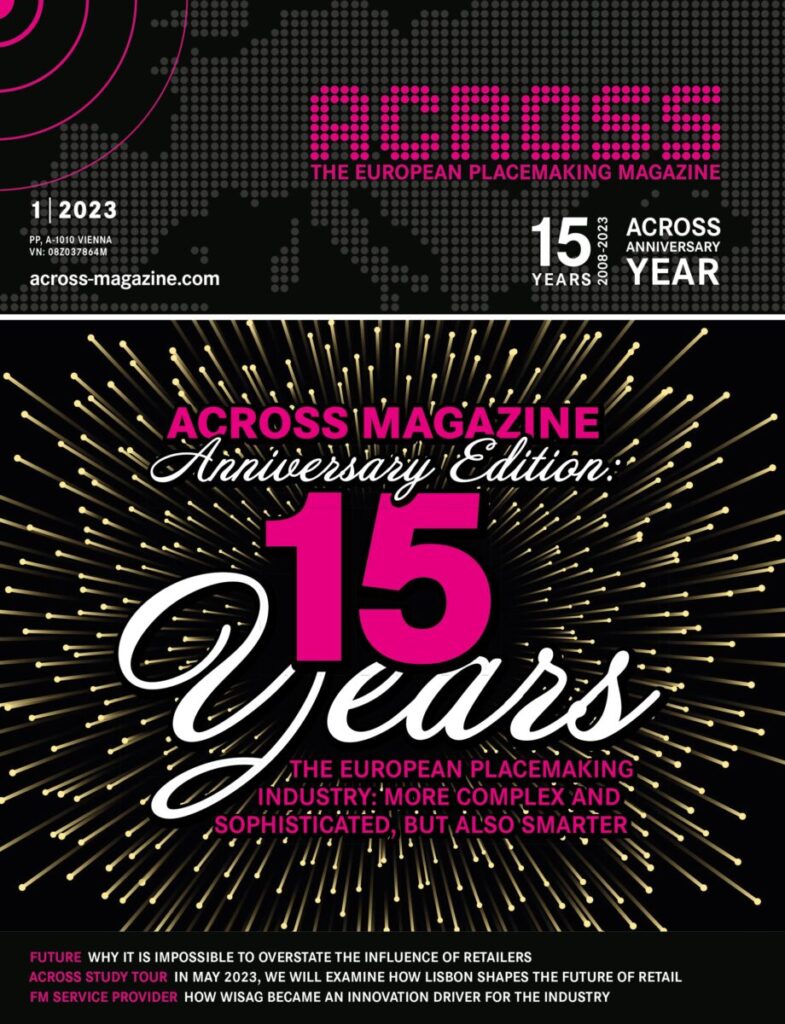 Sorry, the free-reading period is over. However, feel free to subscribe to ACROSS instead. Click here for more information about our subscription models.
Dear Reader,
Taking a bold step is the beginning of every success story: In 2008, the year of the financial crisis and the collapse of Lehmann Brothers, we published our debut print issue. The first ACROSS magazine issue could be found on the desks of executives and decision-makers, right next to statistics on falling consumer spending across Europe and the collapse of once-booming markets. For the vast majority of investors and developers operating in the shopping center business, all plans for the future collapsed like a house of cards. Projects were stopped, rejected, or postponed. We are proud to have lived through the ups and downs of the past few years together with the industry and to have been able to report on such changes. In 2023, exactly 15 years after ACROSS was founded, the world of placemaking is once again at a crossroads. Challenges and various crises have reshaped the industry. In this print issue, we take a journey through 15 years of placemaking history – and not just because we are celebrating our anniversary. It is rather due to our firm conviction: If you want to shape the future, you have to analyze the past.
As part of our thematic focus, leading industry experts take a look back at the industry from their individual perspectives. Giles Membrey, Managing Director of Rioja Estates, and Daniel Losantos, CEO of Neinver analyze the growing importance of outlets, while Steffen Hofmann of ambas takes a look back from an investor's point of view. Rüdiger Dany, CEO of Nepi, shows how a developer from Eastern Europe has been able to develop over the past 15 years, and Ibrahim Ibrahim (Managing Director of Portland Design) and Gregory Fonseca, Director of Architecture BDP add further perspective by taking an approach based on design and architecture. In addition, industry leaders, such as Ken Gunn and Redevco discuss how key metrics, such as KPIs, have been completely redefined over the years.
As an industry magazine, we are particularly proud of one thing: the close cooperation that exists within the industry. The immediate and constant exchange, the feedback that we receive from industry participants, and, above all, the input provided by our advisory board make us confident that our reporting will continue to be both successful and in line with the latest industry developments over the next 15 years, highlighting trends while simultaneously putting them to the test. We are firmly convinced that the placemaking industry is one of the most exciting industries. That is where so many social, political, and economic developments converge and, above all, where real change can occur. Futurologist Andreas Steinle describes it as follows: Shopping centers are places where ideas become very concrete, where change can take place, and where positive consumer stories are told. We could not agree more!
We are looking forward to meeting all of you at MIPIM 2023 and to exchange ideas with you.
Yours sincerely,
Reinhard Winiwarter
Publisher of ACROSS Magazine
Click here for more information about our subscription models.
---
High-quality industry information is very important, especially in challenging times. Therefore, ACROSS will further expand its reporting, particularly in the online sector. You will find our publication dates for 2023 here. Benefit from our strong presence to further improve the positioning of your company.