ACROSS: WHAT IS REDEVCO'S PLANNING TO DO FOR ITS GROWTH AND DIVERSIFICATION?
HERMAN JAN FABER: Redevco is part of a family-owned company with over a 100-year history, and this close-knit culture generates a very long-term perspective on the business and, even more importantly, on societal and environmental challenges such as climate change. We worked almost exclusively for our balance sheet for many years, but that is now changing rapidly with our recent focus on managing capital for like-minded third-party investors. Our property sector focus is also changing from Redevco being overwhelmingly invested in retail real estate toward a more holistic approach of mixed-used developments that contribute to societal inclusivity and environmental sustainability, and which lead the way in the transformation of our cities.
ACROSS: WHAT DOES THAT MEAN?
FABER: This is a natural development for us since retail real estate has been one of the most disrupted sectors that has undergone a rapid and fundamental evolution within the urban landscape in recent years due to factors ranging from e-commerce competition and the Covid pandemic to urbanization and demographic megatrends. Redevco has responded to these challenges with research-led innovation, and this has led us to the wholesale optimization of our investment portfolio and a natural transition, particularly towards mixed-use and living developments, and also in the living hospitality & leisure sector, away from pure retail.
ACROSS: WHAT KIND OF CITIES DO YOU FOCUS ON?
FABER: We look mainly at the bigger cities in Europe, which are the ones where population and economic growth are concentrated, for our mixed-use strategies. Our research team is constantly analyzing the investment attractiveness of European urban centers. We have been developing our own City Attractiveness Tool for almost 15 years now. Most investments are based on this research-backed tool. But of course, for some investments, there is more appetite for risk than for other.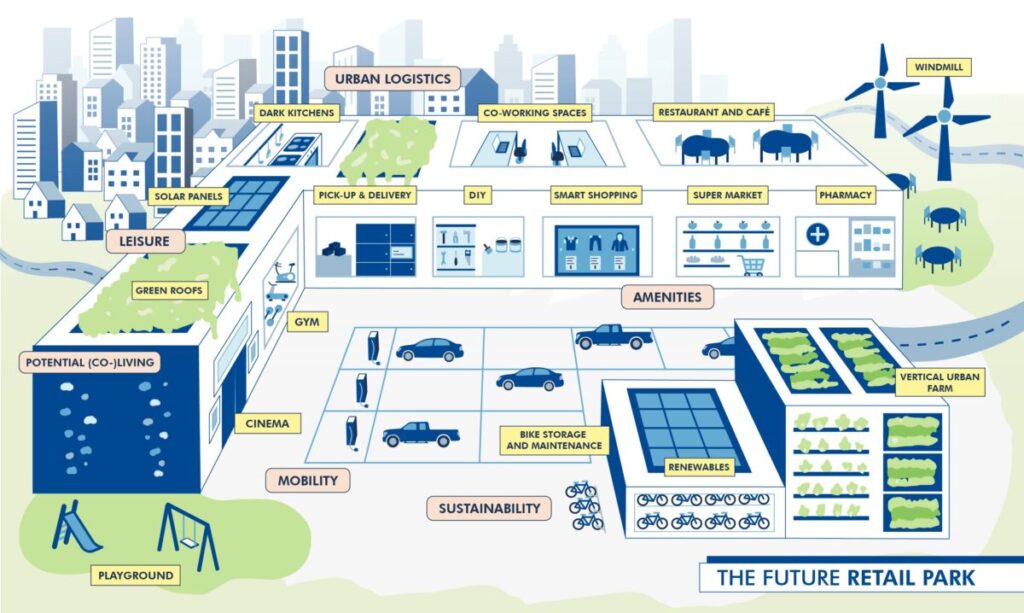 ACROSS: WHAT ARE THE MAIN CHARACTERISTICS YOU LOOK AT FOR YOUR CITY ATTRACTIVENESS INDEX?
FABER: We focus on almost 30 metrics, including the main obvious ones such as population growth and the city's economy, but also more qualitative factors like its draw as a tourism center or the presence of creative professionals. For example, our City Attractiveness research found that when there is an urban center with a high student population and a well-developed creative sector, those cities are generally more attractive to live in and have better growth prospects. We have prepared this index for 15 years and can compare the yearly outcome with previous reports' conclusions, providing a solid data-based roadmap to help guide our investment decisions.
ACROSS: WHAT ARE THE CHANGES YOU MADE IN YOUR INVESTMENT STRATEGY?
FABER: A big step we took, and a significant change in our investment strategy, occurred last year when we acquired a majority stake in redos, the Hamburg-based large-scale retail and urban logistics property investment specialist. Retail parks are no longer out-of-town shopping alternatives; they can play an essential role as new local communal hubs, generally in the urban peripheries of cities, and bring diverse functions to these neighborhoods. With the potential of mixed-use 'densification' developments and vast possibilities to implement renewable energy solutions, the retail warehouse park segment could play a key role in helping cities become more livable and sustainable.
ACROSS: WHERE DO YOU SEE THE MOST POTENTIAL AT THE MOMENT?
FABER: Given the current market circumstances for investing, we are cautious. But of course, we do not say to our teams not to look at opportunities. This is the time to prepare suitable investment strategies that match our capabilities and create opportunities. We are sure that retail warehouse parks provide these opportunities. This retail sector has proven itself through a resilient investment performance through the Covid pandemic, with yields not ballooning out as we saw with other retail formats. Rents are also relatively low in retail warehouse parks, providing greater flexibility in passing on inflation adjustments to tenants. The sector also has attractive sustainability characteristics, for example, in its relatively low carbon intensity in operation.
ACROSS: BEFORE WE GO INTO MORE DETAIL ABOUT RETAIL PARKS: HARDLY ANY OTHER COMPANY IN THE INDUSTRY FOCUSES AS MUCH ON MIXED-USE AS REDEVCO. WHAT ARE, FROM YOUR EXPERIENCE, THE SUCCESS FACTORS OF A MIXED-USE PROJECT?
FABER: There is only one answer: You must find a tailor-made approach for every building. There is no copy-paste strategy for mixed-use buildings. You must get to know the asset, the area, and the community. For example, we are now converting a building on Mönckebergstrasse in Hamburg. It used to be exclusively for retail, but we will have a supermarket in the basement, two other retail floors, and two types of hotels in the mix. We fundamentally believe that this is the right configuration for that asset – but only for this building and only because it is at this specific location in Hamburg with specific requirements.
---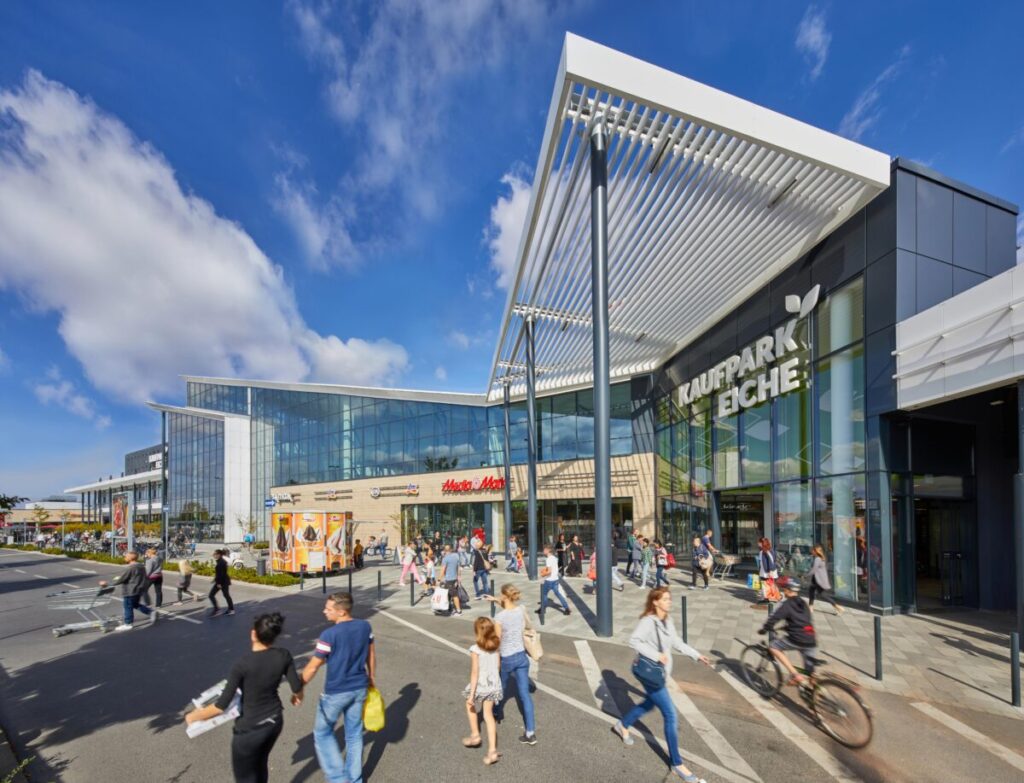 Creating a pan-European retail park platform
In May 2022, Redevco acquired a majority stake in redos to create a panEuropean retail warehouse park platform. redos have a strong reputation in Germany when it comes to retail parks. The acquisition strengthened Redevco's market position and was the next step in the company's mission to create more sustainable and livable cities. "The acquisition provides Redevco with an excellent foundation to create a pan-European retail warehouse park platform and springboard into urban logistics," states Andrew Vaughan, CEO of Redevco.
---
ACROSS: YOU MUST DO YOUR HOMEWORK AND CONSTANTLY ANALYZE THE CATCHMENT AREAS.
FABER: Yes, our company is completely localized. We collaborate with local teams who understand their markets, have good connections with municipalities, and know their way around the domestic industry. You cannot plan mixed-use developments all over Europe from a company headquarters and say that is the project of the future. This is especially true when you have a lot of historical buildings in your portfolio. Their layouts are very individual, and although implementing ESG criteria is complicated, we can make much impact when we succeed. These buildings are stunning, but it is difficult to make them green. We are, however, doing our utmost to improve the sustainability credentials of these monuments too, and where possible, for instance, with new builds, we aim for net zero carbon. This bespoke property approach is really at the heart of asset management.
ACROSS: IS THAT ALSO THE WAY TO GO FOR RETAIL PARKS? WHAT IS YOUR RETAIL PARK STRATEGY?
FABER: We believe that retail parks play an important role in the evolution of cities. It is a lot about logistics and city management. There will always be people who want to live just outside the city. On the one hand, as people became very mobile, and life in and outside cities became fluid, you want to accommodate that. But on the other hand, to limit people commuting in and out too much, you also want to facilitate 'having everything around the corner.' Therefore, quality retail parks with a good offer of shops, amenities, and services will play an important role in cities and communities. The potential of retail parks to contribute to Redevco's mission to lead the transformation of cities to ensure they are sustainable and livable is enormous. That is why we invested in acquiring the redos platform in Germany. Germany is one of Europe's biggest retail park markets, and we clearly aim to expand across Europe.
ACROSS: RETAIL PARKS ARE NOT KNOWN FOR BEING PARTICULARLY VIBRANT PLACES. THEY ARE ATTRACTIVE BECAUSE OF THEIR CONVENIENCE.
FABER: That is true. But that is exactly where we see the potential. Some of them are not connected. The parking lots are dark and difficult to access. The tenant mix can be improved. There is a lot to do. The first step for us is to focus on our existing stock. We gained much experience in Belgium, Spain, and France. Now with the German parks, we are the right ones to build up new retail park standards in Europe, especially by following a clear ESG strategy and integrating more service offers. Retail parks are shopping places where ESG will create value very soon. They already have a much smaller ESG footprint; for example, constructing solar panel plants is usually relatively straightforward in these formats. But it is much more than this. We need to take care of the community, which goes far beyond providing electric car charging stations.
ACROSS: HOW DOES A COMMUNITY APPROACH TO A RETAIL PARK LOOK LIKE?
FABER: Retail parks are successful because they are convenient. You go, you buy, you leave. But we need to take this convenience to the next level. As mentioned previously, retail parks are part of our city strategy. They simply have to offer more convenience by providing more services. There are already examples in France and Belgium, where retail parks play an important role in providing medical services. This is a beneficial strategy for cities as well as consumers. We also think about educational centers and gyms. There are so many services you can think of. Retail parks need to be more than big supermarkets and pet stores.
ACROSS: APART FROM SERVICES, HOW DO YOU SEE THE RETAIL PARKS EVOLVING?
FABER: First, we have to create places where people like to go and spend time. The concept is already changing, and investors have noticed this. A lot is happening in the market, but the parks will change even more. They all need better connections in two ways. First, they need to be connected to public transport, good and attractive parking places, provide car sharing options, etc. But even more important is that retail formats generally need to be connected to their communities, whether it is a shopping center, a mixed-use concept, or a department store. This is the fundamental new learning: Retail parks need an individual approach. There will be parks where big supermarkets and hardware stores make sense, but there will also be parks where the integration of restaurants and children's facilities is essential.