Bookcrossing, a place to exchange books and relax. This is how one can describe the newly arranged place in Designer Outlet Sosnowiec. With comfortable sofas and armchairs, customers can unwind and read the books placed on the shelves of the Polish center or take them home and bring the ones they no longer want.
Keep calm and read on
Designer Outlet Sosnowiec is the largest outlet center in the region and is visited by thousands of people every day. It hosts more than 100 brands, such as Desigual, Benetton, Nike, 4F, New Balance, Puma, Salomon, Marc O`Polo, Umbro, Boss, Levi's and Guess, among others, 30-70% off, all year round, offering the best shopping opportunities.
Now, in addition to shopping, eating in one of the restaurants or strolling along the nature trail created last year around the center's premises next to the main entrance, customers can relax in a specially equipped space filled with books.
All items available on the shelves come mostly from the resources of the Zagłębie Mediateka, the Municipal Public Library in Sosnowiec, which is a partner of this project. At Designer Outlet Sosnowiec, unlike in a normal library, a borrower's card is not necessary to use the collection. The idea is to encourage reading, so every visitor is free to browse through the available titles. Moreover, they can bring their own books they no longer wish to keep and exchange them for those they wish to take with them. Located opposite the Guess Accessories, Symbiosis and Lavard shops, space has been planned for up to 500 volumes.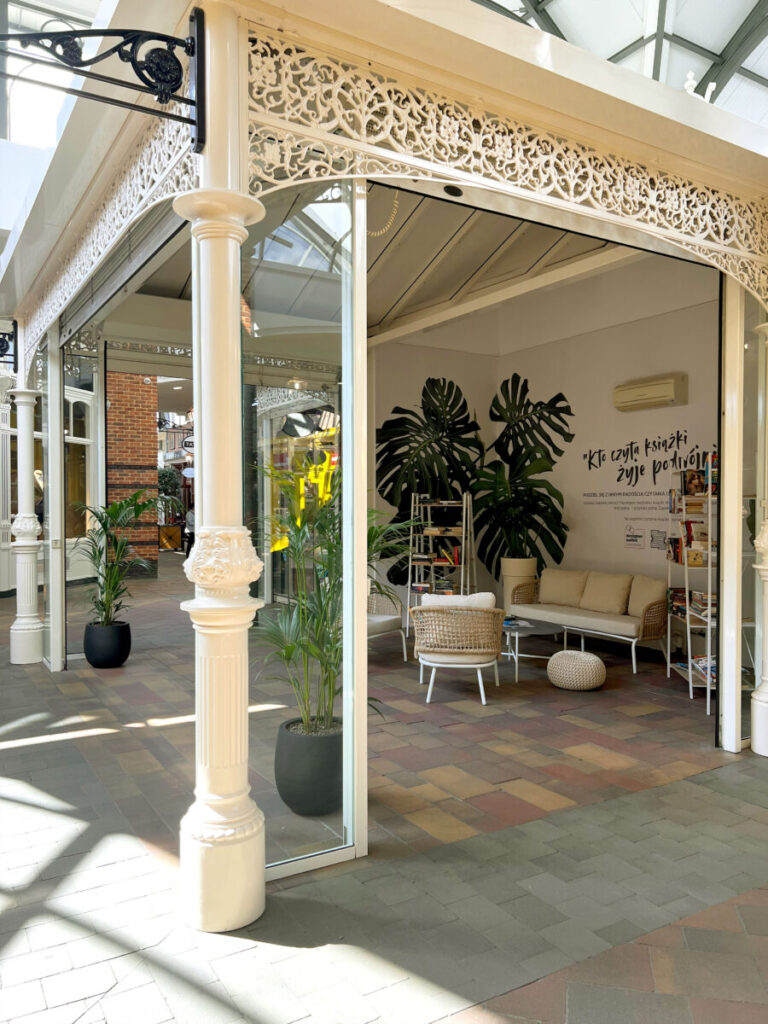 "This bookcrossing initiative was created primarily with the aim of creating a place that encourages people to pick up a book. We hope to rekindle guests the pleasure of reading, often forgotten in our busy everyday lives. Moreover, we want to encourage people not to throw away the books they have already read and which sometimes lie on their shelves, often pearls of literature," says Elżbieta Zygmunt, Marketing Manager at Designer Outlet Sosnowiec, managed by the Austrian operator ROS Retail Outlet Shopping. "This activity is a further contribution to our CSR activities, which we carry out with our neighbours and the surroundings in mind," she added.
Stepping up Corporate Social Responsibility
This is not the only ESG action carried out by the centres managed by ROS Retail Outlet Shopping. Last April, on the occasion of Earth Day, the management team at Premier Outlet Budapest took part in a clean-up and tree planting event in partnership with the city councils of Biatorbágy and Budaörs to make a bold declaration for environmental protection.
Hundreds of guests joined Designer Outlet Gdańsk's latest campaign on 30 April in cooperation with regional media outlet Dziennik Bałtycki and the foundation Eco Textil. For every 2 kg of old clothes, people were gifted plant seedlings. The campaign resonated widely among the local community and up to 900 seedlings found a new home.
In 2022, the operator ROS Retail Outlet Shopping launched the #BETTERSHOPPING corporate initiative to raise awareness for a sustainable lifestyle. Since then, customers in the centres managed by ROS Retail Outlet Shopping communicate to their customers the green offers of their brands.