by Jovana Cvetković and Nemanja Bućinac, MPC Properties
What we have seen on the spot regarding the retail segment is the tendency of people to get back to their old habits by visiting shopping malls, even if they are planning their shopping online. The pandemic was an ideal opportunity to demonstrate the strength of the online market, but the complete takeover has not happened yet. The market became more complex; the online domain is still in the consolidation phase, but the offline market remains a priority and continues to have great potential for further development. However, the offline market is also experiencing a transformation of its own, which is moving in the direction of creating more content-rich shopping destinations and improving the user experience. The consumer is today at the heart of business more than ever before, and those who best respond to the new needs of consumers, are the ones that can expect to endure.
The Shopping Center's New Role
For a shopping center to be successful and to keep the pace with a new era of shopping habits, it must have an appropriate blend of all attributes – discovery, partnerships, safety, comfort, navigation, accessibility, entertainment, and socialization. But when it comes to creating loyal visitors, "discovery" is the most important attribute, far outweighing all other experience factors. Shopping centers have become an integral part of people's everyday life – for shopping, leisure, F&B experiences, entertainment, and other needs where people have possibilities to discover and try new things. The shopping center of the future will be a destination that feeds the functional requirements of our lives, as well as our need to socialize. It will be a thriving community where people will live, work, play, and eat. The challenge for shopping centers and retailers will be finding new and creative models to integrate online and offline experiences of shopping, creating a synergy, with the goal to maximize the fulfillment of people's new needs and habits.
UŠĆE Shopping Center – Welcome to the New Shopping Experience
Having in mind that shopping centers are places where life happens and where people spend their time, ambiance is becoming one of the most important factors for a better shopping experience. UŠĆE Shopping Center has been a leader on the market for over 13 years and is a well-recognized SC in the SEE region. With the aim to prove its leadership position, UŠĆE is preparing a redevelopment to pioneer fresh contemporary trends, to refresh the interior design and architecture, to embrace the community and to connect with the surrounding nature. It brings a new perspective by opening to the sky and the historical cityscapes and rivers in Belgrade. It will bring excitement and spice through looks, content, offers, tone of voice and themes; thus, inspiring people to shop and linger.
The key areas for UŠĆE Shopping Center's redevelopment project will be focussed on safety and convenience, bringing new and innovative formats, such as showrooms and pop-up locations. Accompanied by a food and beverage revolution and strengthening the loyalty platform "Tvoj Centar" that merges our four-shopping centers into one mobile application as well as creating a multi-purpose environment , which offers extensive leisure activities.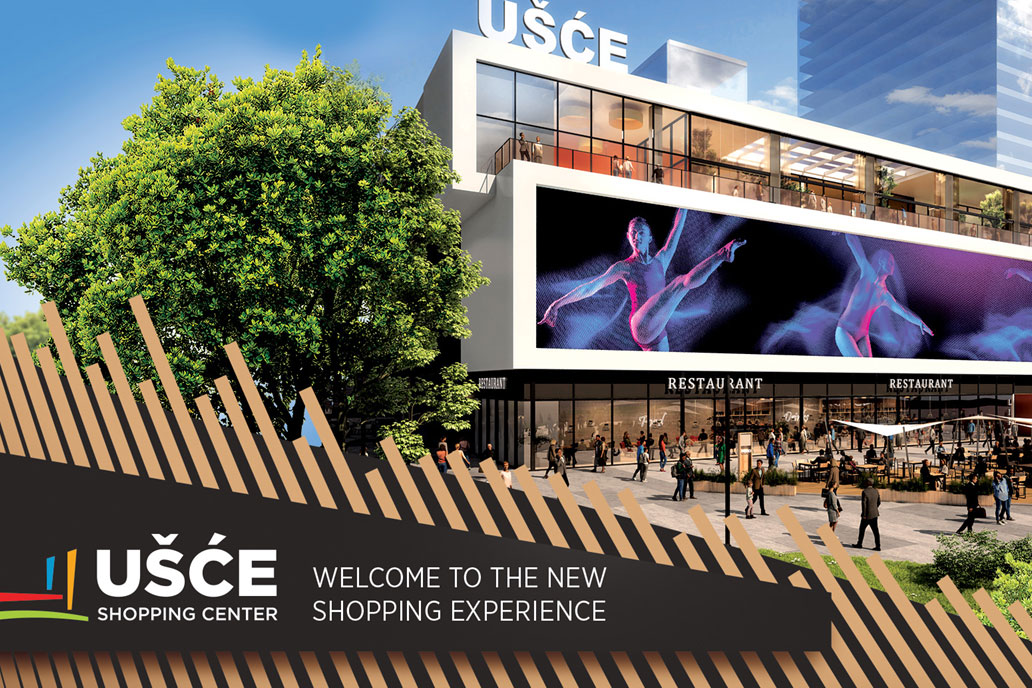 Food is the New Fashion
As a social experience, dining out appeals to all customer segments – and it cannot be replicated online. Therefore, this segment is especially interesting in the post-pandemic period and will receive special attention in the transformation process of the UŠĆE Shopping Center offer. When it comes to the experience of food and beverage choices in UŠĆE, a true renaissance is coming. The next generation of food and beverage options will bring us exciting changes, like outdoor F&B formats with open-air seating areas, fine dining restaurants with a memorable cityscape view, more organic and qualitative offers, a varied mix of cuisines, fast food, as well as convenient delivery services. Richer food and beverage options in UŠĆE Shipping Center will increase the consumer dwelling time and increases the value for all tenants.
Beside the upgraded offer in the F&B segment, the center will be enriched with numerous leisure and entertainment opportunities for relaxing with colleagues, friends, and family; including a kids zone on two levels and an extraordinary winter garden terrace with a wide and impressive skylight, which brings the natural light during the day, and a beautiful view of the stars during the night.
UŠĆE: Brand New Ambience
The new architectural approach to UŠĆE's redevelopment with more light, transparent surfaces, and central and impressive artistic installations will transform the leisure time in the center into an extraordinary experience for visitors. It will bring better connection of floors and visibility of stores, and offer visitors the unique pleasure of shopping in an upgraded purchasing journey. The interior will become more transparent and lighter, while a new multipurpose space called "New Market Square" will bring possibilities for different types of events and promotions from food fairs, concerts, and theaters to home décor.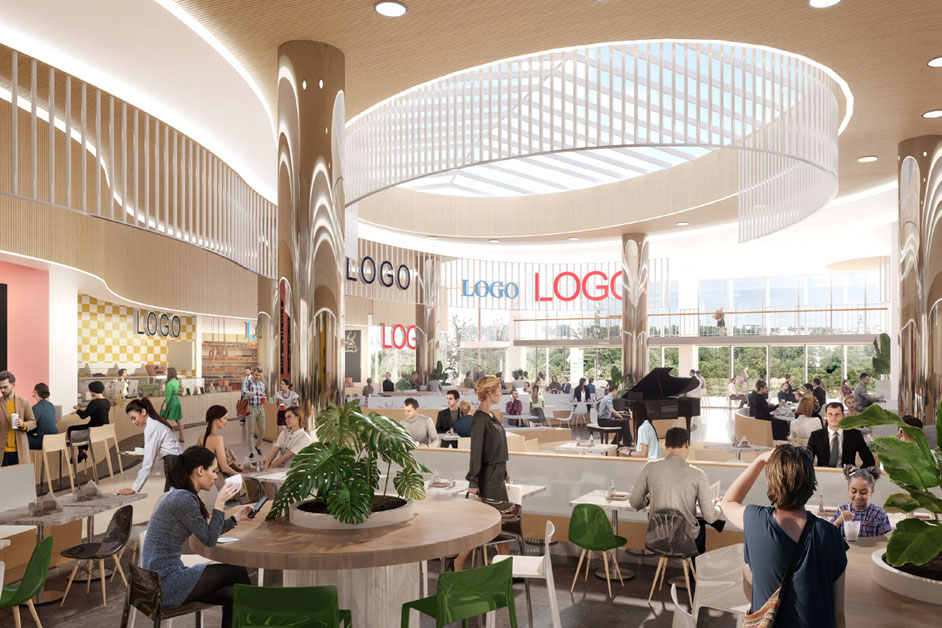 About the authors:
Jovana Cvetković is Development, TO and Innovations Director at MPC Properties. Nemanja Bućinac is Retail Leasing Director at MPC Properties. The company is one of Southeast Europe's most experienced real estate development companies, expanding their business for more than two decades. The portfolio consists of six modern shopping destinations and six A class office buildings in the most prominent locations of the Serbian capital.