Everyone is talking about New Mobility and the mobility transformation – project developer and investor Unibail-Rodamco-Westfield (URW) is actively helping to push these matters forward at Westfield Hamburg-Überseequartier.
It is the goal of Hamburg's policy to increase the proportion of trips made by environmental means of transport (buses, trains, cycling and walking) to 80 percent by 2030, up from 64 percent in 2017. "Visitors, residents and people working in the neighbourhood should have the best possible mobility experience. To achieve this, we will integrate all existing offers from the municipal providers, supplement them with innovative services and link all areas together in the best possible way," says Karen Mester-Lichtsinn, Senior Marketing Manager at Unibail-Rodamco-Westfield and responsible for Westfield Hamburg Überseequartier's Community Management. In the new urban quarter in Hamburg's HafenCity, almost all modes of transport are covered, such as the underground, bicycles, scooters, pedestrians – and also the car, especially with e-drives. Where motorised individual traffic and freight traffic cannot be avoided, it is routed efficiently and in an energy-saving manner. The quarter will become a showcase mobility hub for the entire city.
"Without the Underground at its heart, we would never have started the project"
The quarter will have a very high appeal: Entertainment and cultural offerings such as a cutting-edge cinema, a Legoland Discovery Centre and the Port des Lumières digital museum, in total 200 units for retail, leisure and dining, 579 apartments, around 4,000 office workplaces in the office buildings, three hotels as well as a cruise terminal will attract more than 16 million visitors a year. "With a variety of offers and services from all mobility sectors, Westfield Hamburg-Überseequartier will become a pioneer for the mobility transformation," says Karen Mester-Lichtsinn.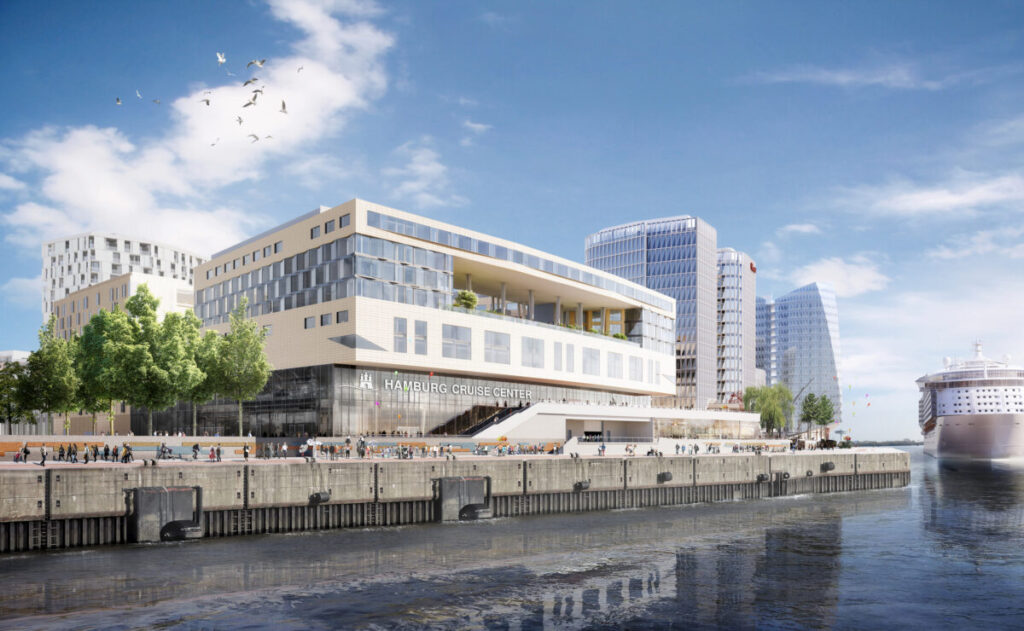 The project developers at URW are primarily focusing on local public transport as well as attractive pedestrian and cycle connections to the traditional city centre and the various tourist highlights. "The Überseequartier metro station was one of the most important factors for us in deciding on this project development and the associated investment costs of more than one billion euros. Without the underground at its heart, we would never have started the project," says Dirk Hünerbein, Director of Development Austria & Germany at URW.
Great focus is on green mobility offers
"In times of New Work, online shopping, digital delivery services and against the background of climate change, people want to travel flexibly and comfortably, with low CO2 emissions. Especially for the young, urban population, owning a car is becoming less and less important, but the shared economy idea is also gaining popularity in mobility," says Karen Mester-Lichtsinn. At Westfield Hamburg-Überseequartier, visitors therefore have access to a comprehensive range of car, bike, scooter and motor scooter sharing services. "Together with Hamburger Hochbahn, we want to set up Hamburg's most modern switch point in the quarter. There will be collection points for rental scooters and mopeds and we are in talks with all bike sharing providers. There will also be a large station of the popular city bike integrated in the quarter," says Mester-Lichtsinn. The range of shared vehicles will be supplemented by ridesharing, i.e. the intelligent formation of carpools as offered by the provider MOIA or taxi companies. Speaking of taxis, they will have their own zones both in the basement and at an above-ground location so that passengers can get in and out safely. Those who arrive with their own bike or want to make a stopover on Hamburg's Veloroute are guaranteed to find a place on one of the 3,500 bicycle parking spaces. 1,150 of them are in a comfortable bicycle parking garage with charging stations for e-bikes, repair facilities and lockers.
Pedestrians move on the streets, not the traffic
The entire quarter will be car-free above ground. The moving and stationary traffic is distributed over three basement levels. There are a total of 2,500 parking spaces for cars, 1,000 of which are reserved for residents, office users, employees and hotel guests. 350 electrically powered vehicles can be charged at the same time in Westfield Hamburg-Überseequartier, 100 of the charging stations required for this are publicly accessible. This means that the largest inner-city e-charging location in Germany will be connected to the grid when the quarter opens (in accordance with the data of Bundesnetzagentur / Germany's Federal Network Agency, as of September 2022). "The growth of the charging infrastructure at Westfield Hamburg-Überseequartier is a welcome measure for the mobility transformation. It offers people the opportunity to actively contribute to climate protection and to use electric vehicles. In addition, the 100 public charging stations complement well the advanced taxi and car-sharing electrification in Hamburg," also welcomes Hamburg's politician Anjes Tjarks, Senator for Transport and Mobility Transformation, URW's efforts.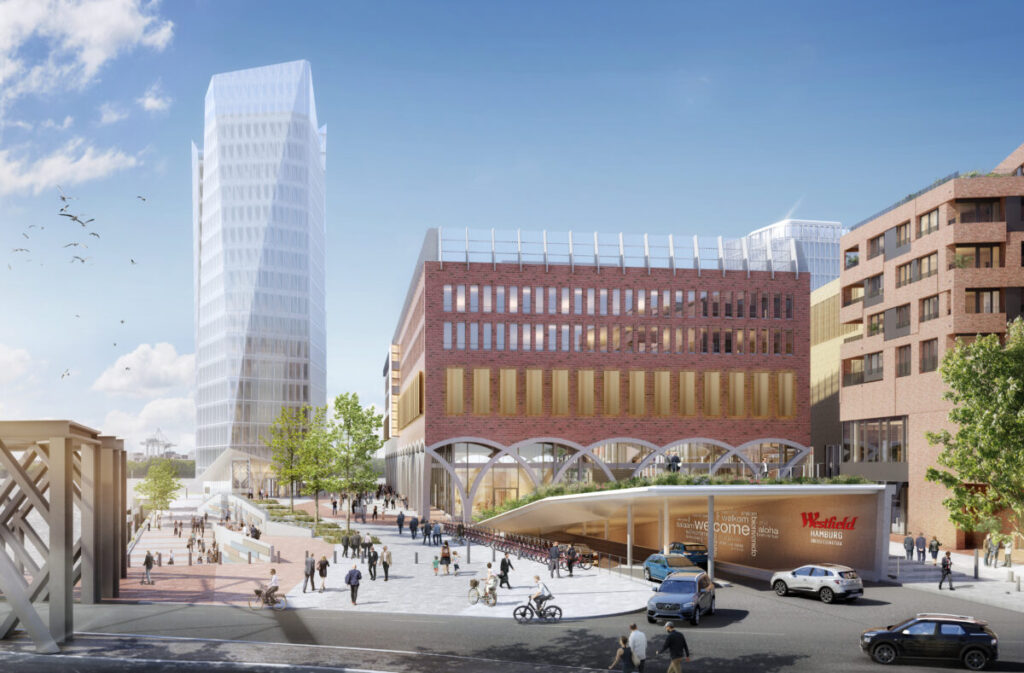 There will be specific entry time windows for trucks, transporters and buses. The entrances and exits will be enclosed and partially landscaped. Delivery traffic will be controlled digitally via a timeslot management system so that there are no waiting times for vehicles on the access route. A smart concept for courier, express and parcel services is being developed as well as a strategy for food delivery services to make these facilities acceptable and convenient for all.
First in Europe: cruise ship terminal with direct access to the metro station
Cruise ship passengers embarking and disembarking at the quarter's cruise terminal can reach the ships on dry feet from the airport or the main railway station. "The terminal at Westfield Hamburg-Überseequartier is the only one in Europe that has its own metro connection," says Dirk Hünerbein.
But of course, the healthiest and most sustainable way to get around is to walk. The walk from the city's town hall to the entrance of the quarter on Überseeboulevard takes about 15 minutes, depending on whether you take the straight path or the somewhat winding paths through historic Speicherstadt across the canals – the path is already the first destination. And last but not least, there is the river Elbe as a thoroughfare. Directly at Maritime Museum, just a few minutes away, visitors can use a station of the Hop-on-Hop-off Maritime Circle Line. A station of another ferry operator is planned in the immediate vicinity of the quarter.
"We are open to everything that may come in terms of innovations, new technologies or trends," says Dirk Hünerbein. "The mobility transformation is a long process and Westfield Hamburg-Überseequartier, as a living lab, can make an important contribution to helping people reach their destinations with soft mobility. We are therefore very much looking forward to the opening in spring 2024."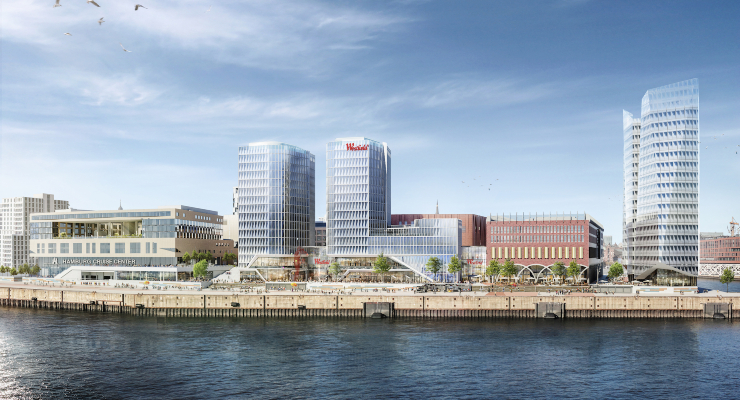 FACTS & FIGURES
ABOUT WESTFIELD HAMBURG- ÜBERSEEQUARTIER
Plot size: 67,000 sq m
14 buildings
Total area: 419,000 sq m
579 apartments
830 hotel rooms in 3 hotels
4,000 office workplaces in 3 office complexes
Around 200 units for retail, dining, leisure, as well as well-being, fitness and medical facilities
Cruise terminal
Überseequartier metro station (U4)
3,500 bicycle parking spaces
2,500 underground car parking spaces