ACROSS: FİBA Commercial Properties owns, invests in, and manages shopping centers, offices, residential projects, hotels, and cinema complexes around the world. Can you briefly guide us through your portfolio and the most exciting projects you are working on?
Yurdaer Kahraman: We operate in four countries and have 11 shopping centers with a leasable area of over 800,000 sq m, four residential properties, five office buildings, two cinema complexes, and hotel investments. In addition, we have given up one office building, one hotel, two shopping centers, and one mixed-use development project that included a cultural entertainment theater and an outlet center, for example, in China and Türkiye. As such, we have had an impact on more than 30 commercial properties in the last 10 years. Our residential projects in Bucharest are highly advanced. We have become one of the leading developers in Bucharest for residential projects. Our Incity project features more than 500 residences, and Pallady has more than 200 residences. On top of that, we expect to finish the construction phase of the Select project, which has nearly 350 apartments, in October of this year. As we all know, construction prices and materials have significantly risen in recent years. We established a construction company a few years ago and have greatly benefited from it. It has helped us to stay flexible, to choose the best companies to work with, and to maintain our strategy and goals during these very dynamic times – not only in Romania, but across Europe and globally for residential and other asset classes. We have also seen an increase in third-party companies looking to benefit from our experience in the residential sector.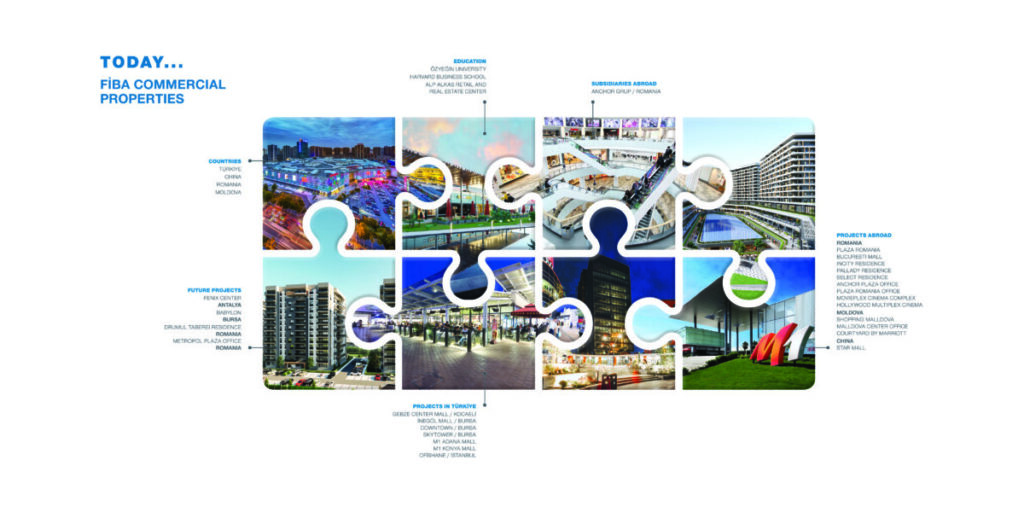 ACROSS: Are you focusing on the residential sector at the moment?
Kahraman: In terms of construction, yes, but not in general. As far as shopping centers are concerned, we have just completed the final phase of the Downtown project, a complex comprising a hotel, residences, a theater, a museum, and a shopping center, which is scheduled to open in Bursa, Türkiye, on 15 October. As is the case with Downtown, third-party shopping center management is also going well and continues to grow. In Türkiye alone, we lease more than 200,000 sq m, which is the largest number of square meters in the country. We are also monitoring other markets, in particular, the shopping center and retail center markets in CEE and SEE. Real estate projects can range from large mixed-use projects to shopping centers, offices, and residential developments. The quality and success we have achieved with our residential projects in Bucharest are clear signs that our operations in this segment will be sustainable. Our expansion/refurbishment and investments in our current projects are ongoing. For example, Mediamarkt opened on an area covering 2,000 square meters at the Bursa İnegöl shopping center.
ACROSS: What countries are you looking at?
Kahraman: Apart from Türkiye and China, we are analyzing other opportunities in Moldova and Romania, and we have looked at neighboring countries as well. Generally speaking, we have looked at Serbia and the Balkan region, for example. We started looking at projects in Croatia prior to the outbreak of COVID-19. International players approach us because they know we have solid relationships with Turkish brands. We have brought tenants like LC Waikiki, De Facto, and Damat Tween to Eastern Europe, to name a few. We have also provided offices for Turkish retailers and Turkish brands abroad. We have recently leased nearly 15,000 sq m of space in the office and shopping center sectors in Romania and Moldova to various Turkish brands. Third parties such as companies e.g. from Albania, Hungary and Kosovo, are particularly interested in Turkish brands, and they turn to us because of our knowledge and close relationships with those brands.
ACROSS: Many Turkish brands have recently announced their European strategies. What brands are interested in European markets and what are their plans?
Kahraman: LC Waikiki, Koton, Colin's, English Home, and De Facto are all interested, just to name a few. Those brands are already present at our shopping centers in Eastern Europe. Turkish brands are very successful in various segments and industries. The strategy of many brands is to start in Eastern Europe and then expand to Western Europe. Türkiye is also a great market in which to grow and gain experience with Western developers. ECE, Multi, and Klépierre all operate in Türkiye and are quite familiar with Turkish brands.
ACROSS: What about international brands?
Kahraman: A great connection between Turkish and international brands also exists. Sephora, Mediamarkt, Body Shop, Hugo Boss, Lacoste, Max Mara, and Armani are all present in Türkiye, and most of them have Turkish franchisees. As the FİBA Group, we have master franchisee rights for Gap, Banana Republic, Old Navy, and Marks & Spencer in Türkiye. The international experience that Turkish brands have enjoyed in Türkiye is a 360-degree experience. They have learned so much in their home market and are now using those tools internationally. They look for excellent and experienced managers in the countries in which they start working, and they are very flexible. They adapt quite quickly in terms of how they set up their products, how they produce them, and the how they ensure the quality of their products. As a result, they are very competitive.
ACROSS: While Turkish brands may be expanding, Türkiye is facing many economic challenges. How has that impacted your business?
Kahraman: Micro-challenges must be faced in every country or region; the entire global industry is sometimes confronted with macro-challenges. The best way to be prepared and overcome them is to always have a clear focus on the quality of your product – no matter where you operate. In Türkiye, we have an excellent occupancy rate of nearly 100%. At our shopping center in Adana, which covers 90,000 sq m of GLA, for example, there are only two or three vacant spaces of around 250 sq m. The shopping center is very sustainable and is one of the top 10 shopping centers in Türkiye. As mentioned earlier, we have very good relationships with the retailers in the market. Many of them are family-oriented, which makes sustainable relationships even more crucial for them.
ACROSS: What does that mean?
Kahraman: They trust FİBA because we are in the commercial property sector; they also trust us because we are in the financial sector, for example, via our Credit Europe Bank based in Amsterdam and our FİBA Bank headquartered in Istanbul, which have a wide range of experience in the fields of real estate and retail products. Another example of a very successful shopping center is İnegöl. We have recently won two European Property Awards for that project: "Best Retail Development" and "Best Retail Architecture". A third example can be found in Gebze Center, which is located near Istanbul. This year, for the first time, we welcomed one million visitors per month, up from 700,000, and the center is almost fully leased. As you can see, we are always focused on intensively working on certain projects. Every year we develop new strategies and closely monitor what is happening in the world, especially in terms of the input that we get from China.
ACROSS: Before we move on to China: How would you describe the current consumer climate in Türkiye?
Kahraman: Europe is struggling with inflation, and that is the case almost everywhere. In general, inflation tempts people to spend more today rather than tomorrow. In Türkiye, spending on consumer goods is quite high, which has led to huge increases in retail sales based on both volume and price increases. By May 2023, the Retail Sales Volume Index had increased by 28.4% year-on-year based on the Retail Sales Volume Index and percentage changes, 2010–2023, according to the Turkish Statistical Institute, and the Retail Turnover Index had increased by 80.1% year-on-year based on the Retail Turnover Index and percentage changes, 2010–2023, according to the Turkish Statistical Institute. The population of Türkiye is relatively young, which is the driving factor behind the high level of consumption. Most of that spending is done at shopping centers. Turkish retailers expect a further increase in sales in the months ahead, accompanied by increased spending by the growing number of tourists.
ACROSS: You have just returned from an extended trip to China. What did you learn and what ideas did you bring back with you?
Kahraman: During my trip, I visited more than 25 shopping centers and high streets. I immediately discovered a particular Chinese mentality: "Now, more than ever". Everyone has returned to the offices, and they are eager to meet people and discuss their plans. It is quite different from the hybrid working models in Europe that were established during and after the pandemic. Chinese people are extremely hungry for new opportunities, new trends, and new options. The second major observation that was made was the level of retail recovery. The losses that China suffered in 2020, 2021, and 2022 were, undoubtedly, dramatic.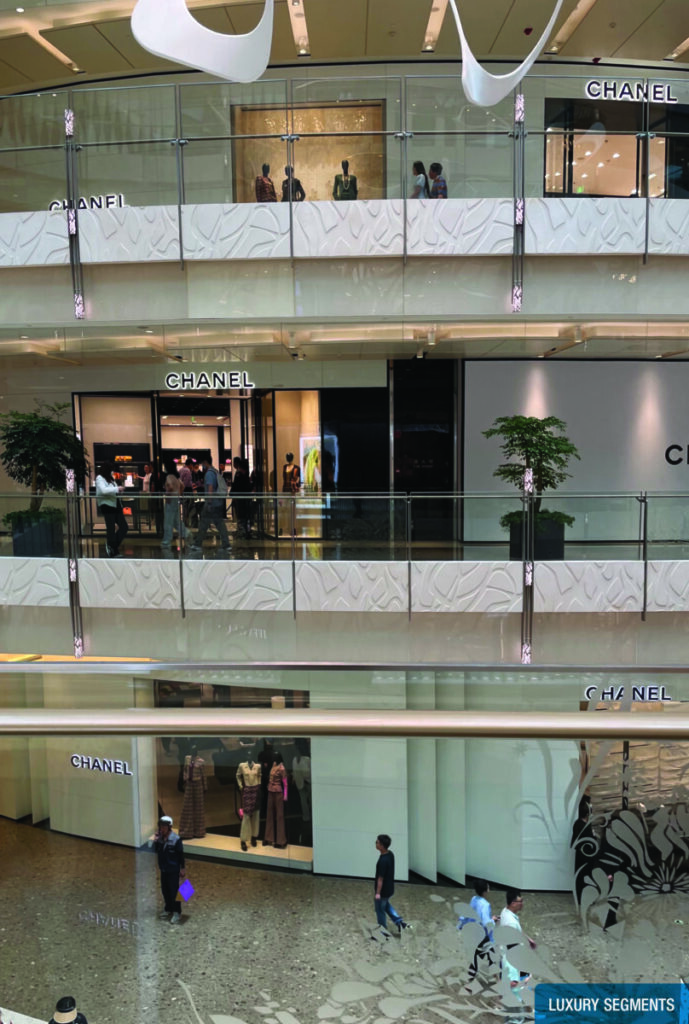 ACROSS: How is the situation now?
Kahraman: However, retail sales in China are now recovering. In 2021, total retail sales of consumer goods in China increased by 12%. In 2022, it fell by 0.5%. When measured against the number of people in China, that is a significant decline. In the first quarter of 2023, they recovered and grew by 5%. The government also expects economic growth of 5.4%. Another critical figure for the so-called tier-one cities, such as Shanghai, Guangzhou, Shenzhen, and Beijing, is the number of daily metro riders. In April and May 2022, the number of metro riders in Shanghai dropped from 12 million per month to zero as a result of regulations. As those metro stations were the main links to shopping centers, the centers were dramatically impacted. While 2021 saw a bit of a recovery, 2022 had a very strong negative impact on retail sales. China, however, has its own and global challenges. Deflation is likely to be one of the main issues to overcome; the country needs to show at least double-digit growth. In light of those negative effects, the Chinese government has already launched stimulus programs to support small businesses, in particular, for example, in the form of tax exemptions, interest rate cuts, and expansion of additional investments in the technology sector.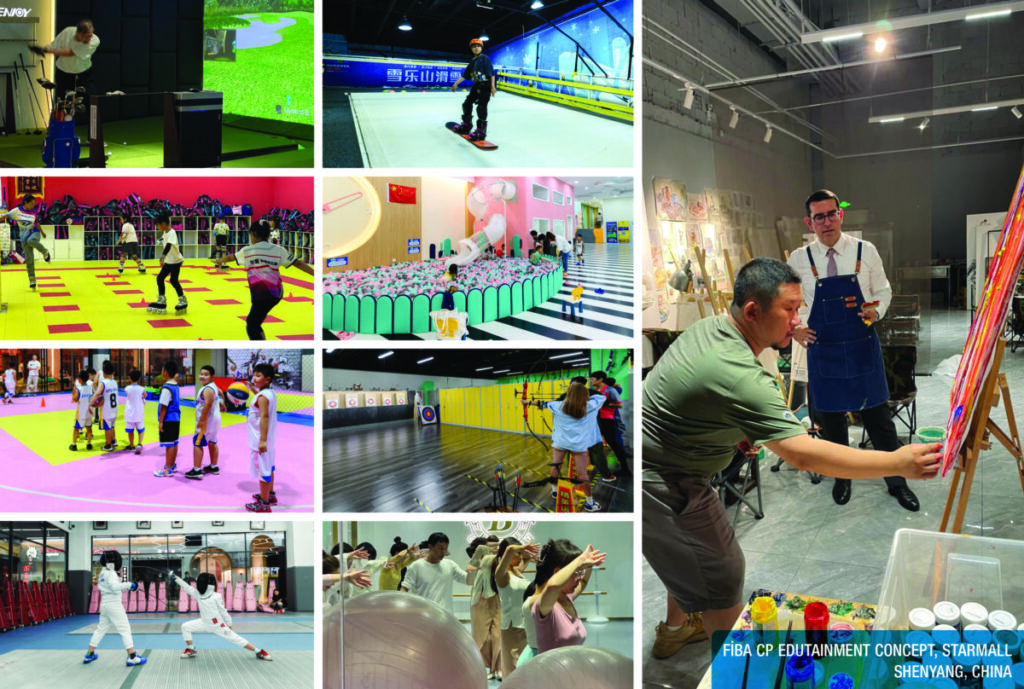 ACROSS: Has the retail world in China changed during the recovery?
Kahraman: Yes, the third important observation I would like to mention is the emerging new segments. Domestic Chinese companies, in particular, are moving their way up. They are starting off in tier-two cities and then entering tier-one cities. They have learned a lot from foreign companies, especially in the skin care, cosmetics, and perfumery segments. When it comes to quality and prices, domestic brands are very competitive. Nowadays, there are also excellent opportunities for foreign companies to enter the Chinese market, as many regulations have changed. Therefore, more transactions are also taking place. For example, European cosmetic groups are buying Chinese companies that are very successful in the area of cosmetics. The luxury market is also quite significant. China is on track to becoming the most important luxury market in the world. Sports apparel is also an important area. Traditional Western sports brands have already faced strong competition from Chinese brands. The same is true for the outdoor segment. The sub-segmentation of all segments is quite evident.
ACROSS: Is the rise of domestic brands driven by consumers, or is it more of a politically motivated development?
Kahraman: I would say that China has done its homework. The brands have learned a lot. Luxury is still very much dominated by European brands. Chinese people trust long-established luxury brands, and customers are very clear about that. However, innovative domestic specialists have done well by providing answers to very Chinese, or let us say Asian, requirements that Western brands have overlooked. From my point of view, the country is not against foreign players. However, international players have made many mistakes, starting with sending the wrong people to a country like China. You cannot simply go there and set up a headquarters in Shanghai alone. You have to meet the various consumer needs in other parts and regions of such a large country. In addition, in the fashion industry, for example, you have to offer the right sizes for Chinese customers – you cannot just go there and launch your European collections. Foreign companies have entered the market, filled those niches, and fulfilled the needs of the customers.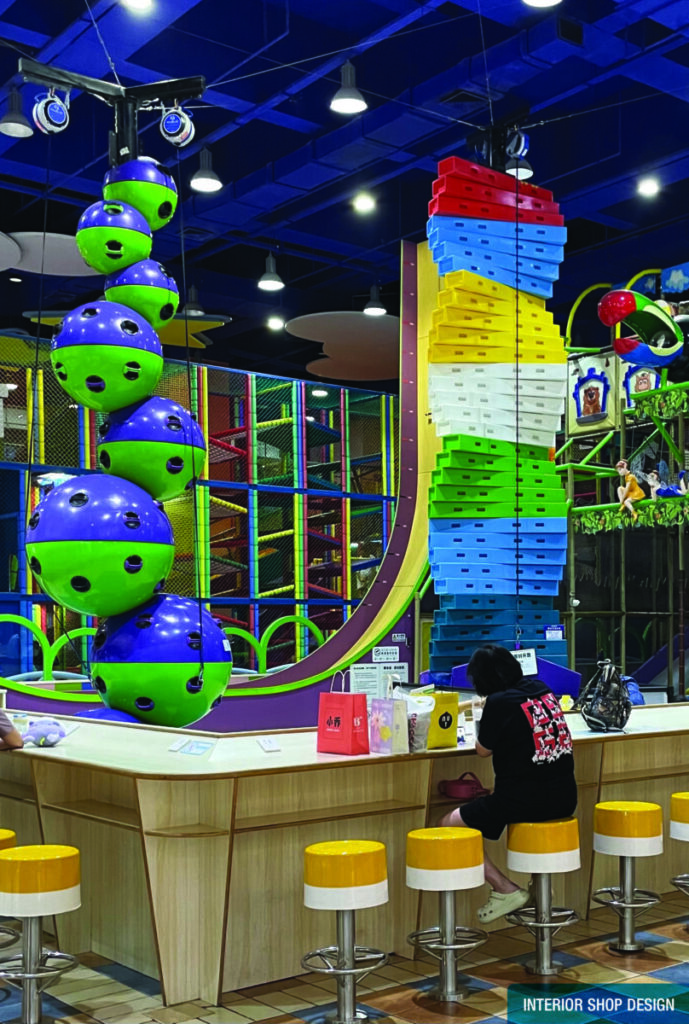 ACROSS: What about other retail segments?
Kahraman: The same is true for the food and beverage segment. Chinese brands know exactly what a successful expansion strategy looks like. Western brands have failed to recognize that Chinese tastes have changed. Ten years ago, tastes were influenced by international brands. Today, they have moved even further in that direction. In China, you can also already see edutainment being offered at shopping centers. They offer everything from ballet to skiing at malls. Most of the offers are aimed at children and are provided by local players. Chinese politicians would never say that they were no longer interested in international brands, because they would lose their competitive advantage. They need such competition to ensure that they are able to provide better offers, thereby allowing them to expand into other Western markets.
ACROSS: Now that the COVID-19 restrictions have been lifted, European retail stores are preparing to welcome Chinese tourists again. Given this change in taste, what do European retail stores need to do in preparation for their new Chinese customers?
Kahraman: It is not only about the tourists – it is also about the Chinese people who work for international companies in Europe. There are many Chinese citizens who work and live in Europe, because Chinese companies have invested heavily in Western Europe. Those people returned to China during the pandemic and had many different experiences. Now that they are back in Europe, they are exposed to, for example, high streets featuring great architecture, but retail concepts that are sometimes old-fashioned, boring, and the same at every turn. I am convinced that Chinese brands, and Asian brands in general, will have a significant impact on Western markets. Brands, such as electric car manufacturers BYD and NIO, will find their way into European shopping centers and high streets, possibly changing them altogether. You have to adapt to the needs of your customers. Many European companies will increase their competitiveness with Asian companies. What has happened in China will eventually occur in Europe. European companies, however, will need a new mindset in order to deal with this development, and training the right people and creating the right management structures will be essential. I am amazed by the fact that there are large and previously successful companies that are sidestepping many of the issues that could shape the future. The best example of that can be found in the metaverse, which has been neglected by most companies. In Asian countries, companies are in a constant state of collaboration with universities and younger generations on these issues.
ACROSS: What can European shopping centers learn from China in terms of trends and uses?
Kahraman: First of all, shopping centers in China's tier-one cities have a vacancy rate of 10% to 12%. However, they will likely overcome that rate by 2024/2025. They have excellent store concepts, whether they are luxury or domestic brands. The unlimited service offering and range of services is extremely high and is constantly being adapted to customer needs. There is a great mix of family-friendly international and Asian restaurants. I also mentioned the concept of edutainment earlier. Yoga, for example, has a strong presence within shopping centers and in different fields. At least three or four stores at each shopping center sell electric cars, and almost all of them are Chinese cars; Tesla is the only competitive brand there. Nearly 30% to 35% of all cars in China are electric. In addition, the cosmetics, wellness, and beauty segments have increased in those shopping centers. Sub-segments in different branches have developed to meet customer needs.