The exhibitions will display limited-edition tote bags designed for VIA Outlets by nine local artists to express what Pride means to them. All of the unique bag designs are being exhibited in VIA Outlets' centers in the Netherlands, Germany, Portugal, Czech Republic, Norway, Poland, Spain, Sweden and Switzerland from 6 June to 7 July. Guests will be able to purchase the bag designed by the artist in their region at their local outlet center, with proceeds from the bag sales donated to ILGA-Europe, the leading non-profit organization working with and for frontline LGBTI activists in 54 countries across Europe and Central Asia.
Otto Ambagtsheer, CEO of VIA Outlets,comments: "Our first-of-its-kind 'BE PROUD. BE YOU.' exhibition is a reminder to always express your true self and be proud of who you are. At VIA Outlets, we take our responsibility towards our employees, brand partners, guests and local communities very seriously, which is why we strive to create a working and shopping environment that is inclusive and embraces diversity. We are united across all our centers in celebrating the Pride message and raising awareness together of what this important month means."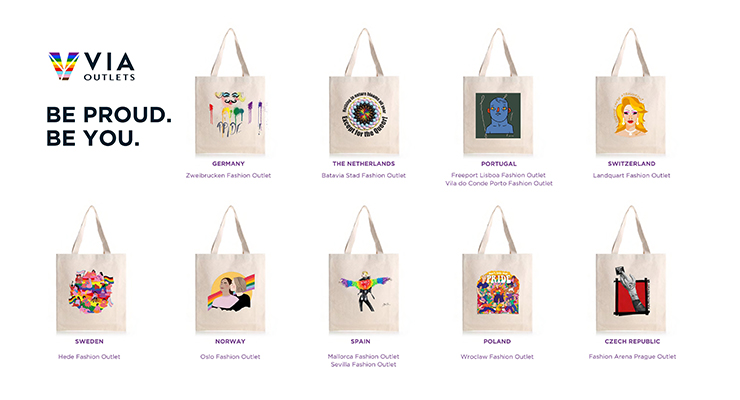 Pride Month is a celebration, but it also highlights the progress still needed to create a world where no one is offended, oppressed or discriminated against for their sexual orientation or gender identity. VIA Outlets' Pride Month exhibitions aim to educate guests on what Pride is about and why embracing diversity, equity and inclusion values matters in its business.
"We want to thank everyone who takes part in the 'BE PROUD. BE YOU.' campaign for their support for ILGA-Europe's work to safeguard the equality, safety, and freedom of every LGBTI person. While there has been much progress on lesbian, gay, bisexual, trans and intersex rights, the situation for LGBTI communities across Europe remains fragile, with their rights under direct attack not only in countries where hate speech is rife, but where it is widely believed LGBTI people are progressively accepted. To ensure real progress towards equality continues in the current climate, we need the support of determined allies across sectors. This is why we're delighted to partner with VIA Outlets to raise vital funds and awareness and bring a message of acceptance and inclusion to their centers across the region", says Evelyne Paradis, Executive Director of ILGA-Europe.
"We live in a world where at least 62 countries criminalize homosexuality", added Frida Marie Grande, a Norwegian digital creator and one of the bag designers. "Even in safe Norway last year, we witnessed a brutal attack on the Pride community the day before we were supposed to fill Oslo's streets with the colors of the rainbow. We must all stand up for everyone's right to be who they are and love who they want. Because as Kim Friele so beautifully put it, 'If you know what love is, you immediately know that it is not dangerous."