by Neil Churchill
As a center built during a different time, it is incumbent upon us as management to continually assess and, where appropriate, challenge Festival Place's relevance to today's visitors and its location.
Uniquely located in the center of Basingstoke, the largest town in Hampshire, Festival Place established itself as the de facto town center from the outset, serving local customers while attracting people from a wider catchment area. The fact that it arrived during the golden age of retail and boasted more than 140 major brands was enough to cement its position as one of the top 20 retail destinations in the UK.
The past few years have been a period of intense turbulence for the retail sector – first with the emergence and continued prominence of online retail and, more recently, with the impact of COVID-19 and the current cost of living crisis. Any responsible owner/manager of a major retail-led destination needs to evaluate its offer against a backdrop of such systemic challenges.
Shopping centers are here to stay
With the support of a progressive investor, our team on the ground has begun to review and question our obligation to the local community. As a management team, we believe that shopping centers are here to stay, but that we all must adapt to survive. The key to that survival is getting close to the customer and the community and fulfilling their needs.
As a true town center-based scheme, we are closer to our local community than many other comparable shopping centers. In that sense, our focus on community has been ever-present, but since the pandemic hit, we have chosen to strengthen our connection with the town and people of Basingstoke. For us, that means working hard to provide for our community and make Festival Place a destination where people can access the services they need and always feel welcome.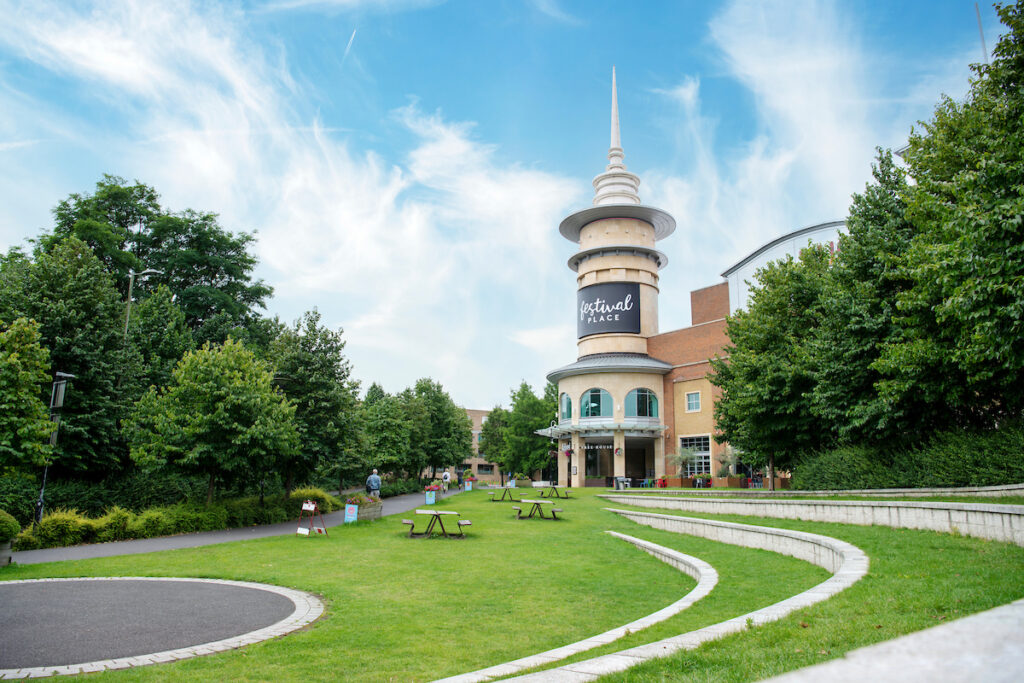 Recent successful initiatives include the opening of a permanent community health clinic in June, following a six-month trial of a vaccination center. The facility occupies 568 sq m of space in a prime location within the scheme and is the first of its kind within a top-tier UK retail destination. To improve accessibility and inclusivity, we have introduced weekly quiet hours on Wednesdays and Saturdays. As a proud supporter of the Deaf Awareness campaign, we have also provided free training to nearly 80 retailers on how to better communicate with the deaf and hard-of-hearing communities. To help support the most vulnerable, we are working with a local charity that collects fresh excess food from supermarkets and delivers it to those in need, and we have agreed on the use of free space.
Positive contribution to the Community
Making a positive contribution to the community and remaining connected to the ever-changing needs of our customers and local residents is probably what makes us a destination of choice as opposed to a day-trip destination. You go to Disneyland once or twice in a lifetime, but you go to your local coffee shop on a weekly basis, because you love the coffee, you love the ambiance, and the staff knows you as well as what you like. It is precisely that sort of friendly and convenient atmosphere that we are trying to recreate at Festival Place.
First and foremost, we are a commercial enterprise, and, as such, promoting a sense of community also has to make sense with respect to our retailers. Having seen the positive business impact made by our evolving F&B offer, we have realized the importance of getting closer to our operators, thereby ensuring that we understand their business models and requirements. We can guide them on their shopping center journeys and help them navigate difficult times. These operators are also part of our community, and while national and international retailers are supported by central teams that have the capacity to help smooth their operations on the ground, we proudly encourage local operators to join the scheme and feel that they are truly part of a close-knit network of retail workers. Overall, it contributes to their success while fostering a sense of community.
The transformation of centers has always been a continuous process, but the speed of change has certainly increased, creating new challenges every day. One thing we can say for certain is that the retail landscape will keep changing – so adapting to the evolution of our guests' needs is paramount. In the background, we will continue to implement our long-term vision, which is to nurture a vibrant community right on the doorstep of the center, ensuring that both residents and visitors can benefit from everything it has to offer.