ACROSS: We live in very uncertain times. Today, in particular, the question arises as to what is more important for development: a vision or a management plan?
Maxence Liagre: Vision – a vision must be at the center of everything. We should never lose it, but we should adapt it and apply a very strong management plan. Of course, we need to be reactive – we have to act quickly, but our vision serves as the starting point for all of our de- velopments. Wrong decisions in real estate can be very painful. Therefore, it is even more important to have a long- term strategy and a vision in order to anticipate all changes in terms of market dynamics, expectations, and benchmarks.
ACROSS: What is MPC's vision? What is your long-term strategy?
Liagre: Our long-term strategy is to remain a key player in terms of office and commercial real estate. Our vision is based on three pillars. The first one is diversification, both in terms of business lines as well as geography. Serbia and SEE have already pushed us toward concentration. As a result, diversification has become extremely important. We also need to focus on our refurbishment efforts and on keeping our portfolio state-of-the-art at all times. Even though it may seem solid, it must constantly be adapted to demand and new challenges. The third key pillar of our strategy is ESG, for obvious reasons.
ACROSS: MPC was founded in 2002, and since then, you have completedmore than 30 projects. You are one of the major players in the SEE region. What are the opportunities, threats, strengths, and weaknesses of that market?
Liagre: When we talk about the region, the first thing that comes to mind is its size. It is a combination of small markets that form a large region, and all of those markets have their own peculiarities and local players. Size, indeed, is an obstacle, if not a threat. You can quickly become too big for the market. On the other hand, size protects you be- cause you are less exposed to global competition from the major players. That creates somewhat of a dilemma: we want and need size, but remaining "smaller" allows us to be very regional and quite strong in the local market. As far as the dynamics of the region are concerned, I think the fact that it is still in the development phase has allowed us to enjoy very high growth rates. There is still a lot of potential in terms of supply of commercial real estate for offices and many other businesses. With respect to opportunities, I think the EU is the biggest one that might make its way to the region. As the EU is a huge market, there will be no talk of "only" Croatia, Serbia, and Romania. It will help create the same dynamics and the same business perspectives for Europe as a whole, instead of nationalistic views or those that focus on differences.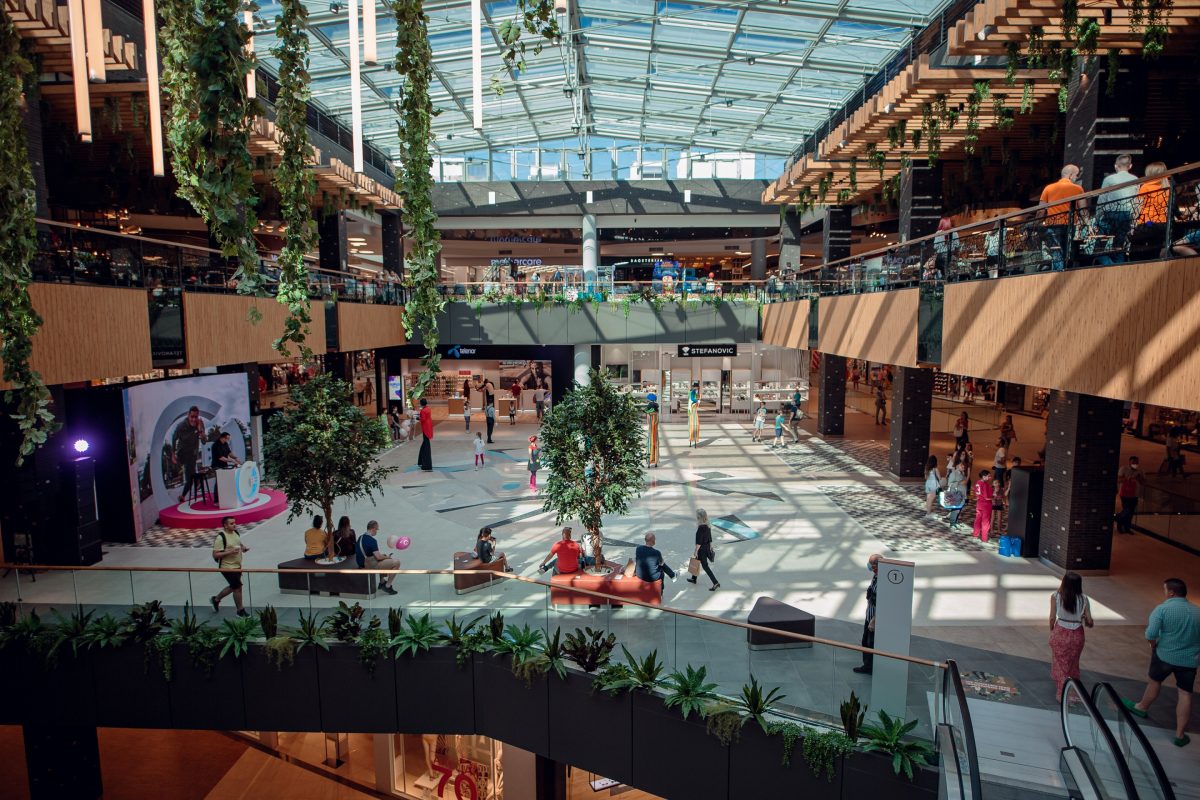 ACROSS: Regarding the current political situation: Serbia seems to be caught between the EU and Russia. Does that pose any problems for you in Serbia, or do you think that clear direction can be found?
Liagre: I do not think that it presents a problem. Serbia and Yugoslavia benefited from a balanced position of non- alignment. Today, the problem is that, in view of recent geopolitical developments, there is pressure to make a clear decision as to whose side you are on. As a foreigner, I am not the best one to talk to and I do not want to mix it up with local businesses. However, I think there is a very big opportunity to make a clear choice that will usher in a wealth of opportunities. We all hope that Europe will emerge from this situation even stronger and more united, and that Serbia might be able to take advantage of such a development.
ACROSS: Let us talk about your development pipeline. What projects are you currently working on in the region?
Liagre: We are focusing on local projects based on the redevelopment or value enhancement of our assets. We have ambitious redevelopment plans for UŠĆE, which are scheduled to commence at the beginning of next year at the latest. As the center is already 13 years old, we plan to invest eighteen million euros. The time has come to adapt to new trends in terms of architecture as well as offer, because market expectations have changed significantly. The food court will be renovated and a new one featuring a view of the city and a large open terrace will be installed in its place. We are also relocating many F&B units all around the scheme. We are working outside of the box: The way shop-ping centers are operated today is completely different from the way they used to be. At the BEO Shopping Center, which is only two years old, nearly 5,000 square meters of retail space will be added. With respect to our office portfolio, we are also refurbishing UŠĆE Tower One, our first historical office building.
ACROSS: What plans do you have beyond your existing portfolio?
Liagre: Our second focus is on diversification. We want to enter the logistics business – not only in the local market – and we are also looking at F&B concepts. When the market is small, you have to push. We cannot wait for operators to enter the market, because we know we will be part of the third wave of expansion for brands. As such, one of our strategies could involve investing in new F&B concepts or investing in local partners to speed up the process and add new offerings to our schemes. Obviously, that relates to retail, but it relates to offices as well, because we see that concepts are changing. You have to offer more than just co-working spaces – you have to offer a community, in other words, fitness as well as a range of F&B offerings. In terms of diversification, while we are open to office investments, we are also open to taking over existing platforms in other countries in the region.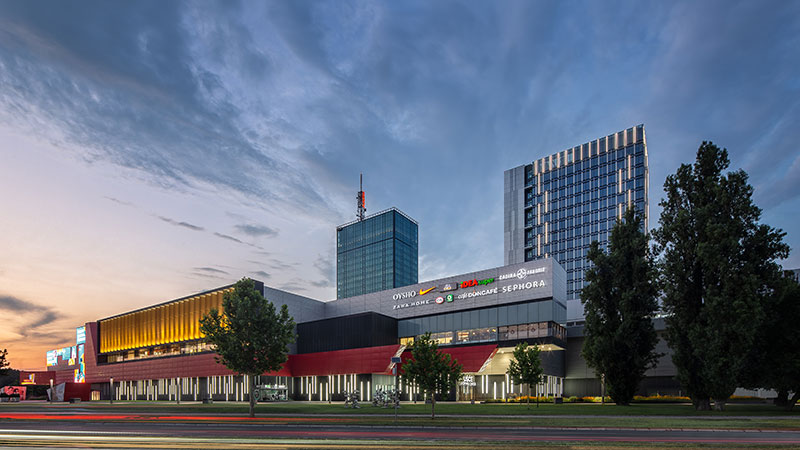 ACROSS: When we talk about retail projects in the industry, it is clear that real estate companies like Immofinanz focus on the development of retail parks. They have a clear focus on shopping malls. Both paths have the potential to be successful, but they are very different. What are your reasons for pursuing the shopping center approach?
Liagre: We strongly believe that retail is about people and emotions. There are two types of purchasing goods. One addresses needs, and the other one is pleasure oriented. Those approaches are totally different. In the past, basic needs were always satisfied by hypermarkets; nowadays, consumers turn to e-commerce for such things. For everything beyond basic needs, people need to be offered an experience and emotion. We believe that e-commerce today exists because of the weakness of physical retail. Indeed, physical retail took its time to react and propose new offers that were fully based on experience. We need to develop a so-called "sixth sense" and offer it to customers. It is the only way to ensure clear diversification in the purchasing process. We need to increase the level of emotion in every aspect. It is about F&B, it is about marketing, it is about decoration, it is about views, it is about greenery, it is about community, and it is, in fact, an endless process.
ACROSS: A lot of new projects have recently been developed in Belgrade and are in the pipeline. Is that problematic or perhaps a bit too much?
Liagre: The market is still able to absorb new projects. Every year, we conduct a market survey and examine the potential and any possible impact of new openings on our existing facilities. It turns out that there is still plenty of room, especially because the city is now more and more divided into individual districts and people are less likely to move from one side of the river to the other. People are shopping more in their immediate neighborhoods. In addition, the dynamics of the country are very positive. We see a significant and sustained increase in purchasing power and a generally growing economy. In addition, more people are coming to Belgrade to work, and tourism is also increasing. Even with the opening of five additional shopping centers in the last three years, the performance is still the same. We have just reached the figures of 2019, when UŠĆE was almost the only shopping centers and had the best performance in its history.
ACROSS: From a marketing perspective, UŠĆE is the strongest shopping center brand that you have in your region. Is that because of its history, or do you promote the brand using a specific marketing approach?
Liagre: UŠĆE is a well-developed project. The location, the size, the timing, everything was coordinated. After its opening, UŠĆE became an iconic shopping center, it served as the reference for other markets. It was the place to be and to be seen. We have greatly reinforced this image. UŠĆE still holds a certain degree of importance for people, but that is no longer enough. We need to constantly please and surprise our customers and to continue to invest in our original strengths: size, location, shop mix, easy parking services, etc.
ACROSS: Is UŠĆE still the starting point for new international brands entering the Serbian market?
Liagre: UŠĆE still offers the combination of exposure to the market, prestige, and performance. As of today, that combination, which is key to success, can only be found at UŠĆE. The center gives brands a very strong starting point from which to enter the market.
ACROSS: What is the percentage of retail in your portfolio?
Liagre: In terms of GLA, retail space accounts for twice as much as office space. We have four major retail assets: UŠĆE, BEO, Mercator, and Delta City, which we acquired at the end of last year. We also have some smaller assets. In terms of office space, our key projects are UŠĆE Tower 1 and 2 and Navigator 1 and 2. Today, our portfolio is more centered around retail. We are the market leader for retail assets and third when it comes to offices.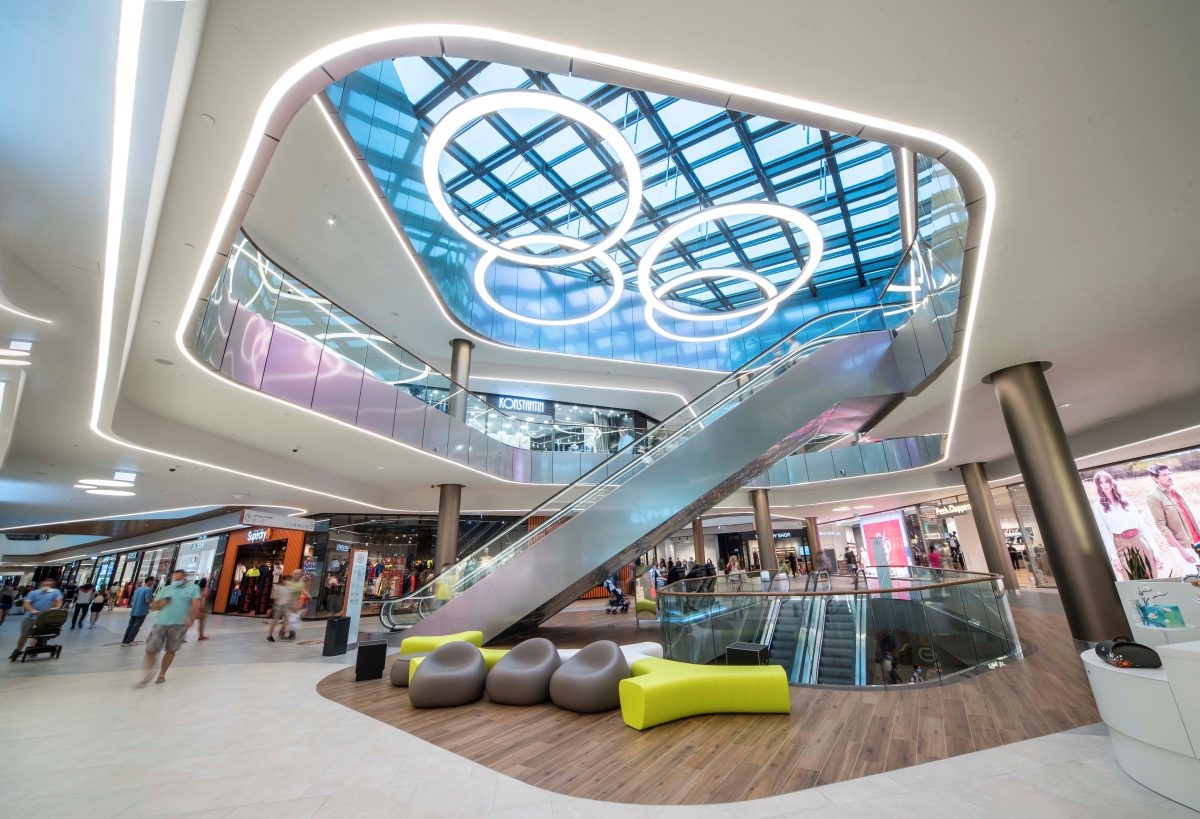 ACROSS: You are currently dealing with a very uncertain political situation, rising prices and interest rates, inflation, long delivery times for construction materials, and so on. How has all of that uncertainty affected your business?
Liagre: Inflation ultimately means less money in people's pockets. We have not reached that point yet, but a big challenge lies ahead of us, accelerated by the war in Ukraine. Tenants will be put under pressure, because eventually, their occupancy rates will dramatically change. Rents will increase as a result of inflation. For the same reason, the cost of goods will increase, and the problem of supply could also decrease turnover. On the consumer side, we will see a shift in spending. The financially weakest customer group will focus on paying the rent and buying food and other everyday products from discounters. The risk in that regard is primarily for mid-segment brands, in other words, shopping centers. Discounter margins will be affected, but they will have growth in terms of margin mass. As usual, the luxury market will be protected to some extent. However, shopping centers will be under a great deal of pressure. Therefore, we need to be very proactive and dynamic in our efforts to support them by means of strong marketing and by keeping people in shopping centers. Food courts play a very big role in this strategy, because food is a way to experience shopping centers in an affordable way. They simply attract people to the center, where they might spend additional money in the fashion area or engage in extraordinary spending from time to time.
ACROSS: What does the current situation mean for development projects?
Liagre: That is a major issue, because we are not able to create budgets these days. Even if we try, we have no way of knowing how long the budget will be valid. When we create budgets, we have to increase every kind of margin, that is, rent levels, construction, costs, timing, and we have to allow for delays due to delivery problems. The only good thing about this situation is that it has allowed us to consolidate the existing portfolio and the existing performances of the assets. The last few years have been years of development for MPC. We are fortunate because we have just completed our downtown office building, so we no longer have to bear development risk at this moment. MPC Properties has the option of not participating in large development projects, so we can concentrate entirely on redevelopment projects.
ACROSS: How have tenants and retailers reacted to all of these difficulties?
Liagre: We have not seen any reduction in size or units, rather the opposite is the case. More and more tenants are opening flagship stores, because they understand that they need nice vitrines and so on in order to support e-commerce as well. Cities around the world are becoming more complex in terms of traffic. As such, we now see that there is a need for different shopping hubs within a given city. Belgrade serves as a good example. Retailers do not have just one flagship store, but several in different parts of the city. Apple's retail model is another example. Apple opens, let us say, five flagship stores in a major city, and they also use preferred retailers to create a network. We have all learned that e-commerce cannot exist without physical retail. We clearly recognize the need for reinvestment in physical retail, which is great for us. Like us, retailers are focused on experiences to motivate customers to make purchases, no matter what environment they find themselves in. When you offer added value like pleasure or emotion, the price of the goods becomes less important as a key decision factor. This is what we are all striving for. That is key to overcoming the challenges we are facing as a result of the general economic environment, as well as to coping with new distribution chains, such as e-commerce.
ACROSS: In the future, e.commerce sales will be a major theme for the industry. How are you dealing with that issue? What does that mean for your company and your contracts?
Liagre: We are still at the very beginning of the process. In the past, retailers thought they were on the right track by not including turnover generated by e-commerce. They have since returned, so we can now support them in their efforts to integrate e-commerce into their existing networks in the best possible way. We have just started to jointly brainstorm ways to find common answers. There is a conflict in terms of inventory, because we do not think there is any reason why inventory in the store should be used for e-commerce sales. That is a problem in terms of who actually owns that inventory, because shopping center visitors should have priority access to the best and broadest selection. A second point of discussion concerns margins. We believe that the margins should be nearly the same and that nearly the same revenue should be applied as a result. It is not easy, but we understand that we need to work together and find a common ground that is mutually beneficial.
ACROSS: Besides e-commerce, ESG is the big catchphrase, especially in Europe. How do you view the "ESG Task", and what has your experience been in your region? Is it simply a B-2-B issue, or do other parties need to be involved?
Liagre: In the past, we followed sustainable standards be- cause it was sort of mandatory, but we had no idea why. Every building was certified as "LEED" or "BREEAM". Today, there is real meaning to it, and we are shifting from buildings to people, which is something we strongly believe in. We have recently received "WELL" certification, which stands for well-being. ESG is cascading. In the past, certifications were mainly for us or perhaps for investors, but they were just add-ons. Today, all stakeholders, including consumers, demand it. Following ESG standards makes tenants and customers recognize the quality of our buildings and our company. Furthermore, we are being pushed along by our tenants. We signed an office lease with Micro- soft a short time ago. Before signing the contract, they acknowledged our "WELL" certification, because it was a standard that they required. There is no difference in the retail sector. ESG is necessary for us, because it gives us access to more alternatives for responsible financing, which has be- coming increasingly attractive. People have become more and more responsible citizens and shoppers. They choose places with which they share common values. For example: We are in the process of developing an urban farm on the roof of a shopping center. We are already producing solar energy, we have installed beehives, and we are working on reusing water. It is a global project that we communicate to different stakeholders in different ways. We believe that it will make a very big difference when we are talking about leasing processes or even visiting and purchasing process-es. All of that occurs in addition to the execution of our corporate culture and corporate philosophy. However, we have to be proactive.
ACROSS: How do you communicate ESG topics to your customers?
Liagre: Due to the fact that we are "WELL" certified, customers immediately know that we constantly carry out numerous tests as soon as they enter the shopping center. We test air quality and water quality, we monitor bacteria levels, and so on. Following the COVID-19 pandemic, we cannot simply invite people to visit our buildings without taking care of their well-being and informing them of the measures we are taking. That is why our business management policy puts the health and safety of the users and visitors of our buildings first. We also engage them via communication about, for example, the amount of water reused or solar energy generated at our facilities. Doing so helps ensure that customers want to participate in the process as they are part of our ecosystem, and we will only be able to move forward if we work together. Therefore, we believe that we also have an educational responsibility, which will inevitably lead to healthier environments for the communities formed around our assets.
SERBIA TO BECOME THE CENTER OF THE EAST
The fact that MPC Properties has no vacancies in the retail and office sectors shows the demand that is present in the region. "Whenever a tenant has left one of our shopping centers, we have found a replacement well in advance," says Liagre. All of that can be attributed to the still-growing economy in Serbia. Purchasing power has grown by 7%, prompting international companies to enter the market (e.g., Microsoft). They are also attracted by skilled labor and high educational standards. In addition, foreign com- panies that previously operated in Ukraine and Russia are expected to relocate to Serbia. "Belgrade is still the hub for the region," Liagre says, adding, "and the country is doing a lot to make itself more attractive; for example, it is investing a lot in infrastructure, such as the new airport."
Click on image to display larger version