Total transaction volume in the CEE region in H1 2023 (2.2 billion euros) decreased by 59% (Y-O-Y). The smallest change occurred in Czechia (38% decrease with a result of 749 million euros) and the biggest – in Poland (72% decrease with a result of 801 million euros) and Hungary (82% decrease with a result of 114 million euros). Slovakia with a volume of 321 million euros noted a decrease of 48%, and Romania – 44% with 180 million.
The market freeze in Hungary is driven not only by global conditions but also those specific to Hungary, which might be concerning for some investors – the tensions between Hungary and the EU, provider of structural funds to the country. However, there are significant assets under exclusivity or under marketing, so volumes are expected to recover in the second half of the year bringing the yearly total above 500 million euros.
In Romania, the full-year investment volume is expected to reach 600-700 million euros, with the retail sector being the engine of the investment market.
---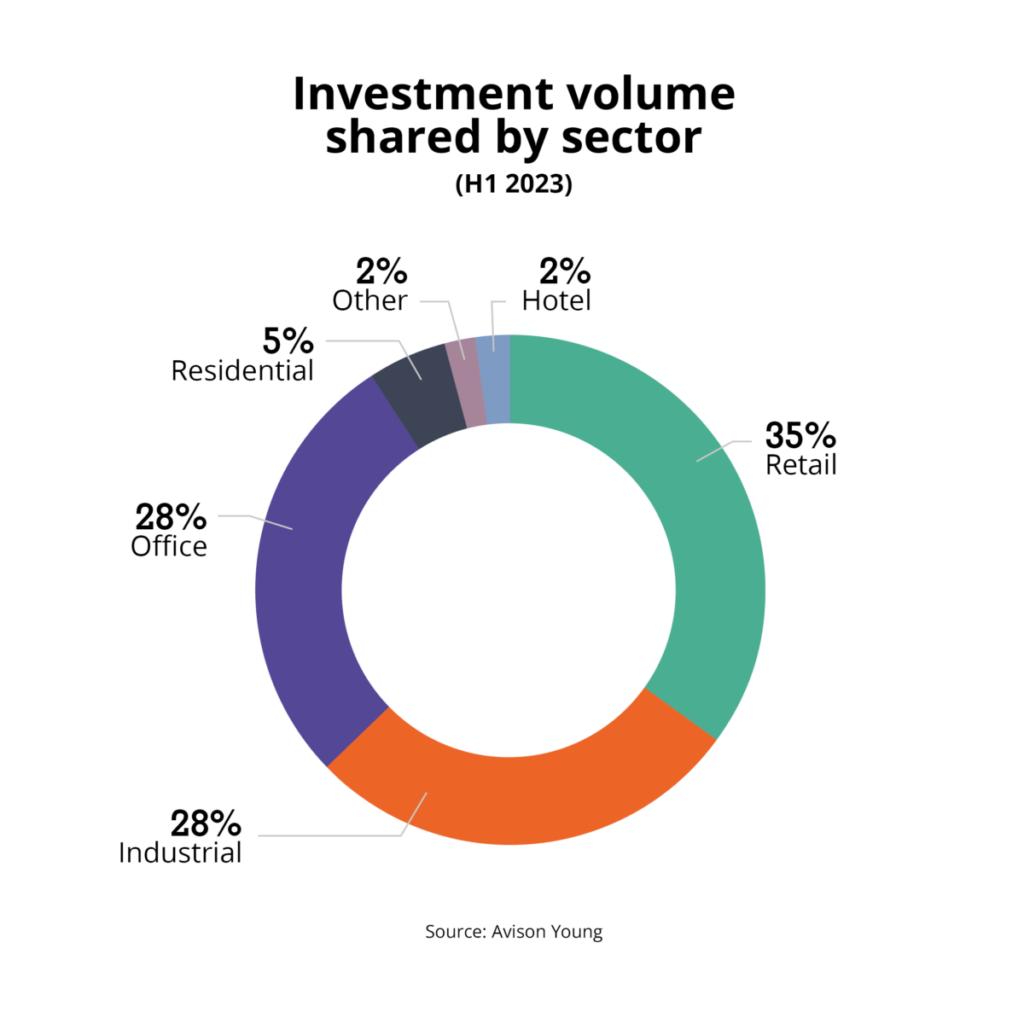 ---
The dominance of the retail sector in the results of the whole region (35%) is mostly owing to two large transactions, which took place in the Czech market – divestment of Trei Real Estate from their CZ-SK supermarket and retail park portfolio to Plan B Investments for an estimated value of ca. 187 million euros (Czech portfolio allocation) and Pardubice Retail Fund acquisition of Palac Pardubice Shopping Center for 123 million euros.
---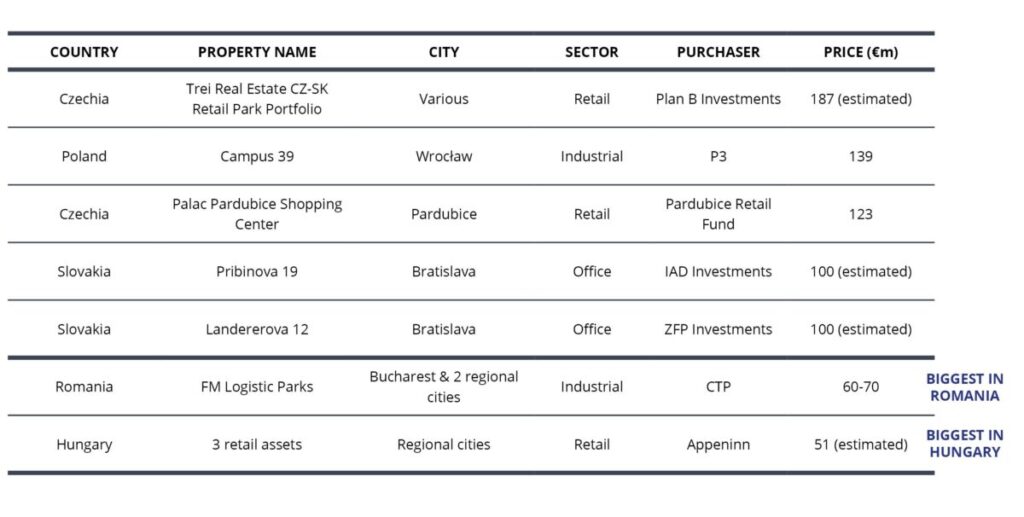 ---
Despite retail transactions achieving only 18% market share in Romania (32 million euros), it is expected that this particular segment will be the investment engine in H2 which will boost the total transaction volume. In particular, regional retail parks are attracting investors in Romania.
In Poland, retail volume reached 175 million euros, marking the lowest H1 result since 2010. After several years of unquestionable dominance by retail parks and convenience schemes, the structure of the retail investment market is undergoing a shift in 2023 as the market witnessed a return to transactions of regular shopping centers in regional cities and acquisitions for redevelopment purposes.
In Hungary, retail transactions accounted for around 51% of the total volume but the numbers were low – only 58 million euros were transacted in total and it was built up of high street units, regional strip malls and smaller shopping centers.