Eurovea's record-breaking footfall
Record numbers were set in the first days of opening, with the largest footfall recorded during the weekend. "On Saturday, May 27, we welcomed 75,000 visitors inside and almost 19,000 along the riverside – attracted by great new brands and a fantastic range of eating opportunities," observed Oľga Hammer, Eurovea's marketing and PR manager. Visitors were particularly drawn to the two-floor Primark – the Irish fashion chain's first shop in Slovakia. "We are happy to welcome customers to this beautiful location in the new Eurovea. Since opening on Thursday, the customer response has exceeded our highest expectations. We have something for everyone – men, women and children, all ages and styles – providing sustainable fashion at affordable prices," said Maciej Podwojski, director of Primark CEE.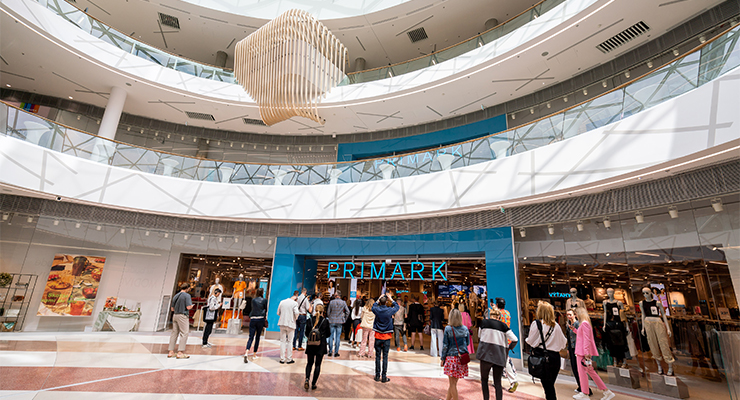 McDonald's also set a record, serving almost 3,000 customers on Saturday. "Despite the high demand, burger lovers only had to wait an average of 111 seconds for their meal. The nice weather meant ice cream and drinks were also big hits," adds Katarína Balogová, the company's licensing partner.
Of the new retailers in the shopping center's second phase, HalfPrice has also proven very popular. "The Eurovea store continues our successful expansion in Slovakia. The opening weekend shows that after just one year in Slovakia, customers love the HalfPrice brand. Tens of thousands of shoppers were so attracted by our international brands, quality goods, and great prices that we had to continuously restock our 3,000 sq m of floor space. The first four days set sales records, and sales remain strong. We are confident that this store – our HalfPrice network flagship – will continue to set the pace," says Alena Langová, HalfPrice's operations & marketing manager.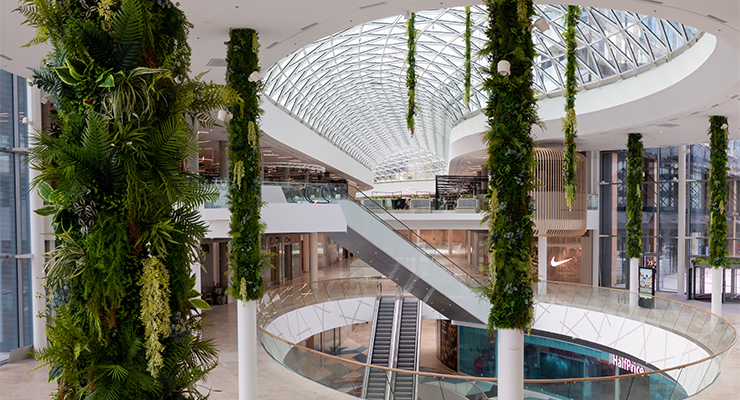 The opening of the retail extension and public spaces was accompanied by new access points from Ružinov and Prístav (Apollo Bridge) to the 4,000-capacity underground car parking – which represents 80% of parking and increases visitors' convenience. "After years of preparation, construction, and busy final touches, we looked forward to seeing how our work would be received. We're pleased to see that tenants and customers are delighted," says Pavel Pelikán, executive director at project developer JTRE.
Culture, sport, and art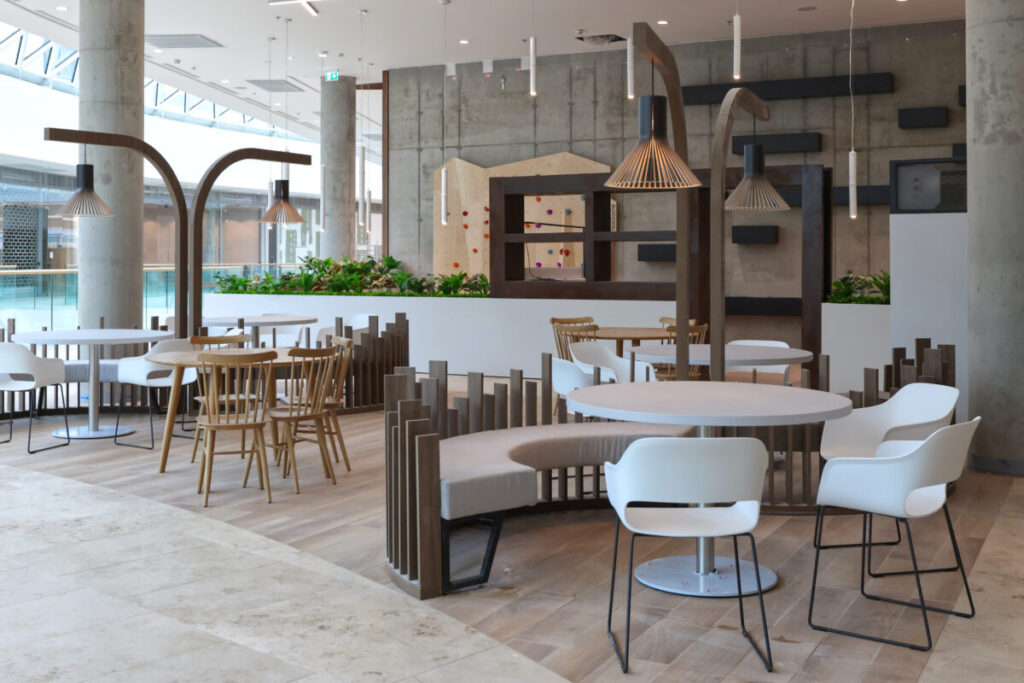 Eurovea is the go-to place for shopping, fashion, cinema, delicious food, coffee, and so much more. This popular Danube destination also holds regular public events: "We've already prepared events along the riverside and around the square, and in the newly-enlarged shopping arcade. We'll celebrate Children's Day over the weekend of 3-4 June at Námestí M.R. Štefánik. The program will include a bubble show, inflatables, Hugo Sníček, jugglers, and performances by Fíh Tralala, Malina Jam, Martin Madej, Majself, and TV JOJ celebrities," says Hammer.
Eurovea will stage Friday concerts starting at 6:30 p.m. Tuesday morning Yoga by the Danube starts on 6 June, as does World Basketball Week until 11 June. Sports fans can look forward to the 3×3 basketball – FIBA 3×3 U23 Nations league and men's and women's qualification for the European Championship. On 25 June, Red Bull Dance Your Style Slovakia will perform by the M.R. Štefánik statue steps – with a street dance battle, great music, and a big crowd. The square will welcome dance, music and singing on 30 June as part of the SND Summer Gala opera, ballet and drama season.
"This season is special for us – and there'll be more attractive events throughout the summer and autumn. Such as the popular Viva Musica festival and the contemporary White Nightart fest. Shakespeare with Kidsis just the place for up-and-coming thespians, and the fitness-minded will welcome the marathons and public runs like the dm WOMEN'S RUNandNight Run. Cyclists will love the L'Etape Slovakia by Tour de France, and the Slovak final of the Football in the City tournament for promising young footballers will be a big attraction," adds Hammer.
Eurovea reveals the redesign of its logo and visual identity
With the official ribbon-cutting of its new enlarged retail area on May­ 25 — 13 years after the original opened — Eurovea has become Slovakia's largest shopping center. This milestone included the prestige unveiling of the new MUW Saatchi & Saatchi-designed logo and visual identity.
Logos are often considered a brand's public face, and Eurovea opted for an evolutionary approach to the redesign. While the original logo's essential conceptual and visual elements have been retained, the contemporary design showcases features that deliver a fresh and contemporary look.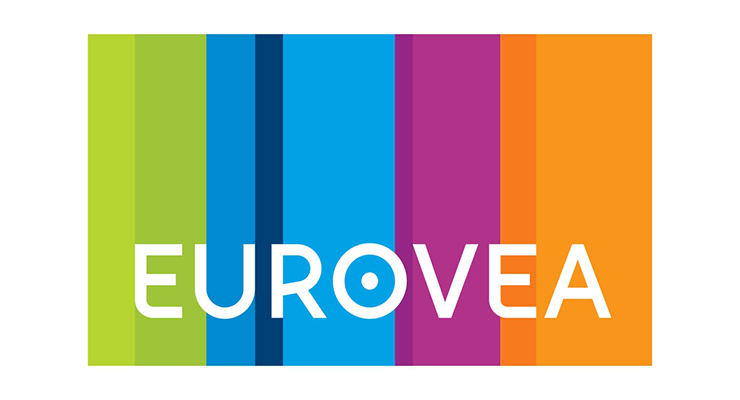 "Logo design is always a strong indicator of brand perception. By seeking to make the new design more striking, we have achieved a light and simple form of the original logo – maintaining tonality and visual reference," says the design's creator, Rastislav Uličný (co-owner at MUW Saatchi & Saatchi).
This concept aims to largely retain the original logo's visual character. The colored vertical lines have been combined into a spectrum of cool and warm colors, reminiscent of the four seasons, which provide for a more expressive and simple typography. "So the logo acts as a compact visual unit. The final impression refers to the original version, while creating a simpler and more contemporary look," adds Uličný.
The new logo's typography and colors now simplify the shapes for easier usage, and give the name a modern and attractive look. The new visual identity includes a new navigation system: pictograms, navigation boards and typography have been visually adapted to the new logo style. United with the logo and new color scheme, the system creates a compact and continuous aesthetic appearance.
Emboldened with its stunning new visual identity, Eurovea aims to build on its position as a well-established, popular and dependable destination in the center of Bratislava. A shopping center that stands out thanks to its amazing location, and unique mix of relaxation, entertainment, culture, shopping, and services.
Slovakia's Biggest Gastrozone
Eurovea's visitors can enjoy new shops and a delicious new catering concept starting May 25. The original food court has relocated to the new shopping center's first floor and doubled to 3,700 sq m and 1,156 seats. Supplemented by a stylish Food Hall and 16 riverside restaurants, this is the biggest and best gastro area in Slovakia.
Tastes galore food court and Food Hall
Visitors will love the new food court's open-plan industrial-urban style with a fabulous range of traditional and contemporary local and international dishes – with open views of kitchens and street food. "The Food Hall's multifunctional zones (entertainment, presentations, performances, kids' corner, relaxation/social with Danube views) inspired the proposal," says Peter Žiak, Eurovea project manager. Seating styles range from bar stools to benches and even armchairs, with smaller tables for couples, long tables for groups, and seating with splendid views of Eurovea Tower – the first Slovak skyscraper. The food court includes a Food Hall, a custom-designed section with designer furniture and stylish kiosks that will delight fast food lovers and gourmets. "More than the food, we also want our customers to feel comfortable as a place to relax and chill," adds Žiak.#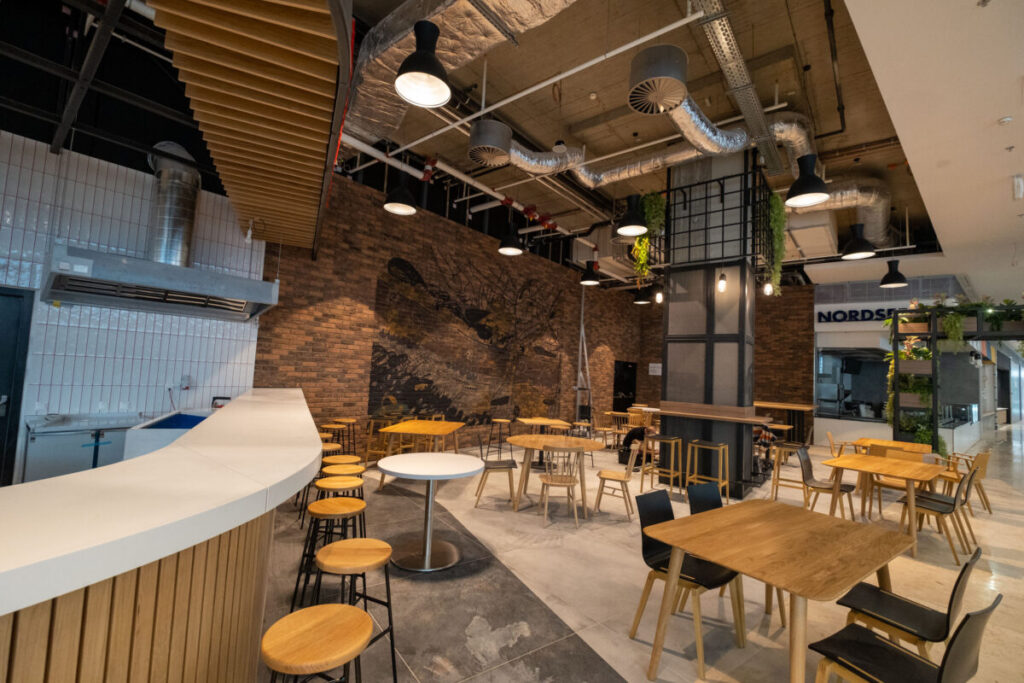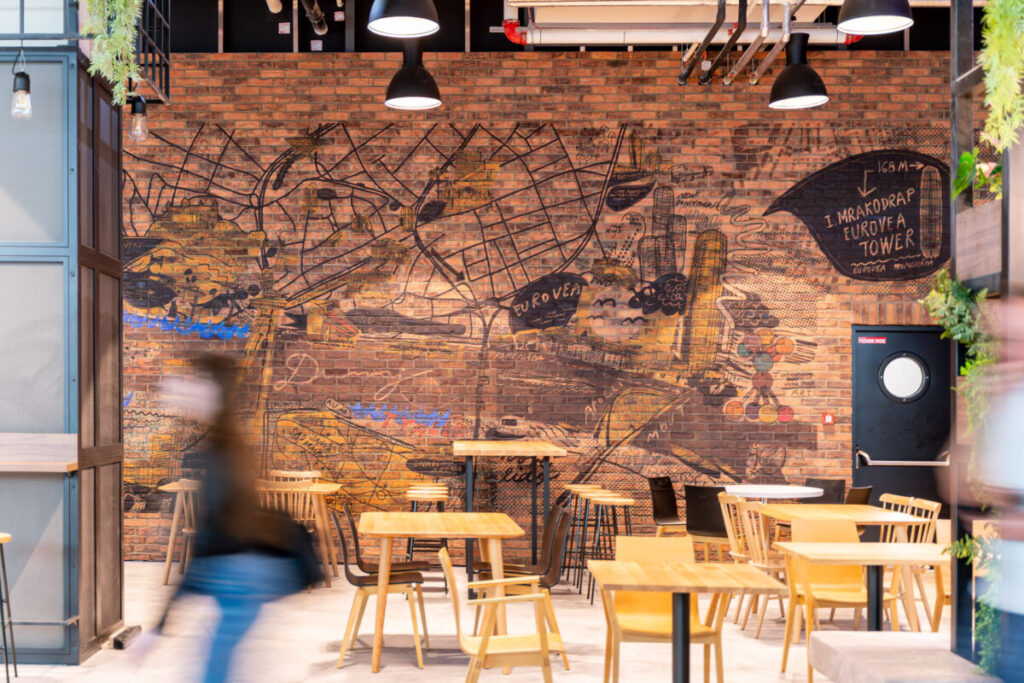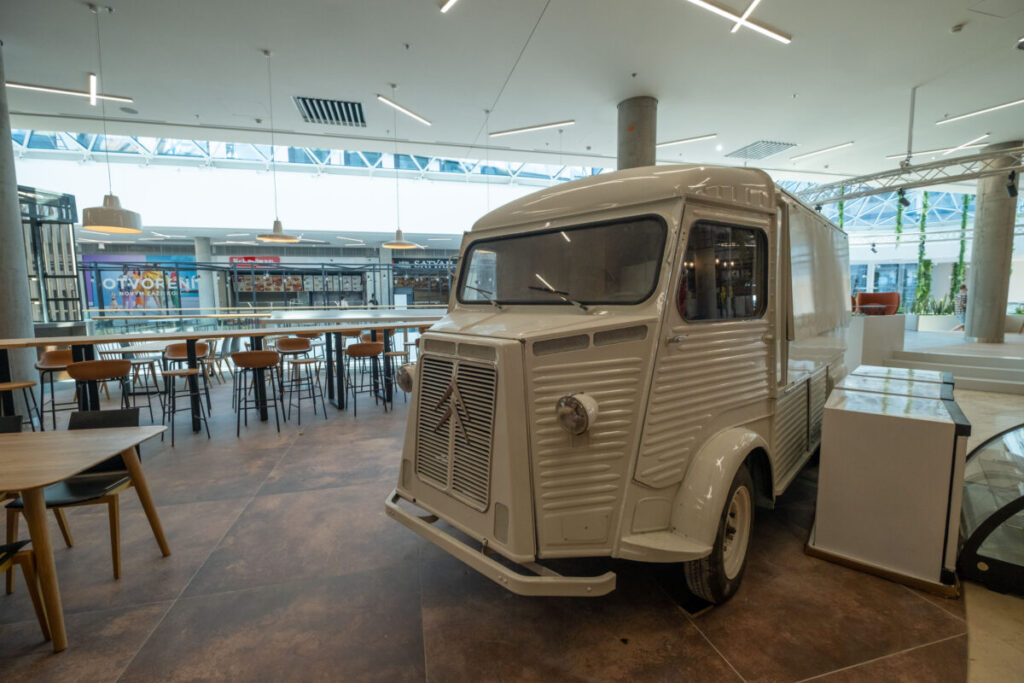 The food court and promenade restaurants are opening stage-by-stage, with exciting new concepts joining established players. "Customers will find that their Eurovea favorites have simply relocated to the new part," explains Katarína Paule, Eurovea's leasing manager. The gastro range includes Mexican Chilantro, Vietnamese PHO, Asian Sunshine, fish specialists Nordsee, Schnitzel, healthy Chickees with veggie and poultry dishes, KFC fried chicken, and Amerikanosbistrohas numerous salty and sweet dishes. Increasingly popular Indian cuisine is available at Satyam,and Hungarian dishes are served at Csarda u Gazd. Pomodorino, Bratislava's popular Italian Da Cono serves excellent pasta, pizza and salads, while MILLETRANCI has classic Italian breakfasts and alla Romana pizza in rectangles with thicker, crispy dough. Regal Burger has munchy meat and vegetarian options and is famed for its sauced meatballs. There is also the exotic Hawaiian POKÉ bistro, Na pare Bratislava buns and dumplings, oriental Alladin's Swawarma&Humus, Jungle Juice Bar, and of course Milk Tea, and many more.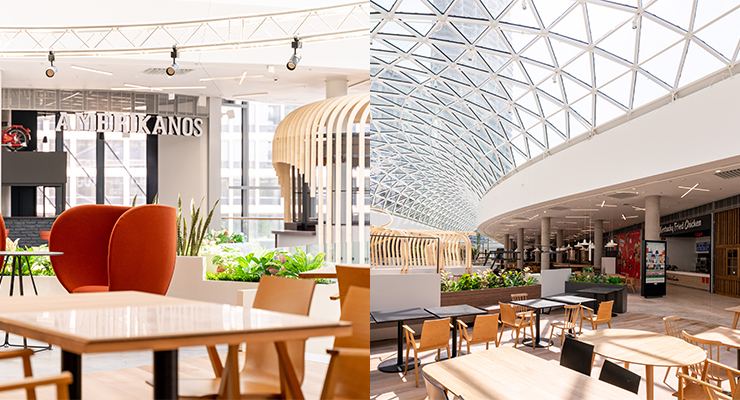 Pulsating promenade
Eurovea has a unique Danube atmosphere: the riverside is lined with vibrant restaurants, cafes and bars with great gastronomy, refreshing drinks, and beautiful Bratislava views. This laid-back locality has a wide range of eating options to suit all tastes and budgets and is ideal for both relaxed get-togethers and formal meetings. These restaurants are regularly ranked among the best in the city, thanks both to the quality of cuisine and an excellent location near the city center. "The extended promenade has enabled us to increase the range of stylish food – with three concepts added," says Paule.
One such concept is McDonald's. This 268-seat branch will be the largest in Slovakia, and the first in Slovakia and the Czech Republic to adopt a modern moon-inspired Luna design: circular and semi-circular shapes, wooden surfaces, and steel and concrete materials. There's also an indoor activity area for kids, and a playland with a slide outside. And the 12 self-service points are the most at McDonald's in Slovakia.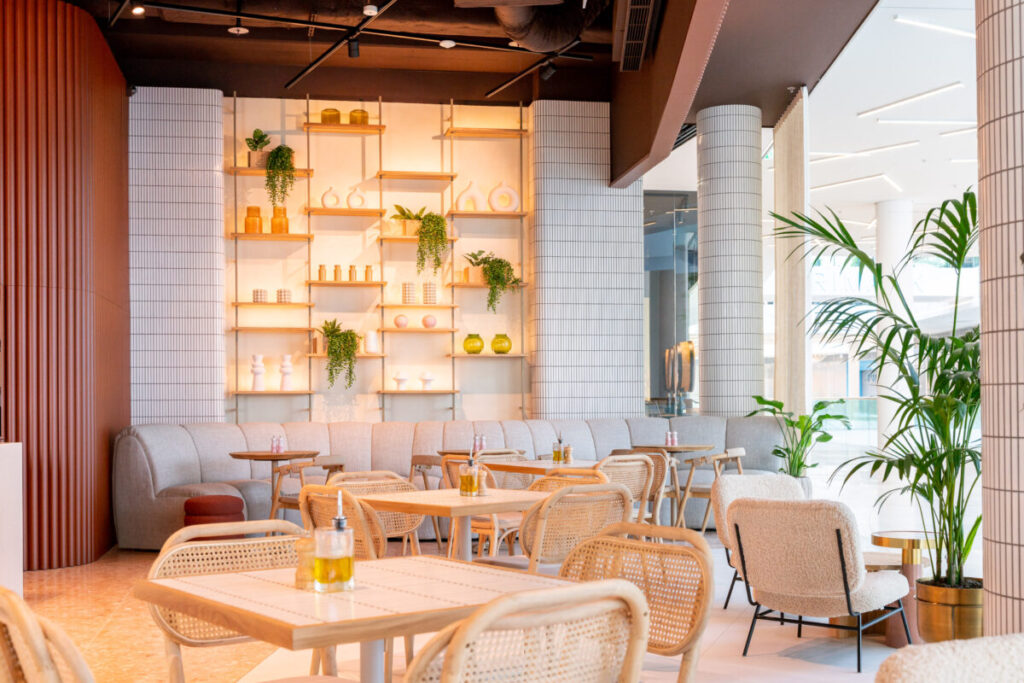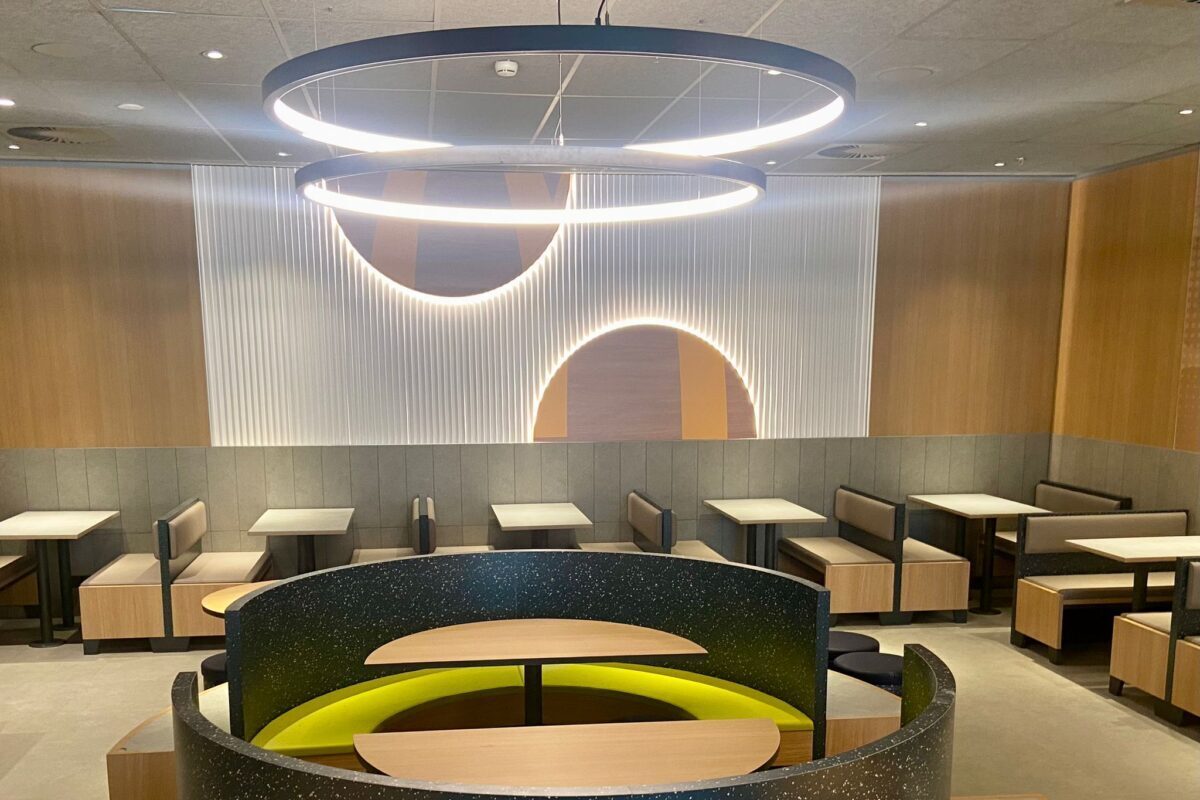 Another concept is the relaxed COMO CAFE, which will be an attractive addition to the capital and the promenade. It combines the energy of an all-day pulsating bistro with delicate Italian flavors. Combined with riverside views in the shadow of Bratislava's first skyscraper, this is destined to become a sought-after destination.
The popular Urban House is also coming to the Danube embankment with its new California-inspired all-day Urban Beach Houseconcept focusing on West Coast cuisine and street food. It features an extensive range of vegetarian and vegan dishes, a daily breakfast menu, and weekend brunches with resident DJs. The Eurovea riverside area will also have plenty of microbrewery craft beer options, excellent coffee from local roasters, fresh cakes and pastries, craft beach cocktails, natural wines, healthy smoothies, and fresh cold presses.
"Next month Konn Burgers will add to the riverside's wide range of eating options with munchy homemade burgers, side dishes, hot dogs, and desserts – all using the highest-quality locally-sourced Slovak ingredients – and great coffee. And Ram's bistro will soon be serving Asian specialties such as Indonesian, Sri Lankan, and Indian – the restaurant's minimalistic interior will be complemented by warm wood and white," adds Paule.