ACROSS: Center decoration and Christmas lighting are of very great importance to the shopping center industry today. Which of your projects is the most exciting one at present?
THOMAS MARK: We have many exciting projects. One of the most beautiful and most outstanding concepts is the one that we will implement at MyZeil in Frankfurt. ECE recently took over the management of that center and now tries to completely reinvent and reposition the center. In this repositioning, Christmas lighting, festive illumination and decoration are also important aspects. For contractual reasons, I must not reveal too much as yet, but I can tell you that when you stroll down the Zeil, you will be able to see the project very well from afar. Because of the lighting display alone, everybody should want to enter the center. This means that we will design the decoration in such a way that the visitors are pulled into the center. This novel type of decoration will be groundbreaking for the future. There has never been a project like this before. You should absolutely have a look at it soon.
ACROSS: Are there regional differences or country-specific "tastes" for Christmas decorations?
MARK: In this respect, you can clearly distinguish several regions. In America, shopping centers usually only decorate squares. They put up a typical Christmas tree that is rather opulently decorated with baubles, but in a very classic style. In the Asian region, Christmas decorations are also opulent, but extremely variegated. Still we have been able to realize outstanding projects with an outstanding design in this market. Also in Europe the design for festive lighting and decorations is very different in various regions, depending on their culture and historic background.
ACROSS: How important is "interactivity" for Christmas lighting?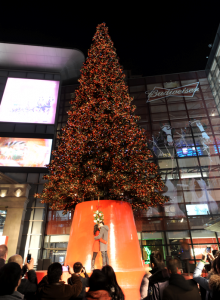 MARK: Extremely important. We had a marvelous project named "Kissmas" located in one of the most beautiful quarters of Shanghai. Is the result of our cooperation with the Xintiandi client and Paul Cocksedge Studio London. We wanted to have lighting displays that were completely different. A 30-metre tall Christmas tree was put up and decorated with warm white lights that could change to red. We hung a mistletoe at the bottom of the tree. Whenever a couple kissed underneath the mistletoe, the tree was bathed in red light from the bottom up. Then a flashing light sparkled that looked like fireworks. Finally, 36 trees lit up in red. That was something very special and raised a lot of public attention.
ACROSS: Is it all about getting attention at
Developers and mall managers today want to have Christmas decorations that are rich, get a wow effect and are appropriately illuminated, ideally complemented with an interactive attraction. It is difficult, however, to realize this wish with the budgets foreseen. The demands made by the shopping center industry simply are not in line with the money they are willing to spend. There are many centers where demands and budget fit together. Today, we see a need for bespoke concepts that create a much higher impact and let the centers differentiate themselves from others. A strong local approach as well as storytelling has absolute priority for such concept development. We design the decoration as needed by the center and not the other way round.
ACROSS: The fact that center managers make cuts is also reflected by the practice of requesting bids for Christmas lighting in groups and for several centers, isn't it?
MARK: Yes, some center managers plan to rotate decorations from center to center to save costs. Of course creating synergies might make sense in other areas of their marketing operations but our experience has shown that this is not the fact when it comes to festive lighting and decoration. Just when you think about manteling and transports, there is no cost saving potential here. Apart from the cost aspect festive lighting and decoration should be unique and specifically tailored to the center and its visitors – perfectly match to the region, and architecture. It is the "unique experience", that attracts visitors to come in and dwell longer.
We are rather happy to take on the challenge, to develop great unique concepts for each center that have the highest impact and the most efficient budget planning. Because if done right, festive lighting, decoration as well as consumer engagement definitely helps centers to differentiate from others and create experience for their visitors.
ACROSS: Hence, decoration design remains an essential element of overall marketing for you?
MARK: Festive lighting, decoration as well as animation and grottos are on of the the most important parameters for the differentiation of a center. They create experiences for their customers, attract them to come in and dwell longer. This is exactly where we come in. On principle, we are a marketing agency working like an architecture firm. The complexity of decorations rises steadily and the requirements of the shopping center industry are incredibly high. We put our lifeblood into our work, but you cannot demand more and more and, in parallel, reduce the budget again and again.