BY BRENDON O'REILLY
Tough beginnings: The Russian outlet market was established just three years ago and, despite tough beginnings, is rapidly developing, narrowing the gap to its Western counterparts. Interestingly, one of the catalysts for the growth of the outlet market in Russia has been economic slowdowns. The history of the Russian outlet market started after the economic crisis in 2008. While single outlet stores had been present in the country for years, all attempts to establish Western-style outlet centers prior to 2008 failed miserably. Since the very beginning, outlets in Russia had to overcome two main obstacles: lack of interest in the concept among retailers and a knowledge gap among customers.
Retail Eldorado
Retailers were not initially interested in outlet stores because they were selling almost everything for full price in regular stores, due to the enormous growth of the Russian economy and rapid development of the middle class. Additionally, the Russian retail market was still under development and brands preferred to invest in new regular schemes rather than outlets. According to World Bank data, between 2001 and 2010, the Russian middle class grew from 30% to 60 % of the total population. More important, these people basically controlled the money: including 74% of total household income and 86% of total household consumption. It was an "Eldorado" for retailers, especially in the clothing and accessories industry, which between 2004 and 2007 saw growth in value from €4 billion to €37.4 billion.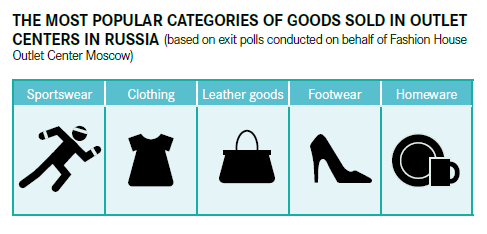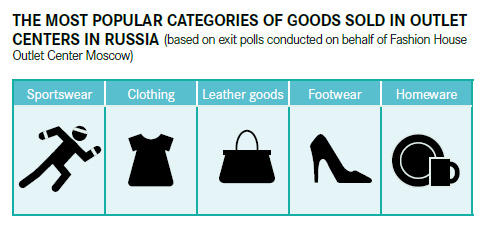 Russia, we have a problem
Retailers' problems started with the financial crisis of 2008, however. The market went down from €38.2 billion in 2008 to just €27.4 billion in 2009, recovering to €29.1 billion in 2010. This was a tipping point in the history of the outlet market in Russia, as the economic circumstances – unsold stock and customers' reluctance to spend money – pushed retailers towards new sales channels and outlet centers were an obvious answer to industry needs. From the retailers' point of view, outlets became an excellent way to dispose of surplus stock in a controlled environment. What is more, they were a safe bet even during economic crisis, as tenants' rents were directly connected to their sales. Last but not least, of course, outlet centers were more attractive from the customers' point of view in comparison with single outlet stores.
All eyes on customers
With several obstacles being removed and outlet centers finally finding their way to Russia, outlets center operators' focus shifted to explaining the concept of outlet centers to customers. According to exit polls conducted in August 2013, right after the opening of Fashion House Outlet Center Moscow, 31% of our customers had never visited other outlet centers. The initial barriers in Russia were similar to those found in other countries: Customers were not sure if the products and discounts were real or what the quality of products at outlet centers was. Fortunately, nothing changes the perception of outlet centers like shopping in one of them. Eventually, Russian customers understood and fell in love with the concept. Our regular studies show that, not only do customers spend more time and money in outlet centers, but, even more important, they come back regularly and recommend outlet shopping to their relatives.
It's (not) all about Moscow
The Russian outlet market is in fact presently Moscow's outlet market, as the only three outlet centers in Russia are located near the capital city, which is the biggest city not only in Russia, but in the whole of Europe. This will change rapidly, however, as big cities like St. Petersburg and agglomerations with more than 3 million people living within a 60 to 90-minute reach, like Yekaterinburg, enter the game. The process has already begun and the first regional projects like Fashion House Fashion St Petersburg are under development. Moscow will still play an important role, however, especially considering its population of more than 12 million people living within the city and an additional 6 million living within Moscow's agglomeration. According to our calculations, one outlet center can successfully serve about three million customers. With such an enormous catchment, Moscow is thus still capable of absorbing three more outlet centers.
New is coming
What is more, as the most mature outlet market in Russia, Moscow will still be a playground for developers and a place to introduce new concepts and innovative services. In fact, the role of outlets is slightly changing and catching up with customers' needs. In more mature markets, we see a greater focus on experience, not just shopping. Outlet centers are taking on new roles and services, including entertainment and sport, and these changes will come to the Russian outlets as well. From a shopping perspective, we will increasingly see offline and online retail merging. From "click and collect" to "click and buy" services, bricks-and-mortar outlet centers will enter online retail. In the case of Fashion House Group, Moscow will be our first outlet center where we will introduce this type of services.
Value for money
The attractiveness of outlet centers to Russian customers has recently improved due to the rapid devaluation of the ruble at the end of 2014. With diminishing purchasing power, customers have turned to outlets for rescue. Once introduced to the benefits of outlet shopping, Moscow consumers typically become keen to use it more often. Nowadays, even with the recovery underway, we are seeing customers returning enthusiastically to Fashion House Outlet Center Moscow as they seek to get more value from their spending on branded fashion.