By André Stromeyer
According to the EHI, more than half of the 509 shopping centers in Germany – amounting to around 16.3 million sq m – urgently need to be revitalized or repositioned.
Shopping centers play a central role in the modern retail landscape and are important places for social interaction. But over time, they can lose their appeal and thus also their value. A great many different factors contribute to this development. Among them are changes in consumer behavior, but also changes in the tenant market. In some cases, several tenants have new demands regarding the size requirements for their rental space or have left the market altogether. Some may be downsizing their store network, either as a result of consolidation or as part of insolvency proceedings.
Online retailing has also shown that shopping centers can no longer be pure "shopping machines." The convenience of shopping directly from the sofa or any place and at any time has dramatically changed consumers' shopping behavior. Shopping has become a part of leisure time where people want to have fun, which can be integrated into other leisure activities and where, if possible, everything is available under one roof.
Therefore, today, it is appropriate to offer more choices and opportunities in a shopping center. Also, through diverse uses such as leisure and entertainment, residential, urban services, offices, and health and wellness offerings, among others. A shopping center today is more than just a property for shopping; if it wants to be successful, it must live the mixed-use idea with various services and offers. We must create places where our visitors feel comfortable, which become a "third place," and where one would like to spend one's time.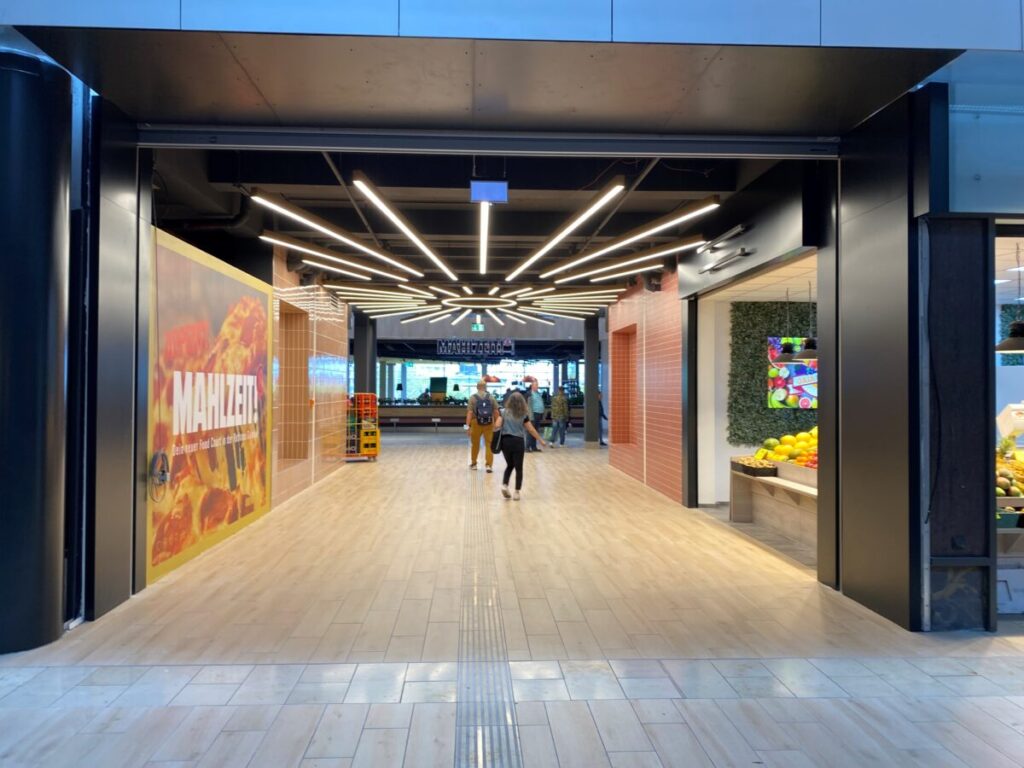 ASPECTS OF THE REVITALIZATION PROCESS
The revitalization and valuation of retail real estate is a complex process aimed at increasing the value of a property and making it more attractive to retailers and customers. The first step in revitalizing and evaluating retail properties is a thorough analysis of the current situation.
The cost of revitalizing a retail property can vary depending on the scope of the measures. Modernizing interiors, creating more attractive shopping areas, integrating new retail concepts, and improving infrastructure may be costly. Setting a realistic budget and evaluating the costs of the expected increase in value is essential.
The detailed planning of such revitalizations, conversions, or repositionings is critical to adapt to the market conditions. Nowadays, more and more shopping centers are being restructured into mixed-use properties. Special issues must be considered: Where is there space in the property to build office space? For example where can I bring daylight into the building? How do I implement this statically, or how must the technical systems/building services be adapted? What must be considered structurally? Are my permits sufficient, or do I need new and adapted official approvals? What bearing loads do I have available, and what additional loads do I need? Where will the delivery take place?
How do the opening hours have to be adapted? This is especially important for leisure and entertainment concepts – of course, there are no Sunday opening hours, especially in Germany, and these concepts profit above all from evening and weekend visits. Where do I create access for these providers? How can the issues of security fire protection be solved and also how can the ancillary costs be divided up fairly?
The revitalization process comprises various steps that must be carefully planned and coordinated. These include developing a concept for revitalization, selecting the right partners and service providers, implementing the measures, and monitoring progress. Close cooperation with architects, construction companies, and other experts is crucial to achieve the desired results.
ANALYSIS AND EVALUATION OF THE STATUS QUO
Before the revitalization of a shopping center can begin, a comprehensive analysis of its current condition is necessary. This analysis includes structural conditions, tenant structure, competitive environment, location attractiveness, transport links, target groups, and current market trends. A thorough assessment of the property value forms the basis for later decisions. This analysis provides important information to identify the proper measures to increase the value.
STEPS TOWARD REVITALIZATION
Concept development: Based on the analysis, revitalization concepts are developed. These can range from structural changes and modernization to repositioning the shopping center.
Investment planning: The costs of revitalization are of central importance. Here, the structural aspects are considered: marketing measures, events, and technology integration.
Structural modernization: Renovation of facades, redesign of interior areas, integration of smart technologies, and creation of attractive common areas are possible steps.
Optimize tenant structure: Selecting the right tenants to enrich the shopping experience is critical. Pop-up stores, local vendors, and innovative brands can increase diversity.
Create an experience: Creating experiences, events, and activities can turn the mall into a social gathering place that goes beyond just shopping.
Integrate sustainability: Sustainability aspects such as green energy, recycling, and environmentally friendly issues are becoming increasingly crucial for banks, investors, and customers.
FACTORS FOR SUCCESS AND NECESSARY PARTNERS
The revitalization of a shopping center requires the cooperation of various partners:
Investors and owners: A clear vision and sufficient investment are fundamental. Owners must set long-term goals and provide the financial resources.
Architects and designers: Architectural and interior design professionals are crucial to improve the appearance and functionality.
Leasing specialists: They play a role in finding suitable tenants and marketing the revitalized center.
Tenants and brands: Selecting high-quality tenants that fit the target audience is of great importance.
Marketing experts: Communicating the changes and the new brand identity is crucial to attract customers.
Technology partners: Integrating Wi-Fi, mobile apps, and digital screens can enhance the shopping experience.
Innovative center management companies: They professionally manage the center and (re)position it in the market with innovative ideas.
COSTS AND BENEFITS
Revitalization costs can be considerable, depending on the size of the shopping center and the planned measures. Nevertheless, these costs should be in proportion to the expected benefits. Successful revitalization can lead to higher rental income, increase visitor frequency, and raise the property's overall value. Shopping center revitalization requires a holistic approach considering structural and strategic aspects. Creating an engaging, experiential, and sustainable shopping environment where customers enjoy spending time is critical to increasing economic value. By working with various partners and careful planning, a successful revitalization can benefit both owners and customers.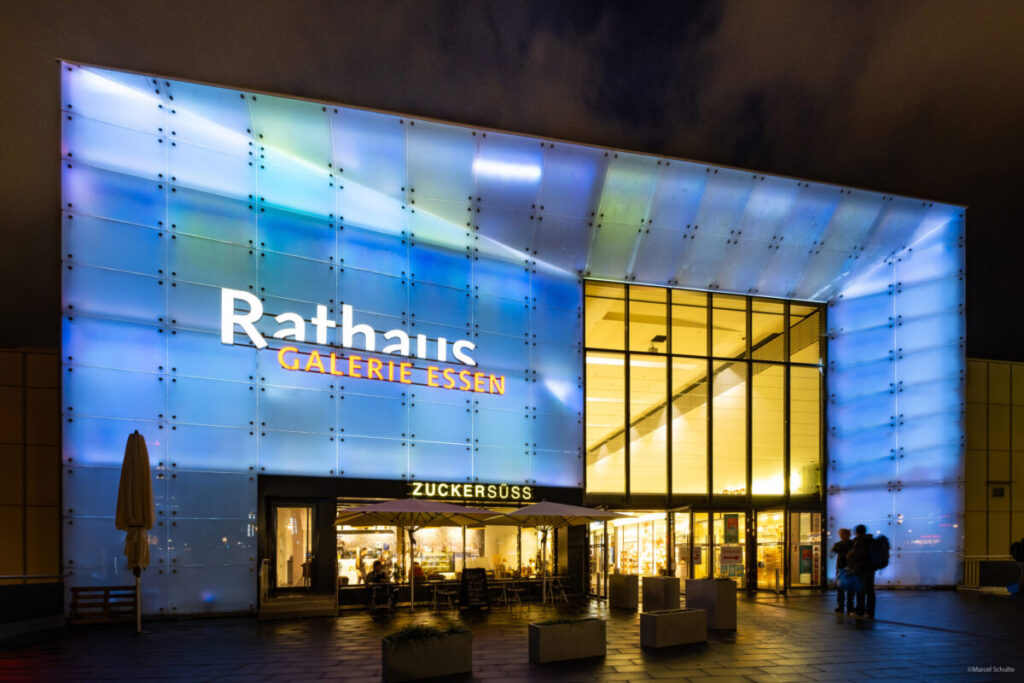 CASE STUDY RATHAUS GALERIE ESSEN
For the current revitalization of the Rathaus Galerie Essen, we are following the procedure we just described. We have developed a uniqueplace strategy based on which the revitalization is taking place, and the property is being adapted to current consumer habits and market conditions.
The center is an excellent inner-city project in a good location, with high frequencies and great potential. However, before the restructuring started, it suffered in several areas. For example, one of the two mall arms was significantly less frequented, and the center was generally hardly anchored in the region. It needed a more precise positioning. Before we acquired it together with Henderson Park, the question arose about how the property could be repositioned to become fit for the future. The vision of the "new Rathaus Galerie" was developed with a team of specialists from various fields. The costs for the necessary measures were determined, and the future rental income for the new concept was planned.
In the interest of better visibility, as a first step, we tore open the facade facing the city center and – in line with today's demands on modern shopping places – created a beautiful outdoor area with a cafe to feel good in.
The retail section of one arm of the mall was completely obsolete and removed. Instead, we developed the concept for a new food mall. The important point was that we also opened the facades to the outside so that customers could look out of the windows while eating and enjoying their stay, have a pleasant feeling of space, and not just stare at walls. After all, daylight is known to promote well-being. For the new concept, we deliberately avoid too high a proportion of fashion stores. We are focusing more on local supply concepts, also based on the competitive analysis carried out previously.
Our leasing specialists attracted many tenants to the "new Rathausgalerie." Most recently, the Dutch department store chain Hema opened a branch here, and Rewe, Rusta, and Woolworth will soon be operating their stores on the 7,000 s qm space previously occupied by Real.
The theme for the Rathaus Galerie Essen is: "My home, my district." This is reflected in the architecture, tenants, and branch mix. The design of the new meeting place and the materials are based on the typical features of the Ruhr region. Thus, industrially inspired materials and colors meet the colorful architecture of allotment gardens, kiosks, etc. Our innovative center management accompanies the restructuring phase with an informative "construction site marketing" and has developed the marketing campaign to reposition the center.
As shown by the example of the Rathaus Galerie Essen, we always develop a "Unique Place Strategy" tailored to the respective property. HBB has constantly developed special projects and never off-the-shelf centers. As HBB Center Management, we invest a great deal of time and energy in analyzing the particular characteristics of properties we want to revitalize for investors. After all, what is exactly right at one location may be completely wrong at another.