ACROSS: First, let me offer my congratulations. You have reached the level of executive leadership at Union Investment, having started your new position this summer.
HENRIKE WALDBURG: Thank you very much. I took charge of the asset management business area on 1 July 2023. The core function of this business area is to add value. This is accomplished by leasing, as well as by commercial and technical management and real estate project development. I am also responsible for sustainability – a burning issue at present, and one that we are deeply committed to. From the perspective of sustainability, our corporate objectives – mine included – can be broken down as follows: Basically, the world is ready built, and we need to make careful use of our limited resources and take a long-term view of how we want to design our environment.
ACROSS: There is a huge paradigm shift taking place in the real estate market as we speak. New construction was previously the norm. Now, it is the exception – refurbishment and upgrading has become the norm.
WALDBURG: For many years, the capital market was driving the real estate market. Due to changes in inflation and interest rate policies, we are now seeing decreased transactions and new construction projects on a global scale. Moreover, real estate has always formed part of the economic ecosystem and the financial standing of its users is a useful indicator of the industry. The users are, in turn, affected by recessions and inflation, as well as real estate demand, requirements, and outfitting We have recently seen many changes in this respect.
ACROSS: What have been the most important changes?
WALDBURG: The professional world has undergone significant changes as a result of digitalization and the coronavirus pandemic. "New work" and "working from home" have become important topics. This sometimes necessitates userbased space adjustments. At the same time, the sustainability demands placed on real estate have increased significantly – not only at an investor level, but also for our leasing partners and the actual users of the properties. Now, we can answer the question of how to dovetail these with one another: User focus and user orientation on the one hand and sustainability on the other. We are uniting these concepts under the banner of transformation processes.
Link: It is worth investing in the transformation of your real estate portfolio: According to their baseline survey on "transformation properties" in the fall of 2021, Union Investment and bulwiengesa AG presented a comprehensive market analysis of this trending and future-relevant topic.
ACROSS: That seems like a mammoth task.
WALDBURG: Definitely – but the real estate industry must make a significant contribution for us to achieve our climate goals. After all, it is one of the largest consumers. New construction is always planned in compliance with national and EU specifications, but the actual construction requires massive resource consumption. Real estate portfolios will determine whether or not we achieve our climate goals.
ACROSS: The word "transformation" is on everybody's lips, but what exactly does it mean?
WALDBURG: Transformation does not have a firm definition. This is apparent when we look at the market. Even the smallest changes are referred to as "transformations". However, it is not possible for every re-leasing to be referred to as a transformation. One thing is very clear: this topic is very wide-ranging. For example, we have carried out immersive transformations for many years.
ACROSS: Is that the smallest form of transformation?
WALDBURG: Essentially, yes. We are talking about gradually adapting the utilization mix and integrating new types of usage. For retail, this means continuously expanding the mix of usage – such as by incorporating public functions. Examples from the office area would include the integration of gastronomic or conference offerings. Overall, immersive transformation aims to expand utilization in a way that synergistically complements the primary type of use and offers users added value. All of these tasks fall under the continuous asset management of a property.
Union Investment Real Estate GmbH at a glance:
Assets under management: 57.3 billion euros
Real estate assets: 47.5 billion euros
Real estate funds: 44
Real estate properties: 494
National markets: 26
European and overseas sites: 10
Employees: 484
Current developments in own building stock: 5 (in Brussels, Hamburg, Stockholm, Paris and New York City)
Further active project developments: approx. 30
ACROSS: You have also spoken about transformation properties, building on the previous explanation, how does Union Investment define this concept?
WALDBURG: Union Investment has published two studies on transformation properties. During this process, we worked closely with bulwiengesa AG to develop a definition. As such, we have defined transformation as a comprehensive functional and structural redesign that makes a property accessible for one – or more commonly, multiple – new types of use. Almost all property types may become transformation properties. Incidentally, almost two thirds of those surveyed confirmed that they considered transformation properties to be more sustainable than demolition or new construction. Transformation is also economically profitable. Increased energy efficiency results in cost savings and reduced CO2 emissions. Admittedly, the potential construction cost savings must be assessed on a project-byproject basis. However, when asked directly, approximately 60% of those surveyed stated that transformation properties could solve numerous problems arising from the ever-increasing construction and energy costs, as well as disrupted supply chains.
ACROSS: Would you give us some examples of transformation properties?
WALDBURG: You can find examples of transformation properties in the retail industry, but even hospitals, hotels, or former office buildings may become transformation properties. The common factor is market adaptation resulting from a more or less fundamental change in the usage – frequently as a result of expanding the utilization spectrum and creating a mixed-use property. A key component is the selection of comprehensive reconstruction – with or without the expansion of an existing property – instead of considering demolition or new construction (click to enlarge).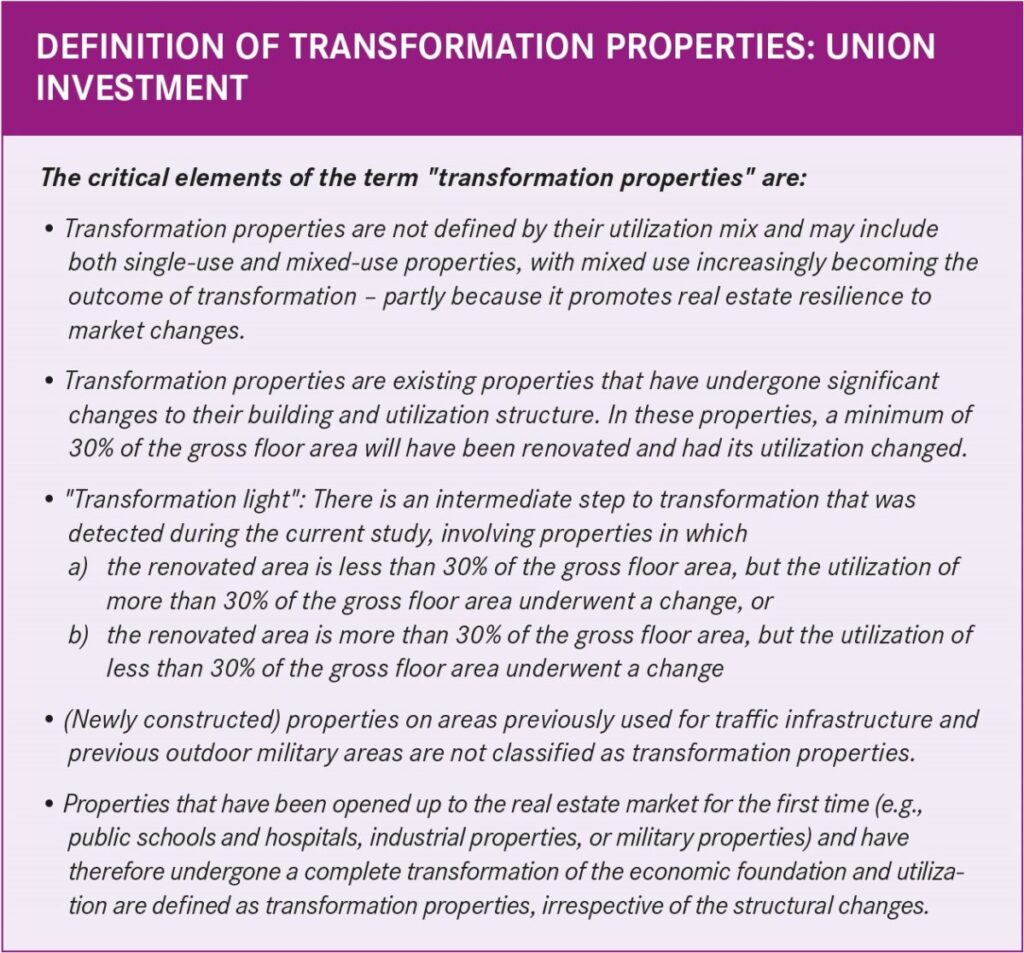 ACROSS: What is the objective of transformation processes?
WALDBURG: The objective of all transformation processes is to guarantee yield security throughout the entire life-cycle by leveraging future-proof utilization concepts. Crucially, the use and transformation of an existing property must contribute definitively to resource optimization in the primary energy sector. Moreover, transformation processes offer us the chance to broadly respond to sustainability challenges by adopting energyefficient modernizations, environmental improvements, improved architectural and town planning quality, new mobility concepts, and the option of multiple use. We spend 90% of our lives in real estate – we really need to raise our expectations. There are no limits to the number of criteria we can include in the catalog (click to enlarge).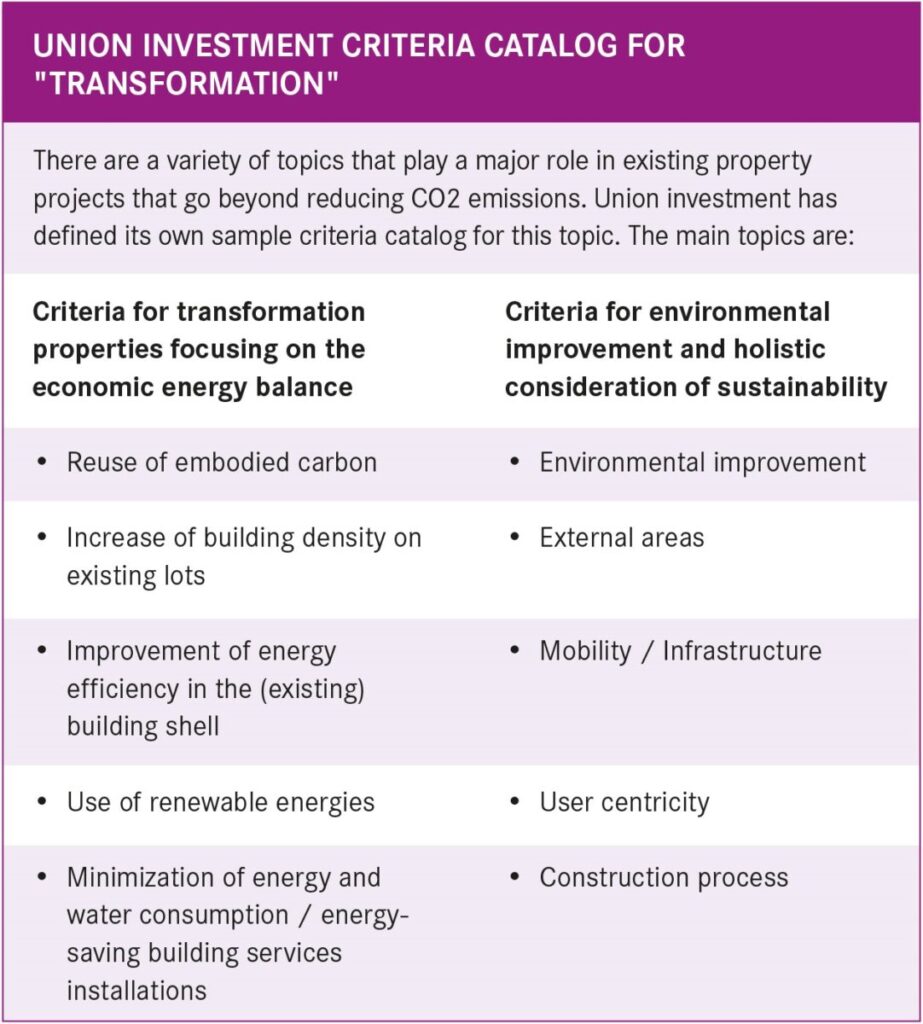 ACROSS: How do you intend to satisfy your investors?
WALDBURG: As trustees, we are responsible for ensuring that these change processes and investments in existing real estate are profitable for our investors. This always involves active value creation, which in turn entails the uncovering of potential – primarily in the case of our own portfolios. If we execute a transformation process correctly, all parties will benefit equally. We therefore add value in multiple dimensions, including sustainability, on the one hand, but also revenue, on the other hand. Even urban developments benefit from transformation processes. Simply put – we need to rethink investment and the value creation chain.
ACROSS: For a long time, it was thought that these objectives canceled on another out.
WALDBURG: Absolutely not! Repurposing or redesigning has not always been more cost-effective than demolition and new construction in the past The benefits of sustainability are obvious, and new legislature has significantly increased the economic attractiveness in comparison to new construction. We believe that the current debate focuses far too much on the costs arising from sustainability initiatives. Instead, we primarily focus on our ability to create value and therefore concentrate on the underlying business case.
ACROSS: What does this mean in practice?
WALDBURG: We constantly examine how we can combine sustainability and revenue potential. This may be accomplished in a variety of ways. Examples include the optimization or expansion of floor space. However, it is also possible to generate revenue by decreasing the ancillary costs, thereby increasing the net base rent.
ACROSS: Who are the stakeholders involved in a transformation process?
WALDBURG: Climate protection is a team sport. This is the only path to success. It is imperative to create a common vision among all stakeholders – from the portfolio holders and investors to the project developers, across the entire construction industry, and right down to the property, center and facility managers. The cooperation of the public sector is critical to ensure the correct regulatory and legislative framework conditions. It is equally important to involve users and tenants. The actions of these parties significantly contribute to the actual conditions in real estate and the level of energy consumption. We are in constant communication with our rental partners. However, we need to drill down into individual conversations.
ACROSS: What would you like to talk to them about?
WALDBURG: Ultimately, the conscious consumption of resources. This goes beyond merely abstaining from use. We need to set priorities. For example, do we really need to ventilate and cool a large office building around the clock? What adjustments can be made to ensure that these utilities are only available when the building is actually in use? This example also shows the importance of digitalization.
ACROSS: What does a transformation road map look like?
WALDBURG: Our process is standardized, but the solutions are individually customized. This may include commercial audits, municipal economic analyses of the site, stakeholder analyses, legislative and political framework condition analyses, and even analyses of the building properties and technology. Our project development team includes 45 experts. In addition to being responsible for the technical management of the real estate portfolios, the team is tasked with advancing project development involving both acquisitions and the existing portfolio. Our colleagues working in this field are both procedurally and organizationally intertwined with the leasing team, the commercial colleagues, and our sustainability experts. Without this dovetailing, it is impossible to move anything forward – this is the only way to develop a business case.
ACROSS: The industry saw sustainability as an abstract topic a very long time – it has only recently been considered part of operational asset management. How do you aim to integrate this topic into the company more deeply.
WALDBURG: Sustainability cannot and must not occur in isolation. Our sustainability team has set up the strategic guardrails and kept abreast of both new regulatory requirements and innovations. Sustainability in all three areas – E, S, and G – should be a requirement for every single real estate property. However, implementation at the property level necessitates a certain degree of sustainability consciousness and knowledge among the users and operators of the property. For example, when we consider energy-efficient modernization, our team faces a steep learning curve. This is partly a practical consideration – our colleagues with commercial responsibilities and expertise will now also be able to assess concrete, technical interdependencies and set the correct priorities for further developing their property. This requires training and organization. One of the greatest challenges facing the real estate economy is continuing to develop employee qualification if we want to have any hope of tackling the issue of decarbonization.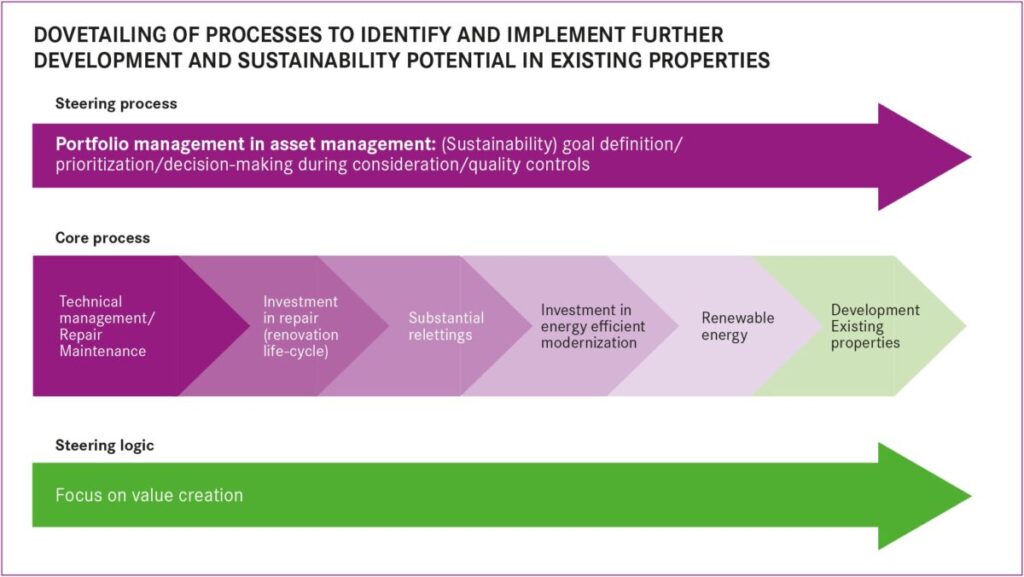 ACROSS: The labor market is particularly tense at the moment. How do you find the right employees for your projects?
WALDBURG: We are quite proud to say that we have already found the right people. We have more than 55 years of experience in the real estate industry. This includes extensive experience with steering projects and particularly those involving existing properties. The current size of our project portfolio is approximately 5 million euros. Six of these projects involve existing properties. Union Investment possesses significant in-house competence in the areas of renovation, refurbishment and consolidation. This competence is unique, since many other project developers have exclusively focused on new construction in the past. This wealth of knowledge offers a major industry advantage. We also have more than 15 years of experience in the field of sustainability management that we leverage to our benefit.
ACROSS: You also have a great deal of expertise regarding various asset classes and how to combine them.
WALDBURG: You are absolutely right. Mixed-use is part of the Union Investment DNA. Our studies have also shown that 60% of transformations result in mixed use. We have been involved in advancing urban district development for many years. We have distinguished ourselves in this particular field not only through our knowledge of the various types of usage, but also through our ability to optimally combine them to yield maximum synergy. We have come so far in this regard that we have once again returned to the role of project developer in certain projects, such as the YVIE in Amsterdam or the urban district development in Hamburg-Wandsbek. Transformations are extremely location-dependent and necessitate a thorough understanding of the sites and circumstances. We have already internalized this extremely individualized perspective of property management for many years.
ACROSS: Where have you had to readjust in spite of this, and how do you keep your employees up-to-date?
WALDBURG: Our environment is constantly changing, so logically, our team must also continue to develop professionally and obtain new qualifications. The coronavirus pandemic challenged us greatly in terms of agility – both at a corporate and an individual level.
ACROSS: Where is this agility apparent?
WALDBURG: We are now much more flexible in terms of workflows and communication – our ability to comprehend certain topics has also benefited in this regard. Whoever believed that we would discuss specialist medical topics as equals before the 2020 pandemic? Despite being part of the real estate industry, we had to rapidly create hygiene concepts, set up flexible contracts, and effectively understand funding programs. We demonstrated our ability to adapt at a breakneck pace and were able to maintain our commercial activities. We already possess the necessary agility to allow us to adjust to the extremely complex present and future challenges.
ACROSS: Generally speaking, what is missing from the current discussions regarding the real estate industry and dealing with the climate goals?
WALDBURG: We have a more holistic view of sustainability. Since the introduction of the Disclosure Regulation in 2021, we have placed increasing focus on the topic of energy efficiency. This is completely appropriate. We cannot make the mistake of using energy requirements – measured using taxonomy or the Carbon Risk Real Estate Monitor (CRREM) pathway – as our only benchmark. There are a host of other criteria.
ACROSS: What are they?
WALDBURG: At the center is the energy demand throughout the entire life-cycle. However, this is not captured by taxonomy, which simply focuses on operational consumption. The amount of energy it will take to develop the property is not considered at all.
ACROSS: What are some of the other aspects?
WALDBURG: In my opinion, we spend far too little time discussing whether a technology or measure not only saves energy, but also produces no additional pollutants. Let's consider the example of extruded foam materials that are used for insulation. It is justified and necessary for us to discuss whether or not we are producing hazardous waste that will need to be discarded in future. We should also consider ESG aspects when examining the supply chain for photovoltaics. All these aspects must be discussed at the same level of depth, and should definitely be included in the overall consideration.
ACROSS: You have already mentioned that transformation processes always take place in a political environment. What are the challenges in this regard?
WALDBURG: Achieving our climate goals is a major social goal – this is why the public sector also needs to adjust its processes. During our market research, the real estate stakeholders who took part mentioned a strong desire for feasibility. The market participants considered simplified utilization licenses/repurposing licenses and fewer conditions for reusing construction materials to be most important. The entire venture is meaningless if we do not address concerns regarding the circular economy. At present, new construction standards are frequently applied when conditions and requirements are placed on products.
ACROSS: Where is there room for improvement in terms of profitability?
WALDBURG: Licenses for increased space utilization are important. This is the only way to generate additional income potential, which would balance out the costs of energy-efficient modernization, for example. We also need to accelerate the planning processes. It can take anywhere from 18 to 24 months to receive a construction permit, depending on the site. The real estate industry is ripe for change – it is high time that the requirements for a fundamental willingness to "invest differently" is created at all levels.
ACROSS: Thank you for this interview.