Odd Muse returns to The Yards, Covent Garden following previous success at destination
Longmartin Properties Ltd has announced that Odd Muse, the independent 'investment fashion' label, has returned to TheYards, Covent Garden, for its second pop-up, following its highly successful brick-and-mortar debut experience at the destination last month.
Located at 4 Slingsby Place and running until mid-July, Odd Muse's 279 sq m space showcases several of the brand's womenswear lines such as the sleeveless styles collection, ultimate muse, and limited amount of pre-spring designs, alongside perfume. The return of Odd Muse to The Yards reinforces the destination's appeal in securing online retailers for debut brick-and-mortar locations, as well as its continued commitment to supporting and nurturing independent businesses.
Born out of the pandemic in 2020, founder Aimee Smale launched Odd Muse to bring attention to the investment fashion market and highlight consumers' ability to buy products that are sustainable, yet timeless. With a strong emphasis on sustainability from concept to creation, Odd Muse's values align with that of The Yards, which looks to build a community of like-minded operators in the heart of Covent Garden. Odd Muse also holds a solid and powerful ethos with women empowerment at its core, which is woven throughout its brand identity.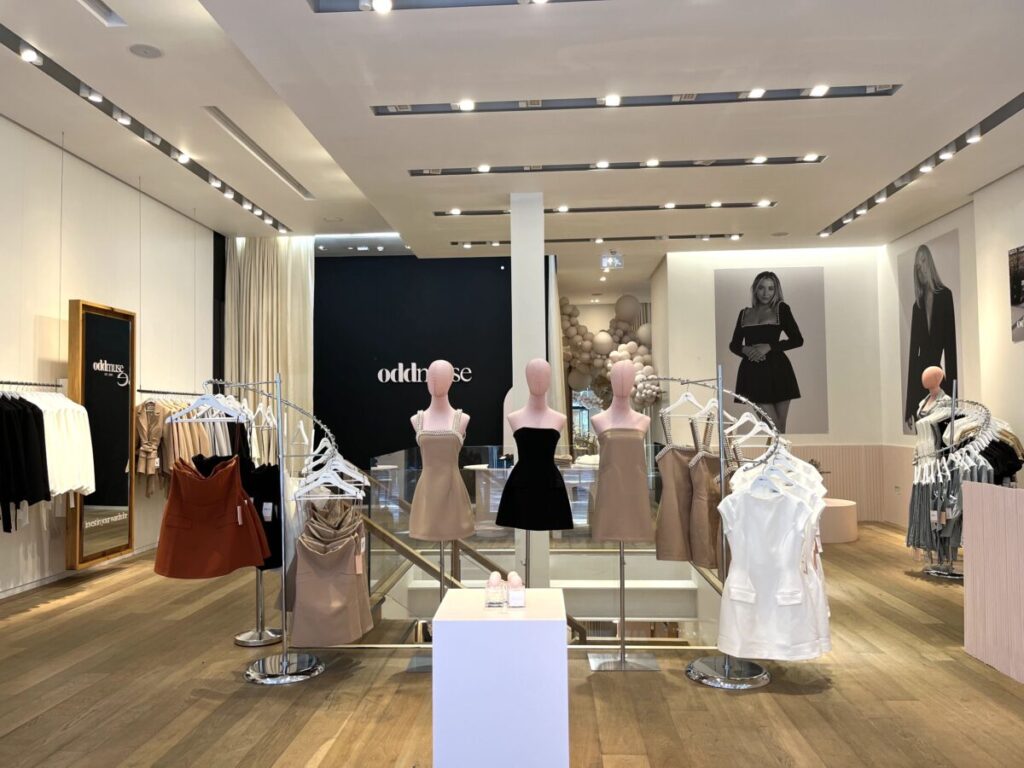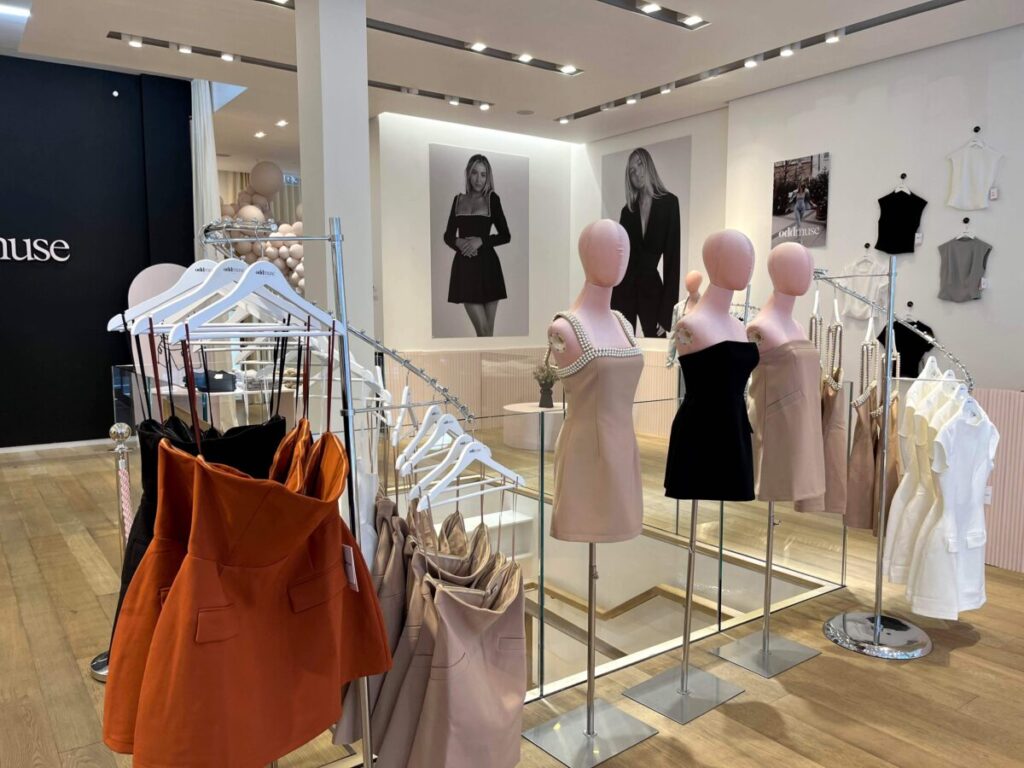 "The Yards has been a fantastic location for us, marking a key part of our brand journey as our first brick-and-mortar space and after a successful first pop-up, we're so glad to be back here and trading again. As an online-based retailer, it's exciting when we get the opportunity to be up, close, and personal with our consumers, build new relationships and stress the importance of investment fashion. Our design and feel of the brand are very much reflected in this premium destination, and we're pleased to be a part of this diverse community until July", comments Aimee Smale, Founder of Odd Muse.
"As well as adding something unique to our retail portfolio, we are always delighted to provide retailers a space to enjoy those first bricks-and-mortar experiences in our prime location as one of the most thriving and busy neighborhoods in London. The return of Odd Muse is a significant vote of confidence in the destination, and there is no doubt that its success won't be replicated a second time around. We're proud to have housed Odd Muse's first experience of physical retail and look forward to continuing nurturing this relationship", added Simon Taylor, Property Director at the Mercers´ Company, on behalf of Longmartin Properties Ltd.
Birdie Fortescue returns to King´s Road
Sloane Stanley has announced Birdie Fortescue, the luxury home accessories brand, has returned to the King's Road for its second pop-up following its success last year. The store has opened at 342-326 King's Road and will be in situ until late January 2024.
Birdie Fortescue's 160 sq m store stocks a diverse range of items, such as its spring/summer '23 Florentine Collection of block-printed soft furnishings, tableware and accessories, lighting, and rattan furniture, as well as limited edition pieces and unique artworks. The pop-up will also host several events throughout its time on the King's Road, collaborating with other brands and delivering talks and art exhibitions, giving customers a well-rounded and immersive experience.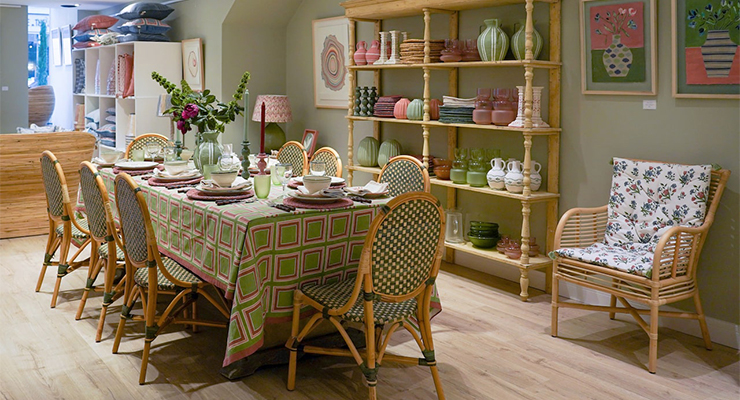 The brand, founded by its namesake, was created in 2014 and is based on a rich heritage of global inspiration, and has two sites operating in Norfolk. With a key focus on creating timeless interiors, Birdie Fortescue fits seamlessly with a number of creative interior independents already on the King's Road and in the Fulham neighbourhood, such as William Yeoward, Designers Guild, and Little Greene.
"The King's Road is one of the most iconic destinations in London, and we are so pleased to be back here for a second year running. Our previous pop-up garnered so much success, and we're excited to be open for much longer this time and build even greater relationships with the Chelsea community. We feel very much at home here on the King's Road, and we are looking forward to showcasing a range of high-quality products to residents and locals alike", says Birdie Fortescure.
"We are thrilled to welcome Birdie Fortescue back to the King's Road", adds Hannah Grievson, Property Director at Sloane Stanley. "They were a front-runner last year when it came to providing high-quality products and an elevated shopping experience, and we are confident that its second time residence will be no different. Our estate offers the very best in creative and independent retail, and Birdie Fortescue compliments our vision in every way possible, and we're delighted to have them a part of our thriving community once again."
P-THREE secures debut London location for Albert´s Schloss
Acting on behalf of the landlord Criterion Capital,P-THREE, the specialist real estate agency, and consultancy focused on mixed-use development and prime retail and leisure leasing, has secured a London debut for Albert's Schloss on Shaftesbury Avenue.
Set to open in Spring 2024, the 1672 sq m Alpine Cook Haus and Bavarian Bier Palace will cover three levels in the former Rainforest café location, including over 500 covers. This prime space will provide Albert's Schloss with extensive frontage in the heart of London's West End, marking the ideal location for its debut in the capital. Serving as an all-rounded day-to-night experience, Albert's Schloss will bring to London its infamous high-quality entertainment and dining experience with its emphasis on freedom, celebration, and decadence.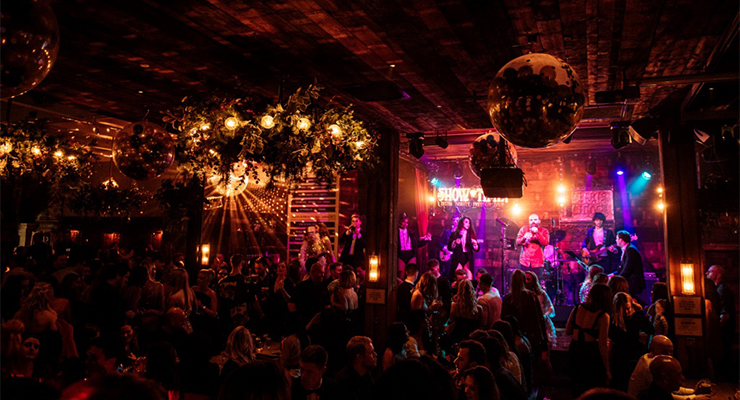 "The signing of Albert's Schloss is a great example of the role we play in securing best-in-class operators for leading destinations. By making their London debut with Criterion Capital on Shaftesbury Avenue, Albert's Schloss highlights the strength and appeal of the West End, which continues to attract and deliver the very best of leisure and F&B", comments Thomas Rose, Co-Founder of P-THREE.
"P-THREE's knowledge and experience in the market have secured us a major player within UK's food and entertainment scene", adds Omar Aziz at Criterion Capital. "Albert's Schloss has established itself as a significant brand within the F&B sector, always providing a destination for customers and we trust that they will be bringing their mastery to this new night-time destination hub in London's West End."
Albert's Schloss, London will further expand the brand's presence in the UK and will mark its fourth site joining Liverpool, Manchester, and Birmingham.