Gramicci opens first global store in Covent Garden's Seven Dials
Shaftesbury Capital has announced that Gramicci, the outdoor and lifestyle clothing brand that specializes in hard-wearing apparel, has opened in Covent Garden, marking its global debut retail space. The 130 sq m store, located at 3 Earlham Street, showcases the brand's range of functional men's, women's and kidswear clothing, as well as its range of exclusive brand collaborations.
The flagship store, which is set over two floors, has been designed by Outsiders Design Studio, building on a retail merchandising system design from WDC-Creative. The space pays homage to the brand's climbing heritage with striking geometric design accents and plywood fixtures manufactured by the UK's leading climbing wall manufacturer, Kong Climbing. The interior also features artwork by João and Carolina Parrinha, who created a series of bespoke installation pieces for the space, including realistic rock forms made from foam rubber. With sustainability at its core, and in reference to the long-lasting durability of the brand's products, in-demand creative studio Greater Goods created custom patchwork fabric panels from old Gramicci trousers, that have been utilized in the space as curtains and cushioning for the bespoke plywood benches.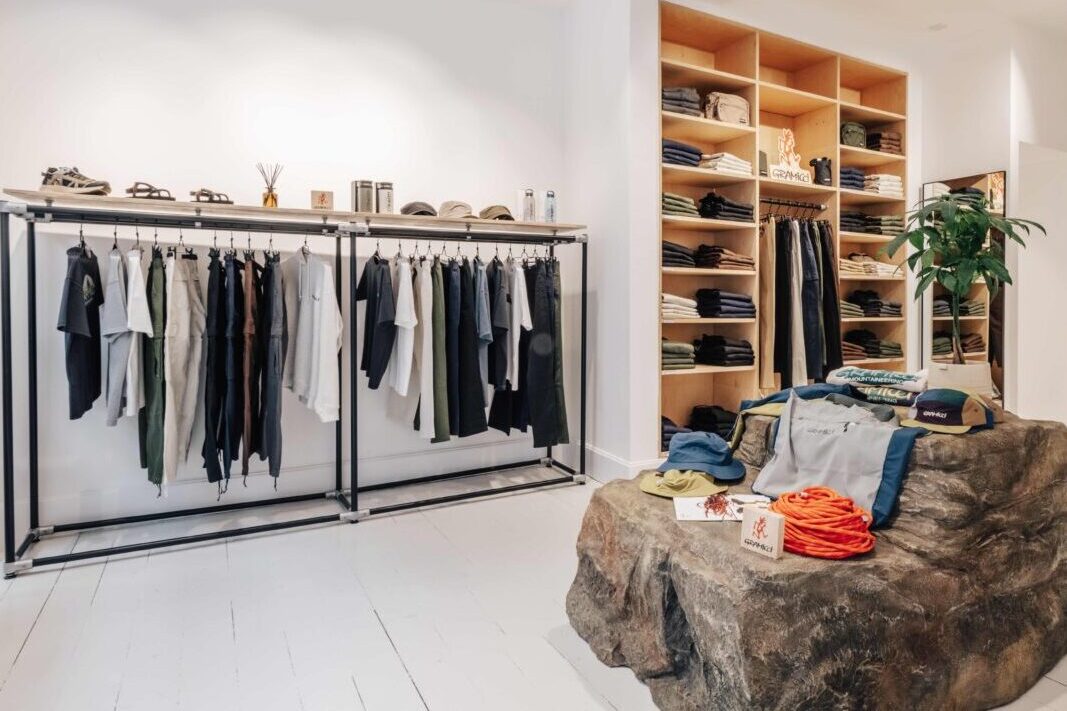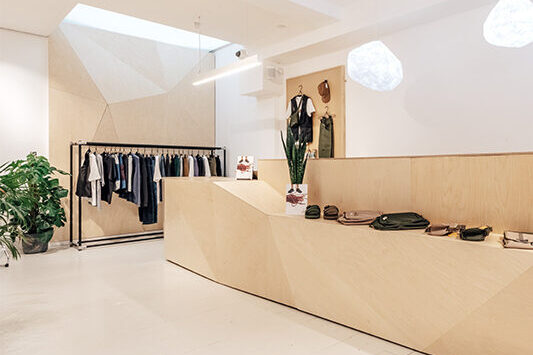 Gramicci's Covent Garden store stocks its selection of hard-wearing outdoor apparel across its men's, women's and kidswear collections, including its signature G-Shorts and G-Pants. Collaboration items are also on offer, such as Wacko Maria and Adsum for SS23, as well as a range of exclusive store drops. Positioned as not simply a store, the space has also been designed to serve as a location to host select events which align with Gramicci's ethos.
"We are so proud to have opened our first-ever physical retail space, and especially to have done so in the key central London location of Covent Garden. For us, it has been a long-time coming to have a unique space of our own, so our Earlham Street location has been fitted out to perfectly complement our climbing origins and fashion-forward but functional range of outdoor apparel", sys Stevie Gildea, Brand Manager at Gramicci UK.
Gramicci joins Covent Garden's extensive range of fashion retailers, including popular Copenhagen-based luxury label, GANNI, American workwear brand, Carhartt, and Arc'teryx, the innovative high-performance outdoor equipment and clothing brand.
---
JD set to make an entrance at the Ashley Centre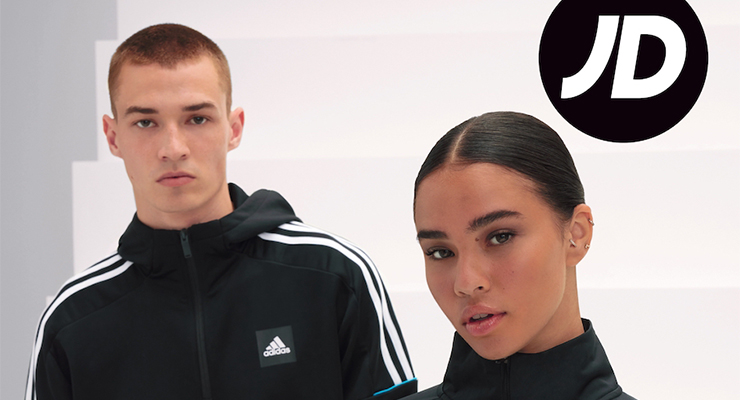 Leading sports fashion retailer, JD, is set to join the Ashley Centre later this year, elevating the sports fashion offer within the scheme.
Landlord CBRE Investment Management has announced JD, the leading sports fashion retailer in the UK, has signed at the Ashley Centre, with the new store set to open later this year.
The new JD store will cover 414 sq m on the Ashley Centre's ground level near the central square, adjacent to retailers such as Monsoon and New Look. The sportswear giant will elevate the sports fashion offer seen within the Ashley Centre, delivering its exclusive products and its full range of clothing, footwear, and accessories, including brands such as Nike, adidas, The North Face, and Puma.
"JD are pleased to have secured excellent new space in the heart of the Ashley Centre. It was great to work with Duncan Kite and CBRE IM to make this deal happen. We are confident we will deliver a fantastic large new JD store for the community", comments James Air, Head of Group Acquisitions at JD.
"JD is a truly established sportswear brand that can offer something for everyone", adds Louisa Butters, Head of Asset Management at CBRE Investment Management. "Our aim is to continue delivering an offer that will elevate visitors' experience and reinforce the importance of the Ashley Centre to the community. With our refurbishment of the scheme well underway, we're looking forward to welcoming them later this year and joining us as one of our key destination-led stores in Epsom."
The landlord, CBRE Investment Management, has invested 5 million pounds in refurbishing and revitalizing the scheme at the Ashley Centre, creating positive change and driving new brands to the destination for the community, such as GAIL's Bakery, which will launch later in 2023.
---
Sweaty Betty and Space NK open city debut stores at Liverpool ONE
Grosvenor has announced that global activewear and lifestyle brand, Sweaty Betty, and worldwide retailer for luxury cosmetics Space NK have both opened their city debuts at Liverpool ONE. The duo of openings joins the impressive range of first-rate brands at Liverpool ONE's premium lifestyle hub, Peter's Lane, displaying a strong vote of confidence in the destination.
Sweaty Betty has made its standalone city store debut on the 240 sq m Peter Lane's site, marking the brand's largest retail store in the north of England. The store debuts a brand-new concept for the international retailer, designed to have a lifestyle feel, while expressing the brand's commitment to both fashion and function and spotlighting hero products. The space features 'Power Pod' fitting rooms: private, inviting spaces with soft finishes and a seating area for customer interaction. Reflecting the brand's dedication to ethical consumption, the store has been fitted out using sustainable and environmentally friendly materials and stocks Sweaty Betty's extensive range of women's activewear, made with responsibly sourced and recycled fabric.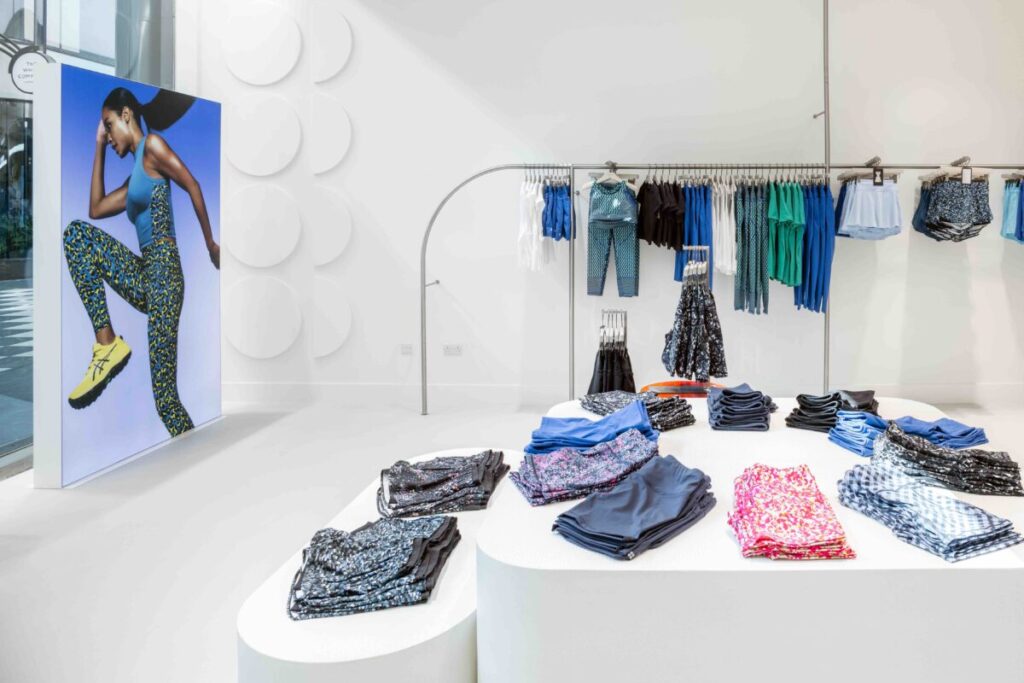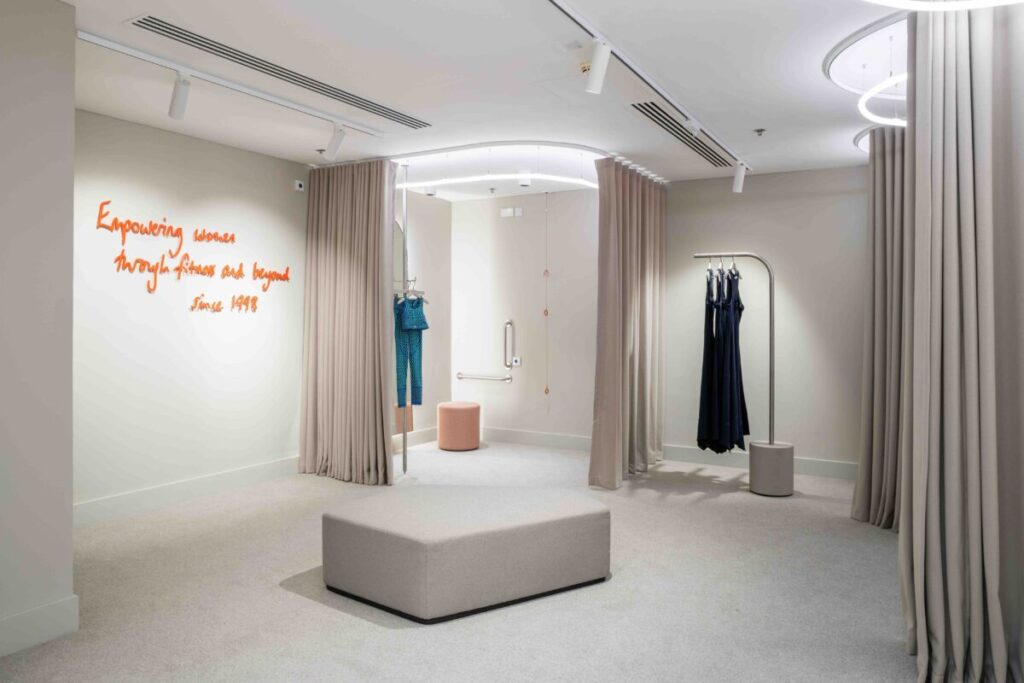 "Sweaty Betty's opening at Liverpool ONE is a key moment for the brand, not only because we are making our standalone city debut but also showcasing our new customer-focused store concept. Sweaty Betty Liverpool ONE is our largest retail store in the north of England and provides us with the space and flexibility to introduce this exciting new model, offering visitors an enhanced Sweaty Betty experience", comments Mark Smith, COO at Sweaty Betty.
Also making its city debut is Space NK, which has launched a 170 sq m store featuring an edit of some of the world's most desired beauty brands, including Drunk Elephant, Tatcha, Diptyque and Rare Beauty. Space NK Liverpool ONE follows the brand's new flagship store design concept, and includes a dedicated consultation area for makeup and skincare, and a treatment room.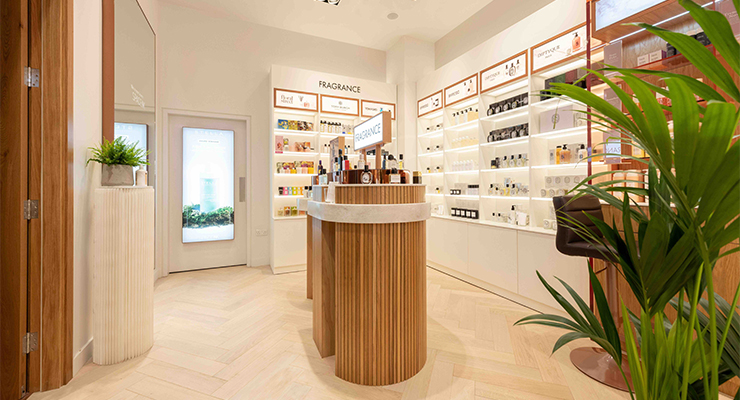 "We are delighted to have launched our city debut at Liverpool ONE, bringing our new premium store concept to such a strategically important destination", adds Andy Lightfoot, Space NK CEO. "This location has long been one of our most requested and so it is hugely exciting to finally open the doors to Space NK Liverpool ONE. We look forward to engaging with a new community and continuing to provide customers with our innovative and boundary-pushing offer."
Rob Deacon, Senior Asset Manager at Grosvenor, added: "Peter's Lane continues to evolve into a hotspot for high-end brands at Liverpool ONE, positioning the destination as a crucial location for premium retailers, and the arrival of both Sweaty Betty and Space NK is a testament to this."