At MAPIC 2022, Chainels will be showcasing its Turnover Reporting module. Used by retail destinations across Europe to facilitate and improve relationships between tenants and landlords or property managers. The module removes the pain points of collecting turnover data while offering key insights into tenants' performance to landlords. A digital platform, Chainels combines all essential communication, workflows, services and amenities in one. Property owners and managers of multi-tenant properties such as shopping centres and mixed-use destinations use Chainels to communicate with all tenants, service providers and other stakeholders within their assets and thereby improve tenant engagement. Developed three years ago, the Turnover Reporting module is now utilised and trusted by over 80% of Chainels' customers which employ a turnover rent model including Shaftesbury plc, Multi Corporation, Atrium European Real Estate, EPP, Wereldhave and Klépierre.
REPORTING THE OLD-FASHIONED WAY
Traditionally, the process of submitting and collecting turnover data is time-intensive for both the tenant and the property manager or owner. Tenants provide performance data in a variety of formats and landlords or property managers have to manually export the data – usually into spreadsheets – which are then imported into their own financial or invoicing systems. This may come in addition to owners and managers having to send tenants reminders or even chase the data if it's not provided in time.
To request turnover data from tenants, landlords typically employ a mandatory workflow. When a retailer is busy with their business activities and is receiving many reminders and phone calls from property management companies to send their turnover information, friction between tenants and landlords can be created. Generally, landlords find this process of collecting performance data to be slow and difficult. If they don't know how their tenant is performing, then the turnover-adjusted rent invoice can't be adjusted in time. Fortunately, there are better solutions than manually chasing tenants for their data.
Before deploying Chainels our clients did not have one consistent way of collecting turnover data from tenants. Some tenants provided it via hard copy reports, sending them either by post or physically bringing them to our customers' offices to deliver them in person. Others were sending their data by email which often led to the reports landing in the inboxes of recently-departed employees. In addition, internal management's transcription of data from paper or emails to the preferred format resulted in frequent errors, and the necessary corrections were not always made across all data sources. Adrianna Modzelewska, Atrium European Real Estate's Operations Specialist and Project Manager for Atrium Connect ­– the white-labelled version of Chainels' platform – explains having a well-functioning module for collecting turnover data was a key functionality when Atrium was selecting a partner to introduce a tenant communication application. Previously, Atrium experienced the collection of turnover data to be a disjointed and time-consuming process, although very important in terms of analysing the shopping centre's performance or accounting for rent on turnover. Due to these factors, Atrium too was very keen to streamline the process as well as reduce data errors.
Click on image to display larger version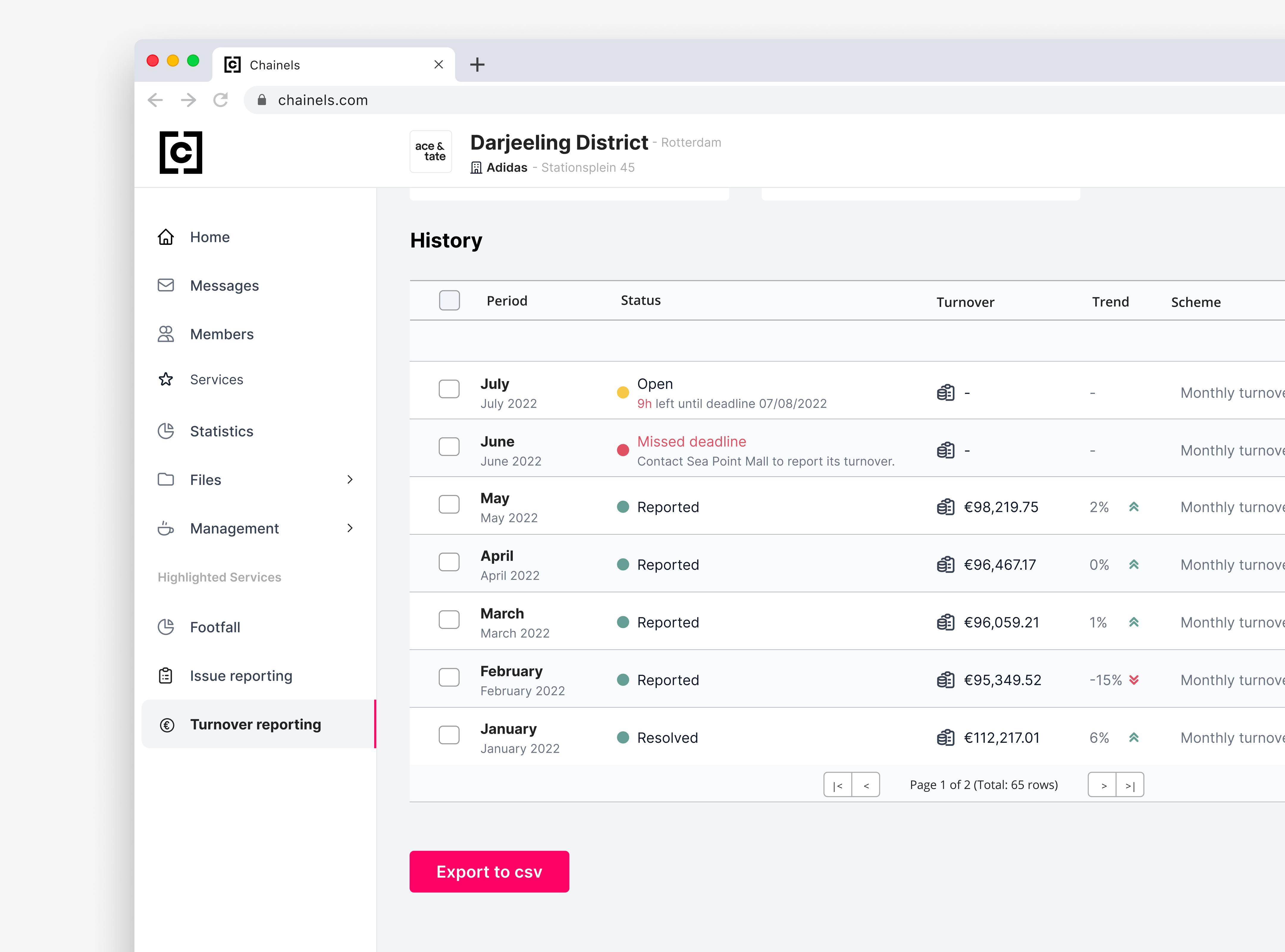 WHEN TURNOVER REPORTING MEETS THE FUTURE
Chainels' Turnover Reporting module makes the submission and collection of turnover data a frictionless process through its Smart Performance Reporting and Integrated Reminder features. Tenants enter their sales data by the deadline previously agreed with the owner or manager. Data can be collected on a predefined frequency such as daily, weekly, monthly, quarterly and yearly as well as a combination of these intervals. Automatic reminders – whose timing and frequency are fully configurable – are set in advance and are only sent to those tenants who haven't submitted their store's turnover yet. Previously at Atrium, Adrianna Modzelewska explains "the most onerous task was writing and phoning tenants every month to remind them to send in the report. Even though the reports are cyclical, many people forgot about them or put them off. Thanks to automatic notifications, the number of such reminder emails or phone calls has been reduced to a maximum of a few per month. It also happens that we collect 100% of the data without additional reminders." Once the data is entered by tenants into the Turnover Reporting module, the data is automatically pulled into the owner's financial or invoicing system through Chainels' API.
Our clients view the module as a single point of collection as well as a single source of data. The data never ends up in outdated mailboxes or with unauthorised individuals. In addition, information such as who reported the data, when it was reported, and whether it was modified after the initial reporting can be easily viewed. At each of Atrium's shopping centres, the individual responsible for collecting turnover reports saw a savings of at least four hours per month, and a few more hours are saved by the analysts at the head office due to the better quality and control of the data. Atrium now experiences "around 80-90% of tenants report their turnover before the deadline. As a result, the organisation knows the results and prepares turnover reports much earlier."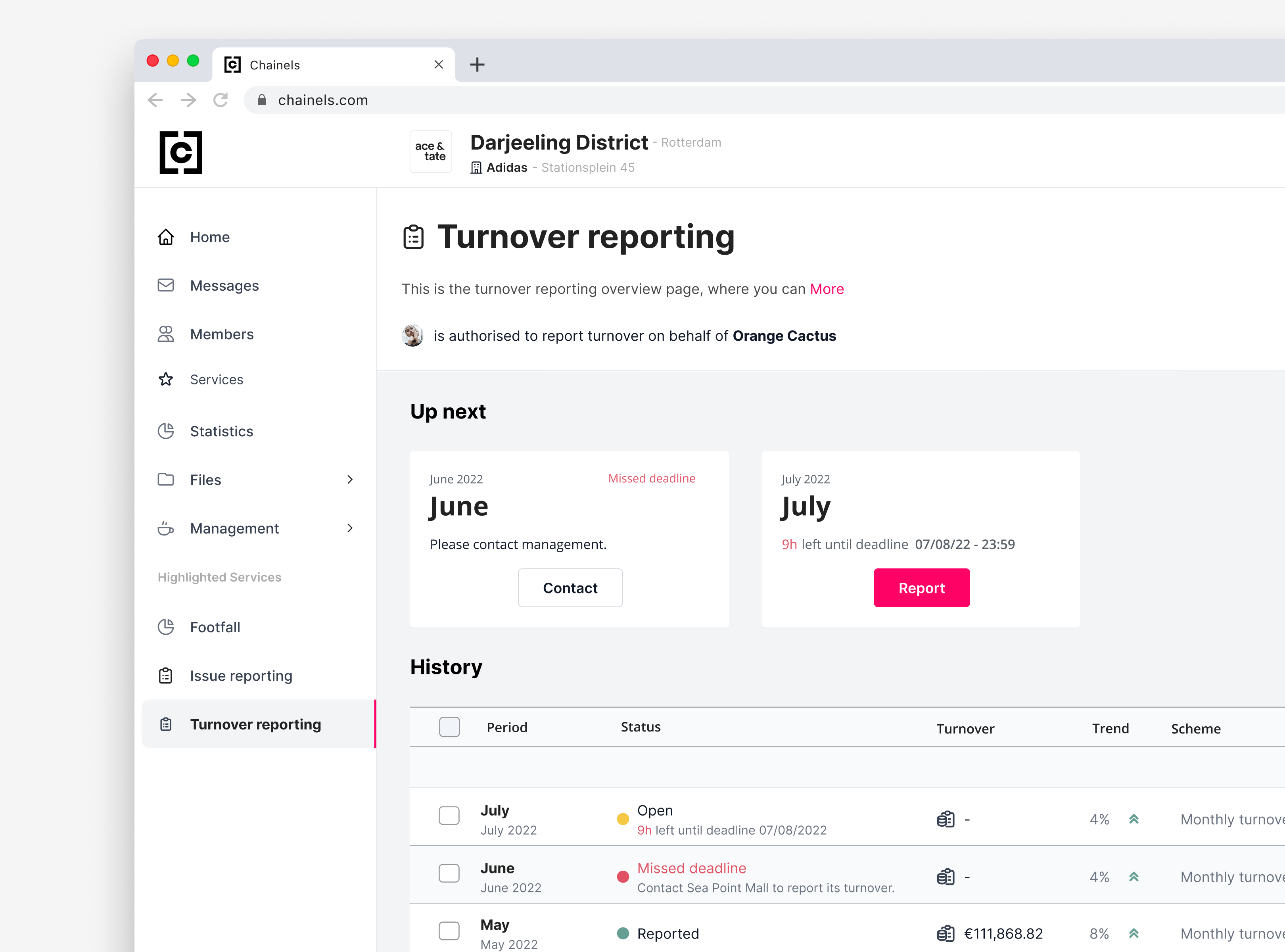 THE BENEFITS FOR BOTH LANDLORDS AND TENANTS
Through Chainels' Turnover Reporting module, owners receive the sales and performance data they need to determine the rent and to invoice their tenants. Landlords can also request additional performance KPIs such as footfall, energy usage, basket size, per product group sales and online vs offline sales to better understand overall performance and trends. In addition to turnover figures, owners can also receive qualitative data from tenants to explain sales results for the period they're reporting on. With an open comment field, tenants can add relevant information to their report which can yield interesting insights. This could be an event having taken place in the store and having resulted in increased sales, information which helps a centre plan its marketing activities for the upcoming year. External factors having had a negative impact on footfall such as roadworks preventing customers from visiting the store can also be correlated.
Our customers have observed that many tenants report turnover as soon as the month ends or after the system sends the first reminder. Previously, a leasing manager or analyst had to wait until the person responsible for collecting turnover typed the data into the correct table, and they usually took on this task after most reports had been collected. Now all of our customers' authorised employees have access to the turnover in real time and they can see it as soon as it is reported by the tenant.
"Our platform and its turnover reporting module offer complete flexibility to property owners and managers, while making the tenant's job easier," said Sander Verseput, co-founder, COO and CFO at Chainels. "Added to our platform three years ago to respond to the needs of our customers using a turnover rent model, it is now also used by owners to collect valuable insights into their tenants' performance and guide business decisions. It has also proved invaluable during the Covid pandemic, to help owners and tenants negotiate viable rents. We believe more and more owners will realise the benefits of such a solution to better engage with their tenants, and we look forward to showcasing it at MAPIC 2022."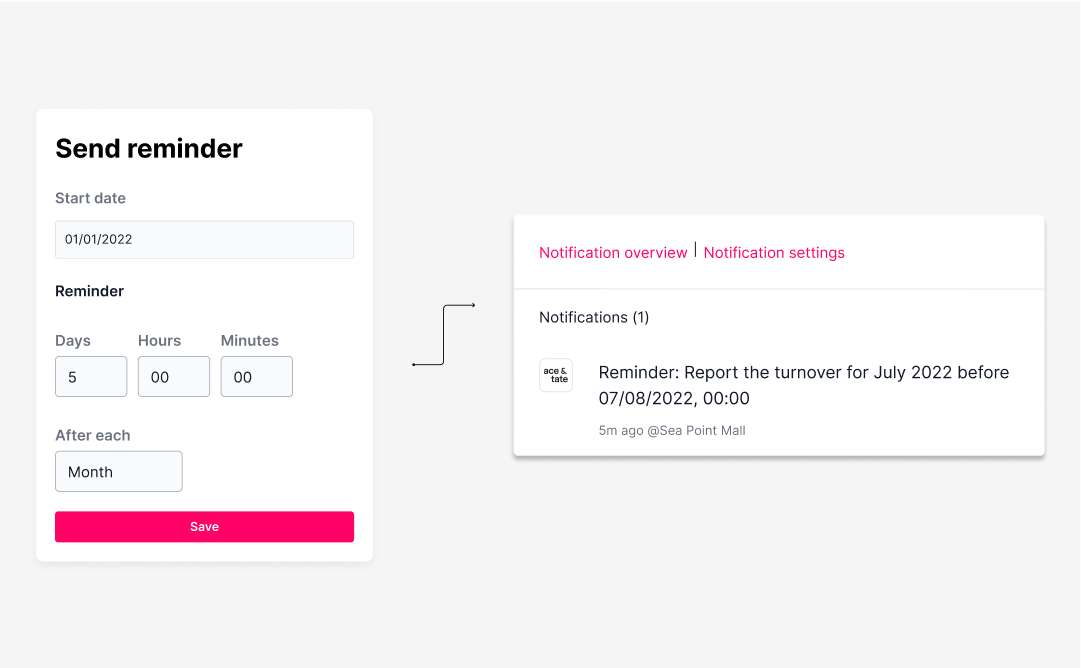 A MODULE WHICH FLEXES
To increase the Turnover Reporting module's flexibility for all real estate organisations with retail as well as food and beverage establishments, Chainels added many more configuration options to the smart performance reporting schemes and the reminder system. A company can now request turnover figures on a yearly basis by monthly values or a quarterly turnover by weekly values. In relation to that, all leasing managers are able to set flexible reminders and deadlinesbased on the contractually agreed turnover rent model with the tenant and the corresponding schedules or simply tailored their own preference. As a leasing or shopping centre manager, extra performance KPIs can be easily added to the form. Create custom forms with additional fields relevant to the organisation's goals to enrich its database and find valuable interrelationships. Leasing or shopping centre manager can also segmenttenants into groups – for example, per type of shop or reporting scheme – and customise the periodic turnover reporting conditions.
SENSITIVE DATA REMAINS SECURE
A community in Chainels is always a closed, internal group, and users can only access a community when they have been invited to set up an account by an administrator. Besides that, there are several authorisation levels. The administrator needs to give individuals explicit permission to access the Turnover Reporting module. Authorisation is never given by default.
On the end user side, there is also built-in security. Tenants need to be configured to a certain turnover scheme, so it is not the case that tenants can access the data of their neighbouring tenants. If a tenant wants to access their turnover reporting portal they have to go through a two-step authorisation and verification. They need to re-enter their password on their desktop or re-enter their biometric data on their phone. Real estate organisations can also make it mandatory for users to authenticate themselves via two-factor authentication (2FA), which is again an extra layer of security.
Chainels performs internal and external audits as well as regularly executes 'penetration tests' where external hackers actively try to access the system and find vulnerabilities to be fixed before a real hacker can discover them. These security-driven procedures are employed regularly to ensure security for all of our clients using Chainels.
Companies can rely on the Turnover Reporting module to gather store performance data from their tenants in an efficient and timely manner. Chainels helps property teams to transform their way of working, improve response times and upgrade the quality of data, all while saving up to 1000 hours per year on a portfolio.