Nakheel Mall, UNITED ARAB EMIRATES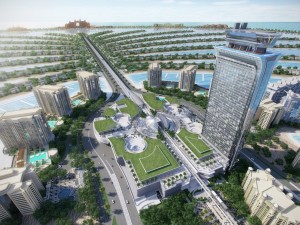 Nakheel Mall, a new destination for shopping, dining, and relaxed entertainment, will be a focal point for the many residences, offices, and hotels on The Palm Jumeirah and Dubai city as a whole. It will feature a 200-room, state-of-the-art, five-star hotel; 200 hotel apartments, and an 180-meter-high viewing deck offering spectacular panoramic sea views. The shopping center will house no less than 409,000 Sq. m of space and accommodate 350 stores. It is designed around architectural representations of water that reflect its location at the heart of Palm Jumeirah and will include a variety of indoor and outdoor features that echo nature. With five floors of up-market retail outlets for the discerning, affluent shoppers of Dubai, Nakheel Mall has been designed to compete with world's iconic fashion destinations. It will offer a range of casual dining, coffee shops, and fine dining options. With views out over the Palm Jumeirah to the waters of the Arabian Gulf beyond, the upper levels of the mall feature a variety of rooftop restaurants with outdoor terraces and gardens for the al fresco dining experience. Nakheel Mall will house a variety of essential community stores and public amenities, as well as a state-of-the-art fitness center, a multi-screen cinema, and a host of other entertaining attractions. Construction is ongoing, with completion due in 2018.
Olympia 66, CHINA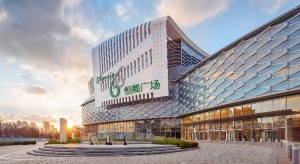 Hang Lung Properties formally opened Olympia 66 for business in Dalian on December 18th, 2015. This latest addition to the company's portfolio reinforces Hang Lung's presence in northeastern China, joining the Forum 66 and Palace 66 developments in Shenyang. Olympia 66 offers 222,000 Sq. m of the premium retail area plus 1,200 parking spaces. The mall is ideally situated next to Dalian's Olympic Square, on 66 Wusi Lu in Xigang District, one of the most prominent commercial thoroughfares in the city. Thanks to its location, outstanding architectural design, and diversified tenant mix, Olympia 66 is destined to become a new iconic landmark in Dalian. Norman Chan, Director Leasing & Sales of Hang Lung Properties, said, "Olympia 66 commences operations amidst a difficult environment. Despite the impact of a slower retail market and a sluggish economy in China, this stunning development has already demonstrated that it is fully capable of attracting an impressive array of international brands, which have chosen to locate their flagship and concept stores in this shopping mall." Olympia 66 is offering about 300 diversified choices in shopping, dining, and entertainment. A total of 30% of the tenants are internationally renowned brands while nearly 40 brands are making their debut in Dalian, including the American fashion designer Ralph Lauren Kids, the famous chocolatier Godiva, and the sportswear brand Adidas Neighborhood. The popular Swedish fashion label COS will also unveil its duplex flagship store at the mall. Other renowned brands include Emporio Armani, Hugo Boss, Coach, Montblanc, Omega, Moschino, Gucci Timepieces and jewelry, G. Givenchy, Kiehl's, Pandora, and UGG.
Mega Plaza, KAZAKHSTAN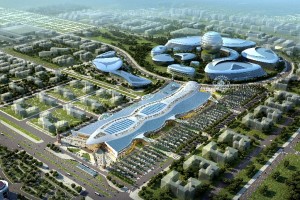 Renaissance Construction is the main contractor for the new Mega Plaza shopping and entertainment center in Astana. The complex is being built as part of preparations for Expo 2017 and will open its doors to customers next September. As the project's chief architect, the British company Chapman-Taylor designed the architecture using national decorative elements. The spacious atrium will reach 25 meters in height. Mega Plaza will be home to fashion galleries, shops, a movie theater with 10 screens, a supermarket, and an amusement park for children called Happylon. An 800-sq-m, the 400-seat ice rink is being transformed into a new concert and circus area. Restaurants and cafeterias will be created inside the shopping center around an artificial pond. The project's GLA amounts to 120,000 Sq. m, plus a parking area with a capacity for 2,050 vehicles.
Wetherill Park, AUSTRALIA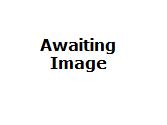 Stockland celebrated the early completion of its AUD 228-million (€145-million) redevelopment and expansion of Stockland Wetherill Park in December—three months ahead of schedule. The early delivery of the project is an achievement that was welcomed by local customers and celebrated by retailers, as it enabled them to maximize their sales throughout the crucial pre-Christmas and New Year trading period. Stockland CEO Mark Steinert said: "Our investment in Wetherill Park is a strong vote of confidence in the economic strength of Western Sydney and forms part of our $2 billion investment in New South Wales over the next five years." The completion of the second and final stage of the redevelopment sees the mall opening another 5,600 Sq. m of retail space with 20 new fashion and homewares retailers, together with a new 800-seat indoor-outdoor casual dining precinct to be known as "The Grove." The Grove makes the most of its northern aspect with floor-to-ceiling windows, which provide an al fresco dining experience during fine weather. It features 14 new restaurants, cafes, and food operators, including Fogo Brazillia, Mashita Sushi, Soul Origin, Le Wrap, Subway, and Top Juice. The redevelopment and expansion have seen Wetherill Park grow into a major regional shopping center with a GLA of 70,000 Sq. m. It features more than 210 retailers, including JB Hi-Fi Home, Dick Smith, Industrie, Napolean Perdis, Lorna Jane, and much more. The center has more than doubled its fresh food and casual dining offering with over 21% of the retail mix now focused on food, including Nandos, Grill'd, San Churro, Thai Rock, and Rashay's Pizza Pasta and Grill.
Lalaport Tachikawa Tachihi, JAPAN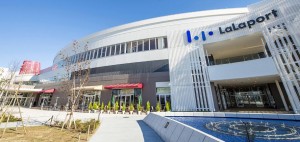 The global architecture and design firm CallisonRKTL has announced the grand opening of Lalaport Tachikawa Tachihi, a 154,000-sq-m shopping center just west of Tokyo's central business district with a direct connection to the Tachihi monorail station via a newly constructed bridge. Developed in partnership with Mitsui Fudosan Co., Ltd. and Tachihi Enterprise Co., Ltd., the mall is home to a diverse group of 250 retail tenants—from mid-level to high-end brands—and features outdoor terraces and plazas accompanied by abundant landscaping and views of Mount Fuji. "For Lalaport Tachikawa Tachihi, we were focused on designing for the consumer at a time when shopping centers are about more than transactions," said Mark Lauterbach, Vice President, CallisonRTKL. To create a welcoming destination for the community, the company crafted a design concept based on celebrating the connections between land and sky. Upon exiting the Tachihi monorail station, visitors are greeted by Sky View Plaza, a relaxing, recreational space featuring dining options and lush gardens. Inside, Horizon Circle features a large terrarium—the first of its kind in an indoor shopping mall—with a tree growing in the center, drawing the eye upward through the center's multilevel interior to the skylight above. The wing of the mall that intersects Horizon Circle, dubbed Eco Park, reinforces the focus on bringing the outdoors in A warm wood feature ceiling with chrome patterning and metallic accents are accompanied by soft cove lighting, creating a cloud-like effect and adding texture and reflection to space. On the ground, meanwhile, natural wood bulkheads and green paving accents are complemented by seating in shades of blue. In addition to the diverse retail tenant mix, the food court options are a mix of local gourmet vendors and trendy culinary offerings, and family friendly services and activities abound.