ACROSS: Where do you see the most significant developments, changes for the outlet industry in 2022?
Thomas Reichenauer: The most significant changes in 2022 are in customer behavior. Our latest customer surveys clearly show a larger share of "first time" visitors over the summer months, which means that we can look forward to the acquisition of new customer segments/target groups from our catchment areas as well as increasing 'domestic tourism'. Furthermore, we see a better performance of premium brands on the one hand and more purchases of goods for everyday consumption on the other hand. The increasing length of stay in our centers is ultimately due to our focus on shopping experience as well as an improved food & beverage offering with food trucks and kiosks. In general, we are very satisfied with the development and performance and are above the level we reached in 2019 in terms of sales.
ACROSS: In relation to your company and your projects: What are the most important innovations, developments, and changes?
Reichenauer: Despite rising inflation, we are very pleased to officially announce to our brand partners the start of the center expansion of Designer Outlet Gdansk at the end of September at the Polish trade fair SCF Fall, Warsaw. But also, the planning for the center expansions of City Outlet Geislingen, Designer Outlet Croatia, and Algarve is progressing at full speed. In general, the expansion of national brands is more restrained, but due to our good locations, we are glad to see increasing demand from international fashion and premium brands. In addition, our focus is on digitalization, not only in marketing, and also in sustainability in facility management.
ACROSS: Do you notice the big problem issues such as inflation, energy prices, etc. in your centers' sales and customer footfall? How will these issues affect the outlet industry in the future?
Reichenauer: Not yet, and we will see what happens in the coming months. Some EU countries have already enacted legal energy-saving measures in the retail and public sectors, which we are of course implementing. The market standard 'Open Door Policy' has already been adapted by ROS and we call on our brand partners to use air conditioning and heating prudently. As mentioned earlier, our outlet locations are doing well and we naturally hope to overcome this crisis after the ongoing pandemic. Outlets have proven to be very crisis resistant in the past, as people want to save money at this time, outlets are the perfect shopping destination.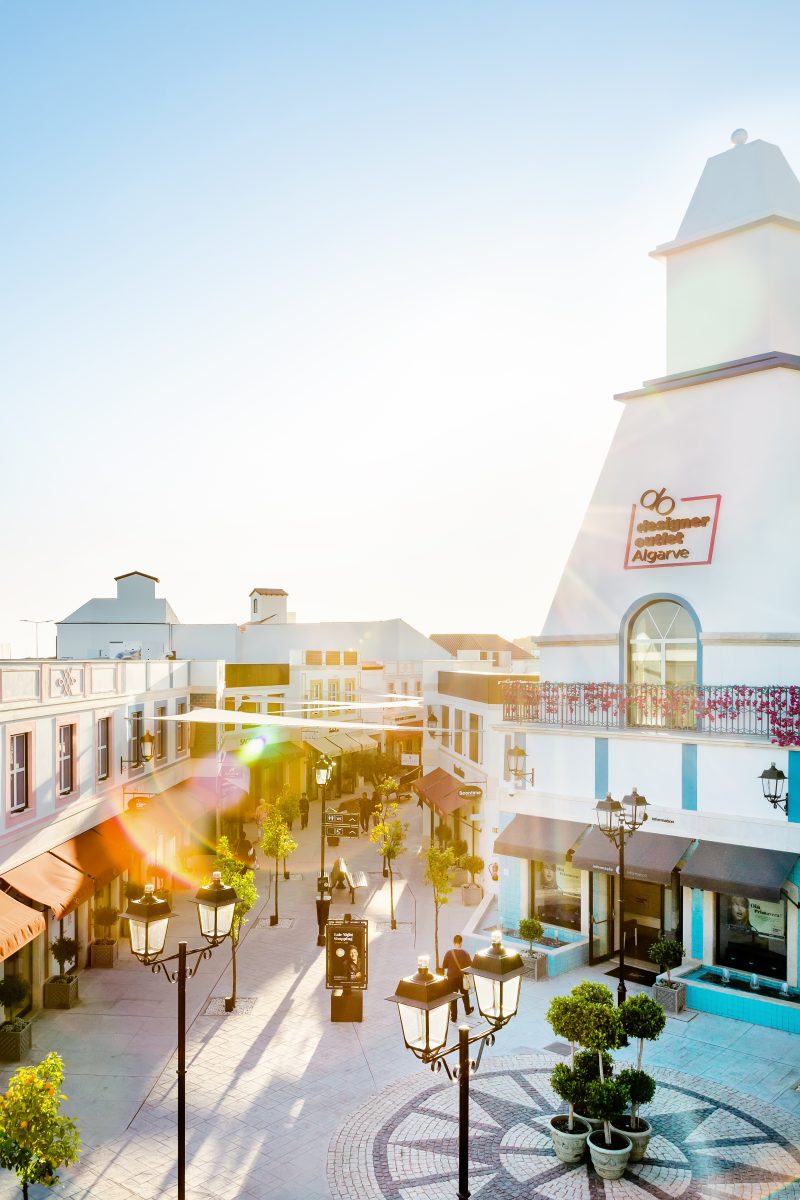 ACROSS: What need for adaptation or development do you see coming for the outlet industry?
Reichenauer: Shortage of skilled workers, digitization, and ESG. In addition, new national brands, new categories, and services should become attractive and profitable distribution channels for outlet locations.
ACROSS: Let's talk about tourism: Are tourists back in your centers? In which of your centers do tourists play a particularly important role? Does the outlet business generally need the tourism factor?
Reichenauer: Definitely yes. But it also depends on your definition of tourism. Historically, outlet centers have always had a larger catchment area of 90 minutes, more than normal shopping centers. The goal is always to position our locations as supra-regional shopping destinations as so-called flagship outlet destinations and to constantly develop them further. In addition to international tourism, we focus on vacation, city, day and weekend tourism. While international non-EU tourism has decreased due to the pandemic and is slowly recovering, especially city tourism is booming, for example in Budapest, Warsaw, and Gdansk. Algarve, as one of the strongest European vacation destinations, has already recovered in 2021 and shows a very positive trend for 2022. Domestic tourism has already been boosted due to the pandemic and will further increase due to the inflation that has just started. This makes it all the more important to position the outlet centers as perfect shopping destinations for a day trip and weekend getaway.
ACROSS: What significance does gastronomy have for the outlet sector? Which concepts will be successful in 2022?
Reichenauer: Customers have become more demanding and diverse. The buzzwords are vegan, regional, organic, super food, to name just a few. Nevertheless, we want to further position the outlet centers as day and weekend destinations and increase the length of stay. A Starbucks Coffee is a must-have in connection with an outlet visit from a customer's point of view. That's why ROS relies on three pillars. System gastronomy concepts including cafés & restaurant cater to larger customer groups and are the most successful. While special food concepts take into account current F&B trends such as vegan and regional cuisine. The so-called pit stops with food trucks, crepes carts, ice cream, pretzel and waffle stands not only look good, they are fun and the perfect snack.
ACROSS: Who on the retailers' side is currently successful? Who less so? Are there any product ranges that can be described as winners or losers in 2022?
Reichenauer: There are virtually no winners and losers. Some categories, such as classic womenswear and menswear, have recovered in recent months through new collection orientations and/or repositioning's. In general, the category performance of premium brands as well as sports, home, and beauty is very good.
ACROSS: To what extent do the important retail themes of regionality and sustainability play a role among outlet tenants? Are there new brands that particularly cover these areas?
Reichenauer: This year, ROS has launched its 'better shopping' campaign, which covers exactly these topics and thus takes into account a more conscious shopping behavior. At ROS locations, sustainable collections and products of our tenants are highlighted, 'green' center services such as electric charging stations and circular fashion drop boxes are offered and transparent information is provided about the respective measures (photovoltaic systems, water consumption, waste separation, etc.). In Soltau, we opened the largest Tesla electric charging station with 20 charging stations on the A7 between Hamburg and Hanover, one of the most important German north-south connections. There are very attractive, completely sustainable fashion and lifestyle brands that are very interesting for the outlet market. Unfortunately, these brands are still skeptical of the outlet market so far and need to be educated in the near future due to our increasingly 'greener' commitment and aspirations.
ACROSS: Are there any changes to your rent levels? Are rents under pressure? What needs to be done to maintain rent levels? Strategies for 2022?
Reichenauer: There are currently no rent level changes, as the outlet business model is mainly based on turnover-linked rents. During the pandemic, ROS focused on good brand partnerships and was able to find very good solutions for investors and tenants as an operator. We are very pleased that our brand partners appreciated this and rated us as one of the most competent operators during the pandemic in the latest Ecostra OCP Report.
ACROSS: Are there any outlet centers in the pipeline in Europe? Do we still need new centers? And what actually makes a center a successful center? What are the critical success factors in 2022?
Reichenauer: There are still metropolitan regions with potential for more outlet centers. Most of the time, there is a lack of permits, and prejudices against the outlet center concept as such. The classic outlet concept has developed steadily over the last 30 years and has also become a very attractive asset class from an investor's point of view. The claim of outlet centers has always been to be 'better' than normal shopping centers. The critical success factors for the future are brand partnerships, digitalization, sustainability, innovation in terms of category and brand mix, mixed usage, and adaptation to new customer generations.
ACROSS: ESG – the buzzword of the industry. What specifically is happening in this regard at your centers?
Reichenauer: We are in the middle of this and are currently developing our own ROS ESG guidelines. By taking over some 'older' outlet centers, there are of course some limits depending on location, structural condition as well as investment level. Therefore, we have to be flexible, consider the needs of all stakeholders and develop catalogs of measures. This naturally applies to the area of environmental engagement. Social engagement has always been an integral part of the development and operation of an outlet center – from support for local institutions and city marketing to cooperation with local authorities and institutions. Employer center branding is currently a critical success factor due to the shortage of skilled workers. During the pandemic, we as operators did not reduce staff and continued to add staff in each area. Governance guidelines are essential when working with institutional investors.
ACROSS: Has anything changed in customer marketing approach in the post-Corona phase? How do you communicate with your customers in 2022?
Reichenauer: The focus in marketing is still on price value communication 'Great brands for small prices in a unique shopping experience'. Furthermore, a distinction can be made in the target groups bargain between hunters and fashion shoppers, which ROS approaches with different measures on social media, its user experience, promotions, and customer journey. Another focus is on customer loyalty with our VIP Club program as well as collaborations in tourism as well as other fashion and lifestyle environments. Sustainable shopping will be our 'better shopping' approach as well as price-conscious shopping with a 'Best Deals' and 'Best Seller' communication. Instead of large events, we place more emphasis on varied, surprising, and innovative center entertainment, also with the involvement of local partners.
ACROSS: Outlet business and online – are these two sales channels friends or foes?
Reichenauer: Neither. Our brand partners have multiple collaborations with Amazon, Zalando, About You & Co. who were the winners during the pandemic. The outlets have benefited from 'reverse shopping' afterwards. In the medium and long term, it will be interesting to see if pure digital players go physical and also discover outlet centers for themselves. On the other hand, digital market platforms will also develop towards outlet centers. In any case, outlet centers have established themselves due to their profitability for brands and will therefore not be displaced.