"When we talk about retail investments, Prague is just as trendy as the rest of Europe," says Carlo Gradl. And Gradl should know: After all, the real estate expert, who is founder and director of the real estate consultancy firm Max Immo, has been operating in the Czech Republic since 1992.
Large international investors in particular are currently looking for attractive prime assets. The fact that Prague currently has little to offer in that regard makes it a little different from other European metropolises. This is true even though institutional investors are not that interested in big returns. They are willing to pay top dollar – provided the market has anything to offer. Gradl only has to take a look at the company's recent history to find a striking example. After concluding the biggest retail lease in the Czech Republic in 2013, Max Immo just now completed the second-largest investment transaction of 2014 so far with the sale of the Diamant building. The newly built, 11,000-sq-m mixed-use development is situated right on the "Golden Cross" – the intersection of Prague's high street, Na Prikope,and Wenceslas square – in the best retail location in Prague.
Diamant was completed in the fourth quarter of 2013 and is home to C&A's biggest flagship store in the CEE region. Other tenants in the building include Wayra, a subsidiary of O2, the property company Knight Frank, and Wenceslas Square Terraces (top-quality serviced apartments with amazing views of the city). Max Immo represented the seller, an Austrian developer, and found the buyer, GLL Real Estate Partners, a fund manager based in Germany. The building was sold for an undisclosed, yet unprecedented, record yield.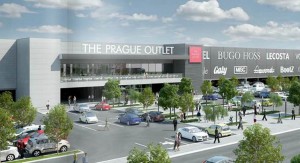 SIGNIFICANTLY MORE ACTIVITY
In general, "things have picked up significantly in the city since last year. International retailers in particular seem again to be finding joy in the Czech capital," notes Gradl. This was not the case in the recent past. The recent financial market crisis put developers and retailers to the test.
"There was a lot of bad news over a relatively long time. Sales figures stagnated in many segments. The final straw was when the Inditex Group more or less publicly expressed that they had no interest in Prague anymore," says the consultant. A fatal sign. Rents crashed, especially in B locations. Only a handful of national retailers continued to expand. Those days are gone, Gradl believes. Rents in the high street and shopping center sectors (at least in high-demand centers) are stable and rising steadily.
"On high streets, we have now reached rents of up to €200 per square meter. Shopping center operators can't complain either. Rents rise every year in the good malls. We have reached around €100 in Palladium. We're already at around €80 in Novy Smichov," says Gradl. It is thus no wonder that the better centers in and around Prague are fully booked. There are virtually no vacancies and space is leased or sold a year before it comes onto the market.
URBAN AREAS CATCHING UP
In terms of retail, Prague is in a class by itself in this country of 10 million people. Central retail spaces at the intersection of Prague's high street, Na Prikope, and Wenceslas Square are heavily sought-after and hard to get due to the area's small size. The inner-city retail offer could thus certainly still be expanded. At the same time, the "shopping center density" is almost maxed out. Gradl opines, "I think a new, large shopping center in Prague would make little sense. We have covered all the city's axes with centers."
Gradl does see space for an international retailer or two, however. His preferred candidates: Abercrombie & Fitch, Media Markt, GAP, and some German clothing chains. And what about outlet centers? "We don't have real outlets here," says Gradl. The consultant also doesn't believe that the Prague Outlet, due to open in 2015 near Václav Havel International Airport, will change this because of its location and planning.
"I cannot imagine that they can gain the appropriate markets for it. I think an outlet center near Ústí nad Labem on the German border would make the most sense. You can get there by car from Prague in one hour. Dresden, Leipzig, and Halle are nearby. The catchment area would be large enough and the Germans could go shopping on Sundays (which they can't do in Germany)."