ACROSS: Why is a company like "Fairmoney" important for commercial properties right now?
Schmut: Never before has the international retail real estate scene faced such a mix of challenges. In particular, the massive distortions in the areas of energy, personnel and price development leave massive traces in the operating cost accounts. In our opinion, it is essential to ensure transparency and efficiency for the partnership between the landlord and the tenant.
ACROSS: When you talk about fixed cost management; what areas specifically does that cover?
Schmut: We are talking about 3 main areas here. Firstly, office operational services such as electricity, gas and heating, insurance, fleet optimization, IT and payment transactions. Secondly, infrastructure management, which includes areas such as building cleaning, winter services, waste management or property security and thirdly, technical facility management from lighting, installations, elevators to fire safety and energy efficiency in general. A broad field!
ACROSS: Now coming to specifically, with regards to the shopping center sector: Where do the know-how of your approaches come from?
Schmut: Between the time period from 2017 until 2021, we have analyzed more than 70 large shopping centers in Europe in detail with regards to their cost structures. From this, we generated a comprehensive database with many, many industry benchmarks. This tool acts as a data for us. And also as a base for the knowledge we possess, which we are also constantly developing further.
ACROSS: With the help from the database you possess and the experience of your work, what would be your conclusion for the shopping center scene?
Schmut: The aim is to maintain rental income. This can only be achieved in the long term through the efficient operation of cost management and cost transparency. This is all the more important as competition in the rental market becomes tougher. We stand for the creation of this transparency.
Case Study Cost Optimization by Fairmoney
THE CENTER
Location: North Poland
GLA. 20.000 sq m
Number of Shops: > 80
Parking: 1.100 free spaces, plus bicycle parking spaces
Leisure: Gastronomy zone, Playground
OPERATING COST
– Total cost of ownership before optimization: 957,600 euros
– Operating costs/sq m/month: 3.96 euros
– of which management costs/sq m/month: 0.48 euros
–> click to enlarge table "The Summary of the Process of Cost Optimization 2018|2019|2020"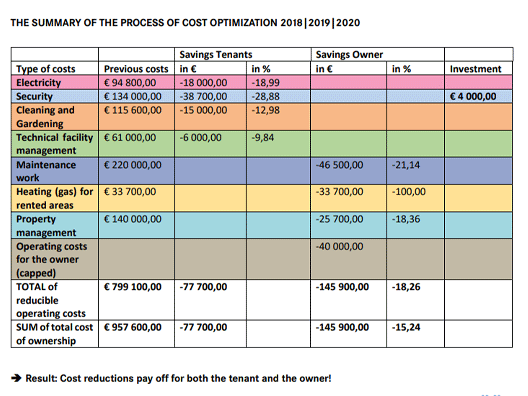 How costs were optimized:
General: Since the center had previously been completely renovated, the task was to implement savings without large investment costs.
Electricity: When checking all invoices and meters, it was found that 18,000 Euros had to be passed on to two tenants for their shops. This resulted in savings for all tenants culminating to 18,000 Euros.
Security: Due to new Polish labor laws, personnel costs have increased by 22 percent. When examining the deployment plan, it was determined that security forces had been performing the tasks that were included in the contract for technical facility management, meaning that the security guards who toured the mall were approached by customers for general information about the mall. Therefore, information boards were set up at all entrances for a total of 4,000 Euros, which show the structure of the mall more clearly. As a result, 24,000 Euros were saved in employee costs. Furthermore, a fire protection officer was eliminated from the security team and this task was transferred to an employee from the fitness studio which is open 24 hours. Furthermore, a panic system for all shops was introduced into the existing security reporting system with a monthly cost of 14,700 Euros. This addition led to 50 percent savings from a potential security job and even added value in terms of security implementation.
Cleaning and Gardening: This process has been redefined. Less used areas were cleaned less often. A large lawn was equipped with a robotic lawnmower. The service was then put out to tender again, resulting in savings of 15,000 Euros.
Technical Facility Management: The existing service contract was checked, and it became obvious that aggregates which had already been exchanged were charged extra for the service. The simple maintenance of the new units resulted in savings of 6,000 Euros.
Maintenance Work: A review of the repairs to be borne by the owner which totaled 38,000 Euros were directly attributed to the newly moved tenants. This resulted in savings of 38,000 Euros for the owner. Furthermore, general repairs and maintenance work worth 8,500 Euros were charged and paid for, which had to be paid by the supplier as warranty claims. This has been corrected and the utility bill was reduced by the aforementioned amount.
Heating (gas) for Rented Areas: In the past, the owner paid 33,700 Euros for heating costs (gas). In the absence of gas meters, these could not be passed on to the tenants accordingly. A dual billing system was created as a solution, in which the costs were divided in relation to the number of ventilation outlets and the rented areas. This resulted in savings of 33,700 Euros for the owner.
Property Management: A subcontractor took care of the further accounting of the tenants. Due to this new routine, the hours could be halved and the center owner is billed 25,700 Euros less per year.
Operating costs for the owner: The center had a complex service charge billing system that included caps for various tenants. A closer examination of the system revealed that the tenants with caps tended to be allocated operating costs that were too high and therefore had to be borne by the center owner. A technical report enabled the operating costs to be correctly redistributed among the other tenants, and thus, the center owner saved 40,000 Euros.
General notes:
In the course of inflation rates increasing, the comparative number to which the savings should refer must also be adjusted to the index and the savings must be calculated accordingly. In the meantime, more energy- and cost-efficient measures such as photovoltaics have been implemented on the roof.

"To achieve savings, players need to know what's going on." Markus Schmut, Managing Director at Fairmoney Kostenmanagement, an internationally active management consultancy based in Vienna, focuses on cost transparency.
Learn more about Fairmoney: https://fairmoney.at/ or service@fairmoney.org