Dear Reader,
The Metaverse is undoubtedly the megatrend of this year and the years to come. Everyone is talking about it and everyone sees its potential, but the industry is (still) cautious. Dealing with the topic of the metaverse is reminiscent of the early 1990s, and thus of the beginning of the Internet. Back then, investors also tried to keep up with the developments and secure their share of the potential success. Many of the first business models failed. This has pre vented many companies from investing further or breaking new ground. But when Web 2.0 emerged, very successful business models in e-commerce, social media, and online media became visible. When new technologies appear it takes a willingness to experiment, persevere, and believe in success. The restraint towards the Metaverse personally became apparent to us at the 2022 MAPIC meeting of the ACROSS Advisory Board.
Everyone in this group of experts agreed that the Metaverse will be one of the most important topics for the industry. But everyone also agreed, that at the same time, hardly any other topic makes even the most experienced industry experts feel insecure. The discussion at Cannes showed that the industry needs more knowledge about the mechanisms, opportunities, and examples of concrete applica tions. Gaining knowledge simply starts with the question: Why does the Metaverse matter? The answer to this is easily expressed by numbers. Many reports, e.g., from Bloomberg, show that the metaverse economy could approach triple-digit billions of dollars by the end of this decade. As the Internet has become a life-altering, commonplace technology and a substantial contributor to retail sales, the metaverse could become the platform for the next generation of commerce, states a report by Coresight Research.
But it is not only a lack of knowledge. Not everything called Metaverse at the moment is, by definition, a part of the Metaverse. Therefore, we decided to take a step back and start with the foundation for a deep understanding of the technology and potential of the Metaverse. To achieve this, ACROSS has teamed up with Elyt.net, Finberg, and FİBA Commercial Properties to create an editorial series to provide first-hand content on how shopping places can benefit from the Metaverse. Together we delved deep into the topic, and we learned a lot about the experience FİBA Commercial Properties made as one of the first companies within the placemaking industry that implemented a metaverse solution for one of its shopping centers.
Our conclusion: The Metaverse could take loyalty to a new level!
Yours sincerely,
Reinhard Winiwarter
Publisher of ACROSS Magazine
---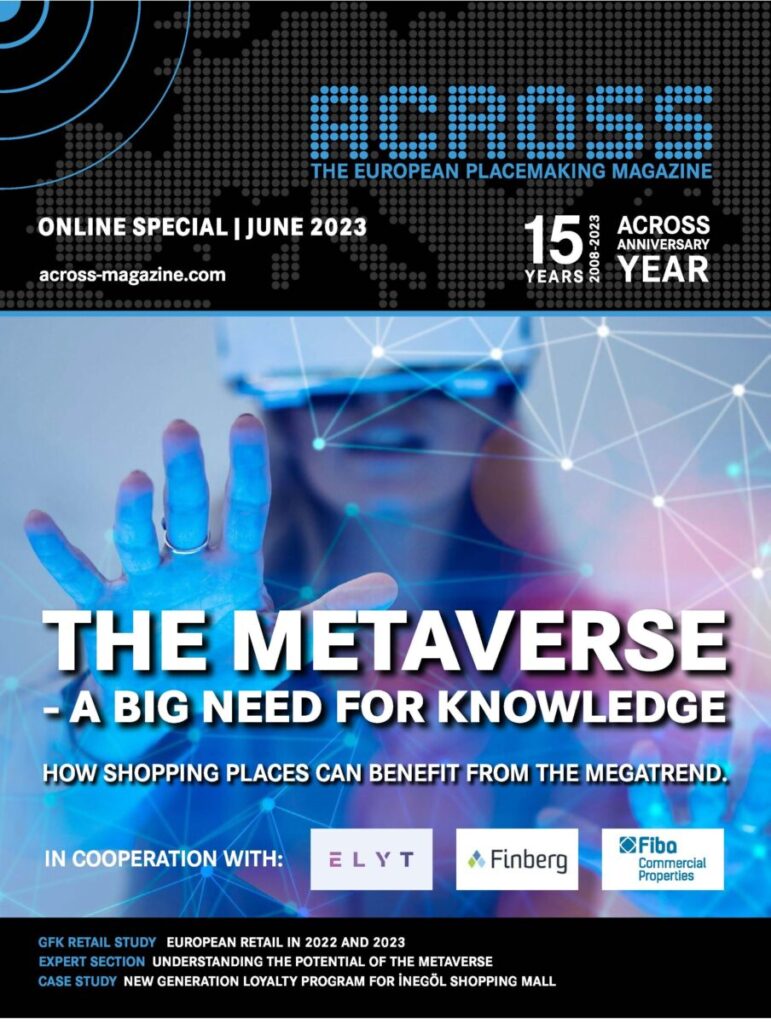 ---
Top-quality industry information is very important, especially in challenging times. Therefore, ACROSS will further expand its reporting, particularly in the online sector. You will find our publication dates for 2022 here. Benefit from our strong presence to further improve the positioning of your company.