By Ewelina Stobiecka
In many EU countries, entrepreneurs are counting the losses caused by the coronavirus pandemic, which has had a particular effect on the retail sector, including small, medium, and large enterprises in the shopping center sector, which generates approximately 30% of the value of retail trade in Poland, is a major contributor to the national budget, and directly and indirectly employs roughly 650,000 to 1 million people. In addition, the tenants of shopping centers have been deprived of the opportunity to earn money, and the owners of those centers, whose income has decreased significantly, have been financially hurt.
The direction the claims take varies as both owners of shopping centers with tenants (e.g., for exemption from making rental payments during the period in which the centers were closed) as well as tenants (e.g., due to the introduction of unconstitutional restrictions, which is a problem that exists in many European jurisdictions) may be in dispute with the state. Entrepreneurs have reviewed their contracts with respect to force majeure or emergency clauses, and there is a lot of discussion regarding how the state can support the industry by means of state aid.
Such a business reality raises the question of how disputes can be resolved in situations in which the courts cannot, or can only to a very limited extent, operate in a sanitary manner, which may sometimes lead to longer waiting periods or cancellations. The answers to these and other questions raised by entrepreneurs lie in alternative methods of conflict resolution, including economic mediation. Due to the fact that any dispute can be resolved through mediation, this may prove to be a rather effective tool to be used throughout something such as a pandemic.
Commercial Mediation
Commercial mediation has experienced a boom in Poland in recent years, in particular, the legislative environment for mediation, which includes a number of subsequent legislative amendments aimed at encouraging entrepreneurs to use mediation. Mediation is a highly informal method of resolving disputes in business, which is several times cheaper than court or arbitration proceedings. Mediation can also be carried out using various means of remote communication (via video or telephone conference or even in writing online). Mediation that involves the participation of a mediator can be carried out without being in direct contact with him or her, in other words, given the current situation, without endangering his or her health.
No special contractual agreement between the parties is required for the use of mediation. Mediation can also take place without specific referral to a court if the parties themselves decide to have the mediation conducted by an independent mediator of their choice or by an independent, specialized mediation center (so-called private mediation). In fact, in addition to resolving an existing dispute, mediation can also "mediate" special contractual terms under special circumstances, such as a pandemic. This can be particularly important in a scenario in which the contracting parties did not foresee certain circumstances that would impact their performance, such as the emergence of a pandemic situation or the threat of a pandemic throughout the country.
Traditional economic mediation involves the participation of an independent economic mediator in the communication between the parties to the dispute. The parties try to find a solution acceptable to both parties, as moderated by the mediator during the mediation process. As a result, the mediation procedure should result in a win-win situation.
Settlement Agreements Replace Judgments
Experience has shown that solutions reached by both parties through the help of mediators during the course of economic mediation are usually implemented by both parties on a voluntary basis and that no measures are required to force either party to comply with the settlements reached. However, it should be kept in mind that such settlements reached via economic mediation can be confirmed in court. In such a situation, the mediator or the attorneys representing the parties ask the court to set a time limit during which the settlement agreement is formally approved by the court, thereby making it enforceable and conferring on it the value and legal strength of the court decision.
Mediation is estimated to be at least 10 times cheaper than court proceedings. Perhaps the current, exceptional situation will encourage increased use of economic mediation in business, and entrepreneurs will make more frequent use of this tool to resolve disputes.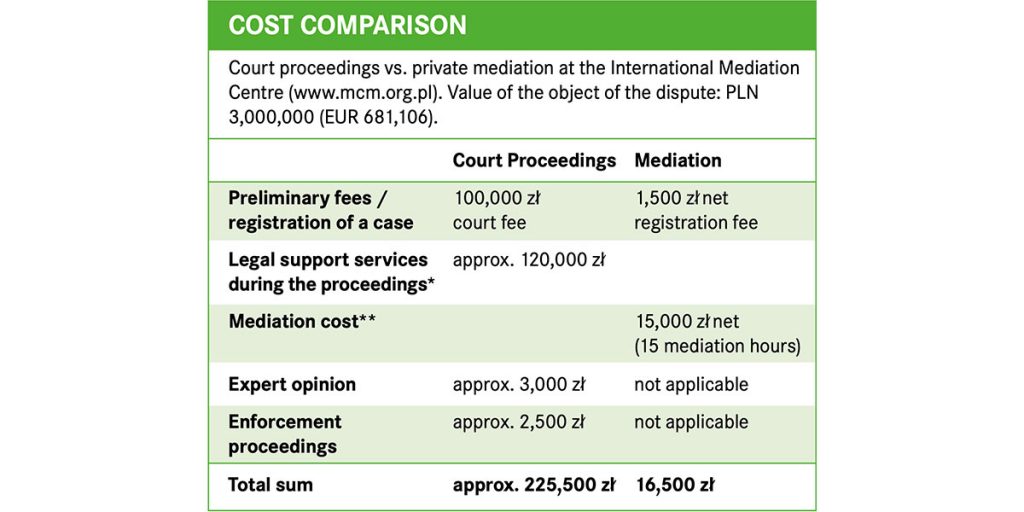 *Costs calculated on the basis of World Bank data published in the Doing Business Report (Poland) 2017.
**Cost of mediation sessions at the International Mediation Centre (www.mcm.org.pl).