ACROSS: Mr. Klüter, why has so much money been invested in Quarree Wandsbek?
FRANK KLÜTER: There are several contributing factors. Even though the center has been modernized and expanded, and the range has been broadened time and time again, it has, naturally, aged somewhat over the last 30 years. However, Wandsbek is also on the move: Construction, modernization, and investment are taking place in every area. Young families have discovered the district for themselves and have begun to move here. The fact that such a substantial amount of money is being invested in Quarree shows that both the owner and we, the operator, firmly believe in this location. That is not only due to the current developments in Wandsbek, the virtually perfect location, and the high purchasing power index. The Quarree represents the shopping heart of the district, but it offers additional leisure activities and institutional facilities under one roof. We are, therefore, less of a traditional center than an urban center.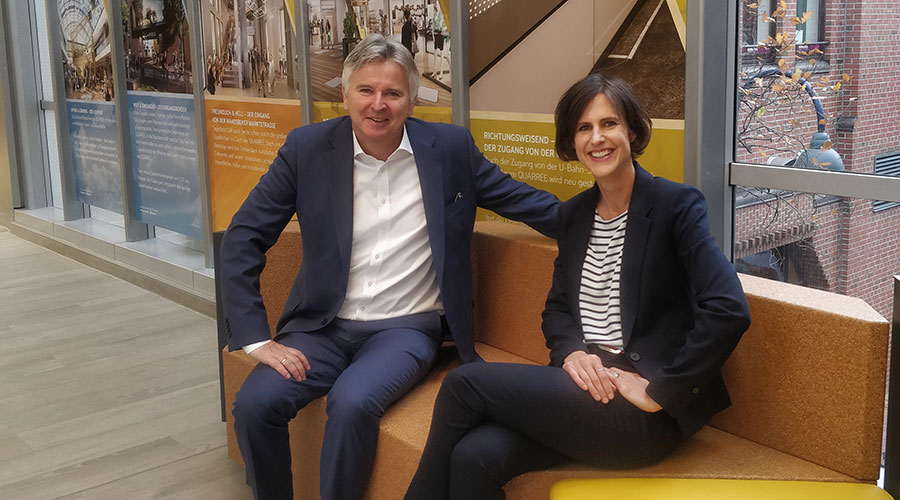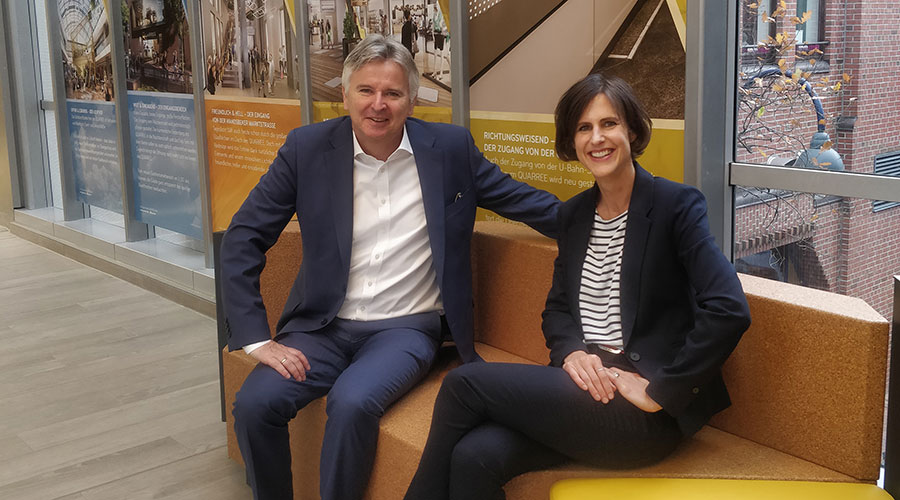 ACROSS: What exactly will change, and what has been planned?
KLÜTER: We are executing a very comprehensive package: new theme design, some new tenants, modernization, and expansion of service and comfort. The design concept is inspired by Wandsbek's green character. Our range of products and services will enable us to respond to customer wishes and needs. For example, a supermarket and a fitness studio are due to complement the portfolio, and the gastronomy area will be expanded. Everything will be in line with the motto: Even greater variety for your daily needs and leisure time.
ACROSS: That all sounds very good – but only following a considerable amount of construction work. The time between now and the end of November 2020 will have to be bridged. How do you intend to accomplish everything? Will you close your eyes and hope for the best?
KLÜTER (laughs): No, that is not an option. We have put a lot of money, energy, and thought into this phase of reconstruction. At a very early stage, we received external support: 21M is supporting us both creatively and conceptually during the transformation phase. We have worked together to develop a marketing concept for the construction phase, and the initial measures are already underway.
ACROSS: Ms. Finke, you helped develop the concept. What can you tell us about it?
BRITTA FINKE: The concept is based on three major pillars: 1) informing, surprising, and beautifying; 2) presenting the future; and 3) generating impulses that are filled with vitality. Our objective is not only to retain customers during this period, but to bind them even more closely to the Quarree as well. We cannot hide the construction site, but we can make this period of time as enjoyable as possible. For example, in addition to transparent communication, we are also interested in "taking our customers and tenants along for the ride" throughout the process. We would like our customers to get excited about the new Quarree right now. This is, perhaps, even more important at Quarree than at other centers.
ACROSS: Why?
KLÜTER: We are an urban center that has an incredibly high proportion of regular customers – more than 60%. For many, we are a daily point of contact. Those customers, in particular, are very interested in the development of Quarree and want to be informed about all the latest news.
ACROSS: What measures are being taken to get the customers on board during this period?
FINKE: This occurs in a number of ways: For example, we have introduced a loyalty campaign as a customer retention measure, which will be carried out on a monthly basis until the end of the construction period. Every month, customers are thanked for their loyalty, and at the end of the construction period, they will automatically be entered into a raffle for the chance to win some great prizes. We have recently opened our "future tunnel". One corridor of the center has already been completely renovated and shows the new Quarree: flooring, lighting, decorative materials, and furniture. Many elements that will be part of the new Quarree can be seen there. In addition, exhibition panels explain how the theme came into being, why investments have been made, what is being done, etc. The exhibition area grows along with the project as each completed section is photographically documented.
KLÜTER: The future exhibition has been incredibly well received. Visitors can obtain detailed information or simply immerse themselves in that section of the new Quarree. Whenever I walk through that corridor, I see visitors reading the information presented on the panels.
ACROSS: You mentioned a third pillar, dedicated to "generating impulses". What is that all about?
FINKE: We would like to offer our customers added value by generating impulses to visit Quarree. We have developed a countdown campaign: The countdown will kick off in January, with each month being counted down, and in November, the final countdown will be celebrated via the completion of the new Quarree. Each month will feature its own theme, which will be presented in the content. Many promotions will involve cooperation with various players in the community as we operate in a very networked manner.
KLÜTER: The transformation of the Quarree is being carried out little by little. Every completed construction phase will be integrated into our countdown campaign as we make our way toward our goal. It will be a very special, colorful year at Quarree.
ACROSS: Can you give us an example of how the construction phases will be integrated?
FINKE: The heart of Quarree – the atrium – will be completed in September 2020. That achievement will be celebrated by means of a piazza party, which will include fountains, ice cream stands, artists, etc. Right from the start, the new atrium will highlight its already existing function: It will serve as a place for communication, a place to relax, as well as a place for promotions, events, and collaborations.
KLÜTER: Yes, and even if Quarree changes completely, we will still remain Wandsbek's marketplace. However, it will be much more beautiful and modern, and it will offer even more variety for both our regular customers as well as new visitors.
About Quarree Wandsbek
For 30 years, Quarree Wandsbek has served as an urban shopping center in Hamburg's Wandsbek district, the Hanseatic city's most populous district. The center encompasses more than 90 shops, cafés, and restaurants, a multiplex cinema, a daycare center, a blood donation facility, and the NBS Northern Business School, all located on an area of approximately 50,000 square meters. The complex attracts an average of 34,000 customers per day and 11 million visitors per year. As part of the modernization and restructuring process, the focus of the Quarree will not only center around a new design concept, but it will also focus on modern services, practical product ranges, as well as an increased variety of offerings.