The COVID-19 pandemic has clearly affected all of our lives, from personal habits to the way business is being conducted – the economy has fluctuated across the globe and the impact on shopping and entertainment centers has been massive. However, I think that we all have learned how to cope with the disruptions and have adapted to the whole situation, with the help of medical breakthroughs, which have allowed the authorities to reopen economies and enabled people to largely return to a normal way of life.
Signs of Recovery
In the shopping centers sector, the second half of 2021 and the beginning of 2022 marked a solid recovery in retail numbers, which signals the fact that the desire for traditional shopping and leisure offered by malls is back.
For NEPI Rockcastle, 2022 is a year of growth, and we must follow and fulfil our customers' needs, and, in doing so, support our tenants. Luckily, we have always been close to our clients and receptive to their needs. Thus, in the last year, we have continued our path of development in line with the technological innovations and with the customers' desire for an enhanced and safer shopping experience, dominated by digitalization and the omnichannel approach. This manner of simultaneously communicating across various channels has brought about the rise of the marketplace platform, where shoppers can interact online with the brands located at the respective shopping centers.
Technology Serving the Customer Experience
E-commerce has become an important part of the shopping experience, so integrating the online elements with the offline ones, through proptech partnerships, is the path to maintaining a leading position as a developer and owner of commercial centers. Today, due to technological evolution and after two years of pandemic-generated restrictions, it is a normal and expected fact that many shopping journeys will involve virtual and physical store interaction. Customers feel the need not only to be able to communicate with their favorite brands on multiple channels, but to see that their shopping particularities and habits are noticed and taken care of. With that in mind, in October 2021, we launched SPOT, a loyalty mobile application. The first country in which SPOT has been implemented is Romania, because that is a market in which the adoption rhythm of new technologies is higher than ever. We are also planning to introduce the app in the other eight markets in which we are active. The new application is based on an innovative technology and idea that makes it unique not only in the Romanian retail market, but also in Europe. The mobile loyalty platform was created after a complex market study was conducted among our consumers. The results showed us that for our clients, the most important criteria for having an enjoyable shopping experience were being granted access to personalized benefits according to their shopping preferences and the differentiation of rewards based on status. Considering all of those elements, SPOT was designed as a complex, yet easy to use app that allows users to access it after each shopping session to earn loyalty points. Those points offer discounts, personalized experiences, rewards, and gifts at all NEPI Rockcastle malls that are enrolled in the SPOT program. The number of points gained gives each SPOT user a certain status and, subsequently, access to different kinds of rewards.
This is only one example of how technology and innovation may be used to improve the customer experience. Another digital innovation that we have implemented, in line with market trends and customer needs, is the marketplace platform of our Paradise Center mall, which is located in Sofia, Bulgaria. The pilot project was conducted in January 2022 and allows people who shop there to benefit from the entire service ecosystem comprised of our tenants' shops, so they have all the information they need to make their purchases quickly and safely.
Return to Malls
Another major trend that began in 2021 and is sure to continue is the big return to malls, because even though people will continue to shop online, they also crave the complete experience that is provided by a visit to a shopping center. As a result, construction work has commenced throughout our portfolio. In Romania, we have begun the expansion work of Promenada Mall in Bucharest and the greenfield development of Promenada Craiova. In Bulgaria, we are scheduled to complete the development of Promenada Plovdiv by the end of 2024, and in Poland, we have already started the expansion and redevelopment of Bonarka City Center in Krakow. In 2021, we completed the expansion and refurbishment of Paradise Center, where we have opened several new stores. All of the extensive work was not only prompted by observation of the market's movements, but also by our development direction, which centers around the continuous improvement of the quality of our services.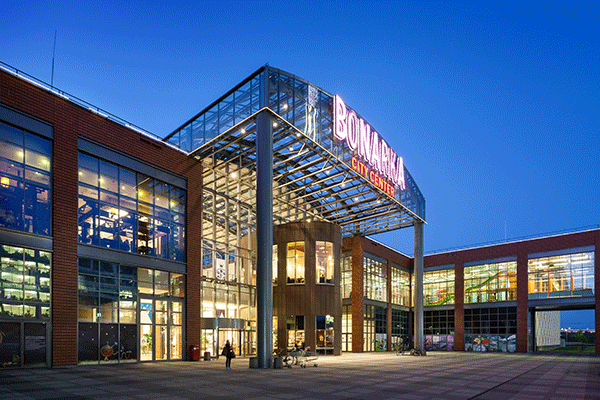 Some changes in terms of consumer needs and expectations have occurred, which has led to our expansion strategy, which is centered on the development of mixed-use projects, a trend that was manifested in CEE for a number of years prior to the pandemic, but accelerated afterward. Those kinds of projects are structured around a commercial center as an anchor and are enhanced by additional functions, mainly residential. The movement restrictions generated by the pandemic, and the public's strong need for safety has spurred the demand for mixed-use projects. Our latest development of such type is due to take place in Romania, in the city of Galați, where we recently acquired 17 hectares of land.
Last, but not least, all of the discussions about consumer trends and the commercial center sector are influenced by the bigger picture, which is represented by the economical and geo-political context. As we all know, at the end of February, a war started between Russia and Ukraine, two countries in the immediate proximity of the CEE region. NEPI Rockcastle does not have properties in Russia nor Ukraine, and has insignificant exposure to Russian or Ukrainian tenants. Therefore, we are confident that we will not be immediately or directly affected by the events that are currently unfolding. Having said that, the events can have significant indirect effects on the regional and even global economy, so any business prognosis may be influenced by the situation. Beyond possible economical or business outcomes, I think we all, as individuals and companies, need to show solidarity with the civilians affected by the conflict and help as much as we can until this tragedy comes to an end, at which point we will all be able to concentrate on recovery and growth.