The LP12 Mall of Berlin has followed this trend and has introduced an individualized gift card from PayLife, the specialist in card solutions with experience in more than six countries (Austria, Germany, Czech Republic, Slovakia, The Netherlands, and Slovenia). PayLife provides over 20 shopping centers with a successful and innovative gift card system. It supports a fully automated chargeback with the individual stores and serves as a marketing tool to increase customer frequency. Experience at numerous shopping centers has shown that, in comparison to a paper voucher system, significant increases in both sales and customer loyalty can be achieved with a gift card solution. Today, shopping centers in Austria, Germany, the Czech Republic, Slovakia, and the Netherlands already rely on the competence of PayLife.
LP12 Mall of Berlin had special requirements to implement a state-of-the-art, fast, and convenient gift card system. "Being able to issue gift cards quickly and easily on the spot, bill the individual merchants automatically, and process payments reliably were determining reasons to choose PayLife as a partner for the electronic gift card system. With the gift card branded in the LP12 Mall of Berlin design, our shopping center visitors get an enhanced shopping experience and can quickly and conveniently buy in any store," says Jens Kirbach, General Manager Mall of Berlin.
The billing takes place via the existing payment system, with no investment costs for the individual stores. The gift cards are loaded with any amount the customer desires directly at the point of sale. The recipient then has the freedom to shop in the store of their choice. Any credit remaining on the card can be used for the next purchase.
270 Shops
The new Mall of Berlin, short: LP12, opened in autumn 2014. It is like a city within the city, built in the old district area between the famous Friedrichstrasse and Potsdamer Platz. In addition to the 270 shops, 30 restaurants, a hotel and offices with a total of 76,000 sq m of retail space, 250 luxury apartments were built in this prime location. Well equipped, one might think. 50 more shops for premium and luxury brands are also already planned for 2017.
The LP12 mall is unique for its size in Europe. Many tenants are represented who had never gone to a shopping center, such as the fashion houses Armani, Liu Jo, Wormland, Hollister. The brand selection in the shopping gallery appeals to a wider audience and clearly stands out from other shopping centers.
The electronic gift card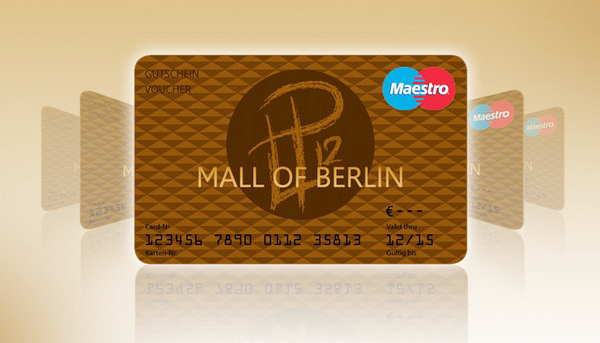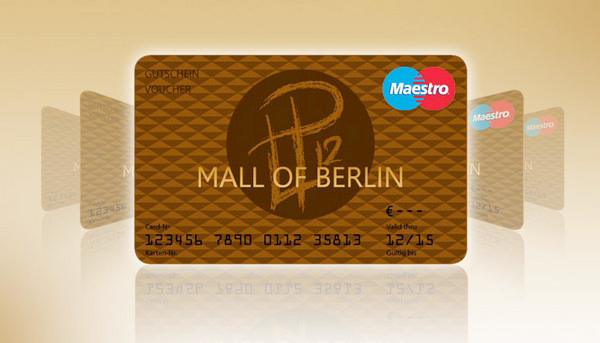 PayLife and its gift card solution have been part of a new generation of shopping centers since April 2015. The most important facts about the Mall of Berlin Gift Card:
Available at the center's information desk
Maestro Gift Card
Amountfreely selectable
With the new LP12 Mall of Berlin Gift Card, customers can pay in all shops with Maestro card acceptance. The gift card is available at two information desks on the ground floor.
Main benefits of the LP12 Gift card at a glance:
Credit can be checked at any time at the two information desks, online, via text message, or by telephone
Credit-card size, high-quality LP12 design, and an exclusive packaging
Redemption of the gift card is possible in all the LP12 Mall's shops that accept Maestro cards