With a total area of ​​over 5,000 sq m and a sales space of approximately 3,400 sq m, the new hypermarket in Bucharest represents the company's commitment to further support the development of the local economy and communities by creating over 100 new jobs. The new Kaufland Bessarabia store is equipped with modern solutions and technologies, which ensure high standards of energy efficiency. The hypermarket is powered by green electricity, having photovoltaic panels with an area of ​​over 550 sq m.
Impressions from the 1500th Kaufland store in Bucharest: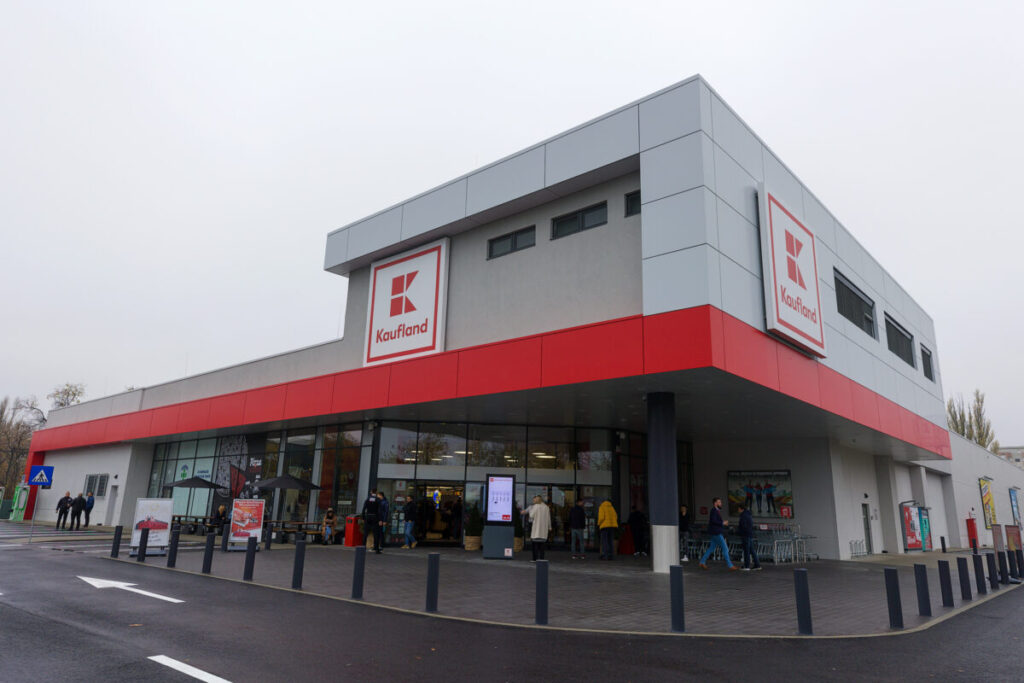 This opening is a major milestone in the history of Kaufland. Kaufland started as a small retailer in southern Germany and became on of Europe's leading food retailer with major expansion plans: Together with ACROSS, Angelus Bernreuther, Head of Investor Relationship Management, looks back at Kaufland's corporate history and explains how, starting with its solid roots, the future of the company is being shaped, especially during challenging times:
ACROSS: Kaufland is one of the biggest European players in food retailing. Where are you most heavily engaged?
Angelus Bernreuther: Kaufland currently operates more than 1,450 large supermarkets in eight European countries: Germany, Poland, Romania, Czech Republic, Slovakia, Croatia, Bulgaria, and Moldova. As you can see, we are strongly focused on the CEE countries and Germany, which is our home base.
ACROSS: Let us take a quick look back: What did Kaufland represent 50 years ago, and what does it signify today?
Bernreuther: Our first supermarket, which was named "Handelshof", opened in 1968 in Backnang, near our headquarters in Heilbronn, Germany. At that time, the food retail market was completely different in Germany, where our success story began. Local supply was mainly ensured by small and medium-sized structures. In 1968, Kaufland was one of the first companies to offer customers a wide range of food and non-food items in a large-scale format – and it worked. Today, we operate more than 750 stores in Germany. Due to the fact that customer behavior has changed over the decades, our concept has also been adapted. Today, an average Kaufland supermarket offers a customer experience dominated by food and near-food products on a sales area of 4,200 square meters that features roughly 30,000 items at competitive prices. The switch from the former huge hypermarket format to a local supply-dominated large supermarket has now become the key recipe for success in the online age.
ACROSS: Around half of your branches are currently located outside your home market, Germany. Please give us a brief overview of your expansion strategy.
Bernreuther: That is correct. With more than 700 supermarkets in the CEE countries, we are a key player in that region. Our expansion began in 1998 in the Czech Republic, followed by Slovakia in 2000, then Poland and Croatia in 2001. After entering the Romanian market in 2005 and Bulgaria in 2006, Moldova marked our most recent successful opening three years ago. There is one rule in every country: Our strong concept must be adapted to local customs. Partnership and flexibility are our key drivers. Both as an owner and as a tenant, we are flexible in the way we build and operate our large supermarkets: as stand-alone stores, in retail parks and shopping centers, and even in city center-based locations. Our USP lies in the fact that we are a strong local footfall anchor for all types of locations. We guarantee comprehensive local supply for our customers as well as for our partners in the cities and in the real estate industry.
Click to enlarge: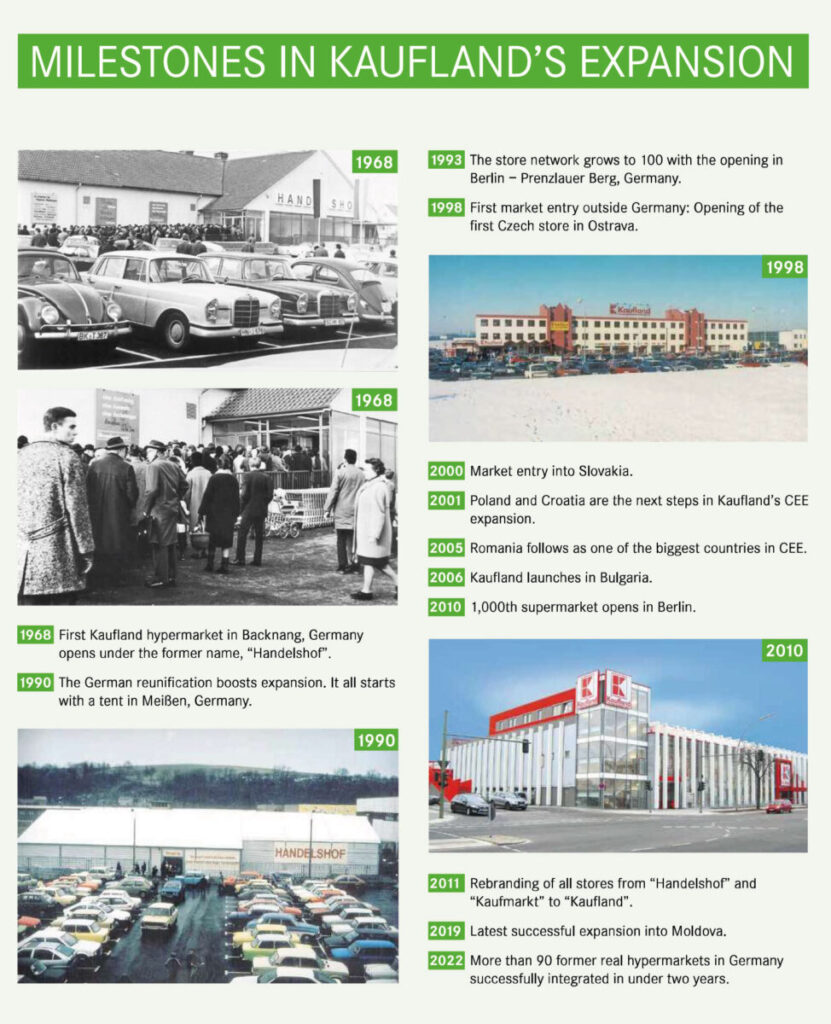 ACROSS: Which countries, particularly in CEE, are the growth drivers for Kaufland? What is your development strategy in that region?
Bernreuther: We know that food retail will not be affected by e-commerce, as is the case with the non-food sector, and that people spend more than half of their disposable income on food retail and visit the stores frequently. We strongly believe in the future of physical retail. We see a lot of potential in all of the countries in which we operate, both in new developments and in the revitalization of existing retail properties – from rural areas to metropolitan cities. We are still hungry!
ACROSS: What are some of the competitive advantages of the CEE retail market?
Bernreuther: We offer our customers a wide selection of food at very competitive prices. In addition, together with our local tenant partners, we offer a one-stop shopping experience: from regional retailers to international specialty stores. That also includes pharmacies, a wide range of food service providers, and other services. In order to ensure the best possible customer experience, we are currently working with partners on more than a million sq m of leasable space at our stores. Our partners, both in the real estate industry as well as in the cities in which we are located, can confidently rely on our international partnership and our long-term prospects.
ACROSS: Food and local supply are footfall generators for retail properties. What changes do you foresee in the use of commercial real estate? What does that mean for Kaufland? What are the main characteristics of a Kaufland store in that regard?
Bernreuther: The pandemic has proven that food retail is synonymous with stable footfall and that it is even systemically relevant. The general framework conditions that affect retail real estate will not affect the grocery sector, or rather only to a much lesser extent. In particular, the impact of digitalization, e-commerce, and demographic change will mean that many traditional locations, such as high streets and shopping centers, where fashion used to play a dominant role, for example, will have to reinvent themselves. Food traditionally played a minor role at such locations, but that has changed. Of course, food retailers like us will not be able to save entire locations, but we will still help ensure that footfall remains stable. The tenant mix will change at almost all location types, and food will play a greater role therein. That is why food or food-anchored properties are currently in favor with many investors. Together with the real estate industry as a whole, we see more mutual opportunities for a number of locations that probably would not have been considered before. That includes more mixed-use projects, for example.
ACROSS: Which store formats in your portfolio work particularly well and where? What is your ideal retail mix for larger retail properties?
Bernreuther: As a rule, our concept is adapted to the local conditions. In doing so, we always strive to find the best layouts and partners for us locally. In smaller towns or metropolitan areas, stand-alone markets probably work best. In large agglomerations, Kaufland takes on the role of footfall anchor for the entire location. Of course, that means the overall tenant mix has to be attractive for both sides in order to strengthen the position in the catchment area. We like partners that provide our customers with additional benefits, such as fashion, sports, and food service operators.
ACROSS: How do you integrate current customer and ESG requirements into your space concepts and location strategies?
Bernreuther: There is no short answer to that question, because ESG is a very complex and multifaceted task. As part of the Schwarz Group, sustainability is an important issue for us and, together with Lidl (discounter), PreZero (environmental service provider and recyclables management), and Schwarz Produktion (food production), more than 550,000 employees are involved, from the production, purchase, and distribution of food to the development of recyclable material cycles. As part of an overarching sustainability strategy, the Schwarz Group has, therefore, joined the Science Based Targets Initiative (SBTi). The declared goal is to contribute to limiting global warming to 1.5 degrees. Other measures are, of course, based on customer requirements. For example: We have dedicated more sales area to regional products. Regionality creates identity for our customers, gives local producers a direct sales opportunity, and helps to reduce CO2 emissions by means of short transport distances. Animal welfare has also become increasingly important to our consumers. We have addressed the issue by, among other things, launching our own animal welfare brand "K-Wertschätze". The demand for more organically produced food is growing. With up to 3,300 organic items in our assortment, we are setting standards in all product categories. We also carry over 800 vegan and thus particularly climate-friendly products in our range, including our climate-neutral private label "K-take it veggie" (climate neutrality through offset projects).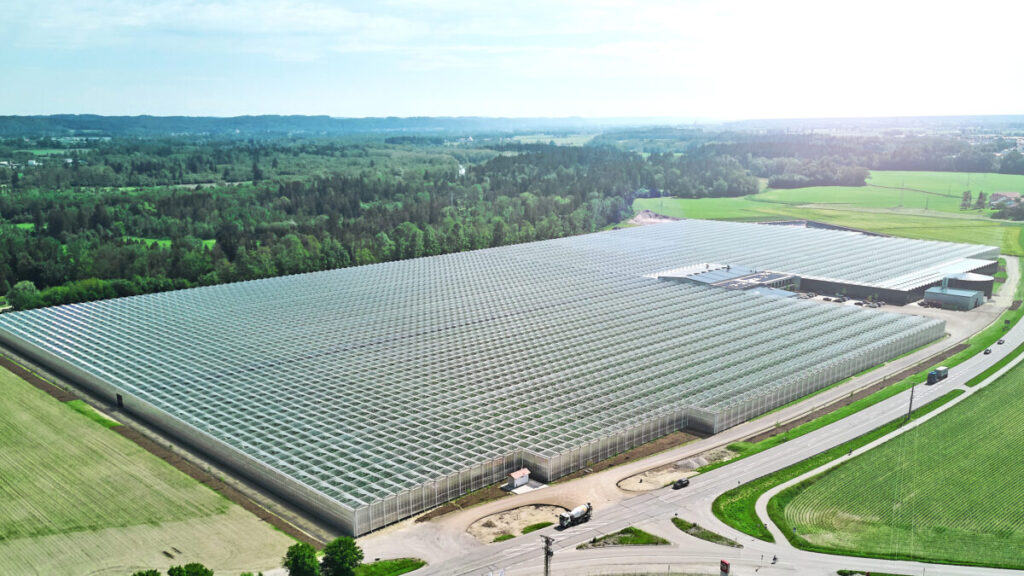 ACROSS: What about real estate?
Bernreuther: Of course, we see more direct links to the real estate industry in the construction and operation of our properties. In the future, we will increasingly look at a cradle-to-cradle approach for building materials. Where and how we build will depend more on the planning situation and the availability of land at a location. Flexibility is the order of the day and has always been a matter of course at Kaufland – whether at ground level, elevated, or with underground parking solutions. As I mentioned before, we are open to complementary uses in mixed-use properties – whether office, hotel, or even residential projects. Energy efficiency will pay off in the future, and not just in terms of ESG. That is why we now pay much more attention to the operation of our properties. Starting with the refrigeration and air conditioning networks, photovoltaic systems, state-of-the-art LED lighting, the continuous expansion of the e-charging infrastructure, and much more. Local cooperation with and integration into the community is also important to us. Let me give you a few examples. We actively support organizations such as food banks, work with schools on projects, and become an integrative part of a neighborhood via our supermarket, for example, through community gardens and local street art projects.
ACROSS: Digital expansion seems to be an important part of your strategy. How are you using technology to improve the overall shopping experience?
Bernreuther: First, it is important to note that digitalization is more than an e-commerce sales channel. Having already said that food will predominantly remain in brick-and-mortar stores, a 360-degree customer view has become increasingly important. We are tackling this challenge on multiple levels. Communications and marketing have shifted towards a more social media and influencer-driven approach. With the introduction of our "Kaufland Card" loyalty program, we can respond even more precisely and frequently to the needs of our customers. Our online retail platform "Kaufland.de" is already among the strongest in Germany and combines the best of online and offline offerings: strong physical food competence as well as outstanding online competence in non-food, with more than 300,000 non-food items from our own private label and more than 40 million items from our platform retail partners. We have already implemented self-scanning checkouts at many of our stores, increasingly in combination with our "K-Scan" self-scanning tools. In the future, there will be even greater focus on how we can make the physical grocery shopping process even easier.
ACROSS: You are looking to leverage your strong brand positioning in Eastern Europe to expand the online marketplace. What differences have you observed in the implementation of your digital strategy in the countries where you are present. Are the regional platforms strong, especially in key growth markets like Poland?
Bernreuther: As mentioned, "Kaufland.de" works very well as our primarily non-food-dominated retail platform in Germany. In 2023, we will expand to the Czech Republic (www.kaufland.cz) and Slovakia (www.kaufland.sk) using this concept.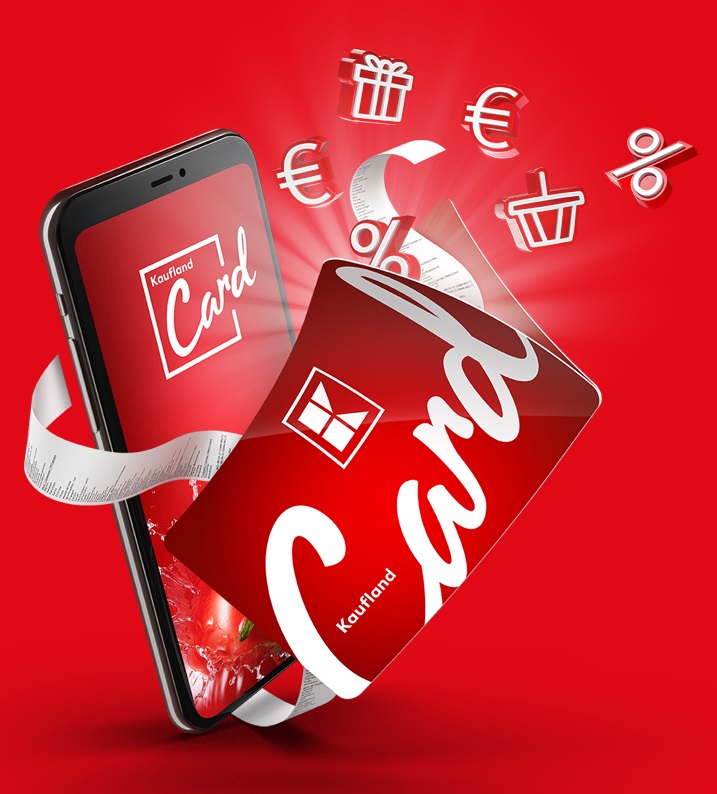 ACROSS: What role do digital platforms play in that context? You have created a digital world of experience with "Kaufisland", for example. What does your business model look like in the metaverse?
Bernreuther: As far as the Metaverse is concerned, a lot is still in flux. We will see what the future brings, and you can rest assured that we are closely monitoring the ongoing process. However, the crucial question is: Where are your customers, and how can you reach them? The "Kaufisland" example you mentioned shows that. Kaufland, in that case, is part of one of the most popular live e-games, "Animal Crossing". There, a Kaufland store can be experienced virtually. To put it the way we generally do: Kaufland – Full of possibilities.