İstinyePark equipped its decorations with QR codes so that visitors could scan them with their phones and find themselves in a three-dimensional world of flying deer and Nutcrackers. This innovative technology creates an immersive experience, blurring the lines between fantasy and reality. Furthermore, the technology was in connection with a game, where the local retailers also took part. Visitors could collect points and earn vouchers by scanning and playing integrated games on their smartphones – this concept was very successful with over 2500 people participating in it. İstinyePark İzmir has therefore not only managed to integrate new concepts like AR but has combined innovation with the trend of gamification. This encourages visitors to participate in initiatives like these and turn their visit to the mall into a memorable experience.
Regarding design, the mall has gone above and beyond to create a captivating new year concept that left visitors in awe. Using the temperature of the red color and the elegance of gold, the combination of these elements transported visitors into a world of wonder and delight.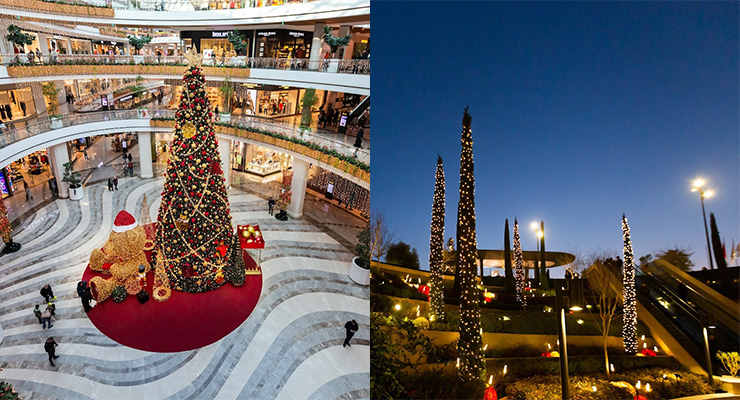 Drawing inspiration from classic New Year designs, İstinyePark İzmir strived to offer its guests a blend of nostalgia and innovation. With a touch of vintage charm, the mall has reimagined traditional elements to provide a fresh and exciting experience. Among others, the visitors had the opportunity to explore various themed areas and discovered unique photo points in the mall's common areas. These spaces were beautifully decorated and invited guests to strike a pose and capture the joyous moments of the holiday season. Whether people were looking to take a family portrait or to create a fun memory with friends, the photo points served as the perfect backdrop.
With its thoughtfully designed concept and immersive experiences, İstinyePark İzmir invited visitors to indulge in the magic of the season, whether they are looking to shop for gifts, enjoy a meal with loved ones, or simply soak in the festive atmosphere.