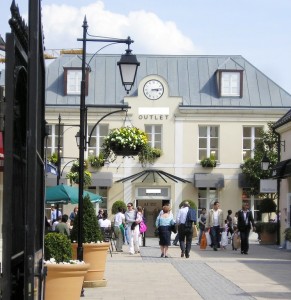 More than 200 experts from 15 countries came to Paris to attend the Magdus Outlet Conference on June 11 and 12. This meeting of the relatively young European factory outlet center (FOC) industry celebrated its launch eleven years ago. Like many innovations, the new retail format spread from the United States where FOCs were pioneered in Pennsylvania in 1971 across the Atlantic. The first European one opened in France in 1984. The real boom started in the Old World when US management companies began to invest in Great Britain a few years later. And what is the outlook? Caroline Lamy, Managing Director of Magdus, is optimistic: "The future of the European outlet market seems promising for all the players – developers, investors, retailers, service providers. Nevertheless, they will have to pay attention to some recent changes or changes to come." (see her "Opinion")
In between, more than thirty years of FOCs have gone by. That period may well be considered a huge success. According to a recent survey of the research institute ecostra from Wiesbaden (Germany), there are 159 of these shopping-destinations in Europe today. And in spite of the economic crisis the development pipeline is impressively full. This trend is not only due to international managers and investors looking for promising locations. "Because of their expected returns that are significantly higher than for other types of retail operations, such as shopping centers or specialized retail parks, FOCs are attractive assets for investors," explains Georg Fichtinger, Head of Capital Markets at CBRE Austria. For example, the yield spread of properties recently traded in Europe was between 6.5 percent and ten percent.
Strong involvement of investment funds
Given their high management intensity and limited usability for other purposes in comparison with other property types, FOCs are a target, in particular, for specialized investors and indirect investments. Especially investment funds are active in this segment. Examples are the European Outlet Mall Fund (Henderson Global Investors) issued with a volume of almost EUR 1.5 billion in 2004 that has a return on equity of approximately 13 percent, the mixed IRUS European Property Fund (Neinver) issued with more than EUR 1 billion in 2007 as well as the Polonia Property Funds I & II with more than EUR 600 million. As CBRE also found, "purely" institutional investors are not the only ones active in the market today, but rather joint ventures of managers/developers and investors are increasingly established, as is evidenced by the alliances of Neinver with TH Real Estate and McArthurGlen with the Simon Property Group. VIA Outlets can also be considered to be a new player. This investor consortium of Hammerson, Meyer Bergman and Value Retail focuses on well-established locations with a certain value growth potential.
Other market drivers, however, are cities and communities. By establishing FOCs, they hope to reposition themselves as attractive shopping destinations for a large area in the competition between cities, to raise their trade tax revenues and to create new jobs. Finally, another driving force is the high space demand of international brand manufacturers.
Saturation in Great Britain and Switzerland
It is hardly surprising that the market potential for FOCs is almost exhausted in some countries. According to ecostra this is mainly true for the "early starter" Great Britain with 36 sites and Switzerland with five outlet centers. Strong momentum, however, is noticeable in France, Germany, the Netherlands, Finland and Russia. With regard to the latter country: "The Russian outlet center market started just three years ago and, despite tough beginnings, develops rapidly, narrowing the gap to its Western counterparts. Presently the country's outlet market is in fact Moscow's outlet market, as the only outlet centers in Russia are located near the capital city. But this will rapidly change as big cities like St. Petersburg or agglomerations with more than three million people living within 60 to 90 minutes' reach like Yekaterinburg will enter the game" (see "Russia: In love with outlet centers").
By European standards, the density of FOCs is also very low in Germany at present. With eleven centers and an area of around 1.8 sq m per one thousand people, the country clearly lags behind according to CBRE. In comparison, the saturated markets of Great Britain and Switzerland mentioned before record values of 8.7 sq m and 9.6 sq m per one thousand people, respectively. But relief is coming as the Fashion Outlet Montabaur and the Fashion Outlet Leipzig are currently under construction in Germany. And in addition to far-advanced plans in Remscheid and Duisburg, efforts are also made to set up FOCs in Grafschaft, Königswinter, Werl and other cities.
One out of seven projects fails
ecostra gathered data two years ago evidencing that FOCs do not work out well on each and every greenfield site. The research institute found 21 failed locations in Europe at that time. They either closed again because of lacking success or never opened in spite of the buildings' completion. Hence, in relation to the total number of FOCs, the failure rate calculated was around 14 percent – a value that is absolutely dramatic for project developments in the retail sector because it means that, on average, one out of seven projects will end up with usually long-term vacancies.
Market shares of FOC managers in Europe 2015
| | | | |
| --- | --- | --- | --- |
| Managers | Sales area in sq m | Share (%) | Centers |
| McArthurGlen (USA/UK) | 433,580 | 16.8 | 20 |
| Neinver (Spain) | 254,000 | 9.9 | 15 |
| Realm Outlet Centre Management (UK) | 151,120 | 5.9 | 10 |
| Value Retail (USA/UK) | 136,700 | 5.3 | 9 |
| Freeport Retail plc (UK) | 121,350 | 4.7 | 6 |
| Concepts & Distribution (France) | 105,500 | 4.1 | 8 |
| Fashion House Management (Belgium/UK) | 85,000 | 3.3 | 5 |
| Unibail-Rodamco (France/Netherlands) | 60,700 | 2.4 | 4 |
| Advantail (France) | 56,600 | 2.2 | 3 |
| ROS Retail Outlet Shopping (Austria) | 55,900 | 2.2 | 4 |
| 54 other managers | 1,115,510 | 43.3 | 75 |
| | 2,575,960 | 100.0 | 159 |
Source: ecostra
Operating Outlet Centers in Europe:
FOC List Operating Outlet Centers in Europe

Source: ecostra