ACROSS: We would like to welcome you to ACROSS as the author of your own food/gastronomy/leisure column. We are very much looking forward to that. How did you get into gastronomy?
Will Odwarka: My love of gastronomy comes from my love of service to people. Even as a child, I thought it was great when people did something to make others feel good. Professionally, I went in the direction of real estate/construction and came to McDonald's through that. Although I worked in development and played a vital role in expanding McDonald's in Austria, I had access to much information in the service area. The fascination was there immediately, and I got hooked on gastronomy.
ACROSS: After McDonald's, you helped build the Pizza Hut brand in Austria, worked at Burger King, and brought the Coffeeshop Company to international maturity. After a first foray into self-employment, you moved to Starbucks. When Starbucks was still very small in this country, you looked after the markets in Europe, the Middle East, and Africa before setting up your own company in Dubai. What were your most important learnings in all these positions?
Odwarka: My time at Pizza Hut was one of the most important experiences for my learning curve. Not everything went smoothly there at first. But I learned and understood the basics of the restaurant business, from cutting pizzas, serving, handling guest complaints, and dealing with partners and employees. The focus was primarily on team play, which is essential for the restaurant business. Another vital learning was at the Coffeeshop Company. Here, I learned a lot about franchising and how important standardization is. At that time, as a relatively young company, we did not consistently follow through with the franchise concept but instead created hybrid solutions for partners. That caused us a lot of problems because the partners had different contracts. My time at Starbucks then showed me that I wanted to live and work internationally.
ACROSS: You have a deep background in system gastronomy.
Odwarka: Yes, however, the word system gastronomy is overused, in my opinion. In essence, we are talking about quick-service restaurants when we say system gastronomy. Every restaurateur uses elements of system gastronomy and chooses those that make sense to him. This is not always visible or tangible to the outside world. However, many individual guest concepts are systemic in the background. My personal and professional experience lies in fast-casual, quick service and the startup environment.
ACROSS: These gastronomy concepts precisely characterize what shopping centers offer. In your opinion, what function has gastronomy taken on in centers?
Odwarka: Gastronomy in the retail real estate sector has developed from a straightforward supply option to a real destination business. This has a lot to do with entertainment. The 1980s saw the emergence of food court concepts, which were non-plus-ultra for a long time in their original form. These have changed completely. Service and offerings have become much more important. Food courts pay much more attention to the shopping center's goal of increasing the length of stay.
ACROSS: Is gastronomy now a reason why customers enter a center in the first place?
Odwarka: Absolutely, there are some center examples for which gastronomy is the core. This is more pronounced in Dubai, Bangkok, Thailand, or the USA than in Europe. Here, people go to the malls to eat because they love the place and, if they are already there, they do the shopping at the same time. So, the motivation to go to the malls is the reverse. Those shopping centers or outlets that have thought hard about who their customers are and have created food and beverage offerings accordingly measurably increase destination traffic.
ACROSS: So, the trend is for retail properties to become community meeting places, with food and beverage offerings at their cores?
Odwarka: That's one way of putting it. In Europe, we have a lot of catching up to do. We overvalue design and investment. At the same time, we undervalue atmosphere and interaction. We talk a lot about service. But service is more than just getting goods from A to B. It's about hospitality. Behind service is hospitality, and in business and private, that means being generous, doing something for the guests, and not strictly following a procedure. It's about responding to the other person's needs so that they feel comfortable. In my experience, this kind of generosity is still rather rare. The industry builds fantastically designed buildings, but there is no interaction happening in these buildings. A straightforward example: A host who has understood his role, for example, offers a drink to the people waiting for a table in front of his restaurant. The effort is minimal for him, but the feeling he conveys is worth a lot.
ACROSS: However, this requires more and good personnel. This is currently in short supply in Europe, and there is more discussion about the increased use of robots in the catering industry.
Odwarka: The current lack of employees has much to do with the fact that even before Covid, the catering industry often paid them poorly, invested little in further education and training, and set poor working hours. It is therefore not surprising that they did not return after Covid. Still, some concepts work. These are concepts that do a lot to retain their employees. One example in Europe is the Asian concept of Ishin Sushi, which puts a lot of thought into what the needs of the younger generation are that they want to attract as employees. When it comes to gastronomy, employees are and always have been a challenge because they must bring personality and qualifications. There is a lot to the statement that you have to be born for gastronomy. For clear concepts like McDonald's, it doesn't matter as much, but an open and friendly personality is essential with other concepts that rely on interaction. An employee who laughs in an interview is more important than one who can carry five plates. He will learn to do the latter. Every employer must think hard about how to attract today's generation. You must do more than simply offer better pay.
ACROSS: In your view, what are other examples of concepts that already do this?
Odwarka: Among the large chains, Starbucks does this very well in many parts of the world. In Europe, the L'Osteria chain is very concerned about its employees. The company has an excellent reputation as an employer, something a comparable concept like Vapiano has never managed to do.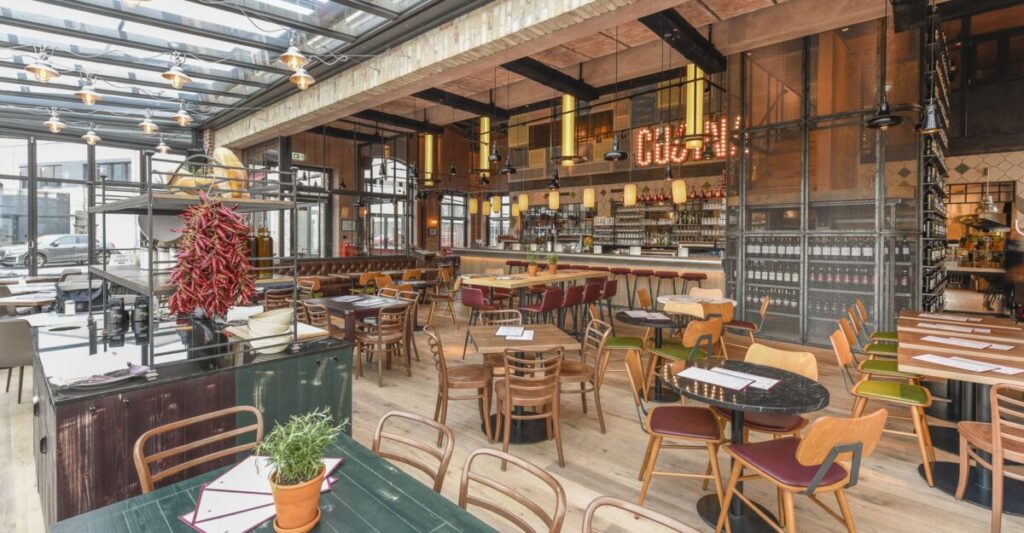 ACROSS: Why has system gastronomy cut back so much on employee development in the first place?
Odwarka: This is a problem of the entire retail real estate industry. As I said, a lot has been invested in the look and feel but not that much in those who are supposed to convey that feel. The person sitting at the information desk in a shopping center is the most insignificant in the overall structure, often a temporary employee. For the customer, however, this person is the first point of contact, mediator, and host or hostess. This is true throughout the industry but is most noticeable in the restaurant industry. Not only did it save money, but it also worked for a long time to keep the training periods short or to offer advanced training solely based on videos. There was always a supply of employees in the labor market. When the first problems emerged and no more employees were found in Germany, the companies looked for foreign employees. Turning around now after the Covid experience and the consequences for the labor market is as difficult as it is necessary. That's when it helps to ask why I keep going to a particular restaurant. Certainly not because of robots, which are quickly deployed in these situations – that appeals to you just once. But because of the friendliness of the people and the excellent food.
ACROSS: Can robotics be a solution?
Odwarka: A robot's purpose is not to take something away or replace it; it is there to make something easier so that people can focus on the core of their task. Robots cannot be integrated into an existing process. If you want to use robots, you have to think about the current process and adapt it to the robot. Otherwise, the robot will get in the way. Robotics can be a boon in shopping centers if managers can rewrite the time schedules. Otherwise, a robot remains a mere gadget.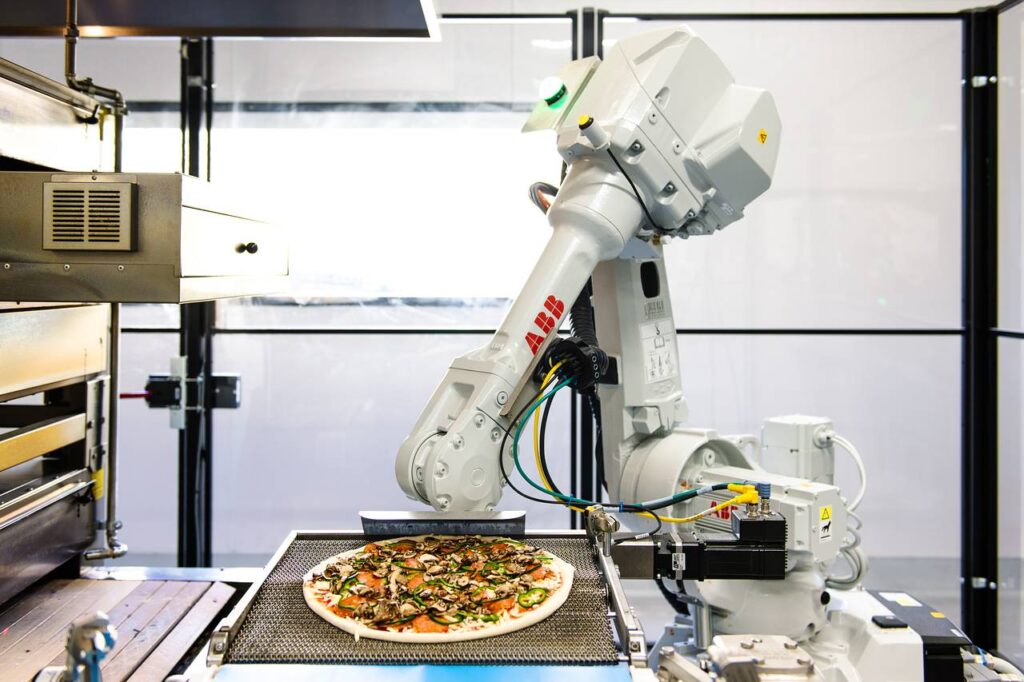 ACROSS: Shopping center gastronomy is dominated by big international players. Corona was a big push for everything regional and local in the restaurant business. How can the two go together?
Odwarka: I am convinced that the individual location still needs to be addressed more. Regionality is a good example: the trend is recognized, and some local business is integrated. But the effect on the consumer and the quality of his stay is nil. Gastronomy must be individually tailored to the location. For example, it doesn't work for an operator to say that 15 percent must be gastronomy, eight percent must be international, and the rest must be supplemented with regional concepts. Especially with locality, you have to take a close look at the customers and create holistic concepts.
ACROSS: This means that many consultants in this field are not doing their jobs.
Odwarka: Unfortunately, that's true. In this industry, you have to deal with many prominent international players. When the CEO of such a company flies in for a meeting and presents his ideas and views, which are wrong or outdated, it takes guts to tell him that and put the plans up for discussion. But this is precisely the task of a decent consultant. A lot of money is spent on restructuring. I wonder why they don't dare to set up something new with an innovative operator who fits into the region. Of course, every mall needs big anchor tenants like McDonald's, whose concepts will still be relevant in ten years. But I would like to see more creativity in the rest. It may help to remember the origins of the foodhall. The idea of the foodhall was simple. I look for innovative and super concepts, which may have little money, and offer them the opportunity to open anyway. But these concepts don't have 10-year leases; it's up to the lessee to decide whether to continue after a year. Foodhalls have always been a lot of trial and error.
---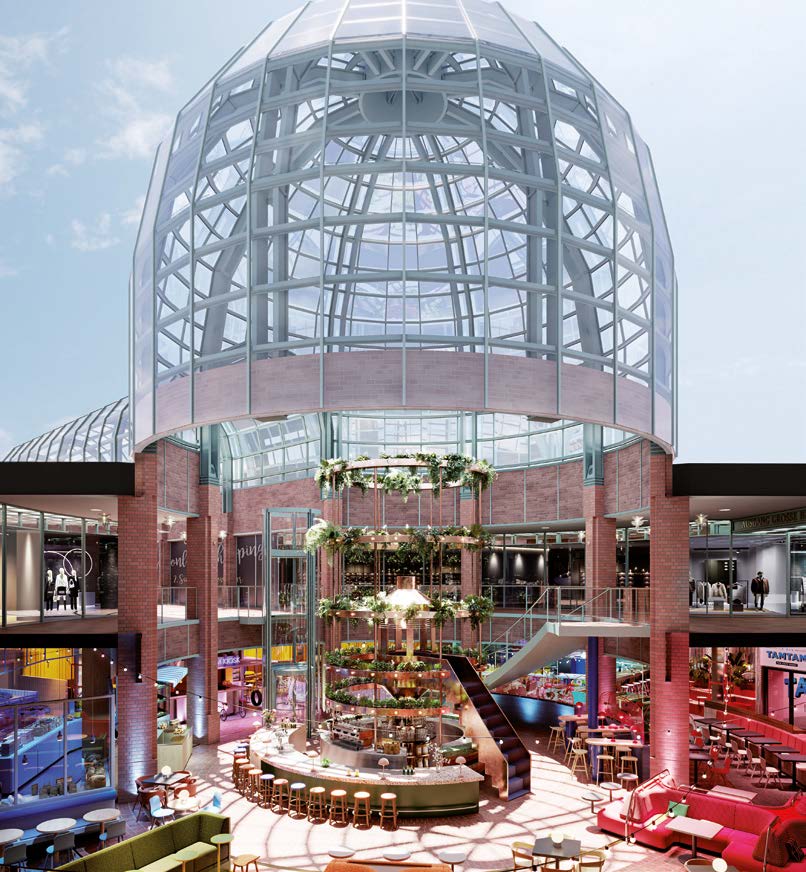 Integrate local players
Under the name Le big TamTam, a creative food market is currently being built at the Shopping Center Hanseviertel in Hamburg with an event stage covering an area of 2,000 sq m. The gastro area is located in the basement, sealed for about 15 years before the renovation began. The concept was developed by CBRE Investment Management together with tellerrand consulting. The central meeting point will be the bar at Le big TamTam, which will be operated jointly by all the restaurateurs. Most important for the concept: The restaurant offering is local. Tim Mayer, Head of Asset Management Retail Germany and Austria at CBRE Investment Management, stated: "This alliance of young, well-known and conceptually strong Hamburg scene restaurateurs is a cooperation of this kind that has never been seen before and will undoubtedly become the new heart of Hamburg's city center. The radiance of the concept shines far beyond the borders of Hansestadt. "
---
ACROSS: Are products like the Time Out Market a model for the future? The model originated in Portugal in 2014 as a classic indoor market offering regional gastronomy. According to the operating company, it receives massive amounts of international requests from the shopping center sector.
Odwarka: Time Out Markets is a great product, although there are now many similar concepts worldwide. However, it only fits in some places and is not a sure-fire success. The location and its operator are crucial to whether the concept can be successfully integrated. A business model like Time Out Market requires a partner willing to spend much money. A management fee has to be paid, the development itself has to be done, Time Out Market reserves the right to bars, and only 75 percent of the rental income goes back to the operator. Operator quality is the focus, and for that to happen, an environment must be created for the operator to play its role. However, this requires the foresight of an investor to properly evaluate innovative and local concepts to create new impulses for customers.
ACROSS: So, it always comes back to the essentials of individuality and hospitality.
Odwarka: Gastronomy is part of hospitality, and we have to look at it as such. Hospitality needs to be looked at in the same unified way as the design of a shopping center. As customers move through the center, why aren't there more touchpoints with hospitality that aren't just gastronomy? Keywords like cozy and inviting are not just hospitality themes; they need to be part of the center's DNA.
ACROSS: Let's return to robotics and artificial intelligence: Where does it make sense to apply AI in the hospitality industry?
Odwarka: At its core, AI is about making better decisions or optimizing processes based on data. In the hospitality industry, these topics are purchasing, marketing, or sales forecasts. What can be presented within minutes in these areas is incredible, and the potential is far from exhausted. Primarily, topics like sales forecasts can even become safer. The past has shown that people make mistakes here due to the large amount of data. These mistakes can potentially become very expensive. If a business has to deal with data, it can use AI to make the entire business planning much more efficient so that the employees can plan and implement better in the time gained.
ACROSS: What applications already exist?
Odwarka: There is an inflationary development of applications in the hospitality sector, from point-of-sale systems to marketing and training tools to merchandise procurement systems. The issue is that AI can be a biased system. Results depend massively on what data is provided to the AI. You need to think about where the data comes from and how layered it needs to be when preparing to use it to work efficiently with the results. For example, if you leave weather data out of the sales forecast, you will get a poor outcome. Weather data is essential but only meaningful if it is local data. The decisive factor is who accesses the system. Who feeds it with what data? It will take a few more stages of development before we can actually use AI to access what we need quickly and efficiently.
ACROSS: Final question: In your opinion, which concepts stand out in the shopping center sector?
Odwarka: Well-designed food halls are still the best concept for shopping centers in urban areas. Regarding gastronomic concepts, I see a need to catch up with Asian concepts in Europe. At the same time, there is too much burger and pizza. That doesn't mean they are bad concepts; there are just too many of them. Wagamana, on the other hand, is an established Asian concept that still attracts people and thus changes the environment. Asian is not just the classic Chinese buffet. Asian cuisine hits the zeitgeist by using fresh ingredients and lots of vegetables. In addition, food-to-share is a big theme in Asian cuisine, furthering the consumers' need to come together. Another area with growth potential – and here Austria and Germany may be an exception – is bakery concepts. Up-and-coming concepts tend to be small and have only a few products, but they are very inviting and cozy. These intimate places in large centers are very popular. There are enough cafés. But there are still too few places focusing on freshness, and customers feel that these goods have just been prepared for them.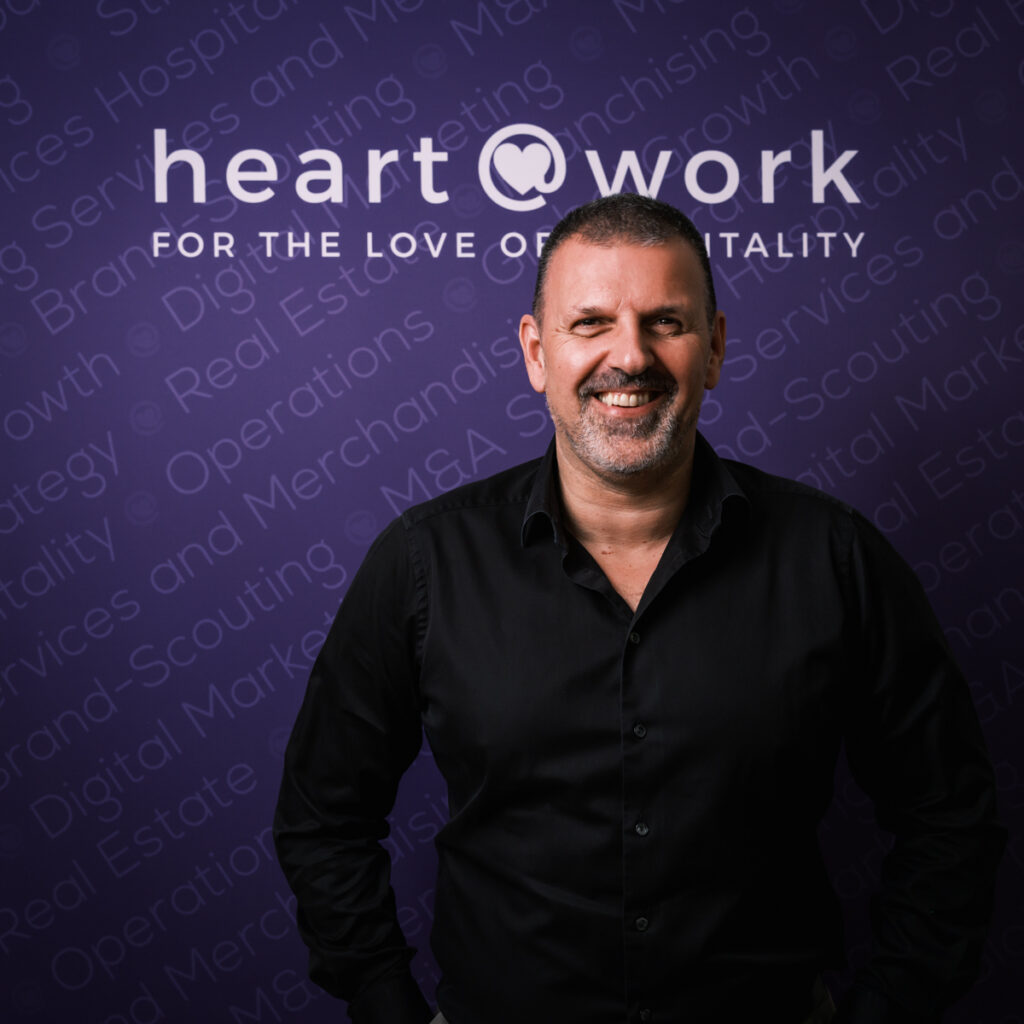 Will Odwarka
Will Odwarka is the Founder and CEO of Dubai-based firm Heartatwork Hospitality Consulting since 2019. He was born and raised in Vienna, Austria. He has 30+ years of experience leading international strategic growth and development, Franchise and partner management, and F&B operations. He successfully opened over 1000+ outlets in over 40 countries for renowned global players such as McDonald's, Starbucks, Burger King, Costa, and Wendy's and smaller players like Creamscafe and Coffeeshopcompany. He strongly focuses on international market entry for F&B players, brand and investor scouting, and AI in hospitality in the Middle East and Europe. Will Odwarka is a guest lecturer at the Academy of Hospitality in Dubai and trainer at the Gregory Vogt School for retail professionals in Dubai. Furthermore, he is a Co-Owner/Operator of Mozart-Hospitality Management, overseeing the operation and development of new food concepts.