ACROSS: Decathlon is celebrating a milestone birthday next year, since the company was founded in France in 1976. What stages of development has it passed through since then?
LUDGER NIEMANN: Decathlon launched its expansion abroad in 1986 and opened its first store in Germany that year in Indupark in Dortmund-Kley. In the same year, the company produced its first sporting goods under its in-house label Decathlon. After a successful further expansion into Spain and Italy, Decathlon launched the first two of its own brands, the so-called Passion Brands Tribord, the water sports brand, and Quechua, the mountain sports brand, in 1996. The development of new international expansion sites has since continued ceaselessly: England, the Netherlands, Portugal (2000), Poland, Brazil (2001), China (2003), and Russia (2006). There are now Decathlon stores in 22 countries. The number of Passion Brands has also since increased to 20 and now serve over 70 sports, including Kipsta (1998) for team sports; Kalenji (2006) for running; and Domyos for fitness, yoga, martial arts, dance, etc. We opened an online shop in Germany in 2009 and since 2013, the company has received several prestigious awards for its excellent service, including "Best Sports Business 2013" from the German Institute for Service Quality.
ACROSS: How many products does Decathlon have in its range and who are your customers?
NIEMANN: We sell around 35,000 different products for more than 70 sports. Our main focus is on sports equipment and clothing from our own labels, the aforementioned Passion Brands, which represent more than 80% of our sales range. The products are designed so that everyone, from beginners to experts and professionals, can find what they need for their sport – and at an unbeatable price-performance ratio. The main theme for Decathlon is to help all people to experience the joy of sports. Everyone, irrespective of financial background, can find the necessary equipment for their chosen sport.
ACROSS: How has the market for your sports equipment and clothing changed in the 39 years since the founding?
NIEMANN: You could write many pages on that topic. So as not to exceed the scope, I'll note just a few considerations: Customers have become more demanding. They are now able to access comprehensive information on the internet and they do so, especially when purchasing investment products. For developers and distributors of sports equipment, this means that transparency must be created over the whole value chain. That way customers can find not only the right quality and price-performance ratios, but can also look up social standards in the production and engage in research on sustainability. Decathlon sees customers as a driving factor for the development of sport products in the future. An "omni-channel dialogue" already provides for direct feedback from users to developers. This trend will intensify in the future.
ACROSS: An unfortunately inevitable question: How much did the economic crisis affect your business?
NIEMANN: As mentioned, our philosophy is to make sport available to as many people as possible. We therefore always offer the best price-performance ratio in the market. A wonderful result of this strategy is that customers in doubt reach for our products rather than for higher-priced ones when cash is scarce. We are ultimately well positioned to weather economic crises like those found in some parts of Europe at this moment. In Germany, where things are rather good for most people at the moment, we're sensing a growing momentum in the sports market. German customers are very technically oriented and price-conscious. We know that customers appreciate our consistent "every day low price" strategy, since they do not have to wait for "one shots" from discounters.
ACROSS: Decathlon currently has 884 stores in 22 countries. Are there any other countries in which you plan to enter the market and are you retreating from any?
NIEMANN: Our expansion is focused on the classic BRIC countries and Germany and Turkey at the moment. We are examining other countries as well, however. Many factors determine whether we open up new markets. In principle, we are open to any country. We are not planning any retreats at the moment.
ACROSS: How significant are shopping malls in Decathlon's expansion and general location strategy?
NIEMANN: The Decathlon concept works better in well connected power centers than in shopping centers. There we can offer our customers the optimal mix of test areas, including outside, generous corridors, and easy access. The high customer flows in good shopping centers provide an opportunity quickly to enter a market in which we were previously unknown, however. If the conditions are right, then, a shopping center may sometimes be an alternative for us.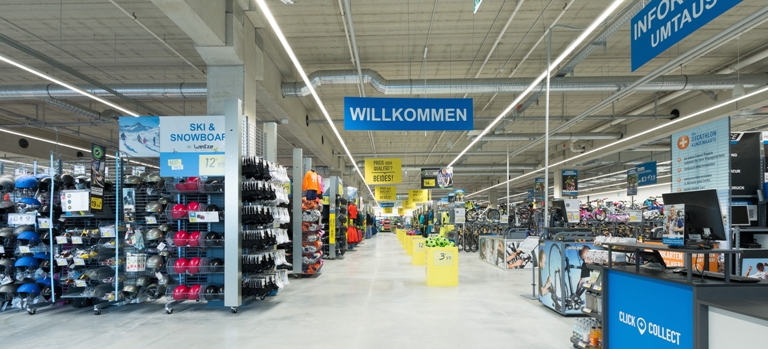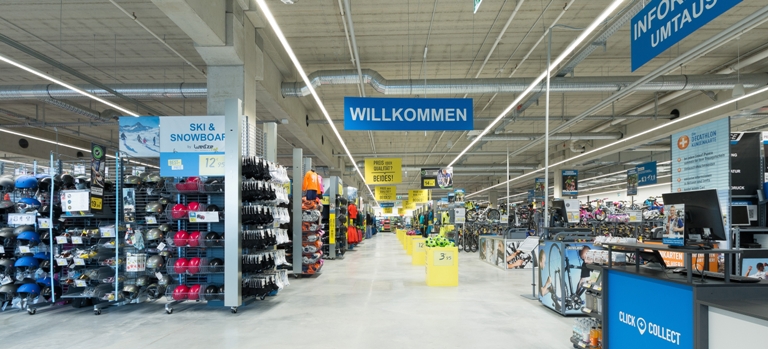 ACROSS: What requirements must a European shopping center fulfill in order to be interesting for you as a site for a store? Conversely, what are your exclusion criteria?
NIEMANN: The shopping center has to have a certain minimum size in terms of agglomeration or compared to other shopping malls and be well connected to the region. As we focus on selling technical sporting goods that are often quite bulky, direct access to parking is also very important. Because our stores are relatively large, a clear layout is important for our customers and a layout that is too labyrinthine is rather problematic for the uncomplicated shopping our customers favor. Customers should be given the opportunity to orient themselves quickly and easily. It would be inappropriate to formulate individual exclusion criteria. The feasibility is ultimately decided by the sum of the compromises that we would have to make in comparison to an ideally situated, stand-alone location with a sports park near the front door and a rectangular store layout.
ACROSS: Do you adapt your range in Europe to the individual needs of the local population?
NIEMANN: Yes. Sales managers on site determine priorities individually. We do always try to provide the basic equipment for all sports, however. This means customers will find their products for more than 70 sports, but a store by the sea will tend to have more options for fishing and water sports than one in the Alps. We are a chain store, but we follow a strategy of being a local dealer on site. We always listen very carefully to our customers and the local team has the ability to adapt the product range locally.
ACROSS: What is Decathlon's multichannel strategy?
NIEMANN: Multichannel is no longer the correct term. "Multi" came from the idea that there are online customers and bricks-and-mortar customers. We pursue an omni-channel strategy. There is only one type of customer, and that type shops both in-store and online: whether via smartphone, tablet at home, or on the road – or even while doing sports, if she has just seen a "cool" new shoe, for example. We have to offer that possibility. The feedback we get directly from our customers also helps to decide on a product. We will continue to develop stationary stores and eCommerce in parallel. We still see a lot of potential, especially in the bricks-and-mortar business. This is because we've realized that customers who have the choice prefer coming to our stores because they can not only try products and, if they want, take them home right away, but also get advice, which can be very important, especially for technical products. Our big advantage is the exclusivity of our products. About 80% of what we distribute is from our own labels, which customers can only get from us. We are therefore one of the few distributors still able to draw revenues from the internet back into retail outlets. Our stores, and with them of course their associated jobs, are therefore safe, even in times in which a lot of sales are "migrating" to the internet.