The shopping arcade is having tiles laid, seating areas installed, and kiosks assembled, and in coming weeks, the communal areas will be signed off and cleaned. "Our tenants are also completing their unit fit-outs and preparing usage approvals," says Katarína Paule, Eurovea's leasing manager. Yet the site will open step-by-step. "Some current tenants have been relocated or extended their existing premises, so the first brands will start opening earlier in the current shopping arcade. Most stores, including the Irish clothing chain Primark, will open in May, and then more will follow. So our customers can look forward to something new every month," adds Katarína.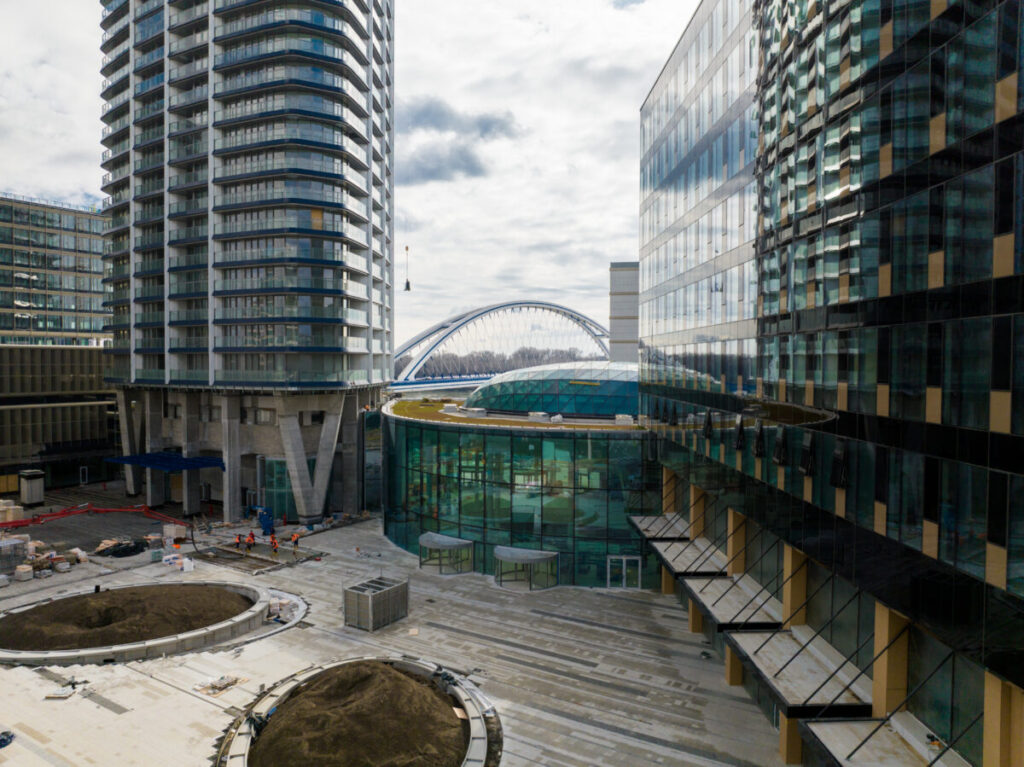 Eurovea's extension began in 2019. "Since then, the construction process has run into multiple unforeseeable issues, such as the Covid-19 pandemic, which held up international supplies, caused labor shortages, and impacted our work schedule. So we are delighted to have postponed the opening by only a month – that's a big success for such a huge project," explains JTRE project manager Luboš Kaštan.
Sustainability approach
The shopping center's locality is being completed by around 500 construction workers every day. Pribinová Street is being transformed into a contemporary city boulevard with a welcoming square at the shopping center's entrance. This will include three 'green island' relaxation zones with seating areas and water features, including an attractive fountain – so that the riverside of Eurovea can continue to accentuate its alluring association with the gentle sound and hypnotising flow of water. The Danube's current is also symbolized by the iconic glass roof that connects the Pribinova 34 admin building and the Riverside residences overlooking the Danube promenade. The striking feature that seamlessly connects the original and new parts of the shopping arcade is also visible in the new Pribinova boulevard and underground garage access points that embrace the exterior with the shopping arcade.
The shopping center's green roof covers 3,942 sq m – almost the size of a football pitch – and the vegetated roof includes grasses and rock plants, six varieties of stonecrop, 20 varieties of herbs, and ornamental grasses. The popular promenade is also nearing completion: "It will be ready for the skyscraper's opening. Towards the end of the summer it will be complemented by the new Octahedral Body visual work by Viktor Freš, which was chosen by an expert jury from 25 proposals by Czech and Slovak artists," adds Luboš.
Largest Shopping center in Slovakia
Eurovea will soon become the largest and most diverse shopping center in Slovakia, with 320 shops, restaurants, bars, and cafes covering 85,000 sq m. One of the key tenants is Irish fashion chain Primark, opening its first outlet in the country over two floors. The gastronomic destination will be the largest in Slovakia, with an eating area doubled in size to 1,156 seats, a stylish Food Hall, and 16 restaurants along the Danube promenade. After reconstruction, Cinema City will increase to 17 screens and introduce a completely new VIP concept.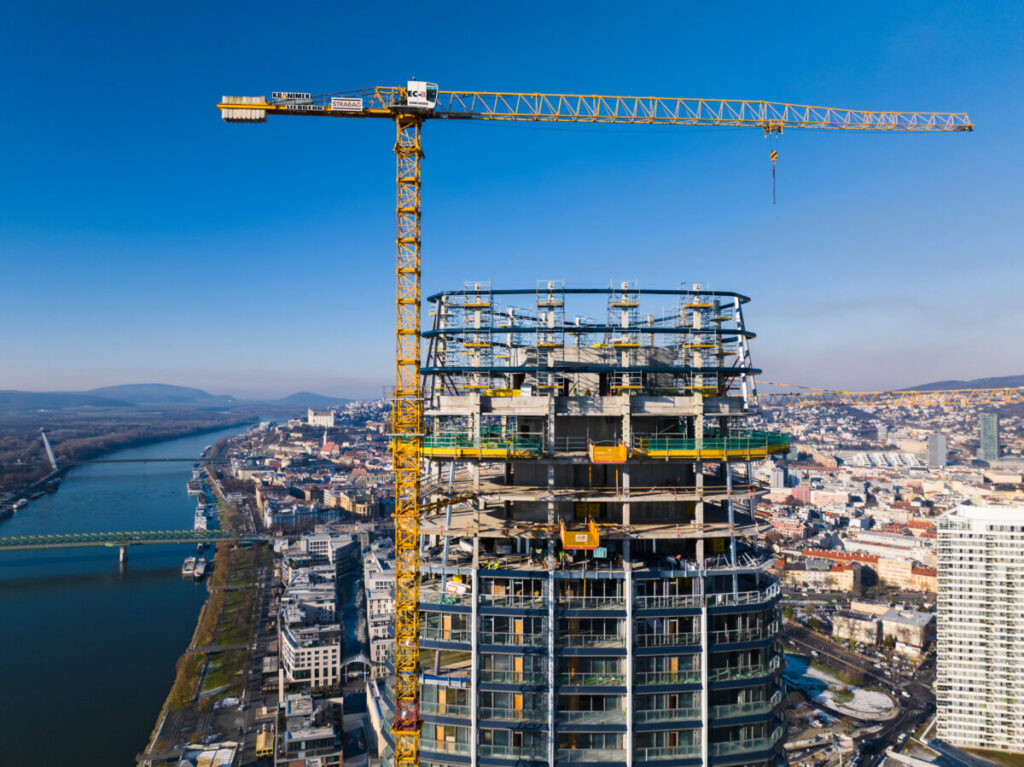 The shopping center has dry-foot connection to EUROVEA TOWER, the first Slovak skyscraper, PRIBINOVA 34 office building (with BREEAM Excellent green certificate), and the Danube-facing RIVERSIDE residences. In addition, Eurovea2 includes the modern PRIBINOVA 40 office building (with a BREEAM Outstanding sustainability certificate) near Apollo Bridge, with a two-story underground garage for 4,000 cars. The project also features an extended waterfront promenade, Pribinova boulevard (with preparation for a tram link), and public spaces, playgrounds, and sports areas that will enhance Bratislava's newly emerging Eurovea City downtown area. Pribinova boulevard and the attractive public spaces were conceptually designed by Beth Galí, an internationally renowned architect and urban planner.