Figures announced in the Ken Gunn European Outlet Industry Review (EOIR) calculate turnover for the sector at €21bn — some 13% higher than 2019 (the last comparable pre-Covid point).
Gunn's 2023 EOIR is the only sector report that reviews the locations of every outlet brand in Europe, combining these with site performance to create vitality rankings for both outlet centers and occupiers.
Nearly 600 additional brands have appeared on the outlet scene since July 2022.
Gunn has closely examined outlet centers and retail operations in 35 countries. The EOIR identifies 212 major outlet centers across Europe with a gross lettable area of 4.07 million sq m. Outlet centers are placed into 5 performance tiers, based on their brand mix and ranked according to their critical mass.
---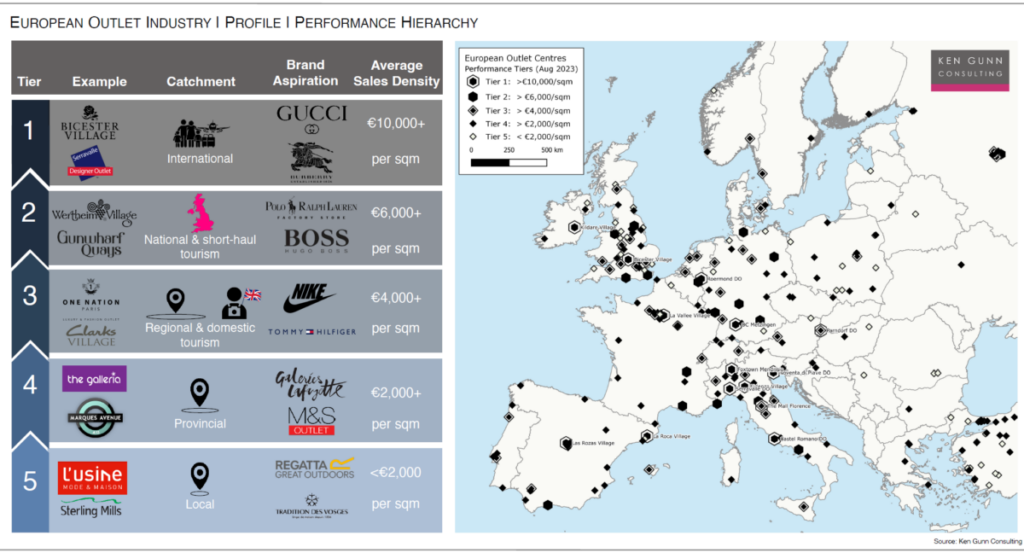 ---
"Outlet centres remain the stellar performers within retail property sector," says Gunn, who has studied the sector for 30 years. "Brand growth in outlet sectors in the year to summer 2023 has seen a significant leap with 596 new brands and brand operators having entered outlet centres – taking the sector total to 4,446 brands. This is the clearest sign yet that the outlet sector is not just robust but in rude health. And it's not just retail brands – Food & Beverage brands have increased by 9.5% and the number of F&B establishments by 11.3%."
In Gunn's 2023 EOIR analysis Levi's remains the leading outlet brand by presence with around 135 outlet stores. Guess is in second place with 129 outlet stores and Adidas in third place with 131 stores but in slightly weaker locations than Guess. Nike has dropped from 3rd to 4th place following closure of some six outlet stores in Moscow, while Sketchers has added 11 new outlet stores, taking it to 97 European locations and rising 2 places. Furthermore, Jack & Jones, Puma and Marc O'Polo have been Europe's most active retail brands in terms of portfolio growth, while Hugo by Hugo Boss has doubled its count of outlet stores.
---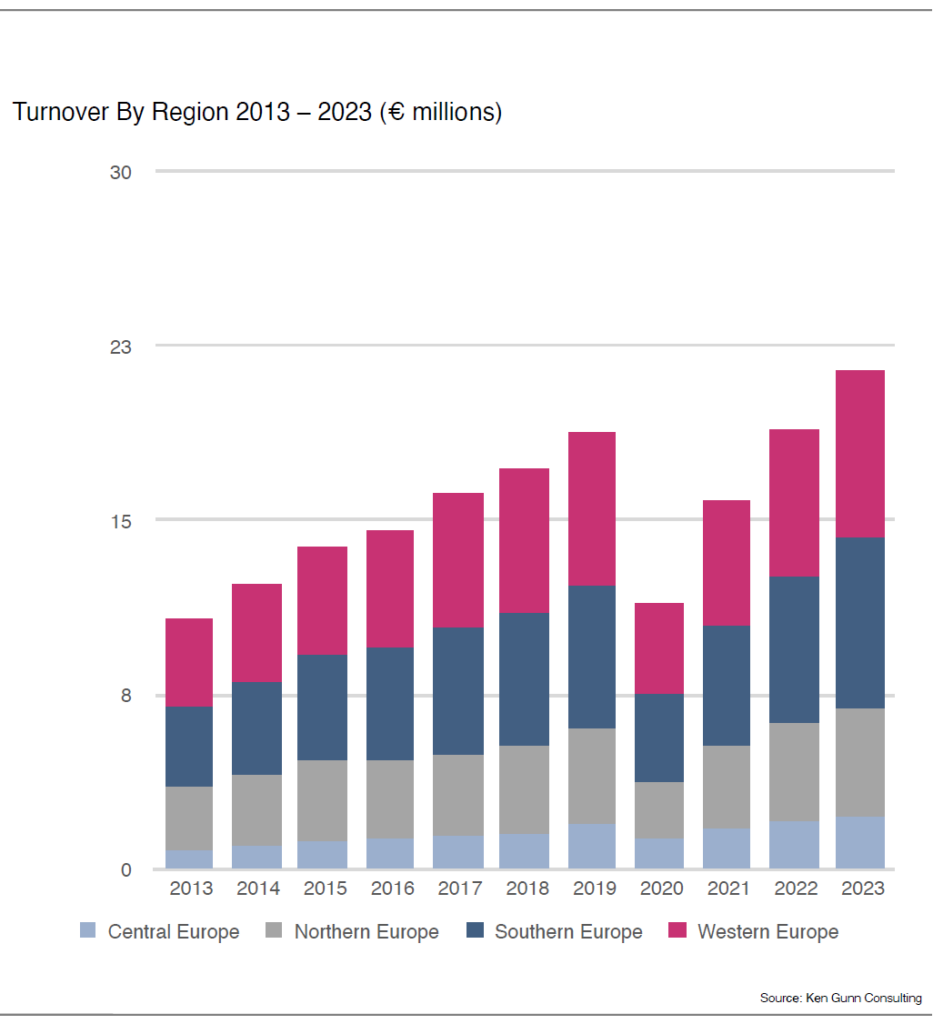 European outlet turnover has doubled from €10.7bn in 2013 to €21.4bn in 2023. This is nominal compound growth of 7.1% pa which, after stripping out inflation, is 53% greater than the rate of non-food retail sales growth (which includes online sales) in the European Union.
Southern Europe (€7.3bn) and Western Europe (€7.2bn) account for 68% of turnover in 2023, while Northern Europe (€4.6bn) represents 5.5%.
Europe wide sales growth in 2023 is expected to be 13.2% and led by Southern Europe (14.4%) and Western Europe (13.7%). These regions are being driven by new development, improvements in brand mix and a recovery in domestic expenditure.
Central Europe (excluding Russia) plus the Balkans, accounts for 28% of the population but just 18% of existing outlet floorspace provision, suggesting a significant opportunity for future growth.
---
After surpassing 2019´s turnover last year, an increase in sales of 13% in 2023 suggests that the industry's response to the pandemic has steepened the growth curve.
When it comes to Food & Beverage, Bollicine & Co has expanded its upscale champagne bar operation in the luxury outlet tier across Europe. Starbucks remains the leading F&B brand in outlets across Europe with 53 locations. But there remains substantial opportunities to better align F&B propositions to suit the highly refined luxury and designer brand experiences across Europe.
Gunn also sees potential for some sector consolidation: "There are only 27 operators in Europe who manage more than one outlet centre," he says. "While some of those own a cluster of outlet holdings, many assets are under-managed by 'one-trick ponies', with narrow skill sets and limited negotiating power. It's logical to think that investors will attempt to consolidate individually-owned centres and smaller porfolios into larger, strategically managed, value added portfolios in the next few years."
Top tier sites are highly prized by investors such as La Salle IM, DWS, Nuveen, Aviva and Hammerson, command substantial values and rarely come to market. So the best opportunities are either through indirect investments in leading sites, acquisition of sites lower down the hierarchy or development of new locations.
Given the operational nature of outlet assets, picking those investments with the greatest prospects for success is a challenge for inexperienced investors. Gunn advises, "New entrants should first seek out those advisers and operators who combine the depth of knowledge necessary to pinpoint winning opportunities, with the entrepreneurial expertise needed to unlock the substantial increases in value, which the outlet sector undoubtably offers."
Despite high interest rates forcing a pause in the development pipeline, Gunn sees scope for floorspace to rise to 5 million sq m in the future. "Parts of Northern and Western Europe lack appropriate upper tier sites; and outlet shopping has still to reach growing economies such as Slovenia or Albania, while Germany and the Nordic region are well below European provision benchmarks," Gunn notes.