Eurofund Group, the international real estate investment and development company behind numerous European projects, is delighted to welcome 2023 whilst celebrating and reflecting on a successful 2022. This year's key milestones have included completing the acquisition of Silverburn, Glasgow, the agreement between ELCP (Eurofund Logistics Capital Partners) and Costco Wholesale to develop its first European fulfillment center in Spain, entering the Italian market with the agreement to acquire and transform Parma Retail, and the addition of new industry-leading experts across the team.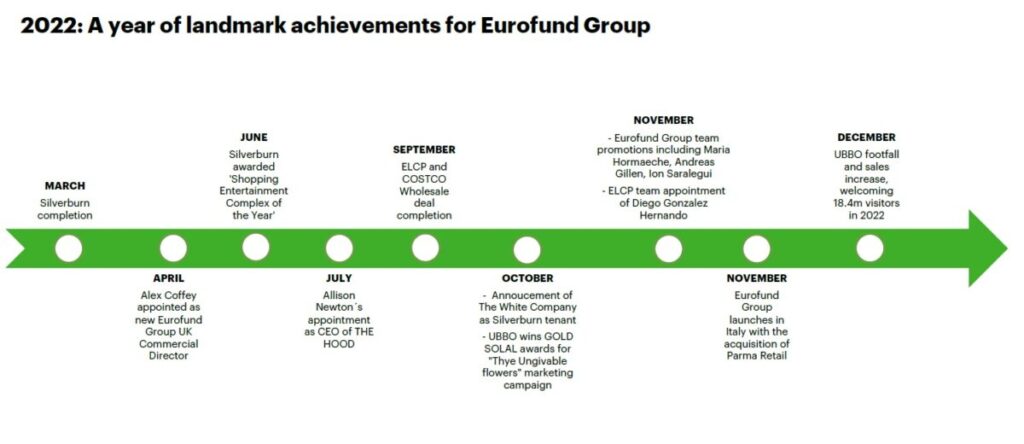 Entry to the Italian market
In November, Eurofund Group formally announced its entry into the Italian market with an agreement to acquire Parma Retail, located in Parma, Northern Italy. The retail destination has a GLA of ca. 40,000 sq m and will be transformed into Italy's first open-air, fully integrated retail and leisure promenade.
Eurofund Group intends to invest 25 million euros to transform and reposition Parma Retail into "Parma Promenade" thus ensuring the long-term operational success of the center, with works to commence by the end of 2023.
A landmark year for UBBO
Eurofund Group also saw strong performance in UBBO, Lisbon, and ended the year on a high with the Shopping Resort's annual footfall up more than 20% compared to 2019—welcoming 18.4 million visitors during 2022—a record in the center's history. Sales performance has also shown a 22% increase in previous years at UBBO. During 2021, UBBO also welcomed several brands to open their first stores in Portugal, including Motocard, Normal, and Pepco.
UBBO has also further cemented its role as a community hub, hosting events such as Portugal's largest ball pit and a highly popular Christmas ice rink. In addition to a diversified retail mix and strong performance, the team at UBBO also won the GOLD category at ECSP European SOLAL Marketing Awards 2022 for the campaign "The Ungivable Flowers" for International Women's Day. Finally, UBBO has been chosen as the number 1 consumer's choice center in Lisbon for the 4th consecutive year.
Silverburn Glasgow, Scotland
Earlier in the year—in March—Eurofund Group and Henderson Park's joint venture completed the purchase of Silverburn Shopping Center in Glasgow. The deal to acquire the 100,000 sq m flagship center was an off-market transaction from Hammerson plc and Canada Pension Plan Investment Board for 159 million euros. Eurofund Group is the operating partner in the JV and has also co-invested alongside Henderson Park.
Tribu: Eurofund Group's first smart, co-living space
2022 also saw Eurofund Group expand into new business areas, as the new Tribu co-living project welcomed its first housemates. Located in Kingston, London, Tribu provides boutique apartment living for students and young professionals that expect more from where they live. The Tribu Kingston flagship Provides housemates with a carefully curated experience in 63 elegant and modern studio apartments under the co-living model, with a communal lounge, dining room and kitchen, rooftop, coworking space, cinema, and a café.
Team Appointments and promotions
Throughout this year of growth, Eurofund Group has also bolstered its team with new appointments and internal promotions. In April, Alex Coffey joined Eurofund Group's leadership team as the new Commercial Director for the UK. Over in Portugal, Allison Newton was appointed CEO of THE HOOD—the culture-oriented anti-mall retail concept.
In the final quarter of 2022, Eurofund Group further strengthened its corporate structure with the promotion of internal talent to lead Iberia Retail and investment analysis across the group. Andreas Gillen became CEO of Retail Iberia and María Hormaeche, was appointed the new Group Investments and Analysis director. Ion Saralegui, Eurofund Group's CEO, is now focused on directing the Eurofund Group's operations across markets and in their four divisions: Retail, Living, Logistics, and The Hood.
Meanwhile, the ELCP team has also grown, with the appointment of Diego González Hernando, as Director of Land Acquisition for Spain and Portugal.