In line with the BREEAM certification, special attention was paid to ensuring easy accessibility, minimizing light pollution as well as direct environmental impact, incorporating durable materials, and promoting waste reduction and reuse. In accordance with the rating, the tenants also focused on sustainability during the realization of the stores. Nearly 4,000 sq m of green space, ornamental grasses, shrubs, and trees await visitors at the environment-friendly shopping and entertainment center.
State-of-the-art equipment is also available to ensure the safety and health of visitors. In line with Futureal's Stay Safe initiative, the interior areas are almost completely touch-free wherever possible. The HVAC systems of the building include UV sterilizing filters. The systems provide nearly 100% efficiency in killing viruses and bacteria in seconds, without the use of chemical disinfectants. Disinfection points are available in the busiest areas and in the restrooms. The escalators are also fitted with a built-in handrail sanitizer system to maximize safety. The sinks can also be used without touching them.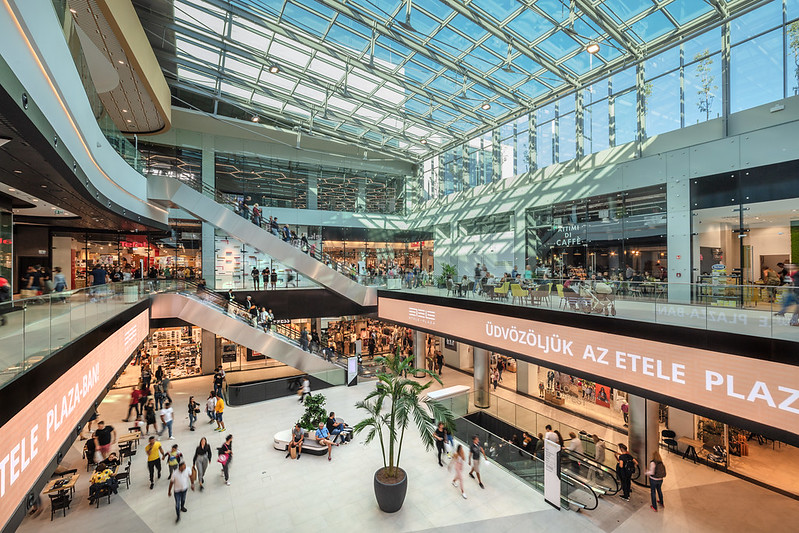 "The environmentally conscious and people-centered operation had a major role in the development of the new generation Etele Plaza. The building's state-of-the-art technical solutions have brought a new era of shopping centers to Hungary," emphasized Dóra Borsos-Vámosi, co-director of Etele Plaza.
Etele Plaza with a rentable area of 55,000 sq m is also Hungary's first smart plaza. The complex can provide a personalized shopping experience from the moment the customers leave their homes, through its proprietary mobile app and cloud-based services. The spacious food court directly connected to the green-roofed terraces features the latest shopping center design. In addition to the shops, there is a wide range of food outlets, restaurants, cafés, fitness facilities, a children's play area, and services. Moreover, the Etele Cinema takes the movie experience to a new level in the shopping and entertainment center.