What have you learned about yourself and your business during this economically turbulent year?
Jovana Cvetković: "By investing in human capital, business development and sustainable business strategy, a crisis cannot meet you unprepared.
Our mission is to implement solutions that will enrich our business model with innovative, holistic, and system approach, supported by MPC Properties' expertise in the development, construction, and management of modern shopping destinations and office assets while strengthening synergy with the tenants. UŠĆE Shopping Center, the first retail project within our company, has set high standards when it comes to modern shopping places and customer culture in Serbia. Over time, it became a key shopping destination, which is not only a synonym for shopping, but also for community gathering, positive energy, curiosity, and discovering new knowledge, in short – a place to be in Belgrade.
Moreover, MPC Properties is among the first companies on the local market that applied green building principles and certifications during the development, construction, and management of its assets. In addition to the LEED and BREEAM certificated assets, we are also the first company in Serbia to receive the "WELL Health-Safety" certificate for a portfolio of eight business and retail assets awarded by the International WELL Building Institute (IWBI), confirming that all the high health and safety standards are applied and with the sustainable approach the comfort and well-being of the occupants is improved.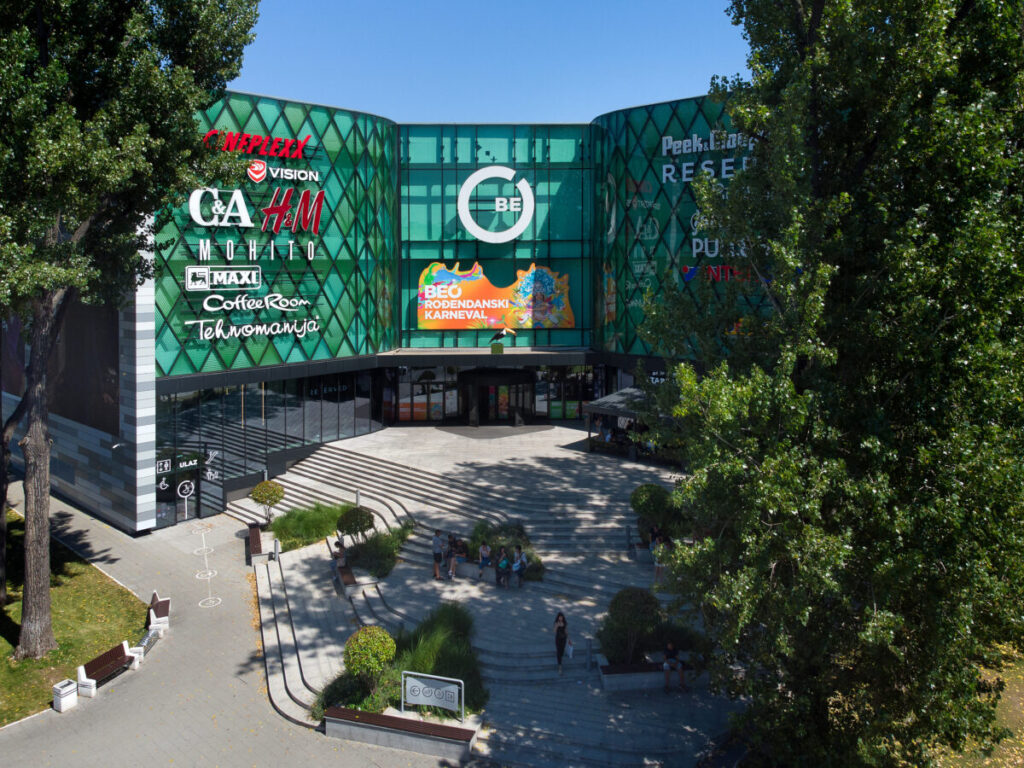 Our pioneer approach is reflected in anticipating risks and creating opportunities while integrating the best global trends and practices. We are in the process of implementing a social responsible initiative in accordance with ESG principles (Environmental, Social, Governance) both in the company's strategy and consequently in all assets within the portfolio, to gather wider community around green initiatives. We think strategically and long-term, and when it comes to the quality and sustainability of our business, we do not compromise. We are implementing a series of sustainable green projects, from the PV solar plants on the roofs of our retail assets, through alternative modes of transport promotion, recycling, and the introduction of composting, to the installation of green roofs and urban beekeeping with various partners, with the aim to contribute market education and promote the best ESG practice in Serbia.
To fully implement the ESG policy, in addition to environmental factors, we have also strengthened social and management factors. CSR projects, our management policy, and our 'human-centric' approach set our occupants in the central place of our business strategy. All activities we plan and organize are aimed to provide an authentic experience. We also organize, educational workshops, and marketing activities that promote inclusion, empower diversity, boost loyalty programs, and demonstrate care for the community. Our motto is "with and for the community". So, 2022 has been a dynamic, but extremely successful year for us."
How have you responded to the challenges of rising prices and labor shortages?
Jovana Cvetković: "The answer is simple – EDUCATION. We have organized a series of global and local education and training for our employees, to enable the integration of a new, different approach into daily business, acquiring new knowledge, and expanding their network and diverse business approach. Additionally, we have focused on new strategic partnerships with different organizations and start-ups to optimize our teams and bring new ideas to the market. We have launched an urban beekeeping project with the Belgrade Association of Beekeepers and the Mad Med Association. Also, we are participating in two UNDP public open calls, for subsidizing innovative sustainable solutions for Decarbonization and the Green Agenda in Serbia. During the process, we have also established cooperation with the Serbian Chamber of Commerce, which includes the procurement process and implementation of a compost machine, and organization of educational workshops for our tenants and the wider community, with the aim of promoting a scaled circular economy at the micro level of the building. Our intention is to connect our experts to boost the synergy amongst our occupants and jointly involve the business community we gather through our portfolio, to raise awareness of sustainability and climate action in the real estate sector. In this project, the focus is on solving important environmental issues such as recycling and adequate waste management, all with the aim of reducing carbon footprint, GHG emissions and promoting the circular economy through CSR activities.
We have participated in several panel discussions that highlighted the importance of the green transition for the local economy from various perspectives and promoted our good practice of integrating ESG strategy. We have established a sustainable partnership with consultant Energo Energy Efficiency Engineering and PwC Serbia, within which we organize a series of educational ESG events called "ESG Sessions" for our tenants in office assets with the aim of introducing the global initiatives that support climate action, enhancing the importance for companies to adopt the ESG strategy, presenting the best ESG practices across various industries, but also indicating the importance of the creation of an ESG report for evaluating non-financial performance, reducing risk on the long run, and empowering external positioning.
We are also developing the loyalty platform Tvoj Centar (Your Center) with partners from Denmark, which networks our four shopping centres UŠĆE SC, BEO SC, Mercator, and Delta City.
In 2023 we will continue with the good practice, a series of educational workshops that address both tenants in our business network and the wider community, with the placemaking strengthening and providing an authentic experience by creating "green commercial" destinations."