Christmas at Swedish shopping center Väla Centrum didn't begin in December. It began in March. At the top of marketing manager Ulrika Nordström's wish list was the transformation of the large spaces within the shopping center with stand-out lighting and decoration that would be consistent with the character of the brand.
"Here in Sweden, our Christmas traditions focus less on Christmas Eve, Santa and piles of presents and more on a festive time filled with holidays and celebrations that focus on food, friends and family. I knew early on in the year that I wanted to create an extraordinary experience, and that I wanted that experience to embrace Väla's brand, but I wasn't quite sure what that would look like. With that in mind, I knew that it made sense to get the team at MK Illumination team on board well in advance of the festive season," says Nordström.
To help Nordström realize her vision, the team at MK Illumination Sweden put together a large, multi-disciplinary team with designers, engineers, project managers and product developers. Thanks to close collaboration and an open, on-going dialogue with Nordström throughout the project, the team was able to put together a concept that was tailored to Väla's space, that used a mix of existing and new products and motifs, and that exceeded all expectations.
It took two nights to transform Väla Centrum plus an extra night for quality assurance. The work took place in a modular fashion, so that each morning, shoppers were treated to a little a taste of what was to come.
"It was like stepping into a new world every day. And when we then unveiled the design and switched on the lights… Wow!" says Nordström.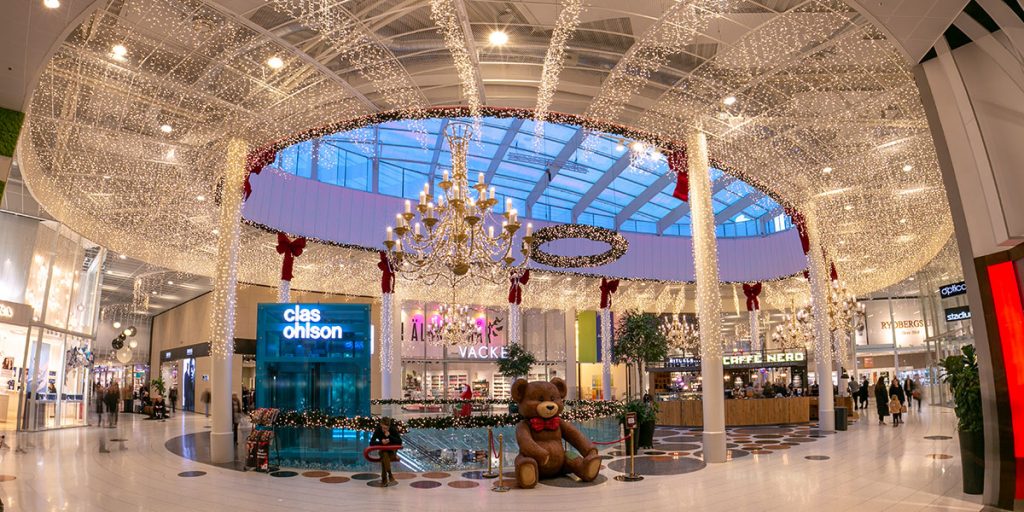 The center's main square has become a glittering, Instagrammable experience, whilst the Old Square's urban environment has become an exotic space filled with tropical flair and some unexpected—and rather delightful!— touches that shoppers love.
Nordström has some advice for other centers wanting to create something special.
"For other center managers who want to emulate what we've done, my advice is this: enjoy the Väla experience, but then do something of your own. Turn your ideas into reality. That's when the magic happens!"
Credit: MK Illumination