On October 9, representatives of KG Group and ROS Retail Outlet Shopping signed the foundation act and officially inaugurated the construction works at Designer Outlet Kraków, which is set to open its doors in spring 2025.
On a gross lettable area of 20,000 sq m, Designer Outlet Kraków will offer more than 100 well-known fashion and lifestyle brands all year round, and 2,000 parking spaces in an above- and underground system. The project will also stand out for its unique design with interiors infused with natural light coming through skylights and wide concourses with relax areas as well as cafes and restaurants that will attract customers keen to do their shopping and spend their leisure time in this unique place.
"Thanks to its rich and varied offer as well as its convenient location, Designer Outlet Kraków will become a magnet not only for Kraków residents, but also for shoppers from the Lesser Poland region and neighboring provinces. Furthermore, the outlet will serve as a complement to another shopping complex we are building, with two Atut Galicyjska retail parks already in operation," explains Krzysztof Gaczorek, President of the Management Board of KG Group, the project owner and developer for Designer Outlet Kraków as well as the owner of 11 Atut shopping centers.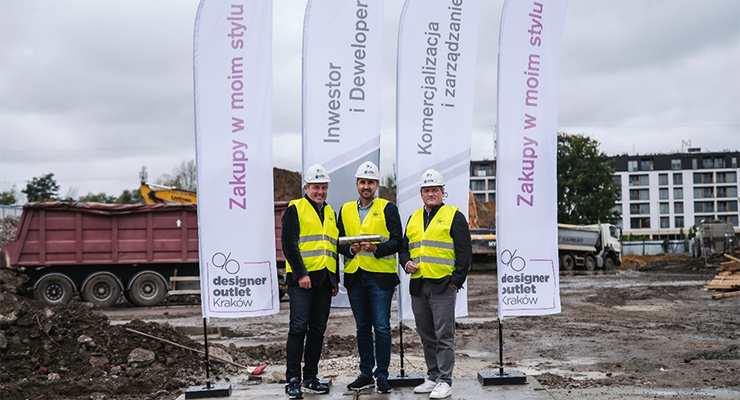 ROS Retail Outlet Shopping is responsible for the center management of Designer Outlet Kraków and currently manages 12 premium outlet shopping destinations across Europe, including Designer Outlet Warszawa, Designer Outlet Gdańsk and Designer Outlet Sosnowiec in Poland.
"We are really excited for this new project in Poland. This is a very important market for us, where we already manage three successful Designer Outlets, and offers room for further development in the outlet business. Given the exceptional location and the unique characteristics of the project, we are confident Designer Outlet Kraków will be a very popular and strong outlet shopping destination," says Thomas Reichenauer, Co-Founder & Managing Director at ROS Retail Outlet Shopping.
Designer Outlet Kraków is certain to become a new hot spot for outlet shopping for Kraków and the Lesser Poland region as well as a place of interest for millions of tourists visiting Kraków every year. Located on the banks of the Vistula River, Kraków is not only the most visited and vibrant city in the country for local residents as well as domestic and international tourists, but also one of the most important economic centers with a very well-established trade tradition.